5 Things to Watch as Green Bay Packers Kick off 2013 Preseason Schedule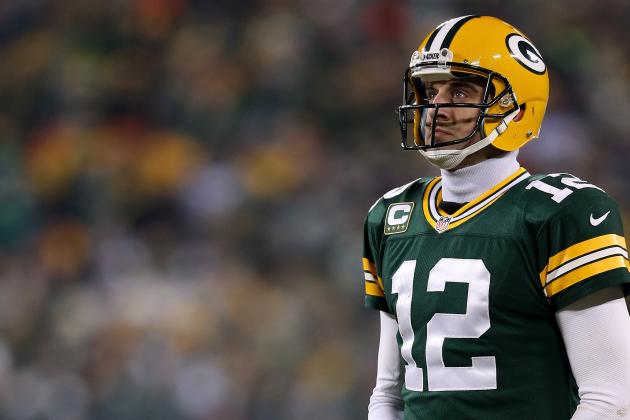 Andy Lyons/Getty Images
Aaron Rodgers is focused on a better 2013 season
The Green Bay Packers are preparing for the many questions that need answering as the preseason schedule looms.
With the start of the preseason Friday, the Packers have a lot of question marks they're hoping to spin into exclamation points. But more importantly, there are a lot of quality position battles that make it a good problem to have.
They've also suffered some setbacks between departed players and injuries but expect their wealth of young talent to flourish on the big stage.
The Packers finished the 2012 season 11-5 and won the NFC North for the second consecutive season. However, they were also eliminated in the Divisional round of the playoffs for a second straight year.
In their two playoff defeats, the Packers surrendered 37 points to the New York Giants in 2011-12 and 45 to the San Francisco 49ers last January.
The Packers are looking to improve in multiple facets of their game, and we're going to take a look at the five things to watch as the Green Bay Packers kick off their 2013 preseason.
Begin Slideshow

»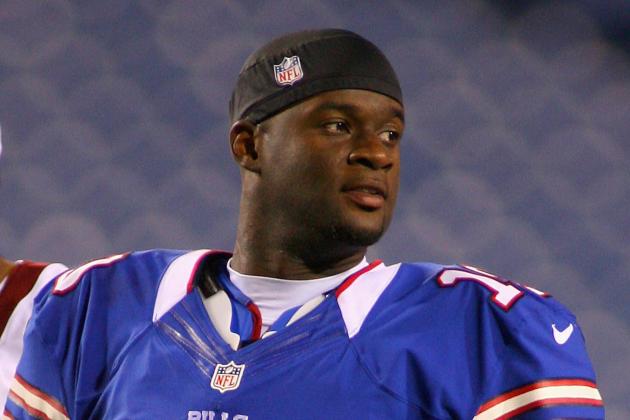 Rick Stewart/Getty Images
Vince Young signed a one-year deal with the Packers Monday.
Should the unmentionable happen to Aaron Rodgers, the Packers would be in dire straits.
Last season Packer nation got a small glimpse into life without Rodgers when Graham Harrell took this one red zone snap in Week 4 against New Orleans.
The team is clearly underwhelmed with what they've seen in training camp out of Harrell and second-year pro B.J. Coleman. As tweeted by ESPN's Josina Anderson Monday, the Green Bay Packers signed former University of Texas star Vince Young to a one-year deal in hopes he can provide some stability.
With Green Bay's concern about containing the read option on defense, Young could also provide some effective preparation in practice, as reported by ESPN's Rob Demovsky.
The Packers also are intrigued with Young's mobility and believe he can help prepare them for the opening two games of the regular season, in which Green Bay's defense plays against San Francisco's Colin Kaepernick and Washington's Robert Griffin III.
Knowing that health isn't a sure thing in today's NFL, it's very important that the Packers have a player who can step in and be effective should No. 12 be forced to the sidelines. They haven't felt too comfortable with that scenario since Matt Flynn's departure last offseason.
It is likely Young will win the primary backup role, but whether or not they choose to keep a third on the roster is up to Harrell and Coleman.
Jonathan Daniel/Getty Images
Mason Crosby struggled mightily last season.
Last season three of the Packers' five losses came by three points or less, in which a field goal would have won or tied the game.
In Green Bay's disappointing 30-27 loss to the Indianapolis Colts in Week 5, kicker Mason Crosby missed two field goal attempts—including a 51-yard attempt with eight seconds remaining.
While Crosby's kicking game may have only cost the Packers one game, he finished the season with a career worst 63.6 field goal percentage. He also made a career low 21 field goals on 33 attempts, resulting in a more aggressive offensive approach.
Head coach Mike McCarthy stood by his kicker during the season, but the team brought in Giorgio Tavecchio to provide competition and perhaps light a fire under Crosby. Tavecchio has one year of NFL experience out of the University of California.
While his job may not be in serious jeopardy, the Packers have made it clear that they're not afraid to make a change if Crosby can't right the ship.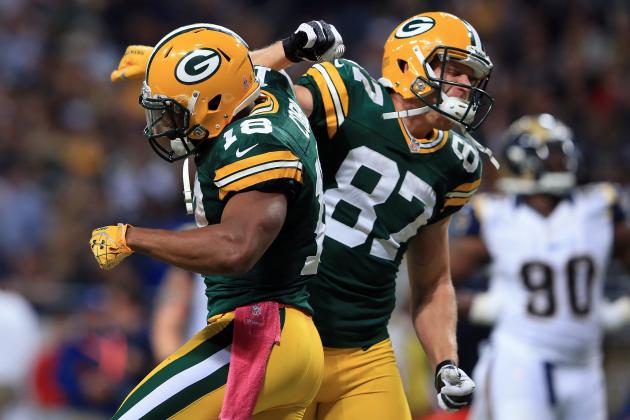 Doug Pensinger/Getty Images
Randall Cobb and Jordy Nelson will be the go-to guys for Aaron Rodgers.
Aaron Rodgers and his receivers have never experienced life without Greg Jennings and Donald Driver. Now they could be without Jordy Nelson and Randall Cobb.
Driver announced his retirement in January after a brilliant career in which he made 743 receptions for 10,137 yards. Jennings has taken his talents to Minnesota after Green Bay let him walk in free agency. Jennings played just eight games in 2012, totaling 36 catches for 366 yards and four scores.
Nelson dealt with a nagging ankle injury most of last season, limiting his production after a career year in 2011. ESPN's Adam Schefter tweeted that Nelson underwent a knee procedure Monday to correct a lingering nerve issue and is expected to miss the remainder of the preseason. They are expecting Nelson to be the No. 1 wideout, and if he can remain healthy, he is a tremendous route runner with a penchant for making the clutch reception.
Cobb burst onto the scene in his rookie year, immediately establishing himself as a threat from anywhere on the field. ESPN's Demovsky tweeted that Cobb dropped out of practice with what was later revealed as a bicep injury. The extent of the injury is unknown.
James Jones saw the most action in his seven seasons and turned it into career highs in receptions (64), yards (784) and touchdowns (14). If he can establish himself as a consistent receiver, then it isn't unreasonable to think he can give a repeat performance in 2013.
At this point in the preseason, the Packers are going to award plenty of first team reps for returning depth players like Jarrett Boykin and Jeremy Ross. It will also provide bigger opportunities for seventh round picks Charles Johnson and Kevin Dorsey.
At this point the receiver position is an open competition, and it will be very intriguing to see who steps up.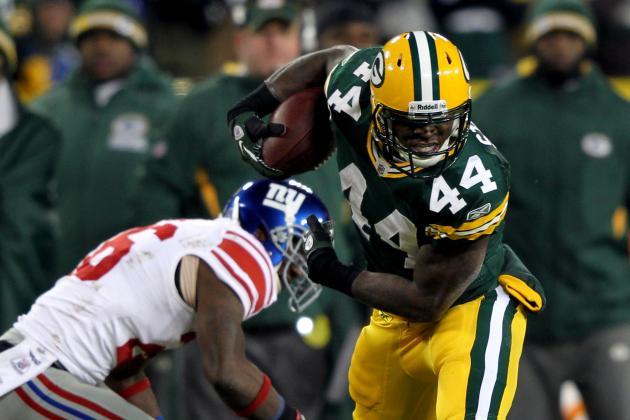 Jamie Squire/Getty Images
James Starks appears prime to earn the starting backfield spot.
The collection of talented backs in camp has made for the most exciting position battle in Green Bay.
DuJuan Harris burst onto the scene with his shifty running between the tackles late last season. James Starks was hurt and played in just six games. Alex Green was supposed to receive a bulk of the load out of the backfield early on but finished with just 135 carries in 12 games.
Enter the new kids on the block. Draft picks Eddie Lacy (Alabama) and Johnathan Franklin (UCLA) look to provide the balance on offense Green Bay has been missing.
They both bring different styles. Lacy is a bruising, downhill runner who will be key in short yardage and goal line situations. Franklin provides speed and flash and is adept at catching the ball out of the backfield.
Starks has been the strongest candidate for the primary job in camp. He's run well, appears healthy and was a key component in Green Bay's 2011 title run.
Each back is likely to see ample opportunity to showcase their talents in the preseason, which makes for the most exciting aspect of Green Bay's looming preseason schedule.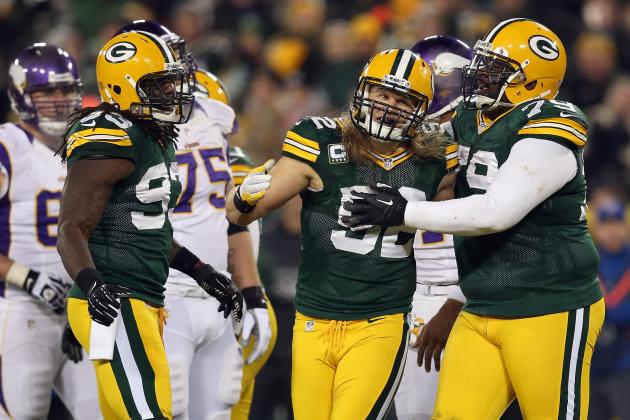 Jonathan Daniel/Getty Images
Clay Matthews hopes to return the defense to championship form.
Green Bay's biggest question mark is its defense.
Last year they lost middle linebacker Desmond Bishop in the preseason with a torn hamstring and first-round pick Nick Perry in Week 6 against Houston to wrist and knee injuries. Bishop is now a member of the Minnesota Vikings.
In the first round of this year's draft, Green Bay went with another pass-rusher in UCLA's Datone Jones. Jones provides a greater size and burst from the defensive end. His presence should help contain the read option and free Clay Matthews and Perry to attack the outside.
A.J. Hawk will remain the signal-caller and man the middle of the field alongside Brad Jones; Dezman Moses will see some time as well.
The secondary was quite suspect last season. Parting ways with captain Charles Woodson is a blow to the locker room, but the young defensive backs Green Bay showcased last year could be the catalyst for a turnaround.
Davon House and Casey Hayward showed impressive prowess as the nickel and dime backs, while Tramon Williams and Sam Shields will lock down the outside. Morgan Burnett will man his safety spot alongside M.D. Jennings.
While on paper, it may appear Green Bay is well-stocked for the upcoming season, but there's a reason they play the games. Defensive coordinator Dom Capers has every intention of restoring his high-motor defense to the championship caliber they were in 2011.
The Packers open their preseason schedule Friday Aug. 9 at 8 p.m. ET against the Arizona Cardinals at Lambeau Field.