Bold Predictions for Derrick Rose's Return During 2013-14 Season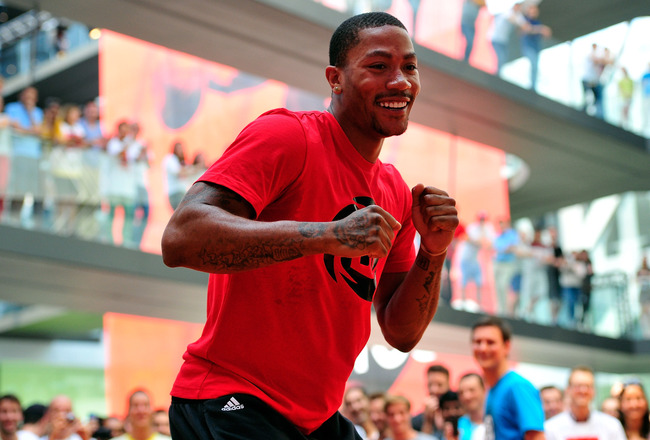 Will Derrick Rose have his best season yet in 2013-14?
Lennart Preiss/Getty Images
Derrick Rose's return can't come soon enough. By the time he comes back at the outset of the 2013-14 season, it will have been about a year-and-a-half since he has played in an NBA game.
Because it has been so long since he has been on the hardwood, what should we expect from the former MVP?
Will he retrieve his old form immediately? Will he look like a shell of himself and need substantial time to recapture his skill level?
Or, will he perhaps perform at a higher level than we've ever witnessed from him? Could he potentially be better than he ever was before?
There's reason to believe this will happen. Rose not only has the youth (he's 24 years old) to recover remarkably well from a serious injury, he also has the drive. His humble fire and competitiveness is at the core of who he is, so we should expect nothing less than a superstar-caliber return from the Chicago Bulls point guard.
This slideshow magnifies some rather bold predictions that point in this direction.
Rose Leads the Bulls to a League-Best 63 Wins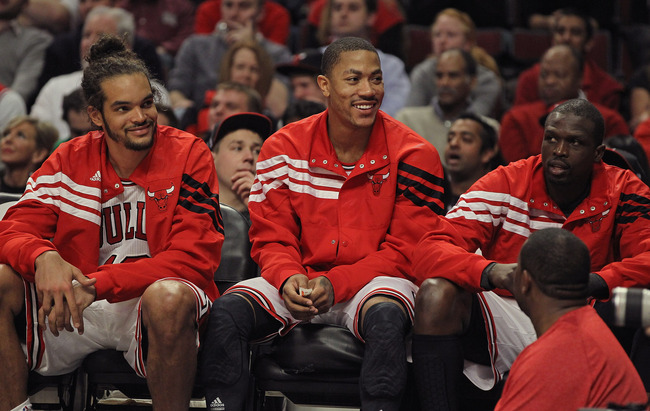 Jonathan Daniel/Getty Images
The Bulls possessed the best record in the league during 2010-11 and 2011-12, when Rose was in uniform. So, maybe it isn't too "bold" to say this will happen again now that Rose is back.
Actually, it is, because the Eastern Conference outlook has changed dramatically since then. The Miami Heat were still finding their groove at that point, at least in the regular season, and there are now more legitimate threats elsewhere.
The Indiana Pacers proved in last year's playoffs they're a serious contender, after losing in the Eastern Conference Finals to Miami in seven games. They now bring back Danny Granger and add Luis Scola to the mix.
What's more, the new-look Brooklyn Nets have a starting five (Deron Williams, Joe Johnson, Paul Pierce, Kevin Garnett, Brook Lopez) that is as potent as anybody's.
This array of quality opponents in the Eastern Conference alone is daunting. Furthermore, the Western Conference also features squads (San Antonio Spurs, Oklahoma City Thunder, Los Angeles Clippers, Houston Rockets) that are more than capable, with health, of racking up 60-plus wins.
So, can the Rose-led Bulls really rise to the top and garner home-court advantage throughout the playoffs? They will surely have their hands full, but with Rose active, this team's win tally could reach the mid-60s.
Here's why: Rose should return on a mission this year, and the Bulls will be desperate to prove what they can do with health.
Plus, this team is now more talented than is was in previous seasons. The emergence of Jimmy Butler gives them a formidable weapon at shooting guard, which is something they previously lacked (the Keith Bogans and Richard Hamilton experiments weren't sufficient).
The bottom line is that, with its never-satisfied coach, Tom Thibodeau, constantly demanding improvements, along with Rose's return to a refined roster, this team could steamroll its way through the 82-game campaign.
Don't be shocked if the Bulls are atop the NBA standings come next spring. Rose and Co. will be playing with a chip on their shoulders throughout 2013-14.
Rose Shoots 50 Percent from the Field, 40 Percent from 3-Point Range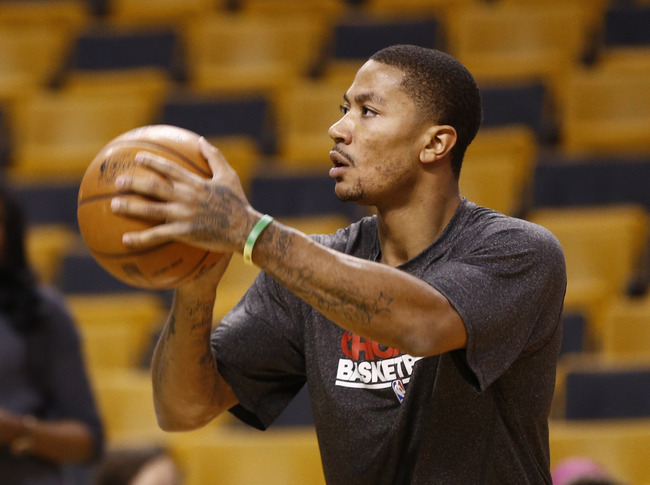 USA TODAY Sports
It is admittedly bold to forecast Rose raising a 46.4 career percentage from the field and a 31.0 percent from distance to marks that rest at 50.0 and 40.0 percent, respectively.
This would be quite a transformation.
This can happen, though, because Rose has had an immense amount of time to work on his jump shot while rehabbing. He should display confidence in his jumper like we've never seen before. This alone should result in increased efficiency, but there are also other integral factors in why his percentages should ascend.
While Rose will still shoulder a heavy offensive load, he should exhibit more maturity and patience after this injury (leading to less low-percentage shots).
What's more, Chicago now has a stellar weapon at the 2 spot in Jimmy Butler. For those who doubt what Rose and Butler can accomplish together, see Kelly Scaletta's recent article on the topic. This duo should be dynamic together.
Therefore, with an improved jumper, increased maturity and less pressure to constantly produce offensively, Rose should notch the best percentages of his career.
He'll wisely pursue his scoring opportunities (and connect on them precisely), and he'll also know when it's completely unnecessary to force a penetration or shot—leading to higher productivity for not just his game, but also the Bulls offense.
Interestingly, though, Rose's scoring output will likely decrease. Consider his points per game from his 2011 playoff run: 27.1. He must've been dominant, right?
Actually, he shot under 40-percent (39.6) and was abysmal from long range (24.8 percent, while hoisting a hefty 6.3 treys a game). A large amount of points does not mean that Rose is necessarily at his best. In fact, it could mean that he is carrying too much of an offensive burden.
His weighty role should be lightened this year, and it should make the Bulls and him better. While he may only average in the 20-23 points-per-game range, expect his efficiency numbers to rise significantly.
Rose Averages 9 Assists Per Game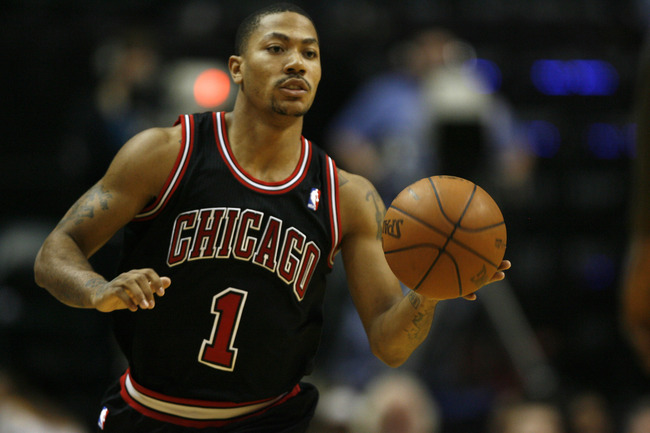 Brian Spurlock-USA TODAY Sports
Rose has never even eclipsed eight assists per game—his highest average was 7.9 in 2011-12—but with the aforementioned maturity and patience, we should witness this digit rise.
It's doubtful that Rose will ever lead the league in assists per game, because his primary mode of operation is attacking the rim and finding scoring opportunities. He has always been more of a score-first, pass-second point guard.
Don't expect this to ever flip-flop.
With that said, there should be more balance to Rose's game. With a more seasoned state of mind and a better complementary guard in Butler, Rose should find himself willingly distributing the ball more.
In fact, he will probably even have games where he is content with limited shot attempts because supporting players (not just Butler, but also Carlos Boozer, Deng and Mike Dunleavy) are in rhythm. In such contests, he could notch in the 10-15 assist range.
Another element to this is a decreased turnover tally. Since Rose shouldn't be forcing penetrations as often, he will likely see his assist-to-turnover rate reach a career high (his current high is 2.55 in 2011-12). This statistic should surpass 3.00 in the upcoming venture.
Overall, the core asset to Rose's arsenal in 2013-14 should be proficiency across the board. He may not be in the top five for points or assists, but he will be downright productive. His assist average should be evidence of this.
Rose Earns His Second MVP Award
In a previous slide, it's been noted that Rose will likely average fewer points per game than his previous MVP season. Could this hurt his chances of regaining the award?
It's doubtful, especially if his percentages are astounding and his assist number reaches a career high.
If he accumulates averages of 22.5 points per game (50.1 percent from the field, 40.6 percent from distance), 9.2 assists per game (2.7 turnovers per game), 4.5 rebounds per game, and 1.4 steals per outing, then his name will surely be in the mix for MVP. This will specifically be the case if Rose leads the Bulls to a 60-plus-win total.
Furthermore, since we're living in an era of advanced statistics, it could be all the more amplified by how valuable Rose is.
While LeBron James and Kevin Durant still may have more intriguing stat lines across the board, Rose's importance could be unprecedented when viewing how valuable his attributes are to the Bulls. Certain advanced statistics, such as offensive rating and defensive rating, could magnify this.
If Rose merely displays a respectable year, he'll likely garner attention for an impressive comeback story. But, knowing Rose's motivation, he certainly feels like he's capable of much more. In fact, this was validated when he was recently asked by CNN's Pedro Pinto who the best player in the league is (see the above video).
His response exclaims his confidence, and we should already know that the sky's the limit to his success if he can remain healthy.
Rose and the Bulls Win the 2014 NBA Championship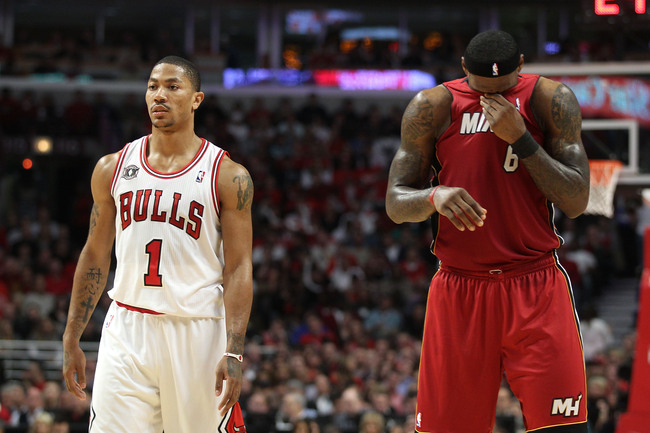 Mike Ehrmann/Getty Images
The Miami Heat are vulnerable.
With the Heat narrowly escaping the Eastern Conference Finals and then barely eking out a seven-game series victory over San Antonio, Miami enters 2013-14 with a high likelihood of being dethroned. Don't expect the addition of Greg Oden to eliminate this vulnerability.
Compellingly, there are now a handful of teams that could potentially reach the NBA pinnacle. Could the Bulls vault to the top of these contenders, not only ousting Miami but also netting their first NBA title since the Michael Jordan era?
With a healthy Rose guiding the way, this is a realistic possibility. In fact, Chicago's a reasonable choice when selecting a 2014 champion.
They are as good as anybody defensively, they have a couple of the best perimeter defenders in the league with Butler and Deng, they have an emotional leader and stable center in Joakim Noah, they possess one of the best coaching intellects on the planet in Thibs, and they now regain their superstar guard.
What's not to like?
The main concern is health. If this trips them up once again, then the injury-prone label is warranted upon mentioning the Bulls. But, assuming they stay healthy, they can compete with anybody.
While Eastern Conference foes like Indiana, Brooklyn and obviously Miami would pose problems, the Bulls have the intangibles to get it done. Series against these squads will be dog fights, as will an NBA Finals matchup if they get there, but the Bulls are founded upon grit and tenacity.
These trademarks alone enabled their depleted roster to still win 45 games last season and knock off a healthy Nets team in the opening round. Imagine what Chicago can do with talent and health on its side.
With Rose taking the reins, the Bulls should set their hopes on the Larry O'Brien Trophy. This would cap off a remarkable return season for the "Windy City Assassin," creating a legendary sports story that would etch its place in NBA lore.
Keep Reading

Chicago Bulls: Like this team?