Edmonton Oilers: Predicting Overachievers and Underachievers for 2013-14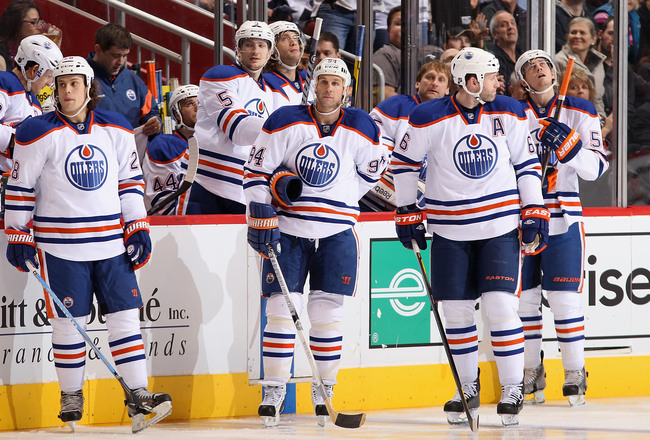 Christian Petersen/Getty Images
With all of the changes going on in Edmonton, the core of talented young forwards has remained intact and should be primed for a solid season if new head coach Dallas Eakins can get the most out of his team.
The addition of David Perron to the top-six forward unit should help provide an added offensive spark and a different look to the attacking units, if the winger can avoid injury and establish chemistry with his new teammates.
The Oilers certainly have the talent to be an entertaining team this season, but it will be on the strengths of individual performances that will give the young team a chance to make the playoffs.
Here is a prediction of the biggest overachievers and underachievers on the Edmonton Oilers for the 2013-14 season.
Devan Dubnyk: Underachiever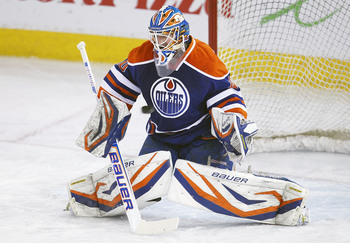 Dubnyk has a ton of pressure on him to perform this season and may not be able to live up to expectations.
Perry Nelson/Getty Images
Devan Dubnyk is likely to have a solid season for the Oilers this year, but unfortunately for the former Kamloops Blazer, it may not be enough to silence his critics, thus resulting in a view of underachievement.
Adding Andrew Ference to the blueline will help solidify a shaky defensive core, but all eyes will ultimately fall on Dubnyk this season to prove if he is indeed a legitimate No.1 goaltender in the NHL.
The addition of Jason Labarbera to the club will also force Dubnyk to have a breakout performance or risk losing ice time to the veteran backup.
Considering Dubnyk's career high in wins for a season is 20, the fact that he could post more wins should be considered a bonus, but if the Oilers fail to make the playoffs Dubnyk will once again come under scrutiny.
Sam Gagner: Underachiever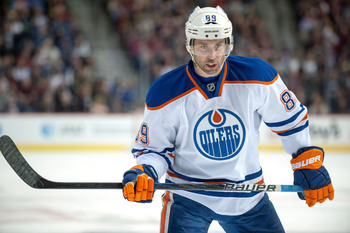 Sam Gagner may have a disappointing season after a prolonged contract negotiation and a consistent 2013 season.
Dustin Bradford/Getty Images
Sam Gagner had a solid season during the shortened 2013 campaign, and after a somewhat drawn out contract negotiation was rewarded with a new three-year contract worth a total of 14.4 million.
Gagner was a model of consistency for the Oilers last season, but has never really managed to take the next step in his career to become a legitimate scoring threat.
Gagner will have excellent linemates this season, potentially lining up beside David Perron and Nail Yakupov, but unless he manages to register at least 60 points the season will probably be considered a disappointment.
Andrew Ference: Overachiever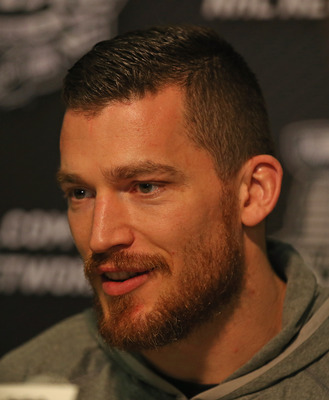 Coming back to play for his hometown Oilers could lead Andrew Ference to overachieve during the 2013-2014 season.
Jonathan Daniel/Getty Images
Andrew Ference is exactly the type of player the Oilers needed to help bolster the defensive ranks in Edmonton.
Ference won't be looked upon for point production, rather it will be his defensive play that Edmonton will lean upon this year. Still, the former Bruin should have the opportunity to significantly improve upon the 13 points that he registered last season.
The fact that Ference is from Edmonton should provide the blueliner with the added motivation to come out and deliver for the Oilers in all facets of the game.
Nail Yakupov: Overachiever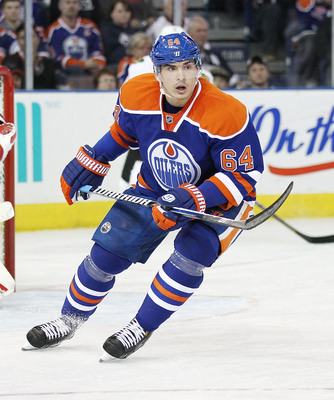 Nail Yakupov could explode this season and exceed all expectations during his second season.
Perry Nelson/Getty Images
Nail Yakupov struggled at times last season, thanks in large part to the fact that then-head coach Ralph Krueger played the Russian sniper on the third unit rather than in a top-six role.
The potential for a "sophomore slump" is always there but Yakupov will benefit from a full training camp under new coach Dallas Eakins as well as a familiarity with potential linemate and center man Sam Gagner.
Yakupov will be expected to score goals for the Oilers this season, but may take some by surprise with the pace at which he manages to tally this season.
Keep Reading

Edmonton Oilers: Like this team?