Position-by-Position Breakdown of the Cincinnati Reds' Standout Prospects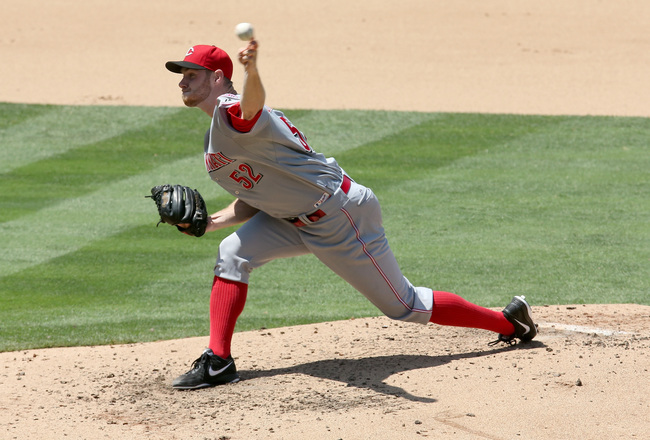 Tony Cingrani is the most recent success story to come out of the Reds farm system. But what about those still working their way up the ranks?
Stephen Dunn/Getty Images
The Cincinnati Reds have a bright future ahead of them. The team has locked down key players like Joey Votto, Jay Bruce, Brandon Phillips and Aroldis Chapman.
In addition to that solid core, they have players like Mike Leake, Mat Latos and Johnny Cueto under contract beyond the 2013 season.
The organization will also look to extend the contracts of Leake, Latos and starter Homer Bailey in the coming offseason. In short, things look good for the Reds as they have a young, experienced group of core players.
But what about the farm system?
Tony Cingrani, one of the team's former top prospects, has graduated to the big league level, filling in for the aforementioned Cueto. Over 13 starts—18 total appearances—Cingrani boasts a sparkling stat line, including a 3.05 ERA, 1.11 WHIP and per-nine ratios of 10.6 K/9, 3.8 BB/9, 2.77 K/BB and 6.2 H/9.
Cingrani is just one of the many success stories present on the Reds active roster, but how about players who haven't yet made their mark on the big league roster?
Fans are aware of the accomplishments of top prospect Billy Hamilton and the team's No. 2 prospect, starting pitcher Robert Stephenson. However, there are prospects at every position who could become important pieces in the puzzle moving forward.
In this article, we'll examine each position and the prospect who best fits in with the Reds' future plans.
We'll begin with the catching position.
All stats come courtesy of Baseball-Reference.com—unless otherwise noted—and are current through play Aug. 7, 2013.
Catcher
Tucker Barnhart
Age: 22
Bats/Throws: S/R
Realistically, Devin Mesoraco is the future of the Reds catching position. At just 25 years of age, Mesoraco has finally secured the starting job.
Given the potential prescribed to Mesoraco prior to his breaking in with the Reds, it's unlikely that anyone will unseat him. However, Tucker Barnhart is the prospect best equipped to be Mesoraco's bench counterpart or platoon starter.
Barnhart is a good catcher. In fact, he's thrown out would-be base stealers at a rate of 41 percent. Additionally, there's very little wasted motion when he receives the ball. That goes a long way toward earning pitchers an extra strike that umpires may have otherwise called a ball.
Offensively, Barnhart is never going to offer the power Mesoraco does, nor is he going to offer a .300 average like Ryan Hanigan did in 2010. That doesn't mean, however, that we should expect an offensive showing similar to that of Corky Miller over the course of Barnhart's big league career.
What we can expect from Barnhart, as a backup, would be around a .250/.325/.350 slash line with 2-3 home runs over a full season.
First Base
Neftali Soto
Age: 24
Bats/Throws: R/R
Neftali Soto's stock within the organization has dropped significantly over the last few years. After three seasons of shuffling around without a defined position, Soto settled in at first base in 2009.
Unfortunately though, as was the problem with the Reds previous top first base prospect, Yonder Alonso, Joey Votto has proven once again to be a massive roadblock.
For the Reds, this is a great problem to have. For Soto, not so much.
Soto has been ready for the big leagues since his 2011 season at age 22. At that time though, the Reds had Alonso, and even Votto, ahead of Soto.
The team allowed Soto to play first base again in 2012 before beginning the transition back to third base in 2013.
Through 80 games played, Soto has registered 299 fielding chances at first base and 154 at third. It's become increasingly clear in that time that Soto isn't cut out to man the hot corner.
In his 154 chances, Soto has made a whopping 13 errors, compared to just two in his time at first base.
Soto's value lies in his bat. Over his career, the 24-year-old owns a .272/.320/.453 slash line and 162-game averages of 23 home runs, 35 doubles, 91 RBI and 82 runs scored.
Unless he makes major strides with the glove though, Soto's value would be completely wasted as a backup to Votto. Trading the young first baseman would be the best option.
Second Base
Ryan Wright
Age: 23
Bats/Throws: R/R
Much like the aforementioned Soto, Ryan Wright has his own roadblock to deal with in Brandon Phillips. For that reason, Wright may not see the field as an everyday player until he's reached his season at age 28.
In the meantime though, Wright possesses some decent skills that could translate well to the big league level.
In the field, Wright possesses a steady glove. Over his first two professional seasons, Wright posted fielding percentages of .988 and .976, respectively. That second season, though, may prove to be a bit of an anomaly, as he's bounced back nicely in 2013 with a .981 fielding percentage in 318 chances.
Wright doesn't possess the range or the highlight reel ability of Phillips, but he could be a solid, dependable fielder when his time comes.
At the plate, Wright is an advanced hitter. Including the 2013 season, the 23-year-old has put together a .282/.332/.444 slash line over 259 games played.
Wright does have some decent power; his 26 career big flies translate to a 162-game average of 16. That kind of power is rare at the middle-infield positions, and it's a major piece of Wright's game.
What's most impressive about Wright, though, and what might ultimately propel him to the big leagues, is his approach to hitting. Over his relatively short minor league career, Wright owns a 160:68 K/BB ratio—roughly 2.4 K/BB when reduced to simplest form.
Wright is a patient hitter, and he strikes out rather infrequently. That approach, coupled with his solid power and decent bat-on-ball skills, could make him a mainstay on the Reds' active roster once he finally breaks out of the minor leagues.
Third Base
Juan Silverio
Age: 22
Bats/Throws: R/R
Based on the team's top-20 prospects, the logical choice here would be Sean Buckley. Buckley ranks ninth on said list, and he's got the added advantage of being the son of the team's amateur scouting director.
In any event, given the startling drop in his triple slash between his first and second professional seasons—.289/.372/.551 in 2011 to .244/.307/.413 in 2012—and the injury that has forced him to miss all but six games this season, Juan Silverio looks like the more attractive option.
Silverio, a 22-year-old product of the Dominican Republic, was given the chance to start every day at High-A Bakersfield when Buckley went down. What he's done in that time is nothing short of impressive.
Over 106 games played, the young third baseman owns a .291/.308/.469 slash line with 15 home runs, 70 RBI and 51 runs scored. His career K/BB rate is rather unimpressive—464:87—but Buckley hasn't been much better—221:57.
I've highlighted Silverio's recent production to show you how he's taken advantage of the opportunity he's been given. However, that's not to say that he's a flash in the pan, by any means.
Over his career—520 games—Silverio owns a .270/.308/.440 slash line with 162-game averages of 15 home runs, 39 doubles, 105 RBI and 86 runs scored.
In the field, Silverio is decent enough. He owns a career fielding percentage of .902 at the hot corner and a .907 mark there in 2013.
In addition to his ability at third, there are also the options of using him at shortstop or second base. Silverio has spent some significant time—121 games and 27 games, respectively—at short and second.
Todd Frazier and Zack Cozart have both struggled mightily in 2013. Should those struggles progress, it may open the door for Silverio to break in with the Reds late next year as a third baseman or shortstop.
Shortstop
Henry Rodriguez
Age: 23
Bats/Throws: S/R
I'm taking a bit of a cop-out here because Henry Rodriguez is actually a second baseman, but the Reds lack depth of any sort at shortstop, and Rodriguez can play all three infield positions.
Rodriguez is in his seventh season with the organization and is still just 23 years old. In that time, the young infielder owns a .295/.342/.413 triple slash with 162-game averages of 10 home runs, 36 doubles, 81 RBI, 85 runs scored and 28 stolen bases.
Rodriguez is a great hitter, and although he doesn't walk a ton, he doesn't strike out much, either. This can be slightly troubling because a decline in batting average would lead to a sharp drop-off in his on-base percentage.
In any event though, Rodriguez has some outstanding bat-on-ball skills. However, that should not overshadow what he can contribute in the field.
Over 372 appearances at second base, Rodriguez owns a .972 fielding percentage and a 4.56 RF/G, both very respectable for a young middle-infielder.
Rodriguez possesses good speed, a solid glove and the ability to hit for a great average. His power is sufficient, at least for gap power and a handful of home runs, but he should grow into some additional power as he matures.
Unfortunately for Rodriguez, like Wright, he'll have to fight for at-bats as a utility infielder at the big league level until a permanent position opens up, or until he is traded.
Left Field
Phil Ervin
Age: 21
Bats/Throws: R/R
Phil Ervin is a name that all Reds fans should get accustomed to hearing. Drafted just two months ago with the Reds' first selection—No. 27 overall—Ervin has wowed the organization and fans alike over his first 43 games as a professional.
Prior to being drafted, Ervin was a stand-out at Samford University. After a solid freshman season in which he hit .371 with 15 doubles and 41 RBI over 57 games played, Ervin was named a Freshman All-American. He followed up that impressive performance with a .337/.459/.597 slash line, 11 home runs, 14 doubles, 40 RBI, 58 runs scored and 21 stolen bases over 55 games played.
Following his being drafted by the Reds, The 21-year-old left fielder was assigned to the team's Rookie League affiliate. In just 34 games with Billings, Ervin compiled 156 total at-bats and an impressive .326/.416/.597 slash line with eight home runs, 29 RBI, 27 runs scored and 12 stolen bases.
Ervin impressed with a solid blend of hit, power and run tools, enough so that he earned himself a promotion to Low-A Dayton after just 34 games with the team's Rookie League affiliate.
The young outfielder has played in just nine games with Dayton, and he's yet to slow down. In eight games, Ervin owns a .333/.474/.367 slash line with two RBI, five runs scored and two stolen bases.
Ervin is a stellar hitter, but it's his defensive ability, at least according to the Reds official scouting department. On the 2-8 grading system, Ervin's field and arm tools grade out at a five both in the present and future.
Given his tools, Ervin could be a perfect addition to the Reds when Ryan Ludwick's contract runs out following the 2014 season.
Center Field
Billy Hamilton
Age: 22
Bats/Throws: S/R
By now, everyone knows the minor league exploits of Billy Hamilton. Over 480 games, Hamilton has compiled an extraordinary 368 stolen bases on 467 attempts—82.7 percent.
Hamilton isn't limited though to just his baserunning ability. The 22-year-old has made a decent transition to center field and should only get better as he becomes more familiar with the position.
At the plate, Hamilton had shown progress over his first three seasons. After slashing .205/.253/.277 in his season at age 19, Hamilton went on to make incredible strides in the 2010, 2011 and 2012 seasons.
All of Hamilton's commitment and hard work paid off in his 2012 season, in which he swiped an unreal 155 bases to go along with a career-best .311/.410/.420 slash line, two home runs, 22 doubles, 14 triples and 112 runs scored.
This year, as he makes the transition to center field, Hamilton was promoted to Triple-A Louisville, where he's slowed down considerably.
In 102 games played, Hamilton owns a disappointing .254/.308/.342 triple-slash with 15 doubles and just two triples. While his batting average and on-base percentage are sure to stir up concern amongst fans, there are other parts of Hamilton's season that are worth noting.
Through those 102 games, Hamilton has a career-best six home runs. To go along with those home runs, Hamilton has stolen 67 bases at an 84.8 percent clip.
Given the show Hamilton has put on over his last 20 games—.289/.337/.373 and 16 steals—the young outfielder could find his way to Cincinnati this September when the rosters expand. However, a call-up is much more likely in September should the Reds decline to re-sign Shin-Soo Choo.
Right Field
Jesse Winker
Age: 19
Bats/Throws: L/L
Technically, Jesse Winker is a left fielder. However, the team lacks a right fielder with the talent of Winker, so we're going to highlight him in this section.
Winker was selected out of Olympia High School in Florida by the Reds in the first round of the 2012 amateur draft. Winker has played in 165 games since being drafted and has been absolutely spectacular to this point.
The 19-year-old played his first season with the Reds' Rookie League affiliate and now finds himself at Low-A Dayton in his first full season of professional ball.
Winker has incredible bat-on-ball skills. His hit tool grades out as a four currently, with potential for a seven in the future. As a minor leaguer, Winker has put those tools on display over and over again.
The young left fielder boasts an impressive .301/.400/.481 slash line with 21 home runs, 32 doubles, 109 RBI and 104 runs scored for his career. The power is a nice plus for Winker, whose future power tool grades out at a five.
Winker is never going to be the best fielder, nor does he have a particularly great arm. What he will offer, though, is a .300 average at the big league level with 15-20 home run pop and the ability to get on base at a sufficient clip.
Winker could be a major part of the Reds future. However, he could also be an attractive trade chip should the Reds choose to make a major deal.
The organization has a bit of a log jam building in the outfield. With Yorman Rodriguez finally realizing some of his sky-high potential, the Reds have four outfielders—Rodriguez, Winker, Ervin and Hamilton—who could reach the big leagues at, or around, the 2014 season.
With Jay Bruce already manning down right field, the Reds outfield could become a bit cramped in the next year or two. This could lead to the possibility of one or more of the team's young prospects being traded.
Starters
Robert Stephenson (High-A)
Age:20
Bats/Throws: R/R
Pitches: Fastball, Curveball, Change-Up
Robert Stephenson is the best pitching prospect in the Reds system and arguably the best prospect period if you still aren't sold on Hamilton. At just 19 years of age, Stephenson shot up prospect boards, clocking in at No. 19 overall on Jonathan Mayo's mid-season top 100.
Stephenson currently ranks as the eighth-best pitching prospect on said list, and he has all the tools to become an ace at the big league level.
Through 32 professional starts, Stephenson has worked his way up to High-A Bakersfield, with a 9-9 record, a 2.99 ERA, a 1.10 WHIP and per-nine ratios of 10.4 K/9, 2.5 BB/9, 4.11 K/BB and 7.4 H/9.
The Reds were aggressive with Stephenson, assigning him to Low-A Dayton as a 19-year-old. Stephenson went on to surpass expectations by leaps and bounds, working to a 2.57 ERA and a 0.99 WHIP with per-nines including 11.2 K/9, 2.3 BB/9, 4.80 K/BB and 6.5 H/9.
Stephenson does a few things very well. For starters, he throws hard and can locate his fastball. Beyond that though, the young right-hander throws a hammer of a curveball that, according to Mayo, could be a plus-pitch as he matures, per Cincinnatireds.com.
Stephenson also throws a change-up, but it's lagged behind the other two pitches in its development. There's good news on that front though, as the Reds have had great success developing the change-ups of minor leaguers, thanks in part to former Red and pitching instructor Mario Soto.
Big-league quality control comes with maturity, but Stephenson's career walk rate of 2.5 BB/9 suggests that he may be ahead of schedule in that department.
As B/R's own Mike Rosenbaum writes, Stephenson may be shut down this season due to his growing innings count—91.2 innings to this point—but additional innings in the 2014 season could put him right on track for a 2015 arrival in Cincinnati.
Nick Travieso (Low-A)
Age: 19
Bats/Throws: R/R
Pitches: Fastball, Slider, Change-Up
Nick Travieso is another intriguing starting pitcher in the Reds farm system. Selected 14th overall in the 2012 amateur draft, the Florida prep product was immediately assigned to the Arizona League, where he worked with team coaches and made eight starts.
Travieso wasn't overly impressive, working to a 4.71 ERA and a 1.19 WHIP over 21 innings pitched. He did limit his free passes however, allowing just 2.1 walks per-nine innings pitched.
The Reds opted to send Travieso to Low-A Dayton to begin the 2013 season, and the overall results have been slightly underwhelming. In 12 starts, the 19-year-old has worked in 54.2 innings with a 5.10 ERA and a 1.46 WHIP.
Travieso's season is a bit of a mixed bag. His strikeout numbers have taken a step forward, while his ERA, WHIP and walk numbers have taken a slight step back.
On the surface, it looks like Travieso hasn't responded well to his promotion, but the numbers are largely due to two poor outings. If you examine Travieso's season without his starts June 20 and July 12, his season looks like this:
| | | | | | | | | | | | |
| --- | --- | --- | --- | --- | --- | --- | --- | --- | --- | --- | --- |
| Nick Travieso | GS | IP | H | K | BB | HR | ERA | WHIP | K/9 | BB/9 | K/BB |
| | 10 | 51 | 45 | 37 | 17 | 1 | 3.17 | 1.22 | 6.5 | 3.0 | 2.18 |
Travieso's actual stat line looks like this:
| | | | | | | | | | | | |
| --- | --- | --- | --- | --- | --- | --- | --- | --- | --- | --- | --- |
| Nick Travieso | GS | IP | H | K | BB | HR | ERA | WHIP | K/9 | BB/9 | K/BB |
| 2013 Stats | 12 | 54.2 | 60 | 42 | 20 | 5 | 5.10 | 1.46 | 6.9 | 3.3 | 2.10 |
When comparing he two, it's clear that Travieso is actually taking strides forward in his second season with the club. Given Stephenson's promotion to High-A, and the ever-increasing likelihood that he'll be there again or in Double-A Pensacola, it wouldn't be surprising to see Travieso at High-A Bakersfield to start the 2014 season.
Relievers
Michael Lorenzen
Age: 21
Bats/Throws: R/R
Pitches: Fastball, Curveball
Michael Lorenzen is already the best relief pitching prospect in the Reds system. I use the term "already" because he was drafted just two months ago.
In addition to his ability as an impact reliever, if the Reds should choose to do so, the team could opt to try him out as an outfielder. In his time with Cal-State Fullerton, Lorenzen was a two-way player, serving as an outfielder and as the team's closer.
The 21-year-old was the second player selected by the Reds in the first round of the 2013 amateur draft—38th overall—and he's already moving quickly through the system. This shouldn't come as much of a surprise, though. His fastball sits in the mid-high 90s with some late life breaking in on right-handed hitters. Additionally, his curveball shows some promise with a solid sweeping motion.
The Reds assigned Lorenzen first to the Rookie League out in Arizona, where he made just one appearance before moving up to Low-A Dayton.
With Dayton, Lorenzen made nine scoreless appearances, allowing just seven hits and two walks while striking out seven. After his strong showing in Dayton, the Reds promoted the young righty to High-A Bakersfield.
Lorenzen has made just three appearances at Bakersfield, but the results have been encouraging. Over 2.2 innings pitched, Lorenzen has allowed one run on two hits and two walks while striking out two.
Overall, Lorenzen's transition to professional ball has been seamless, and his stat line is evidence of that. Over 13 appearances, Lorenzen has pitched 12 innings with a 0.75 ERA, a 1.17 WHIP and per-nine ratios of 7.5 K/9, 3.0 BB/9, 2.50 K/BB and 7.5 H/9.
Lorenzen may stay in the minors for the rest of the 2013 season. However, should the Reds require an extra bullpen arm, we could easily see Lorenzen at the big league level, given his collegiate experience.
As far as his playing in the outfield, it seems a bit of a longshot at this point, given the lack of playing time he's received there and his incredible success on the mound.
Keep Reading

Cincinnati Reds: Like this team?