Johnny Manziel Suspended for 1st Half of Season Opener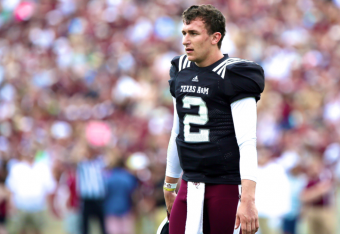 Johnny Manziel has been suspended for the first half of Texas A&M's season opener against Rice for his involvement in an autograph scandal.
UPDATE: Thursday, Aug. 29
David Harris of AggieSports.com has a statement from the Manziel family after yesterday's suspension:
The Manziel family thanks Texas A&M University for its significant efforts on behalf of their son, and stands united with Texas A&M. The Manziel family sends a special thank you to their attorneys, Jim Darnell, Brad Beckworth and Jeff Angelovich, for their tireless determination on behalf of Johnny. We are looking forward to seeing Johnny back on the field against Rice.
Did the NCAA save face with the Johnny Football suspension?
UPDATE: Wednesday, Aug. 28
The NCAA and Texas A&M released a joint statement regarding Manziel's half-game suspension (via AggieAthletics.com):
Due to an inadvertent violation regarding the signing of certain autographs, Texas A&M declared Manziel ineligible and submitted the following conditions for reinstatement to the NCAA:

• A one-half game suspension for Manziel

• Manziel will address the team regarding the situation and lessons learned

• Texas A&M will revise its future education concerning student-athlete autographs for individuals with multiple items

Based on the information submitted by the university, the NCAA accepted the conditions as put forward by Texas A&M. If additional information comes to light, the NCAA will review and consider if further action is appropriate. NCAA rules are clear that student-athletes may not accept money for items they sign and based on information provided by Manziel, that did not happen in this case.
From John Sharp, Texas A&M University system chancellor:
I am proud of the way both Coach Sumlin and Johnny handled this situation, with integrity and honesty. We all take the Aggie Code of Honor very seriously and there is no evidence that either the university or Johnny violated that code.
From Eric Hyman, Texas A&M director of athletics:
Texas A&M University would like to thank the NCAA staff, not only for its fairness and professionalism throughout this process, but also for the expediency of its actions. Texas A&M is a proud member of the NCAA and the Southeastern Conference and, as such, we will continue to abide by the rules governing the association and the conference. Texas A&M is committed to competing with integrity and sportsmanship, and we will continue to ensure strict compliance guidelines for our student-athletes, coaches and supporters.
From Kevin Lennon, NCAA vice president of academic and membership affairs:
Student-athletes are often asked for autographs from fans, but unfortunately, some individuals' sole motivation in seeking an autograph is for resale. It is important that schools are cognizant and educate student-athletes about situations in which there is a strong likelihood that the autograph seeker plans to resell the items.
Original Text
TexasAgs.com's Billy Liucci has the details:
Latest on Manziel? Per multiple sources, he'll be suspended for first half of season-opener versus Rice on Saturday.

— Billy Liucci (@billyliucci) August 28, 2013
As most predicted, all indications are that Manziel was not found guilty of accepting payment for signature. Obviously a significant note

— Billy Liucci (@billyliucci) August 28, 2013
ESPN's Brett McMurphy confirms the report:
Johnny Manziel has been suspended 1st half vs. Rice, source told @ESPN. 1st reported by @billyliucci

— Brett McMurphy (@McMurphyESPN) August 28, 2013
ESPN.com reports the details on the situation:
An agreement has been reached between the NCAA and Texas A&M that a source told ESPN's McMurphy closes the book on Manziel's recent issues.

The NCAA has acknowledged Manziel did not receive money for signing autographs, the source said.

The NCAA had been investigating whether Manziel was paid for autographs, a potential violation of amateurism rules that could threaten his eligibility.
According to Liucci, Manziel violated secondary violation bylaw 12.5.2.2 which is called "Use of a Student-Athlete's Name or Picture Without Knowledge or Permission".
The bylaw states (via NCAA):
If a student-athlete's name or picture appears on commercial items (e.g., T-shirts, sweatshirts, serving trays, playing cards, posters, photographs) or is used to promote a commercial product sold by an individual or agency without the student-athlete's knowledge or permission, the student-athlete (or the institution acting on behalf of the student-athlete) is required to take steps to stop such an activity in order to retain his or her eligibility for intercollegiate athletics.
Manziel's suspension comes on the heels of a reported six-hour interview with the NCAA on Sunday.
ESPN's "Outside the Lines" first discovered that the reigning Heisman Trophy winner had reportedly agreed to sign memorabilia in exchange for payment during a trip to Miami in January to view the BCS National Championship Game.
As per ESPN, Manziel allegedly inked his signature on various items—ranging from photographs to football helmets—after meeting with autograph broker Drew Tieman and was given a flat-rate payment said to be worth somewhere around five figures in exchange for the autographs.
Johnny Football directly helped score a ridiculous 47 touchdowns in 2012, and none of the backups on the roster project to have anywhere near the same impact as the sophomore signal-caller.
The Aggies will start either junior Matt Joeckel or freshman Kenny Hill in the first half vs. Rice. Neither player will be asked to do much, but it will be noticeable that Manziel isn't under center.
With Manziel out for just one half of football, the university should be fine as it seeks wins against some of the powerhouse programs in the SEC. A suspension of this length shouldn't damage the Aggies' national title hopes.
This suspension caps off a tough offseason for Manziel, who has struggled to deal with his newfound celebrity. After winning the Heisman Trophy last season, he was vaulted into the spotlight and has stayed there.
Hopefully the young man is able to use this suspension to clean up his act and return with a focus on football by doing whatever it takes to stay on the field. If he can, there isn't much that can hold him back from earning more accolades than he already has.
This article is
What is the duplicate article?
Why is this article offensive?
Where is this article plagiarized from?
Why is this article poorly edited?