USC Football: Week 1 Fall Practice Stock Report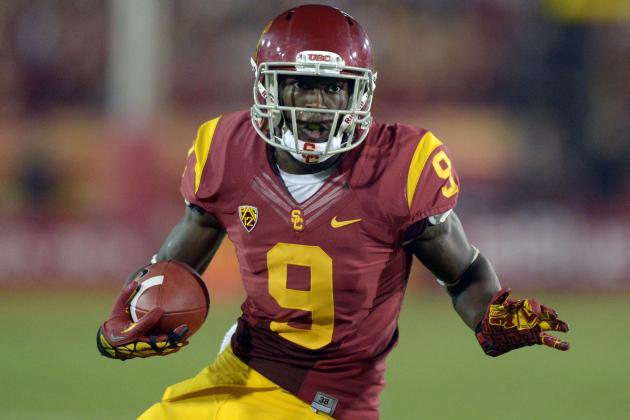 USA TODAY Sports

With so many questions still confronting the 2013 Trojans' football team, head coach Lane Kiffin and his staff are running out of time in looking for answers.
Determining a starting quarterback, finding out who will man the defensive secondary and setting rotations are just a few of the concerns that will have to be addressed by a coaching staff that has to produce this year if those coaches are to keep their jobs beyond this season.
Given that backdrop of uncertainty, USC heads into its final session of practices before the Trojans open the season on the road against Hawaii on Aug. 29.
Following is a look at what is happening with USC, beginning with this week's opening set of practices.
Are the Trojans ready to make noise in 2013? Let's find out.
Begin Slideshow

»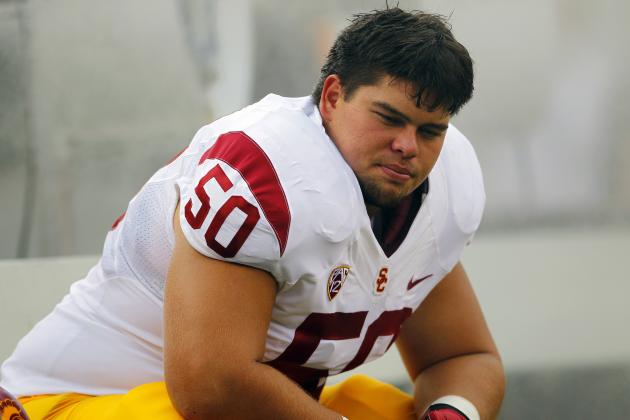 Rich Schultz/Getty Images

USC righted a horrible wrong when Lane Kiffin welcomed back offensive lineman Abe Markowitz, according to Gary Klein of the Los Angeles Times.
Markowitz was granted a sixth year of eligibility by the NCAA, but was told by Kiffin that he would not be allowed to return to the Trojans in 2013.
After experiencing a change of heart, Kiffin has now given Markowitz an opportunity as a walk-on, with Markowitz now working with the second- and third-string units.
Allowing Markowitz to return fixes a ridiculous decision by Kiffin, who said of at the time of his initial decision (via the Los Angeles Times), ""We're not bringing him back, we don't have room."
Actually, you do coach and it's a damn good thing too.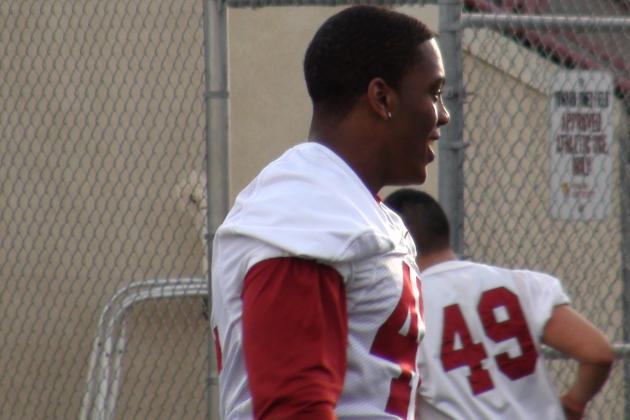 Kevin Greene (photo from 247sports.com)
In an attempt to bolster a somewhat-depleted tight end corps, USC has moved defensive end Kevin Greene to help make up for the offseason losses of Junior Pomee (legal issues) and Christian Thomas (transfer).
Greene had been listed as Morgan Breslin's backup at outside linebacker, according to the USC spring depth chart, but now will spell Xavier Grimble and Randall Telfer, along with primary backup Jalen Cope-Fitzpatrick.
The move is somewhat curious though, as Telfer has returned from an injury and the position change of Greene leaves true freshman Quinton Powell as Breslin's backup.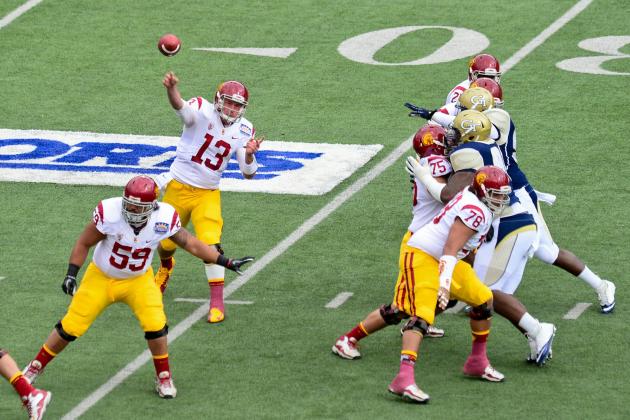 Matt Kartozian-USA TODAY Sports
Max Wittek
The battle to see who succeeds Matt Barkley at quarterback remains murky at best with neither Max Wittek nor Cody Kessler doing much of anything to help their cause.
For a day or so, it looked like Kessler might be building on a strong spring session, but on Wednesday, he threw three interceptions and fumbled a snap to open the practice.
Meanwhile, Wittek has done little to distinguish himself, as he also has thrown three picks so far.
True freshman Max Browne has taken his share of the snaps, but not to the extent of Wittek and Kessler. Browne looks on target to gain redshirt status for 2013, although Lake Kiffin has not said that will be the case.
In a perfect world for the Trojans, one of the prospective QBs would distinguish himself so that Kiffin could name his starter and get him working with the starting unit before time runs out prior to the start of the season. That scenario seems tenuous now.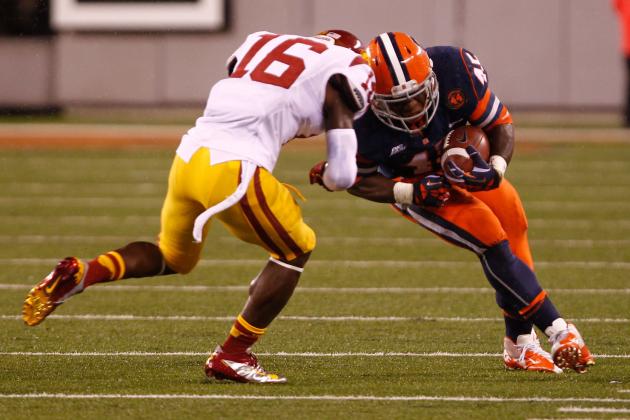 Debby Wong-USA TODAY Sports
Cornerback Anthony Brown
It is easy to criticize the Trojans' quarterbacks for making mistakes when they throw interceptions, but perhaps the Trojan secondary deserves some of the credit, too.
USC's defensive backfield—especially its cornerbacks—has been maligned since 2012, but so far this preseason, it has done very, very well.
Beyond the interceptions, members of the secondary have been in on the action and have given up few big plays. Going against perhaps the best tandem of receivers in the nation in Marqise Lee and Nelson Agholor, the secondary has held its own in practice overall, including against the run.
Though it is still early in the process, the secondary will remove one of the most serious concerns the Trojans have if they can keep this up.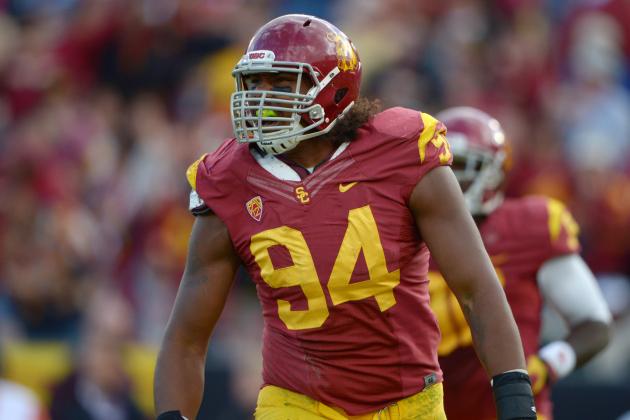 Kirby Lee-USA TODAY Sports
Leonard Williams
Given the quality of the Trojans' defensive front seven, it should come as no surprise that the defense has been dominating the offense early in camp.
Led by tackle Leonard Williams and outside linebacker Morgan Breslin, the USC defense has been controlling the tempo in the early going, although that probably has quite a bit to do with turnovers by the offense.
There has also been some disruption in the offensive line, as left tackle Aundrey Walker has been sidelined with an undisclosed injury and Chad Wheeler has taken his place on both Tuesday and Wednesday, which hasn't helped matters either.
Lane Kiffin told Fox Sports Next reporter Lindsey Thiry (paid link) that he didn't think the offense would ever catch up to the defense, But Kiffin added that may be a good thing, noting, "It might mean we are really good on defense."
Let's hope so.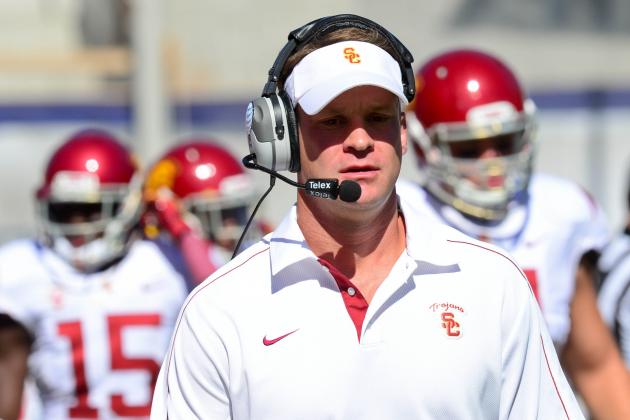 Matt Kartozian-USA TODAY Sports

It is still far too early to make any definitive assertions regarding how USC looks early in preseason practice session.
With Thursday's first scrimmage still to be played, any analysis on what has been accomplished so far would be premature.
Still, there have been some promising developments that have taken place, and while most of these are on the defensive side of the ball, it should be noted that USC has a chance to be really special defensively. Consequently, the Trojans' offense shouldn't be condemned quite yet.
Next week should reveal more about the state of the team. Hopefully, a quarterback will separate himself from the pack so that some fine-tuning can take place while there is still time.
With the 2013 season opener less than three weeks away, Lane Kiffin and his staff are running out of time to answer some very basic questions. The sooner those issues are settled, the better for all concerned.