Three Fights Most Likely to Get Wanderlei Silva Back in the Title Hunt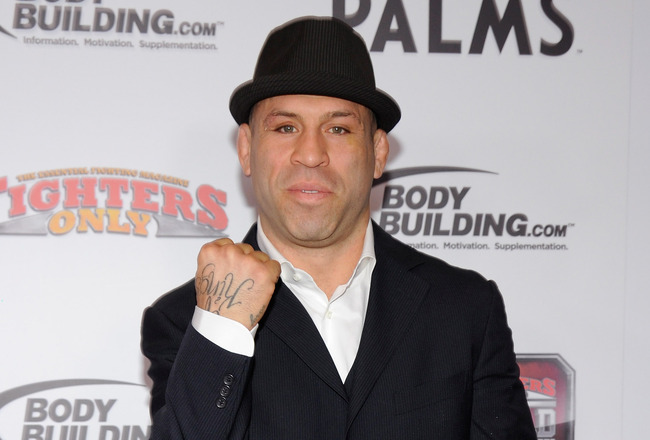 Ethan Miller/Getty Images
UFC veteran Wanderlei Silva (35-12) is in the twilight of a remarkable 17-year mixed martial arts career.
"The Axe Murderer" has fought the best in the world, including incredible battles with the likes of Brian Stann, Rich Franklin, Cung Le, Quinton Jackson, Chuck Liddell, Dan Henderson, Mirko Filipovic, Mark Hunt, Tito Ortiz and Vitor Belfort.
Considering these MMA wars, and the barrage of devastating knockouts he's suffered, many have speculated that the Brazilian should retire.
According to the UFC, Silva is not a current top-10 ranked combatant. However, the Brazilian's popularity in the world of MMA is profound, with his fame stemming from his time as world champion in Japan. Regarding retirement, Silva's recent destruction of a highly-respected Brian Stann at UFC on Fuel TV 8 all but postponed these talks.
At 37 years old, Silva still possesses tremendous knockout power and is a force with which to be reckoned. It is more than feasible for Silva to regain his standing among the middleweight's elite fighters.
A victory over key combatants within the 185-pound division could have the former Pride middleweight champion fight for a world title one last time.
Anderson Silva vs Wanderlei Silva
Anderson Silva
Buda Mendes/Getty Images
Irrespective of the outcome between Anderson Silva and Chris Weidman later on this year, "The Spider" will continue to sell out arenas until he retires. However, if Silva loses the rematch against Weidman at UFC 168, this would shift the structure of the middleweight division. It would also grant opportunities to others vying for a shot at the title.
Silva was the UFC's longest-reigning champion. His seven-year grip over the middleweight division provided up-and-coming middleweights with little hope. In fact, before his devastating loss to Weidman at UFC 162, many believed that the Brazilian had already cleaned out his division.
Back in 2009, there was talk of a match-up between "The Spider" and "The Axe Murderer." Leading up to UFC 99, UFC president Dana White stated, "…we could see a Wanderlei Silva-Anderson Silva fight in the very near future."
Since then, the commotion has calmed regarding a bout between the two former world champions. However, the landscaping has changed within the middleweight division, as "The Spider" is no longer champion. A second loss to Weidman would set up a perfect legend-versus-legend match-up between the two Brazilians.
Vitor Belfort vs Wanderlei Silva II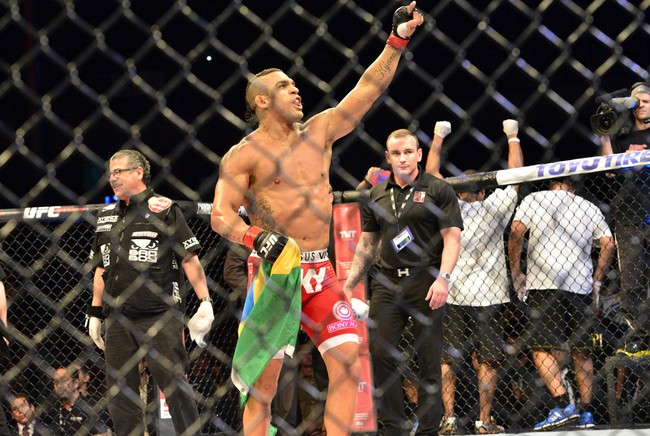 Vitor Belfort
Jason da Silva-USA TODAY Sports
Fifteen years ago, Wanderlei Silva was brutally knocked out by the future UFC light heavyweight champion in Belfort. The two only fought once. However, "The Phenom" left a lasting impression on the world of MMA with his 44-second knockout of Silva.
The two combatants were supposed to face each other again at UFC 147. However, Belfort broke his leg while training and was replaced by former middleweight champion Franklin.
Currently, Belfort is the UFC's No. 2 middleweight contender. A match-up between the two would be heavily touted and one for the ages. Both parties enjoy the stand-up game, boasting 41 knockouts between them. It is unlikely that a bout between Belfort and Silva would last three rounds.
With the match-up, Silva could avenge his loss to Belfort. A convincing win on Silva's part would leave him in great standing among the best of the middleweight division.
Michael Bisping vs Wanderlei Silva II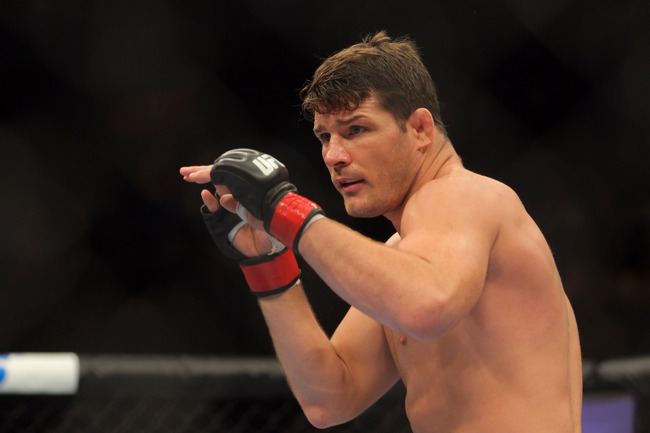 Michael Bisping
Brad Penner-USA TODAY Sports
At UFC 110, Silva decisioned Michael Bisping in a slow yet technical match-up. Both combatants fought cautiously before Silva pushed forward with a flurry of punches at the end of the third round that won him the bout.
Bisping is currently the middleweight division's No. 4 contender. The two fighters also possess a certain amount of disdain for each other. Leading up to their UFC 110 match-up, Silva stated:
We're going to stop talking. Talking is the easy part of the show. He's talking a lot, I'm talking a lot but now we're going to see Saturday. We'll have a great show and I'm going to kick your ass.
Having beaten the Englishman before, this match-up appears to be the most plausible. A victory over a top-ranked opponent in Bisping would solidify Silva's standing among the 185-pound division and possibly lead him to his final shot at a world title.
Keep Reading