Tennessee Titans Stock Watch: Players Who Are Rising and Falling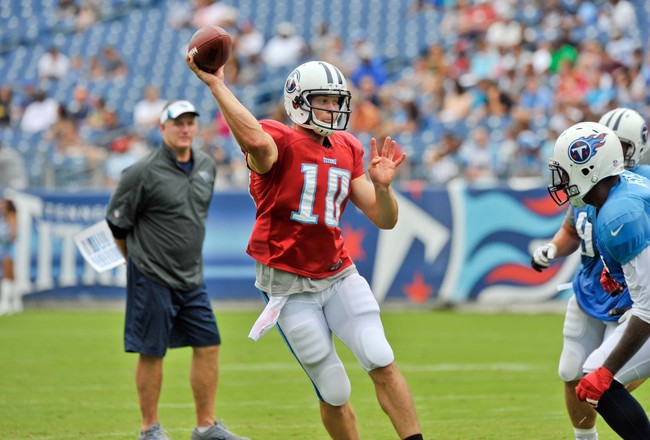 Jake Locker
Jim Brown-USA TODAY Sports
Training camp is already well underway for the Tennessee Titans, and that means the stock of certain players has already shifted from what it was just a week ago.
The Titans have to show some considerable progress in 2013 if Mike Munchak is going to remain the head coach past this season. The players he chooses for the 53-man roster will have a major impact on his future with the Titans.
Here's how the stock is looking for some of the Titans' key players as the preseason opener is just a few days away against the Redskins.
Michael Preston: Rising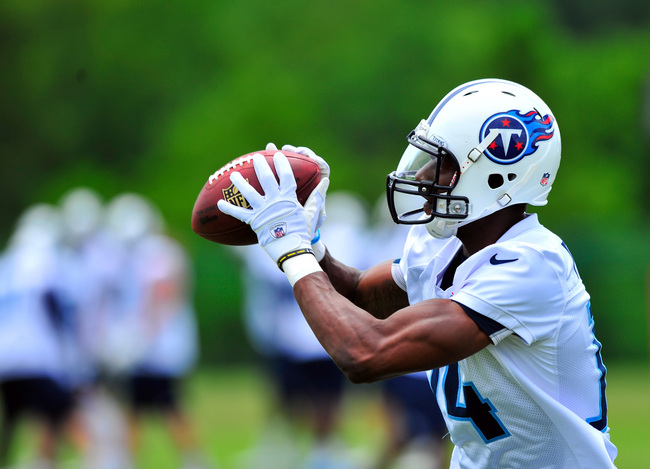 Jim Brown-USA TODAY Sports
It's no secret the wide receiver position is one of the bigger camp battles for the Titans. There are a handful of capable receivers on the current roster, but the Titans probably won't take more than six or seven in their final cut.
In comes Michael Preston, who is entering his second season. He managed some playing time toward the end of last season.
Preston is having a strong training camp so far, including a nice touchdown catch over the Titans' top cornerback, Jason McCourty.
Scuffles between players are also common occurrences at training camps, and Preston got into one with Michael Griffin during the early portion of Titans camp.
It may not earn him a spot on the roster, but it does show coaches he's passionate. That goes a long way into getting a last remaining roster spot.
Jalen Parmele: Falling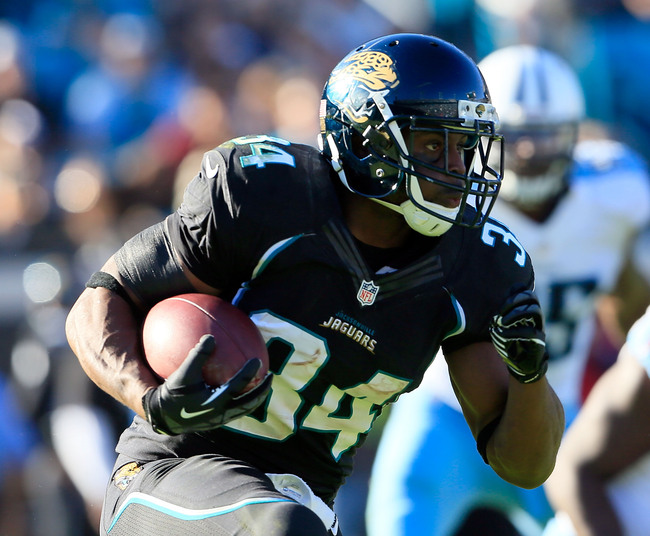 Sam Greenwood/Getty Images
The battle for who is going to line up behind Chris Johnson and Shonn Greene at running back is one that isn't getting much attention.
It really comes down to Jalen Parmele and Jackie Battle for that limited role on the team, and Parmele isn't helping his stock at all with a nagging ankle injury.
Battle took advantage of that by running hard and showing that he's a guy who can get tough yards in the trenches if needed.
At this point, Parmele will need an extremely impressive preseason to jump over Battle on the depth chart for a roster spot.
Marc Mariani: Rising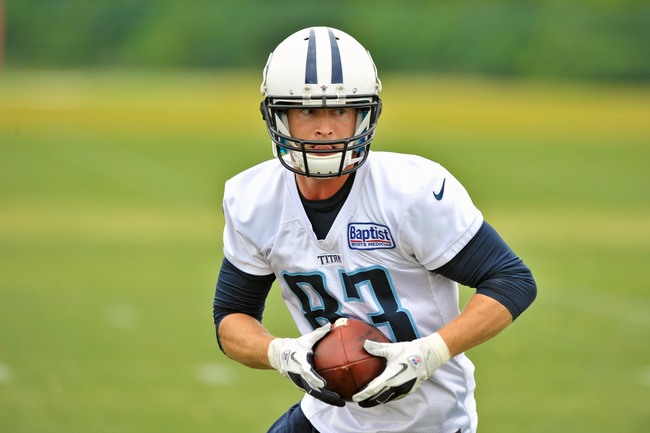 Jim Brown-USA TODAY Sports
Marc Mariani offers a great story for the Titans if he can make the team, but does he bring value as a wide receiver to this team? That is the million-dollar question when evaluating Mariani's stock.
We all know he can be a great return guy, but the Titans also have Darius Reynaud for that.
His stock is rising at the moment thanks to a strong training camp showing and playing very well during the scrimmage at LP Field.
It's really no secret that Mariani can turn short catches into significant gains, and he did that as a receiver during the scrimmage. Coaches need to see that if they're going to feel comfortable giving him a roster spot as a receiver.
The jury is still out on if Mariani can make this team, but he's doing everything right so far.
Jake Locker: Falling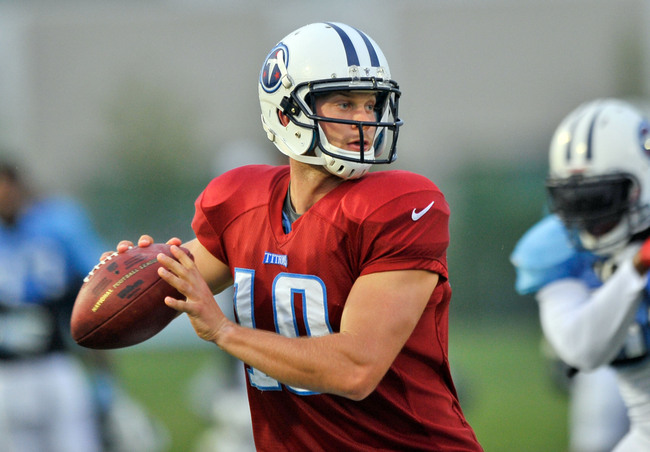 Jim Brown-USA TODAY Sports
You want your franchise quarterback to look sharp on a consistent basis throughout training camp practices, and Jake Locker hasn't been consistent.
He's had his moments where he's made some good throws, but there have been several other occasions where he has reinforced the notion that he can't make accurate enough throws to be an NFL starting quarterback.
The Tennessean's Jim Wyatt observed a handful of missed throws in red-zone scenarios in a recent practice, and that is a situation the Titans have to show improvement in if they're going to be any better than six or seven wins.
The Titans will ride it out with Locker into Week 1, but his stock continues to fall.
Jackie Battle: Rising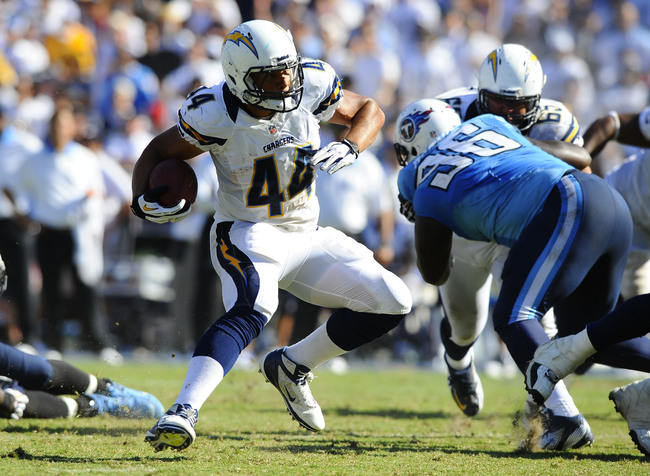 Christopher Hanewinckel-USA TODAY Sports
It's kind of ironic that Jackie Battle is impressing the Titans so much, considering how he torched them for almost five yards a carry in last season's meeting.
Battle is standing out as the Titans' third option at running back behind Chris Johnson and Shonn Greene. He's a hard runner who could end up being a nice option near the goal line.
If he does make the team, then don't expect him to be all over the box score. With that said, he's showing in training camp that he could provide some unexpected value to this team during the regular season.
Justin Hunter: Falling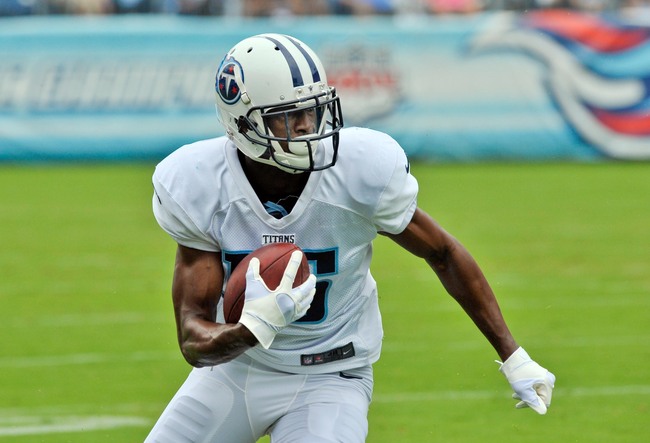 Jim Brown-USA TODAY Sports
It hasn't been a smooth ride so far for Justin Hunter in training camp, and the recent scrimmage at LP Field showed more of the same from the gifted rookie.
After already missing a good chunk of the vitally important OTAs, Hunter had a couple drops in Saturday's scrimmage.
There really hasn't been any positive things said about Hunter since he was drafted back in April. That can all change once he gets into some competitive situations against another team.
Many people are expecting Hunter to put up some impressive numbers in his rookie season, but it has hardly looked like he's even remotely ready to make an impact with his performance in training camp, per Jim Wyatt.
Preseason will give Hunter a chance to really highlight his abilities to make big plays against another team's defense. Maybe that's all he needs to get his head in the game, but right now, his stock is falling.
Coty Sensabaugh: Rising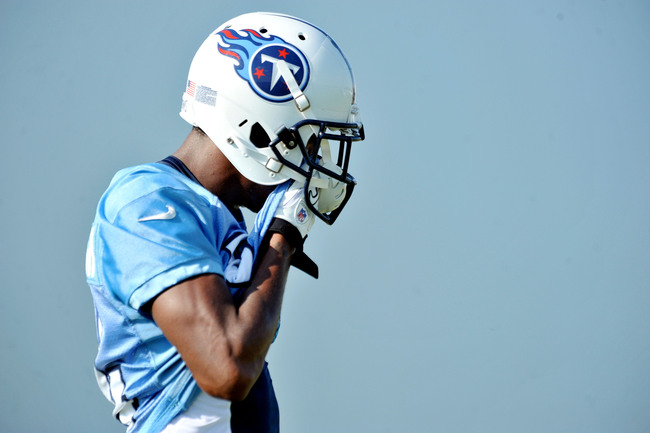 Jim Brown-USA TODAY Sports
Cornerback is one of the bigger position battles in Titans training camp, outside of wide receiver.
Coty Sensabaugh is effectively making his case to increase his role at cornerback this season, according to The Tennessean's John Glennon. He's mainly regarded as a nickel cornerback, but he's giving some competition to Tommie Campbell and Alterraun Verner to get some looks as the other cornerback opposite Jason McCourty.
Whoever ends up starting opposite of McCourty in Week 1 at cornerback is anyone's guess at this point. It was a two-man race, but Sensabaugh has worked himself into the equation in training camp.
Colin McCarthy: Falling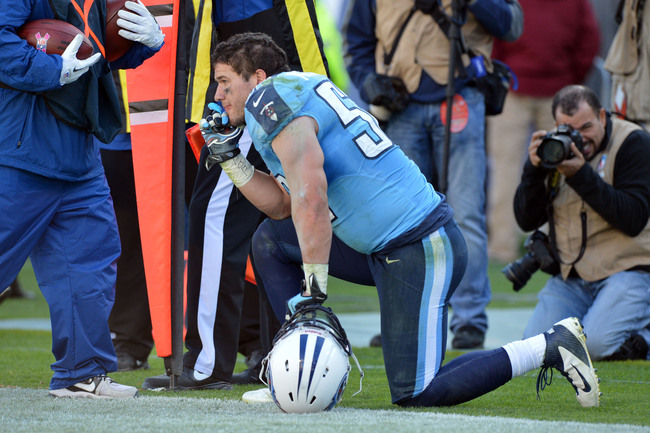 Don McPeak-USA TODAY Sports
Whether it's fair or not, injuries can drop a player's stock in training camp just as fast as poor play can.
Unfortunately for Colin McCarthy, his nagging injuries are forcing him to be overshadowed by Moise Fokou, who was one of several big free-agent signings this offseason.
Per The Associated Press' Teresa M. Walker, McCarthy could easily end up losing his starting role at middle linebacker in Week 1 if he continues to miss time due to injuries.
His latest injury is an aggravated hamstring that is forcing him to miss more vital time and that will also keep him out of the preseason opener against the Redskins.
Even though McCarthy has already proven himself in the past to be an outstanding leader for the defense, he still has to be out there performing in training camp.
Now it's obviously not the end of the world for McCarthy. He could end up coming back looking better than ever in the final three games of the preseason and reinforce that he's hands-down the top option at middle linebacker for the Titans.
It's hard to do that when you're on the sidelines watching, though.
You have to remember that the Titans are full of position battles right now, and McCarthy isn't exempt from that. Until he can consistently stay on the field and remind coaches how good he really is, Fokou is going to keep inching closer to winning that starting role in Week 1.
Keep Reading

Tennessee Titans: Like this team?