College Basketball's All-Freak Team: The Most Amazing Athletes at Every Position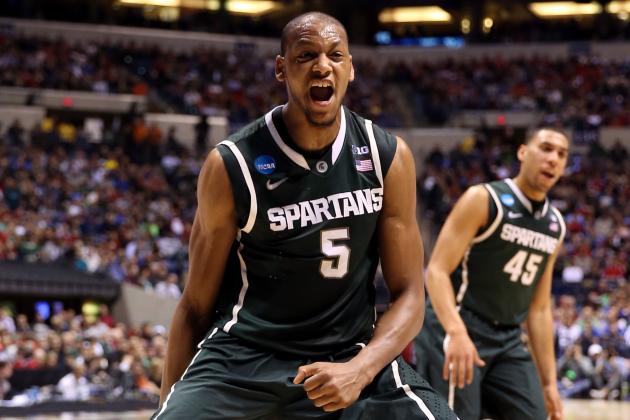 Andy Lyons/Getty Images

College basketball analysts aren't quite as focused on speed and quickness as their college football counterparts are, but that doesn't mean athleticism isn't critical on the hardwood.
In today's day and age of the stretch forward and full-court press, there are hundreds of "athletes" in the college game. The list of candidates for an "all-freak" team is almost endless, so feel free to add the ones you think are missing in the comments section.
With that in mind, read on to see college basketball's all-freak team for the 2013-14 season.
Begin Slideshow

»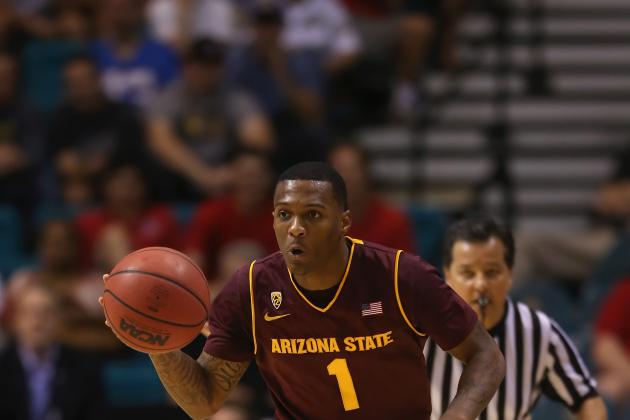 Jeff Gross/Getty Images

ESPN.com recently raised the possibility that Arizona State's Jahii Carson is the fastest point guard in the country, and one can effectively make that case.
While the Usain Bolt comparison in that article may be a bit of hyperbole, Carson is certainly one of the most athletic and speedy players in the country. To play the role of point guard on the all-freak team, ridiculous speed is necessary, and that is what Carson possesses.
Carson flies a bit under the radar because he plays for Arizona State, but he used that athleticism to post 18.5 points a game, 5.1 assists and better than a steal per night as a freshman. If he improves on his turnover numbers, he can enter the echelon of some of the top point guards in the country.
For now, he will have to settle for being the primary ball-handler on the 2013-14 all-freak team.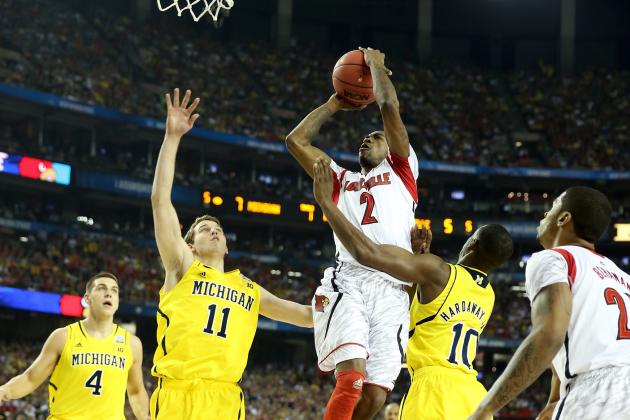 Andy Lyons/Getty Images

Louisville's Russ Smith may occasionally struggle with turnovers and shooting percentage, but his pure athleticism is always in place. If the Cardinals are going to contend for another national championship, they are going to need Smith to use that athleticism to lead a team that will be without Peyton Siva.
Smith almost left for the NBA in the offseason, where he would have been selected in large part for the exact athleticism that lands him on this hypothetical all-freak team, but he is back on campus for his senior year.
Smith should be one of the best guards in the country this year on both ends of the floor. His quick hands will create a number of turnovers on defense, while his ball-handling ability and speed will allow him to effectively get to the basket on offense.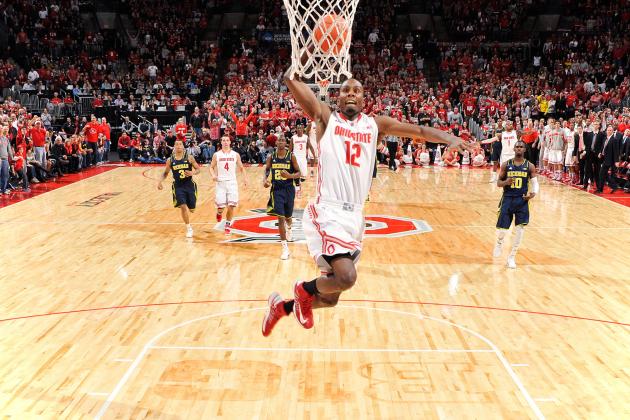 Jamie Sabau/Getty Images

If we are building an all-freak team, there has to be the prototypical dunker who will thrill fans at the end of blowouts with windmills and bring the crowd to its feet in critical moments by slamming over opposing big men.
That role will be filled by Ohio State's Sam Thompson, who is one of the best dunkers in the country (if not the top one). The rest of his game began to catch up to his high-flying acrobatics at the end of last year, but for the time being Thompson is best known for his dunking prowess.
There is more to Thompson's athleticism than just dunks, however. He is an effective defender, drives past opponents who press up on him and can even post up smaller defenders.
But really, we just want to see the dunks when it comes to this hypothetical squad.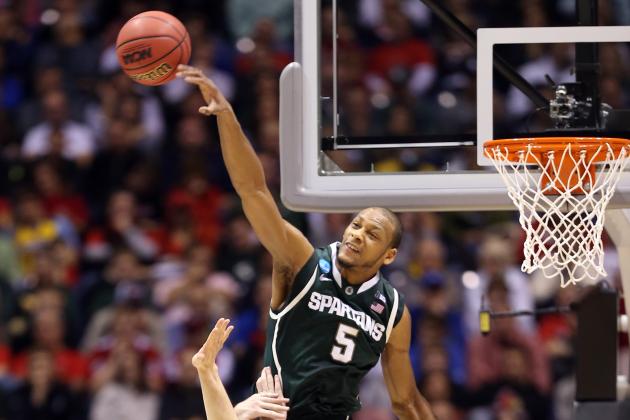 Andy Lyons/Getty Images

Adreian Payne is going to be Michigan State's primary big man in 2013-14, but he played plenty of power forward last year with Derrick Nix alongside him, so he qualifies as a 4-man on the all-freak team.
Payne is not just athletic for a big man; he is one of the most athletic players in the entire country. He has impressive speed, can handle the ball, can hit the three-point shot (not necessarily that athletic of a feat, but worth mentioning), can swat shots with the best of them, can throw down rim-rattling dunks and can post up smaller defenders.
As arguably the most athletic power forward in the country (and one of the most talented), he will be a critical component for the Spartans if they are going to live up to the high expectations in place in East Lansing.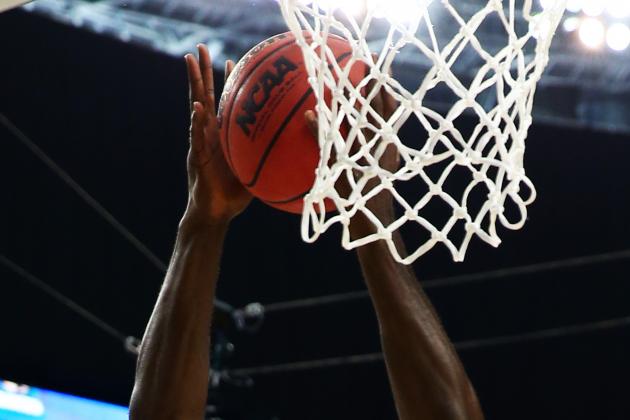 Tom Pennington/Getty Images

When it comes to physically intimidating players, it doesn't get much more daunting than Florida's Patric Young.
He has added muscle since he arrived in Billy Donovan's program, and the results show on the court. Young patrols the lane on both ends of the floor and will be the rim protector for this all-freak team.
The combination of Young and Payne will mean a shortage of rebounds for any opponents this squad would go up against.
Young is one of the most athletic big men in the entire country and would have no issue fitting in on this squad, even if he doesn't quite possess the pure speed the others do.
Follow and interact with college basketball writer Scott Polacek on Twitter @ScottPolacek.