Position-by-Position Breakdown of the Oakland Athletics' Standout Prospects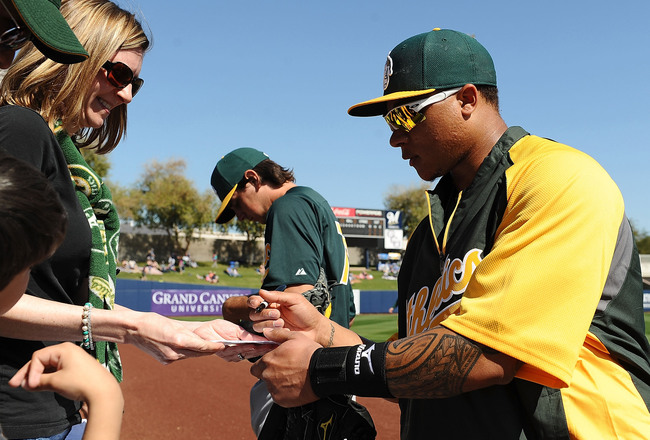 Michael Choice is one of Oakland's top prospects.
Jennifer Stewart/Getty Images
The Oakland Athletics are in a solid spot right now. The major league team is in contention and the farm league has a solid supply of young talent who are either living up to hype or turning heads.
From the Triple-A Sacramento River Cats down to the High-A Beloit Snappers, the A's organization features a wide variety of talent from starting pitchers to positional players. So which A's minor leaguer is performing better than anyone else in the system at his position?
For clarity purposes, this isn't a look at how the top labeled prospect at each position is doing. This is more a glimpse of the best performer right now at each position. So, for example, Matt Olson is the highest-ranked first baseman within the organization, but he's not playing the best as we speak.
Here are nine players—one for every position—who are making a name for themselves.
All stats courtesy of MiLB.com.
Pitcher: Sonny Gray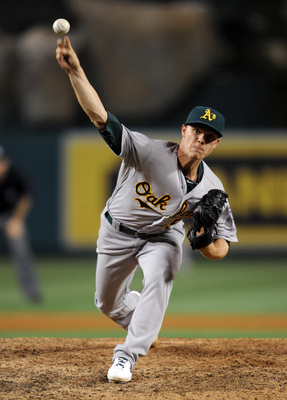 Sonny Gray held his own in his first big league stint.
Jayne Kamin-Oncea-USA TODAY Spor
The standout at pitcher pretty much goes without saying. Sonny Gray is major league ready right now.
Before the midway point, Gray pitched to an 8-6 record, but most impressively kept his ERA at 2.99. In 102.1 innings pitched, he only allowed 34 earned runs, four home runs and 36 walks. In the same stretch, he struck out 107 batters.
It's no wonder he got called up.
In two games with the Oakland A's, he faced 15 batters. Gray struck out six, walked one and only allowed two hits.
The A's sent Gray back down, but after being hyped all season, he (so far) proved his status as a top prospect. He's a safe bet to see more time in Oakland at some point this season, and possibly soon with recent struggles from the starting rotation (Tommy Milone sent down, A.J. Griffin's home runs allowed).
In fact, on Aug. 7, Susan Slusser of the San Francisco Chronicle speculated that "Gray is being seriously considered" to start Aug. 10 against the Toronto Blue Jays.
Soon might end up meaning two days.
Catcher: Bruce Maxwell
The A's don't really have any dazzling catching prospects in the farm system right now. But compared to each other, one stands above the rest—barely. We're talking centimeters.
If Stephen Vogt weren't with Oakland right now, he'd be listed here. But he's currently in the majors.
Bruce Maxwell is somewhat the "standout" by default.
David Freitas got called up to Triple-A recently, where he's hitting .357 in 11 games. It's impressive right now, but the sample size is small, and if Vogt goes back down, so too might Freitas, back to Double-A. At that level, he hit .214.
Nick Rickles is hitting well right now.
The Beloit Snapper holds a .268 average with seven home runs and 30 RBI. The only problem is he's in the role he's in because Maxwell received the call-up to Single-A.
With Beloit, Maxwell hit .286. Along the way, he nearly walked (24) as much as he struck out (29). The knock against him is, in the month he's been with the Ports, he's hitting just .240. Sure, it's not great yet, but in half of the Single-A games he's just about halfway to his High-A production, fittingly.
So, at the least, he recently got called up and he's consistent, which puts him on this list.
In the above MLB.com video, Maxwell is described as a good hitter with power but not very defensively-gifted.
First Base: Anthony Aliotti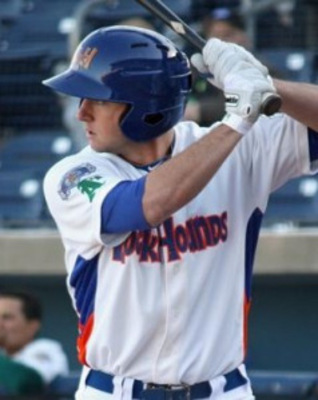 Photo Courtesy of Athleticsfarm.com
There are three first basemen in the top 20 of A's prospects: Matt Olson, Max Muncy and Anthony Aliotti.
Olson is the highest on the list, ranked No. 7, but he's hitting a dismal .221 in High-A ball. It's not as if he hasn't had his chances either, because so far he's played in 110 games.
Muncy played well enough in Single-A Stockton. A .285 average and 21 home runs earned him the call-up to Double-A Midland, but he's hitting .220 in 22 games.
So why Aliotti?
Because he too received a recent call-up. Yes, he's hitting .220 as well, but at the higher level (Triple-A) and in less opportunities (16 games). But whereas Muncy hit .285 beforehand, Aliotti racked up a .350 average in 91 games, including 119 hits, 29 doubles and 12 home runs for 51 RBI total. Additionally, he walked a whopping 66 times. On defense, he only committed two errors.
He may be the lowest ranked of the three, but he's performing better than the other two right now.
All three are hitting the same. Aliotti's doing it at the higher level.
In quotes obtained by Oscar LeRoy of MyWestTexas.com, even Aliotti seemed a bit shocked by his performance. Here's what he had to say upon getting the promotion:
It's been an incredible year for myself. I never thought these kind of numbers would be put up. In the past I had decent numbers here and there, but this was definitely an outstanding year. I got comfortable here in Midland...
Melissa Lockard of OaklandClubhouse.com put his Double-A numbers in a better light, stating, "To put Anthony Aliotti's .350/.452/.541 line in context, the Texas League average line this year is .251/.319/.390."
Second Base: Chris Bostick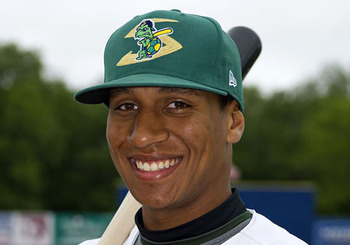 Photo Courtest of BaseballAmerica.com
Jemile Weeks should be here, but with a season's worth of experience under his belt (half of 2011, half of 2012) he's no longer really a "prospect." Besides, it seems clear the A's have no desire to bring Weeks back into the picture (they've brought Adam Rosales back twice, called up Grant Green and traded for Alberto Callaspo).
The next best performing minor league second baseman—and prospect—is Chris Bostick.
In 107 games with the Beloit Snappers, Bostick owns a .280 batting average. The great thing about Bostick is he's doing just about everything.
He has 113 hits (in 107 games), so he's hitting for average. Flashing some power, he's put 13 dingers over the fence and added 20 doubles and eight triples. He's even stolen 21 bases.
The 20-year-old prospect is flat out impressive.
If he can continue this high-quality play through the next few years, even as he moves upward through the minors, he could be the future at second base in Oakland.
Shortstop: Addison Russell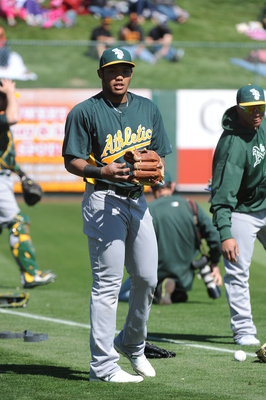 Man-child Addison Russell is living up to the hype.
Rich Pilling/Getty Images
Addison Russell isn't listed here simply because he is Oakland's No. 1 prospect. He's here because he is legitimately the best shortstop in the farm right now.
His .271 batting average is tops of all shortstops on A's minor league teams.
Currently on the Stockton Ports (Single-A), Russell has the fifth-most home runs with 12 in 84 games. He also has the second-most hits on the team.
Russell is hitting for average, hitting for decent power, knocking in runs and stealing bases. He appears to be ready for the next level.
Lastly, he's No. 19 on Baseball America's prospect ranking (h/t CSNBayArea.com). The No. 19 is fitting, as Russell, 19 years old, also played in the MLB All-Star Futures Game.
Interviewed at the game, Russell said he'd like to bat in the .300s and described his self as agile enough to remain at shortstop, according to Lindsay Berra of MLB.com.
Third Base: Renato Nunez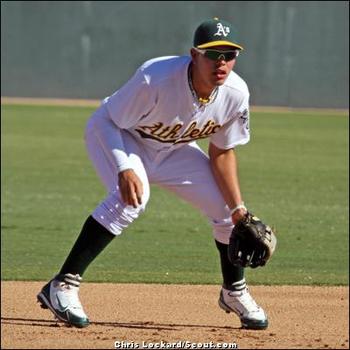 Photo Credit: Chris Lockard of Scout.com
Just like the first baseman slide, the A's have three third basemen in their top 20: Renato Nunez, Daniel Robertson (listed as a shortstop too) and Miles Head.
No, Daric Barton's switch to third base still doesn't qualify him.
Head is currently on the disabled list. Before landing on the DL, he only hit .196, while Robertson is hitting a cool .264 in High-A right now.
Then there's Nunez.
Also playing for the High-A Beloit Snappers, Nunez has 115 hits in 105 games for a .275 average. Not impressed? Twenty-three doubles and 18 home runs might do the trick. Nunez might also be ready for the next level.
The Minor League Scoop Twitter account mentioned his power too, tweeting Nunez has "slowed down a bit" but describing him as "still a young stud."
Left Field: D'Arby Myers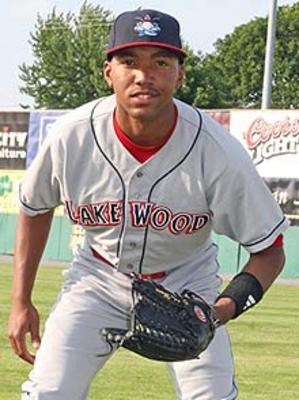 Photo Credit: Phillies.Scout.com
Jason O. Watson/Getty Images
He's a little-known name, but he's doing good things.
D'Arby Myers, currently of the Midland Rockhounds (Double-A), holds a .285 average. The 24-year-old is actually hitting .378 in the last 10 games.
He doesn't have much power like the other outfielders on the list, but he makes up for it in speed. So far he has 18 stolen bases. Myers has also scored 61 runs.
Most impressively, however, is his current 16-game hit streak. Myers is hitting .463 in that span. so if we're talking who's hot right now, it's Myers, hands down.
Center Field: Michael Choice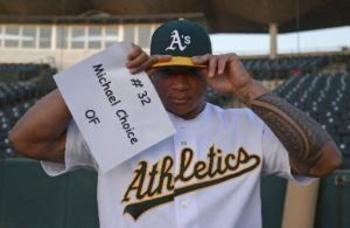 Photo Courtesy of Jose Carlos Fajardo of San Jose Mercury News.
Jennifer Stewart/Getty Images
The 23-year-old centerfield prospect plays for Triple-A Sacramento currently. In 109 games, he's hitting .296 with 22 doubles, 14 home runs and 73 runs batted in.
He's also just two seasons removed from a 30-home run campaign, though that was in Single-A.
But so far, Choice seems to be the prototypical A's player. He has speed, decent pop and strikes out quite a bit.
With Chris Young hitting .194 for the Oakland A's, one could make the argument that Choice deserves a shot at the big leagues and possibly becoming the fourth outfielder. Regardless of if that happens this year, Choice should be watched carefully come September roster expansions.
Brandon McClintock of BaySportsNet.com believes in Choice so much that he thinks the outfielder should be labeled as "untouchable."
While not meant to disrespect Sonny Gray by excluding him, there are two prospects in the A's system that should be untouchable this trade deadline: Addison Russell and Michael Choice. These are the two players that factor into the A's lineup for many seasons to come and anchor the team as they transition with the loss of free agents while remaining competitive over the next five seasons.
McClintock views Choice as the perfect replacement for Coco Crisp, Chris Young or even Yoenis Cespedes someday soon.
Right Field: Michael Taylor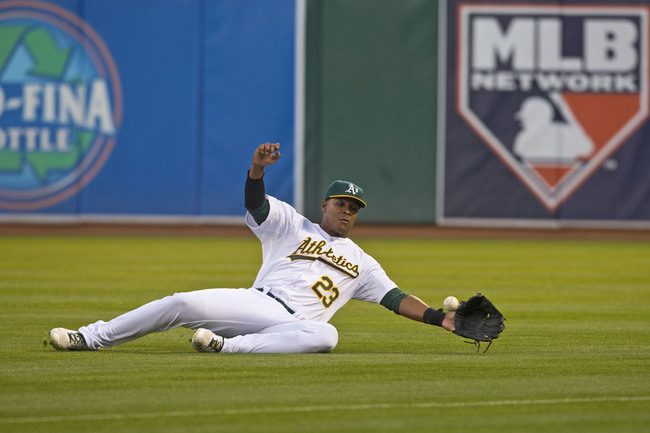 Michael Taylor makes a play in one of his few games with the A's.
Jason O. Watson/Getty Images
There's a few guys to choose from here, but I'm going to go with Michael Taylor.
He's 27 years old already. In fact, he turns 28 at the season's end. But I'm giving him the benefit of the doubt because in Triple-A he shows solid talent andhe's only played 26 games in the majors .
Taylor has the second-highest batting average on the River Cats (.293) among players currently on the roster and those with more than 25 at-bats. He leads the team in home runs and has knocked in the second-most RBI.
He's easily one of, if not the most MLB-ready player in the minor leagues right now. He's playing well now in Triple-A and has major league experience already.
Note: Taylor is listed as a left fielder on the roster, but he's been playing right field for the Cats.
While Taylor is playing well though, it doesn't mean he's actually going back up anytime soon. In fact, BaySportsNet.com's Brandon McClintock speculated that if a guy like Michael Choice gets called up in September, he could take a guy like Michael Taylor's spot on the 40-man roster. This is because, as McClintock implies, Taylor isn't in Oakland's plans anymore.
We'll find out this September. If not then, then never. At least not with this team.
Keep Reading

Oakland Athletics: Like this team?