Stock Up, Stock Down on MLB's Top 10 Prospects After Week 18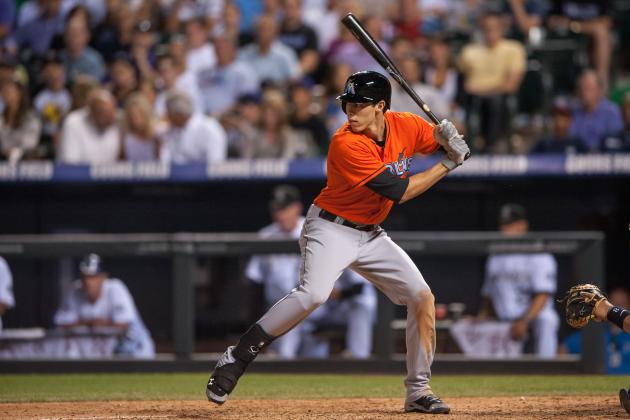 Dustin Bradford/Getty Images
Christian Yelich is batting .278/.316/.370 in 13 games since his debut on July 23.
We've seen the arrival of one of baseball's top prospects since the last installment of stock watch, as Miami Marlins outfielder Christian Yelich was promoted from Double-A Jacksonville to the major leagues on July 23. The 21-year-old made an immediate impact with the parent club, going 3-for-4 with an RBI in his debut.
Meanwhile, the Pittsburgh Pirates have promoted right-hander Jameson Taillon to Triple-A Indianapolis after nearly a full season at the Double-A level dating back to 2012.
As for poor Oscar Taveras, well, he's still roughly 10 days away from playing in rehab games after aggravating a pre-existing ankle sprain in mid-July.
Here's a look at how the rest of Prospect Pipeline's top 50 prospects have performed over the past week.
Begin Slideshow

»
Kim Klement-USA TODAY Sports

2013 Stats (AA): 110.1 IP, 3.67 ERA, .257 BAA, 106/36 K/BB (20 G/19 GS)
While Taillon's numbers this season at Double-A Altoona are obviously impressive, his overall performance has been inconsistent and at times frustrating. When he's on, the 21-year-old can be unhittable. When he's not, he's up in the zone and too hittable. The latter applies to his month of July, when the right-hander registered a 6.08 ERA in 26.2 innings. It also featured the worst outing of his career, as Taillon allowed 10 earned runs on 13 hits in 3.1 innings on July 13.
After the aforementioned shelling, Taillon rebounded in a big way over his next two starts by allowing only four earned runs on nine hits with a 13-2 strikeout-to-walk ratio in 12 innings. On August 2, the Pirates announced that they were promoting the right-hander to Triple-A Indianapolis. It's difficult to envision a scenario in which the club needs him in the major leagues this season; though, at the same time, nothing can be ruled out with a playoff berth on the line. A debut in late 2014 is more realistic.
Stock: Up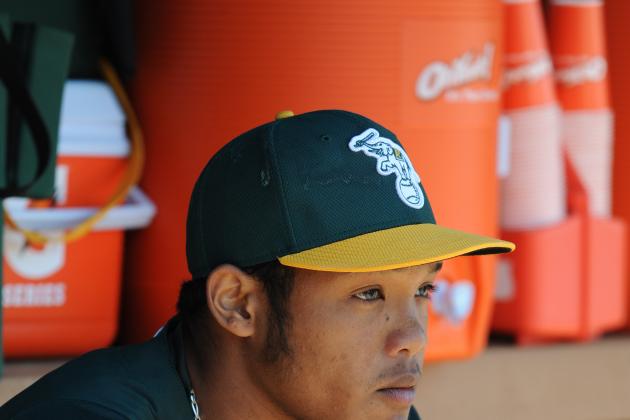 Rich Pilling/Getty Images

2013 Stats (A+): .271/.350/.507, 94 H, 49 XBH (12 HR), 12 SB, 97/39 K/BB (84 G)
After a sluggish start to the season that included a .749 OPS in April and .705 OPS in May, Addison Russell eventually righted the ship in early June and has since been putting up the numbers that we all expected he would in the hitter-friendly California League.
With Russell, it's important to keep in mind that he's a 19-year-old playing at the High-A level in his first full professional season. So don't read too far into his high strikeout rate this year; the whiffs are a product of a young hitter in a challenging environment and should decrease as he gains experience. It's also really encouraging that he's fared better against same-side pitching this season (.904 OPS in 264 at-bats) than he has against left-handers (.710 OPS in 83 at-bats).
Russell has been raking over his past 10 games, batting .364/.440/.773 with five doubles, two triples, three home runs and nine RBI.
Stock: Up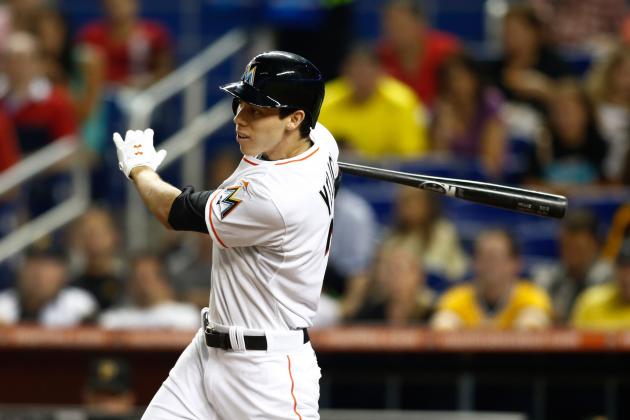 Robert Mayer-USA TODAY Sports

2013 Stats (MLB): .278/.316/.370, 7 R, 4 XBH, 13/3 K/BB (13 G)
After dazzling with three hits and two RBI in his major league debut on July 23, Yelich cooled off in a hurry over the following week, going 4-for-29 with 10 strikeouts in seven games.
Since then, however, the 21-year-old outfielder has settled in nicely at the top of Miami's lineup and is 8-for-21 (.381) with four runs scored during his current five-game hitting streak. While the timing of his arrival wasn't ideal after injuries limited him to only 61 games in the minors this season, Yelich is one of a select few young hitters capable of making a successful jump from Double-A to the major leagues.
Stock: Up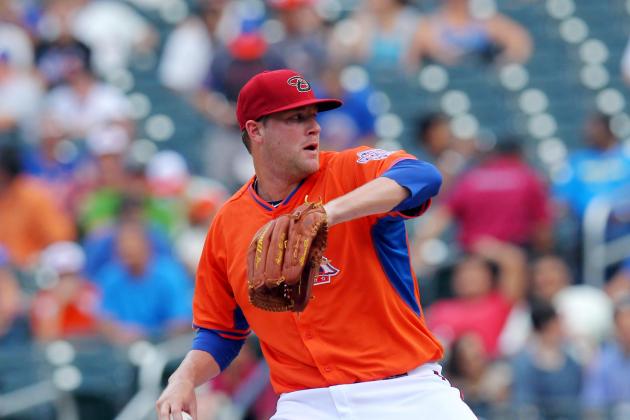 Brad Penner-USA TODAY Sports

2013 Stats (A+/AA): 2 CG, 124.2 IP, 1.88 ERA, .222 BAA, 133/54 K/BB (21 GS)
Archie Bradley enjoyed a red-hot start at Double-A Mobile, registering a 0.79 ERA and 37-16 strikeout-to-walk ratio over 32.2 innings (five starts) in May. While he was still very impressive over the two subsequent months, the 20-year-old right-hander struggled at times with his command, resulting in more hard-hit balls and walks.
And while I have your attention, let's take a look at his past three starts.
July 21: 6 IP, 4 H, 8 K, 2 BB (100 pitches/68 strikes)
July 27: 5 IP, 5 H, 2 ER, 3 K, 7 BB (101 pitches/50 strikes)
August 2: 9 IP (CG, SHO), 6 H, 7 K, BB (105 pitches/67 strikes)
While he still needs more time in the minor leagues, I wouldn't be surprised if the Arizona Diamondbacks turn to Bradley over the final month of the season. But considering he's already logged 124.2 innings between both levels—he logged 136 innings in 2012—my best guess is that he's used out of the bullpen.
Stock: Up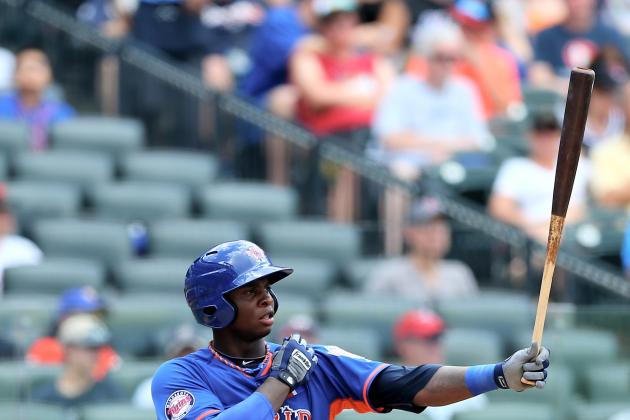 Elsa/Getty Images

2013 Stats (A+/AA): .290/.392/.607, 52 XBH (26 HR), 80 RBI, 103/52 K/BB (97 G)
Promoted to Double-A in early June after wreaking havoc on Florida State League pitchers, Miguel Sano has continued to showcase his robust with 10 home runs in 41 games. But while the power translated at the new level, his plate discipline didn't—at least initially—as he batted .226/.320/.613 with a 20-10 strikeout-to-walk ratio in 19 games.
However, the 20-year-old began to show signs of putting it together in mid-July with an eight-game hitting streak during which he batted .343 (12-for-35) with three doubles, four home runs, 14 RBI and a 10-8 strikeout-to-walk ratio.
Sano strained his hamstring on July 31—he also had his streak snapped—and missed the next three games but returned to action on Sunday and went 0-for-2 with one run scored and a strikeout.
Stock: Up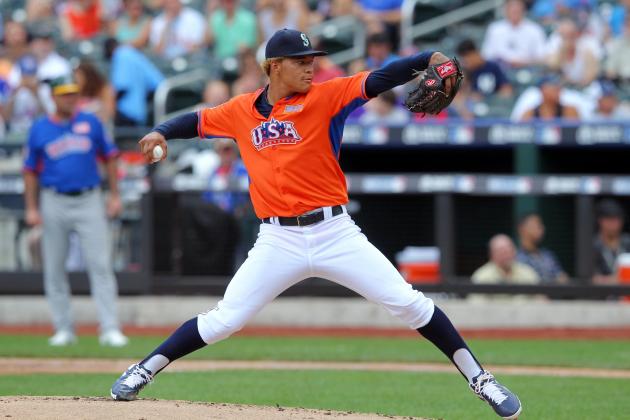 Brad Penner-USA TODAY Sports

2013 Stats (AA/AAA): 119 IP, 2.80 ERA, .216 BAA, 131/43 K/BB (21 G)
Taijuan Walker didn't skip a beat following a promotion from Double-A Jackson to Triple-A Tacoma in late June. The 20-year-old was electric in his first four starts at the more advanced level, registering a 0.86 ERA and 21/7 K/BB ratio in 21 innings.
However, the right-hander has now been knocked around in three consecutive outings during which he's allowed 12 earned runs on 22 hits in 14 innings. This was bound to happen, at least to an extent, due to the hitter-friendly environments and parks in the Pacific Coast League. But it's not necessarily a bad thing, as it will likely make the Seattle Mariners less inclined to promote him to the major leagues in September.
Walker is going to be really good, but he's still only 20 and needs more seasoning in the minors.
Stock: Down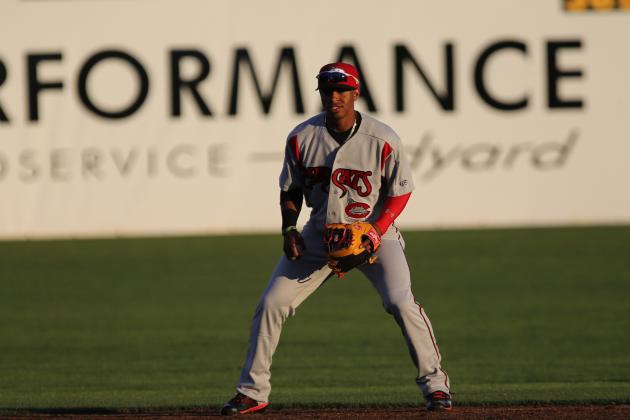 USA TODAY Sports

2013 Stats (A+/AA): .308/.386/.414, 122 H, 31 XBH (7 3B), 25 SB, 45/49 K/BB (102 G)
While Francisco Lindor's defensive chops will make him a major league shortstop for a long, long time; it's his bat that will get him there ahead of schedule.
After batting .306/.373/.410 with 100 hits, 20 stolen bases and a 39-35 strikeout-to-walk ratio in 83 games for High-A Carolina—not to mention another appearance in the All-Star Futures Game—the Cleveland Indians rewarded their future shortstop with a promotion to Double-A Akron in mid-July.
Lindor has continued to surpass expectations with his performance against more advanced competition, and he is batting .319/.440/.435 with 14 runs scores, five extra-base hits, five stolen bases and more walks (14) than strikeouts (6).
If he has a strong finish with Akron this season, then I'll think we'll see him in the major leagues in 2014.
Stock: Up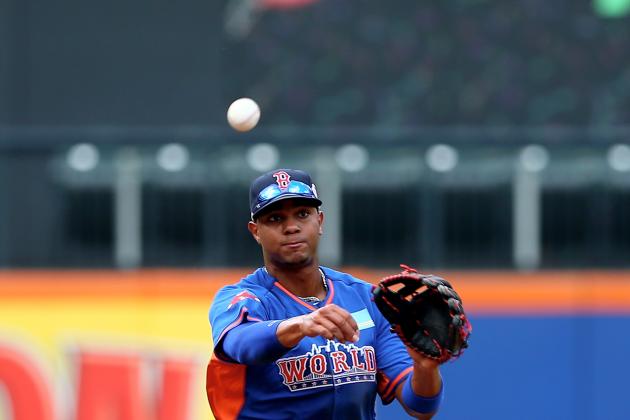 Elsa/Getty Images

2013 Stats (AA/AAA): .298/.394/.491, 42 XBH (14 HR), 85/60 K/BB (103 G)
Xander Bogaerts getting more starts at third base with Triple-A Pawtucket. Red Sox trade Jose Iglesias. Hmm. I think we all can see where this is going.
The 20-year-old initially struggled following a promotion to Pawtucket in mid-June, batting .242/.319/.435 with 15 strikeouts in 16 games at the more advanced level. However, Bogaerts found his groove shortly thereafter and went on to post a .948 OPS with seven doubles and four home runs in 26 July games. More importantly, he demonstrated the ability to make noticeable adjustments at the plate with a 16-16 strikeout-to-walk ratio during that span.
Although he's still primarily playing shortstop, Bogaerts has now made six starts at the hot corner since the beginning of July.
Stock: Up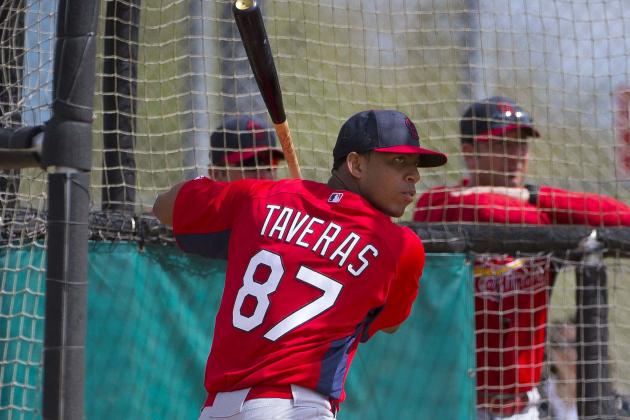 USA TODAY Sports

2013 Stats (AAA): .306/.341/.462, 12 2B, 5 HR, 32 RBI, 22/9 K/BB (46 G)
It's been a disappointing season for Taveras, or as we refer to him around here, the purest hitter in the minor leagues. But it has nothing to do with his performance; the outfielder's ankle just doesn't want to cooperate with him.
When he suffered the initial injury on May 12, Taveras was batting .317/.346/.480 with four home runs and 20 RBI through 31 games. The outfielder remained on the disabled list until early June—probably too early in retrospect—and posted a .735 OPS with 12 RBI over the next 15 games. However, he aggravated his ankle during a game on June 23 and subsequently returned to the disabled list.
Taveras appeared to be on the road to recovery in mid-July when he appeared in a game for the St. Louis Cardinals' affiliate in the Rookie-level Gulf Coast League. But after experiencing lingering soreness in his ankle, the organization wisely decided to shut down its top prospect indefinitely.
After all, it will be better to have Taveras healthy for a potential September call-up rather than risk further injury.
Stock: Down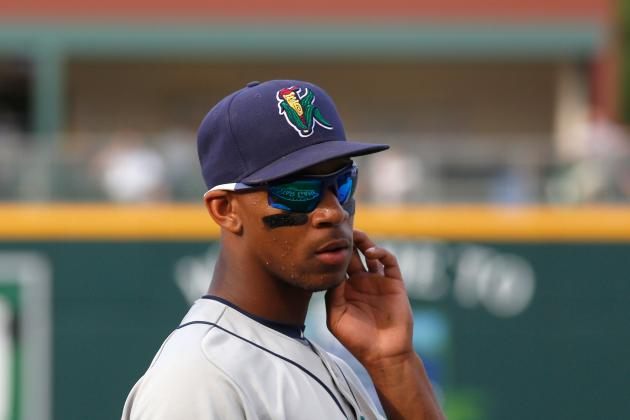 David Kohl-USA TODAY Sports

2013 Stats (A-/A+): .321/.405/.530, 44 XBH (15 3B, 12 HR), 39 SB, 89/58 K/BB (98 G)
Byron Buxton got off to an excellent start (go figure) with High-A Fort Myers, batting .340/.377/.480 in 12 games following a promotion from Low-A Cedar Rapids in late June. However, he slumped over the next two weeks and saw his batting line drop to .245/.287/.340 on July 22.
Since then, the 19-year-old outfielder has demonstrated one of the many reasons why he ranks as baseball's top prospect: the ability to make adjustments. From July 23 to July 29, Buxton went 12-for-32 with three triples, three home runs and four stolen bases, but missed the next six games after fouling a ball off his big toe and subsequently having its nail removed.
Thankfully, Buxton returned to the field on Sunday and went 0-for-2 with three walks and a stolen base.
Stock: Up