Falcons Offense: Top Five Players of 2008
The 2008 Falcons team featured an offense built around several new faces to the team. This new-look team broke the top ten in scoring, yards, rushing yards, and first downs, building one of the elite offensive threats in the league.
Much of this success is credited to specific players who stepped into their roles and exhibited leadership and productivity at their position. Another element that was important for the team was consistency, as the team laid the groundwork for the upcoming Falcons teams.
The following players are the top five performers for the team in 2008 based on their statistics, consistency, and leadership both on and off the field.
No. 5 - Michael Jenkins
Overshadowed by Pro Bowl receiver Roddy White, Michael Jenkins provided a strong No. 2 target for Matt Ryan. In 2008, Jenkins set career records for yards, first downs, and average yards per reception. His 777 yards receiving on 50 balls gave him an average 15.5 yards per play.
His big-play threat teamed with Roddy White's ability was a danger to opposing defenses that not only gave Ryan big targets to throw to but helped open up the run for Turner as well. Although Jenkins never crossed the 100-yard mark in a game this year, he made a catch in all but one game and was a great look on Ryan's second read through the progression.
Strangely, Jenkins' biggest highlight of the 2008 season was his first play from scrimmage when he took a 62-yard reception to the house and gave Matt Ryan his first touchdown on his first NFL throw.
No. 4 - Jason Elam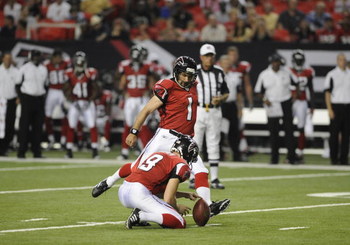 The Falcons made a great offseason move to bring in long time Bronco's place kicker Jason Elam. The veteran has been the model of consistency throughout his career, with over 100 points in every season and career 81.4 percent field goal accuracy.
In 2008, Elam elevated his play beyond his usual averages by tying a career-high 129 points and making all 42 of his extra points. The man was unconscious on field goals; making all but one of his 29 attempts inside of 50 yards. Overall, Elam was 29 for 31 with a 93.5 percent accuracy. He was one of the many players on the offensive side of the ball that modeled consistency and maintained their production throughout the entire year.
No. 3 - Matt Ryan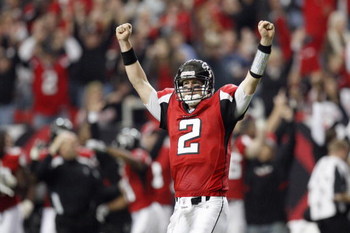 The development of Rookie of the Year Matt Ryan was enthralling to watch as the young man became into the franchise quarterback of the Falcons.
The coaching staff and Ryan worked hard throughout the season to hone his understanding of the system and ability to direct the team on the field. Ryan's maturity and leadership abilities led him to a 61 percent completion percentage, 3,440 yards passing, and 16 touchdowns.
Several highlights stick out for Ryan from his rookie year. Fans knew the kid was special when his first pass in the NFL, an inside slant to Michael Jenkins, turned into a 62-yard touchdown.
Ryan showed much-needed stability from the quarterback position in his nine game stretch with over 200 yards passing per game during Week 6 through Week 15). During that time period, he threw for a 65 percent completion percentage with 10 touchdowns and only two interceptions. That consistent play was a cornerstone for the team, as they built the foundation for the Falcons of the future.
No. 2 - Roddy White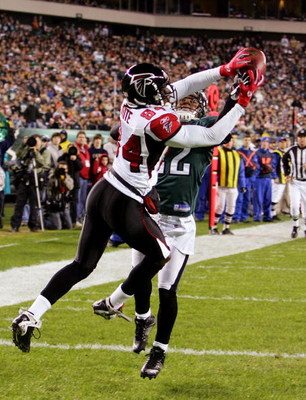 Skeptics in the Atlanta area called Roddy White's 2007 numbers a fluke, but the man backed it up in '08 as he continued on his success from his breakout year.
White earned himself a trip to the Pro Bowl with his 1,382 yards receiving and 7 touchdowns. He showcased his ability to get down field by averaging 15.7 yards per reception and in nine games caught at least one pass for 30 or more yards.
White had seven games in which he crossed the 100-yard mark and had 11 games during the year in which he caught five or more balls. White is a young superstar who has proven his capability to be a big-time receiver and he showcased his talents in 2008 with career numbers.
No. 1 - Michael Turner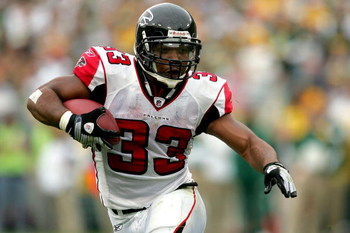 The biggest improvement for the Falcons in the 2008 offseason was the acquisition of free agent Michael Turner out of San Diego.
The backup to famed LaDainian Tomlinson shocked the world with his solid performance by racking up a league second-best 1,699 yards rushing, 17 touchdowns, and a trip to the Pro Bowl.
Turner brought stability to the team, which is reflected in his statistics. He crossed the century mark in eight different games and in wins, he averaged 127.3 yards per game.
Another element of his game that was impressive was the fact that despite his league-leading 376 carries, Turner fumbled the ball only three times! This model of consistency was impressive on it's own but it was his work ethic and leadership that elevated the play of those around him.
Turner was the driving force behind the offense and deserves the title of the Falcons' best offensive player in 2008.
Keep Reading

Atlanta Falcons: Like this team?