Ranking Ringless NBA Stars with Toughest Path to Winning the NBA Title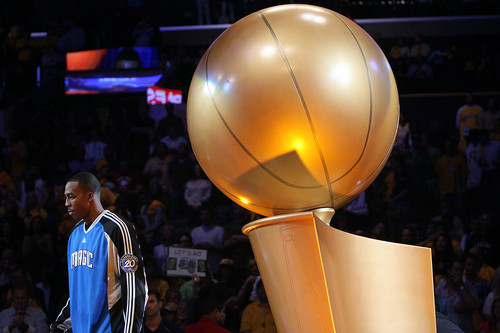 Howard came oh so close to a ring in 2009. Can he do it again? (ORLANDO SENTINEL/GARY W. GREEN)
Every NBA player dreams about lifting up the Larry O'Brien Trophy at least once in his career.
Sure, the million-dollar endorsement deals, fancy cars and larger-than-life mansions are great. But over time, all of those things fade into obscurity.
Being named "NBA Champion" is an honor that lasts forever.
Unfortunately, several of the league's all-time greats have never been able to reap the benefits that come along from winning the NBA's most-coveted prize. The list includes Hall-of-Famers Elgin Baylor, Karl Malone, Charles Barkley, John Stockton, Patrick Ewing and Dominique Wilkins among others.
It just goes to show you how difficult winning an NBA title really is.
This season, several of the league's current stars come in wondering if this will be the year. Some will get close while others may never get a whiff.
One thing's for sure though: Some players have a much easier road to glory than others.
(Author's note: The players are given a total rating based on their ratings in four different categories. Each player's past performance in the league will be considered in these ratings in relation to how it affects their chances of winning an NBA title before their career is over. Also, players with less than five years in the league or with an appearance in the NBA Finals within the last three years are excluded from this list.)
Begin Slideshow

»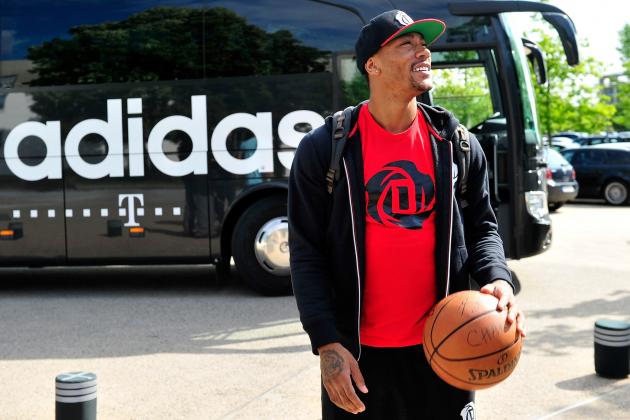 Lennart Preiss/Getty Images
Rose is the best bet out of this class to end his ringless ways.
2012-13 Per-Game Stats: DNP
PLAYER RATINGS
Star Power: 9.5
Postseason Exp.: 8.5
Age: 9.5
Team: 8.5
TOTAL: 36.0
The Lowdown
Derrick Rose came within seconds of earning himself a NCAA national championship ring with Memphis in 2008. He's hoping the Chicago Bulls will help him take care of some unfinished business.
Luckily, Rose is in an optimal position to accomplish that and so much more.
Although the 24-year-old missed the entire 2012-13 season, he is easily one of the top players to watch next year. Over his four seasons in the league, Rose has averaged 21.0 points, 6.8 assists and 3.8 rebounds on 46.4 percent shooting.
There's no doubt the guy can play. But he also has an immediate impact on the team's success.
After leading the Bulls to the postseason during his first two years, Rose helped the team capture the top record in the league in both 2010-11 and 2011-12. He was an instrumental part to those successes.
During the 2011-12 season, in 1,813 minutes with Rose off the court, Chicago averaged 92.2 points and 22.6 assists on 43.9 percent shooting. Over the 1,375 minutes he was on the floor, the team's averages rose to 100.4 points and 23.5 assists on 46.8 percent shooting.
Now, imagine what the three-time All-Star's presence can do on a Bulls team that made it to the second round of the playoffs without him.
Chicago returns pretty much its entire core from last season. Throw in the addition of three-point specialist Mike Dunleavy and the team should be a title contender for years to come.
It's not a question of if Rose will win a ring. More so, it's a matter of how many?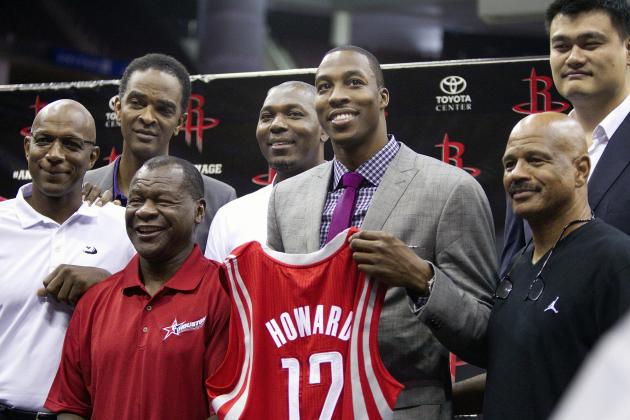 Bob Levey/Getty Images
Will Houston bring Howard closer to the ring he covets most?
2012-13 Per-Game Stats: 35.8 minutes, 17.1 points, 12.4 rebounds, 2.4 blocks, 57.8 FG% 19.5 PER (w/ Los Angeles Lakers)
PLAYER RATINGS
Star Power: 9.5
Postseason Exp.: 8.5
Age: 8.5
Team: 9.0
TOTAL: 35.5
The Lowdown
Dwight Howard was easily the biggest catch of this past offseason. However, he may need the Houston Rockets more than they need him.
That's because the Rockets could be the missing piece in Howard's quest to capture that elusive ring.
Then again, that's what everyone thought last season when he joined the Los Angeles Lakers. Instead, he found himself battling both nagging injuries and teammate Kobe Bryant on his way to putting together one of the least productive seasons of his career.
With Houston, Howard should fit right in.
Now, the seven-time All-Star will find himself surrounded by a handful of young, talented shooters in James Harden, Jeremy Lin and Chandler Parsons. It all adds up to give the Rockets a similar makeup to the 2008-09 Orlando Magic squad Howard led to the NBA Finals.
Although he fell short that year, the nine-year veteran will bring much-needed postseason experience to a team that only had three players on the roster with more than 12 games played in the playoffs before his arrival.
Howard has played in 61 contests over six postseason appearances—that includes reaching the Eastern Conference Finals twice.
After missing the playoffs for three straight years, Houston made significant strides to return the team to relevancy last season. With the addition of Howard, the team is threatening to be considered a serious title contender.
If he can mesh with the other talents in the Rockets' lineup, who's to say that they shouldn't be?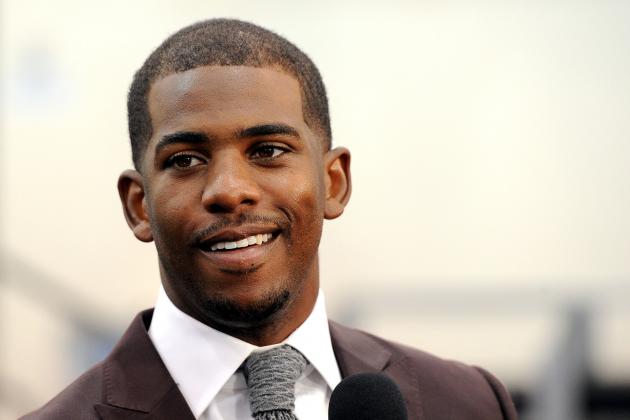 Jayne Kamin-Oncea-USA TODAY Spor
Paul's title chances went from good to great in just one offseason. Can he get over the hump?
2012-13 Per-Game Stats: 33.4 minutes, 16.9 points, 9.7 assists, 3.7 rebounds, 2.4 steals, 48.1 FG%, 32.8 3FG%, 26.4 PER
PLAYER RATINGS
Star Power: 9.5
Postseason Exp.: 6.0
Age: 8.0
Team: 8.5
TOTAL: 32.0
The Lowdown
Chris Paul got everything he wanted over the summer.
First, the Los Angeles Clippers brought in a championship-caliber head coach in Doc Rivers along with valuable assets J.J. Redick and Jared Dudley. Then, the 28-year-old put his John Hancock on a five-year, $107 million extension.
The next step? Winning an NBA title.
Last season, Paul showed signs of growth as a floor general. Not only did he sacrifice his own field-goal attempts, but he also ensured his teammates got the best looks possible. So it came as no surprise to see Paul finish second in the league in assists.
But he wasn't alone. The Clippers also put together quite a showing last year.
The team finished 56-26, marking the first time the franchise has won 50 games or more in a season. Los Angeles also captured its first-ever division title.
However, the playoffs were a complete and utter disaster.
After winning the first two games against the Memphis Grizzlies in the first round, the Clippers dropped the next four. Each contest was decided by double digits.
If anything, the disappointment put a hint of doubt on whether Paul could be the one to lead this team to the promise land. Especially since the eight-year veteran has only advanced past the first round twice in his career.
That's going to have to change if he hopes to lift up the Larry O'Brien Trophy one day.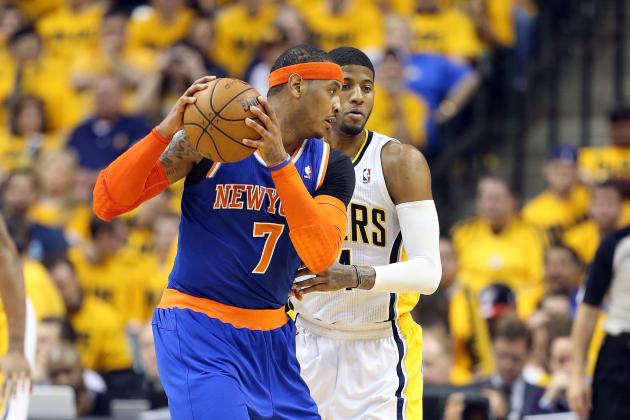 Andy Lyons/Getty Images
Anthony needs more help if he hopes to deliver New York an NBA title.
2012-13 Per-Game Stats: 37.0 minutes, 28.7 points, 6.9 rebounds, 2.6 assists, 44.9 FG%, 37.9 3FG%, 24.8 PER
PLAYER RATINGS
Star Power: 9.0
Postseason Exp.: 7.5
Age: 8.0
Team: 7.5
TOTAL: 32.0
The Lowdown
Carmelo Anthony is coming off arguably the best season of his career.
He won the NBA scoring title—knocking off three-time champion Kevin Durant—while recording the third-highest rebounding mark and second-best three-point percentage of his career. Not to mention, Anthony also helped the New York Knicks put together their best record since 1996-97 and win their first division title since 1993-94.
On paper, next year looks to be shaping up even better.
The Knicks brought back reigning NBA Sixth Man of the Year J.R. Smith on a four-year, $24.7 million extension. The team also added former NBA Defensive Player of the Year Metta World Peace and Andrea Bargnani.
But one question remains: Is Anthony really the best player to lead this team?
Sure, credit must be given to the 29-year-old for reaching the playoffs in each of his 10 seasons in the league. However, Anthony's teams have combined for a postseason record of 22-44, advancing past the first round just twice.
Furthermore, his career playoff average of 21.4 field-goal attempts per game on 41.7 percent shooting isn't anything to write home about. It also reeks of selfishness.
There's no doubt Anthony has the potential to be one of the NBA's best. But he needs to learn to rely on his teammates a little bit more if he hopes to win anything more than a scoring title.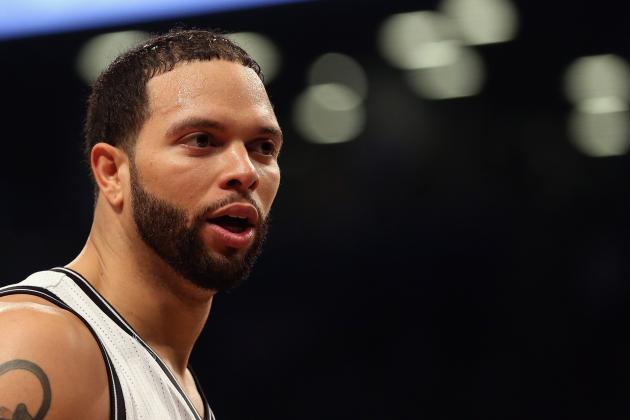 Bruce Bennett/Getty Images
This season may be Williams' best chance at a ring. Will he capitalize?
2012-13 Per-Game Stats: 36.4 minutes, 18.9 points, 7.7 assists, 3.0 rebounds, 44.0 FG%, 37.8 3FG%, 20.4 PER
PLAYER RATINGS
Star Power: 8.5
Postseason Exp.: 7.0
Age: 8.0
Team: 8.0
TOTAL: 31.5
The Lowdown
Deron Williams' title window just opened up as wide as it's ever been. However, it can close just as fast.
He can blame Father Time for that.
The Brooklyn Nets grabbed the league's attention by bringing in veterans Kevin Garnett and Paul Pierce from the rebuilding Boston Celtics. The team then topped that off by signing Andrei Kirilenko for a thrift-shop price.
The moves immediately put the Nets in the title picture for the upcoming season. But given the cumulative age of the roster—eight players are 30 or older—this may be the team's last chance for a while.
However, if anyone can help Brooklyn defy the odds, it's Williams.
Last season, the 29-year-old put together another productive year. He limited his field-goal attempts and shot the ball far more efficiently from the field. Williams was also far more careful with the ball, committing just 2.8 turnovers per game—his lowest total since his rookie campaign.
It all helped the Nets produce their first winning season in seven years.
The addition of three new veteran scorers certainly provides Williams with better options on the court. But whether or not Brooklyn's old roster can stand the test of time—or old age for that matter—is the biggest question mark.
That's the biggest hurdle standing in Williams' way.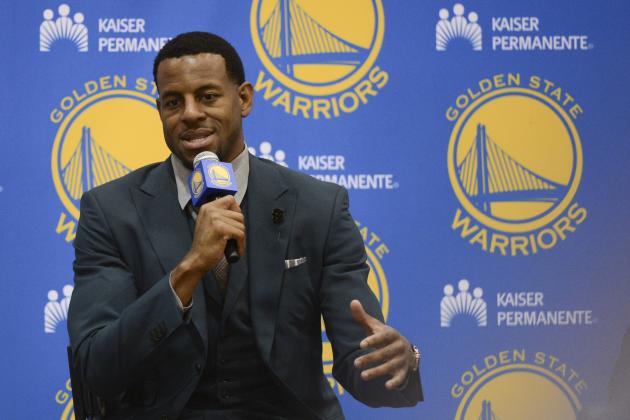 Kyle Terada-USA TODAY Sports
Iguodala wants a ring. Can Golden State deliver him that wish?
2012-13 Per-Game Stats: 34.7 minutes, 13.0 points, 5.4 assists, 5.3 rebounds, 1.7 steals, 45.1 FG%, 31.7 3FG%, 15.3 PER (w/ Denver Nuggets)
PLAYER RATINGS
Star Power: 7.0
Postseason Exp.: 5.5
Age: 8.0
Team: 8.5
TOTAL: 29.0
The Lowdown
The Golden State Warriors must be sure that Andre Iguodala can help deliver the franchise its first NBA title in 38 years. There's no other explanation as to why the team dished out $48 million over four years to the 29-year-old.
For a Warriors team on the rise, Iguodala makes a lot of sense.
On offense he gives the team a versatile weapon. Iguodala can slash to the hoop, spot up for a jumper or dish out to the open man. Plus, he has one heck of a crossover to blow by any defender in his path.
But defense is where Iguodala will earn his paycheck.
According to Synergy Sports Data (subscription required), the nine-year veteran ranked in the top-three percentile of all NBA defenders in isolation situations in 2012-13. That'll be a significant boost to an already solid defense—Golden State ranked 13th in scoring defense last year.
The only issue is that the signing of Iguodala creates a logjam at the wing.
Last year, the Warriors relied on sharpshooters Klay Thompson and Harrison Barnes. Both started every single game and were proficient contributors for the team.
Sending one of them to he bench—let's be honest, Golden State isn't going to demote its $48 million man to a reserve role—will most likely damage their self confidence. It could turn out to be a risky move in the long run.
That and Stephen Curry's ankles will play a large role in whether Iguodala can end his championship drought.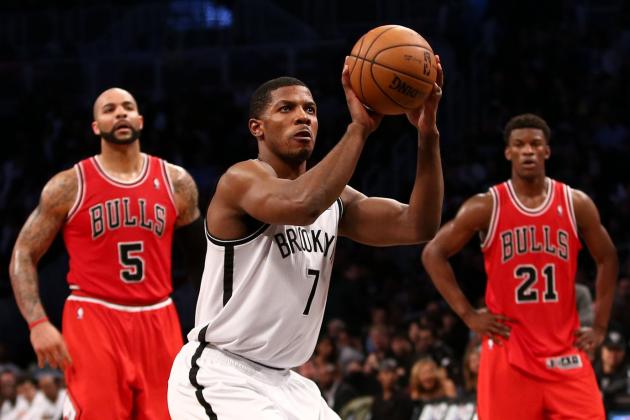 USA TODAY Sports
This could be the last shot of getting a ring for Johnson (center).
2012-13 Per-Game Stats: 36.7 minutes, 16.3 points, 3.5 assists, 3.0 rebounds, 42.3 FG%, 37.5 3FG%, 14.1 PER
PLAYER RATINGS
Star Power: 7.5
Postseason Exp.: 6.0
Age: 7.0
Team: 8.0
TOTAL: 28.5
The Lowdown
Joe Johnson is a shadow of his former self. But before you start to feel too bad for the guy, realize Johnson is set to earn $21.5 million this season.
The question is: Does he deserve it?
While there's no doubt the 32-year-old played a significant role in the Brooklyn Nets reaching the playoffs for the first time in seven years, he did so while having one of the worst seasons of his career. Johnson's marks in points, assists, rebounds and field-goal percentage were all well below his career averages. Not to mention, his usage rate of 21.7 percent was a far cry from the 26.7 he averaged over seven years with the Atlanta Hawks.
However, when the Nets needed a bucket most, Johnson was usually there.
Time and time again, when the game was on the line, the 12-year veteran took his game to another level. He delivered three game-winning shots on the season.
Needless to say, there's both good and bad that comes with having Johnson on the roster.
As mentioned in an earlier slide, this Brooklyn team isn't young. Including Johnson, four of the team's potential starters are 32 or older. So if the Nets are going to win, they better do it soon.
Because contrary to popular belief, age isn't just a number.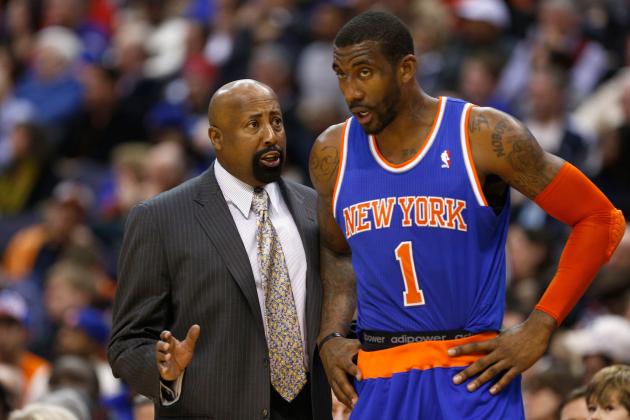 Rob Carr/Getty Images
Time is running out for Stoudemire.
2012-13 Per-Game Stats: 23.5 minutes, 14.2 points, 5.0 rebounds, 57.7 FG%, 22.2 PER
PLAYER RATINGS
Star Power: 7.5
Postseason Exp.: 6.0
Age: 7.5
Team: 7.5
TOTAL: 28.5
The Lowdown
Not too long ago, Amar'e Stoudemire was one of the most dominant big men in the league. Defenders cringed at the thought of defending him.
So what happened?
After a stellar debut season with the New York Knicks in 2010-11, Stoudemire witnessed decreases in nearly every statistical category the following year. Last season, he appeared in just 29 contests, failing to start a game for the first time in his career.
The obvious culprit seems to be the knee injury. However, the real issue is far greater than that.
Over the years, it's become obvious that Stoudemire and the Knicks' other superstar, Carmelo Anthony, can't share the floor efficiently.
During the 2011-12 season, Anthony averaged 27.8 points per 36 minutes on 45 percent shooting (36.6 beyond the arc) with Stoudemire on the bench. Those numbers dropped to 20.3 points on 40.9 percent shooting (30.4 from downtown) with Stoudemire on the court.
Furthermore, that same year, New York was outscored by a margin of 3.3 points per 100 possessions when both were on the floor together.
At 30, and with fragile knees, there doesn't look to be too many years of top-quality production left in Stoudemire's tank. So whether the Knicks are a right fit for him or not, he has no other choice.
That means making it work with Anthony is the only option if Stoudemire wants that ring.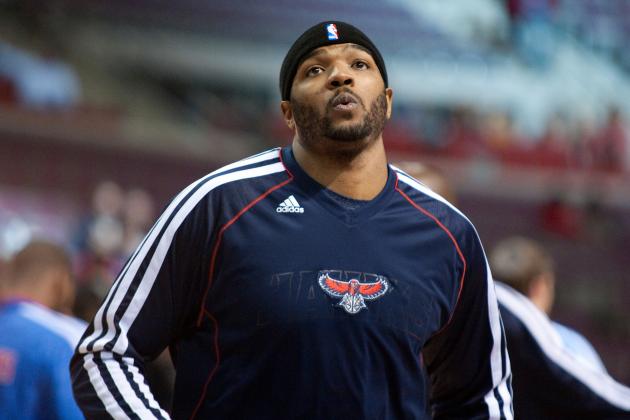 Tim Fuller-USA TODAY Sports
No good looks to come from Smith's move to Detroit.
2012-13 Per-Game Stats: 35.3 minutes, 17.5 points, 8.4 rebounds, 4.2 assists, 1.8 blocks, 1.2 steals, 46.5 FG%, 30.3 3FG%, 17.8 PER (w/ Atlanta Hawks)
PLAYER RATINGS
Star Power: 8.5
Postseason Exp.: 6.5
Age: 8.5
Team: 5.0
TOTAL: 28.5
The Lowdown
Sometimes, it's all about being at the right place at the right time. With his recent move to the Detroit Pistons, Josh Smith has accomplished neither of those things.
Unfortunately, barring a trade, he's stuck in Motown for the next four seasons. That isn't good news for Smith's title hopes.
When the 27-year-old is in the right mindset, he's easily one of the most dangerous forwards in the game. However, that entails playing Smith around the rim and preferably at the power forward position.
That becomes difficult considering the Pistons' roster.
As it stands, the team currently has youngsters Andre Drummond and Greg Monroe holding down the frontcourt. Given their age and tremendous potential, these two are seen as the cornerstone of Detroit's future.
So where does this leave Smith?
Most likely, he will find himself at small forward. Due to Drummond's inability to create space, Smith will likely play more of a perimeter role and be relied on for outside shooting. However, that's not really in his DNA.
Although he has never shot better than 33.1 percent from beyond the arc, Smith has no problem chucking them up. Last year, he tallied a career high of 201 attempts, only converting 30.3 percent of them. That's almost double Smith's total from 2011-12 (109).
The last thing the Pistons need to do is give Smith an excuse to continue his bad habits.
Without Smith, Detroit was a team a long ways away from contending for a title. Now, with the nine-year veteran struggling to find a place in this offense, the team may be even worse off.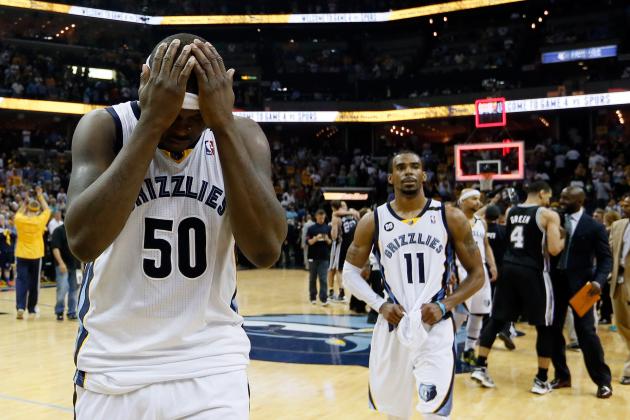 Kevin C. Cox/Getty Images
Randolph (left) came so close to reaching his goal last season.
2012-13 Per-Game Stats: 34.3 minutes, 15.4 points, 11.2 rebounds, 46 FG%, 17.9 PER
PLAYER RATINGS
Star Power: 8.5
Postseason Exp.: 4.5
Age: 7.0
Team: 7.5
TOTAL: 27.5
The Lowdown
Zach Randolph and the Memphis Grizzlies are two parties headed in opposite directions.
For four straight seasons from 2008-11, Randolph averaged 20 or more points per game. Over the last two years, his output hasn't managed to hit 16.
Sure, his sub-par 2011-12 campaign can be dismissed due to a knee injury that kept him out of 38 games. But what's his excuse for last season?
In 76 games, the 32-year-old struggled from the floor, posting his worst field-goal percentage since 2007-08. According to Synergy Sports Data (h/t Grantland's Zach Lowe), a large contributing factor to that drop could be his 41-percent conversion rate on post-up tries. That's down from 44.3 and 44.2 percent in 2010-11 and 2011-12, respectively.
There's no doubt Randolph is on the decline.
On the other hand, the future looks bright for the Grizzlies, who are coming off a franchise-best 56 wins last season. The team complimented that with its first trip to the Western Conference Finals.
Next year, Memphis will return the majority of its core. The team even addressed its offensive woes—the team ranked 27th offensively—by bringing in sharpshooter Mike Miller.
Needless to say, the Grizzlies are putting the pieces together to make a title run. But will Randolph be around to see it all come to fruition?
At the end of the season, the 12-year veteran will have a big decision to make. He can choose to exercise his $16.9 million player option or he can test the waters of free agency.
It'll be a good chance to see what Randolph values more.
Will it be the money or the ring?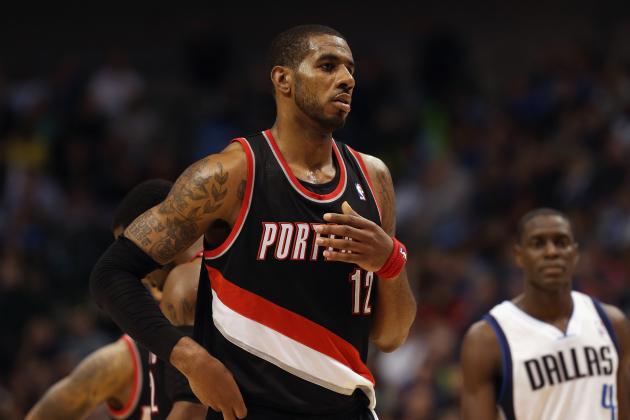 Ronald Martinez/Getty Images
Portland might not be able to give Aldridge the success he craves.
2012-13 Per-Game Stats: 37.7 minutes, 21.1 points, 9.1 rebounds, 2.6 assists, 1.2 blocks, 48.4 FG%, 20.5 PER
PLAYER RATINGS
Star Power: 9.0
Postseason Exp.: 3.5
Age: 8.0
Team: 6.0
TOTAL: 26.5
The Lowdown
After seven seasons with the Portland Trail Blazers, LaMarcus Aldridge is ready for a change of scenery.
Last year, Aldridge averaged a little over 21 points per game for the third straight season. He also added career highs in rebounds, assists and blocks.
A large part of his success can be credited to a newfound versatility.
In seasons past, Aldridge tended to get most of his points from playing in the post. This year, he was floating out to the elbow and other spots on the floor. But more importantly, Aldridge was playing these new roles rather efficiently.
The downside to his situation is that the Trail Blazers are a young team.
Aside from Aldridge, only one other player on the roster is over the age of 28. With most of Portland's key contributors 25 or younger, this is a team that is years away from contending.
Aldridge has earned the opportunity to play for a championship-contending squad.
According to Comcast Sportsnet's Chris Haynes, the 28-year-old seems to think so too. His camp met with general manager Neil Olshey to discuss several trade scenarios last month in Las Vegas.
It's unclear if anything will arise from these talks, but as long as Aldridge is with the Trail Blazers, a ring will likely be out of his grasps.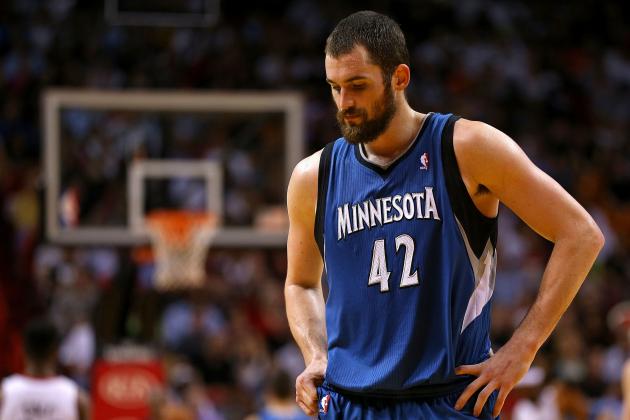 Mike Ehrmann/Getty Images
Love's chances of winning an NBA title seem better anywhere else but Minnesota.
2012-13 Per-Game Stats: 34.3 minutes, 18.3 points, 14.0 rebounds, 35.2 FG%, 17.9 PER
PLAYER RATINGS
Star Power: 9.0
Postseason Exp.: 1.0
Age: 9.5
Team: 6.5
TOTAL: 26.0
The Lowdown
When it comes to rebounding, you'd be hard-pressed to find anyone better than Kevin Love.
He led the league in 2010-11 and finished second in 2011-12. If he had qualified last season, Love would have led the league once again.
But that's not all he can do.
Aside from last season—the 24-year-old missed 64 games with a recurring hand injury—Love has been a pretty proficient scorer. He has a career average of 17.3 points per game on 44.9 percent shooting (35.2 from beyond the arc). Love displayed just how potent of a scorer he was by averaging 26 points per game during the 2011-12 season and taking down that year's Three-Point Shooting Contest during All-Star Weekend.
When healthy, he is easily one of the best power forwards in the NBA. Love has the potential to transform a good team into a title contender.
Unfortunately, the team he plays for is the Minnesota Timberwolves.
Sure, the addition of Kevin Martin will boost the team's offense. However, the loss of Andrei Kirilenko will hurt the Timberwolves more than they know—especially on defense.
The potential is there for the team to turn things around. But Minnesota will have to do a lot more than bringing in an overpaid scorer to deliver the team's first winning season since 2004-05.
Love's best bet is to follow in the footsteps of Kevin Garnett. We all saw how that one worked out.
Maybe history will repeat itself.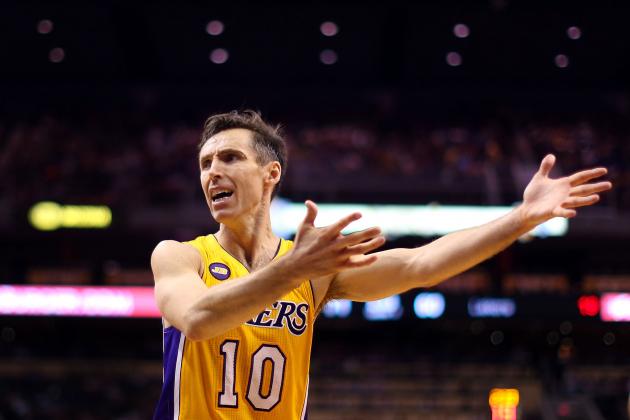 Christian Petersen/Getty Images
At 39, Nash only has a year or two left.
2012-13 Per-Game Stats: 32.5 minutes, 12.7 points, 6.7 assists, 2.8 rebounds, 49.7 FG%, 43.8 3FG%, 16.0 PER
PLAYER RATINGS
Star Power: 7.0
Postseason Exp.: 7.5
Age: 5.0
Team: 6.5
TOTAL: 26.0
The Lowdown
Steve Nash had quite the odd season.
Amidst the turmoil inside the Los Angeles Lakers' locker room, Nash still managed to put together a solid year. He netted his best three-point percentage since 2008-09 while recording his fewest turnovers per game average since 2002-03.
However, signs of Nash's old age were evident.
Over the course of the season, the 39-year-old suffered multiple injuries that took him longer than usual to recover from. For example, during the second game of the year, he suffered a leg injury. Nash was expected to miss one week—he missed seven.
It's very likely that the 17-year veteran only has one, maybe two seasons left in his career.
Unfortunately, the Lakers' title window doesn't look like it'll be open anytime soon.
Sure, it's never wise to bet against Kobe Bryant. But an Achilles injury is no joke to come back from. Especially for a player turning 35 at the end of the month.
Even if Bryant were healthy, Los Angeles just doesn't have the depth to compete in a loaded Western Conference. The additions of Chris Kaman and Nick Young will certainly help, but not that much.
Barring a massive 2014 free-agency splurge from the Lakers, Nash looks like a lock to end his career as yet another ringless superstar.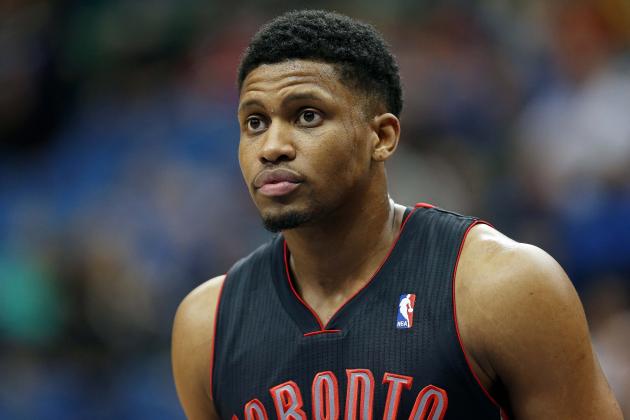 USA TODAY Sports
Canada is just not going to cut it for Gay.
2012-13 Per-Game Stats: 35.8 minutes, 18.2 points, 6.1 rebounds, 2.7 assists, 1.5 steals, 41.6 FG%, 32.3 3FG%, 15.7 PER (w/ Memphis Grizzlies & Toronto Raptors)
PLAYER RATINGS
Star Power: 7.5
Postseason Exp.: 2.0
Age: 8.5
Team: 4.0
TOTAL: 22.0
The Lowdown
Rudy Gay is set to earn $17.9 million in 2013-14 and $19.3 million over the following year.
Can you blame the Toronto Raptors for not wanting any part of that?
Gay is coming off the worst shooting season of his career. He averaged his lowest scoring output since his second year in the league and recorded a career-worst mark in field-goal percentage.
It doesn't really help the 26-year-old's cause that his teams don't seem to be impacted by his presence.
During his seven years in the league, Gay's teams have posted an offensive rating of 106.6 and a defensive rating of 108.3 when he's been on the court. When Gay is off the court, the teams have posted an offensive rating of 105.1 and a defensive rating of 106.6.
If you're doing the math at home, the teams actually fare slightly better without Gay on the court—a minus 1.5 net rating compared to minus 1.7.
In the Memphis Grizzlies' case, the team actually improved offensively last season after trading Gay.
Prior to the trade, the Grizzlies ranked 22nd in points per 100 possessions. After the trade, the team jumped up to 14th.
With new Raptors' GM Masai Ujiri keen on rebuilding—as the Andrea Bargnani move suggests—keeping Gay's $37.2 million on the books wouldn't make much sense.
For now, Gay is stuck on a franchise taking a step back. It would be in both parties' interest to make a trade happen.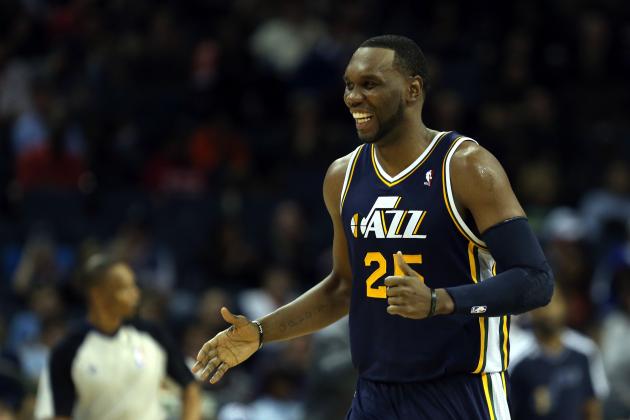 Streeter Lecka/Getty Images
Money seems to be a lot more important to Jefferson than winning a ring.
2012-13 Per-Game Stats: 33.1 minutes, 17.8 points, 9.2 rebounds, 2.1 assists, 1.1 blocks, 49.4 FG%, 20.9 PER (w/ Utah Jazz)
PLAYER RATINGS
Star Power: 8.0
Postseason Exp.: 2.0
Age: 8.0
Team: 3.5
TOTAL: 21.5
The Lowdown
On paper, Al Jefferson seems to be one heck of a center.
For seven straight seasons, the 28-year-old has averaged at least 16 points and nine rebounds per game. He's done so while being as consistent as can be from the field—Jefferson has shot between 49.2 and 50 percent from the floor in seven of his nine years in the league.
However, defensively, the 6'10", 289-pound center falls short.
Last season, opponents shot 51.7 percent while averaging 110.5 points per 100 possessions with Jefferson on the floor. Those numbers dropped to 47.1 and 100.7 respectively when the nine-year veteran was on the bench.
Coincidence? I think not.
Some teams can get away with having a star player slack off on defense. But the Charlotte Bobcats—one of the worst all-around defensive teams in the NBA? Not so much.
The Bobcats ranked in the bottom five in scoring defense (29th), opponent field-goal percentage (27th) and opponent three-point percentage (30th). It could all be a contributing factor as to why the team has won just 28 games over the past two seasons.
Assuming Jefferson can help change that is Charlotte's biggest mistake. No team he's been on has won more than 45 games in a year.
While he may be one of the most talented scoring big men in the league, Jefferson's defense ensures that he will never bring home an NBA title without a lot of help from his teammates.
Unless otherwise stated, all stats used in this article are courtesy of NBA.com's Media Central (subscription required)
For complete coverage and everything NBA, you can follow Sebastian on Facebook and on Twitter