Daniel Cormier to '16-Year-Old Girl' Jon Jones: 'Grow Up Bud'
Use your ← → (arrow) keys to browse more stories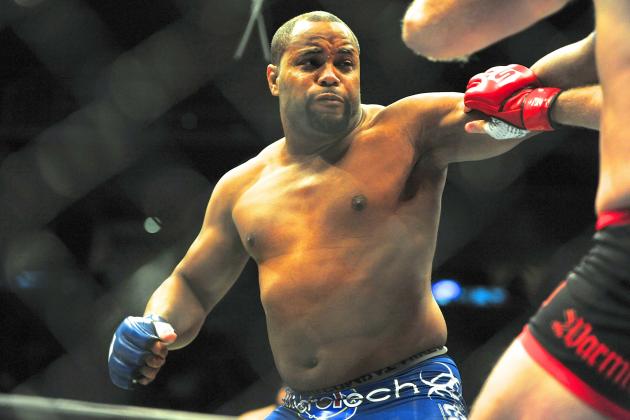 Jon Jones and Daniel Cormier may not fight in the same weight division, but that doesn't mean that they are not tattooed on each other's minds.
The two have bantered back and forth in the past, but those exchanges have ratcheted up in frequency and fury over the last few weeks.
The reason behind those increases may have something to do with the fact that Cormier recently told UFC Tonight that his upcoming UFC 166 fight against Roy Nelson will be his last in the heavyweight division.
After that fight, if Cormier is victorious, he plans on taking to the microphone and requesting that he be allowed to jump the line and get an immediate title shot in the light heavyweight division.
Cormier's plan caught the attention of Jones, the current UFC light heavyweight champion, who told MMA Junkie's Steven Marrocco that Cormier is, "Just not relevant to me."
Jones added: "He has short reach, bad cardio (and) he looked terrible in his last fight. It's like, I'm not worried about him at all."
Not surprisingly, Cormier had a response to the champion's comments. "When I hear his quote, it's like a 16-year-old girl," he said on the FUEL TV UFC 163 post-fight show.
"Jon Jones, grow up bud, we're going to fight regardless of how you feel. And when we do and I'm cutting the line and you might as well pull the guard because I'm taking you down."
Jones and Cormier both have fights on their dance cards, so the bout between them is not a certainty. Jones will first have to defend his title against Alexander Gustafsson in the main event at UFC 165. That fight will take place on Sept. 21 at the Air Canada Centre in Toronto, Canada.
Cormier will meet Nelson in the co-main event of UFC 166 on Oct. 19 at the Toyota Center in Houston, Texas.
Both fighters are on impressive winning streaks.
Jones (18-1) has not lost since a disqualification for illegal elbows in a December 2009 bout against Matt Hamill, while Cormier (12-0) remains unbeaten in his professional career.