2013 NBA Rookies with the Steepest Learning Curve in Their 1st Season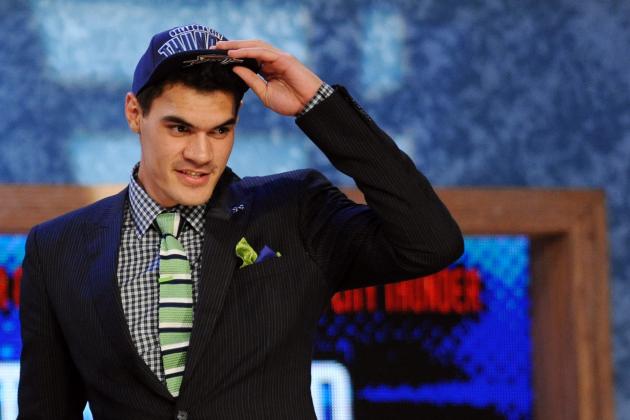 Jerry Lai-USA TODAY Sports

Each NBA rookie's learning curve is set at a different angle. Some guys are ready fresh out of the packaging. Others need years to figure out their place in the game.
International prospects tend to have steeper curves, considering the difference in styles of play between Europe and the U.S. It's also common for ball-dominant college stars to struggle with the transition, given the completely new role they'll be handed as a pro.
Don't expect any of the following prospects to compete for Rookie of the Year honors in 2013-14.
Begin Slideshow

»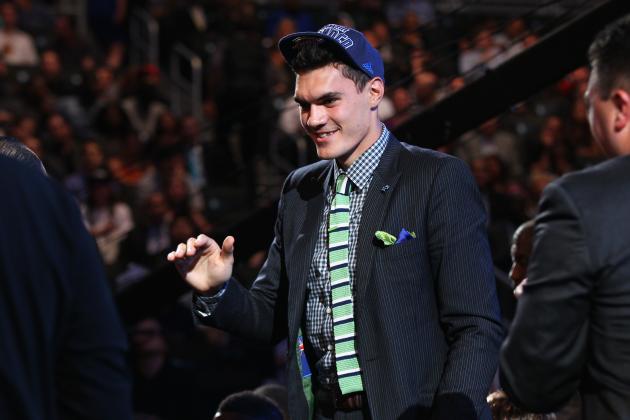 Mike Stobe/Getty Images

Of all the rookies who spent a year in the NCAA, Steven Adams should encounter the steepest learning curve of all.
He's still just an athlete as opposed to a basketball player. Much of the time, I'm not sure he has a clue as to what he's doing out there.
But one of my favorite qualities about Adams is that he's completely self-aware. He knows exactly what his strengths are (being out in transition, for instance).
Adams lacks offensive polish. He hasn't shown much of a post or face-up game, with the majority of his production coming off catch-and-finishes at the rim.
The bag that Adams packed is full of all the necessary tools—7'0'' size, a 7'4.5'' wingspan, 250 pounds of muscle, super athleticism and a soft, mid-range touch. The only thing he's missing is directions and a map.
And it could be a while before he learns how to read it.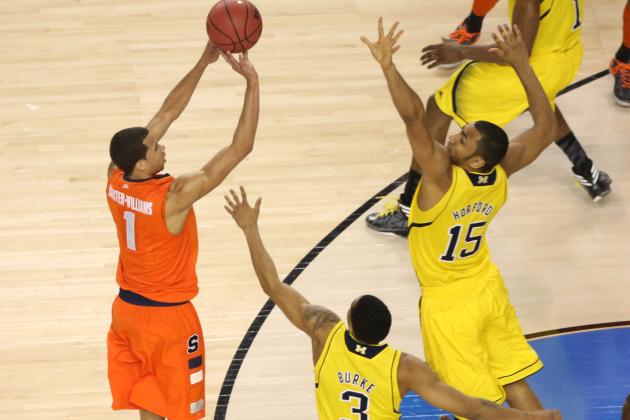 Daniel Shirey-USA TODAY Sports

Michael Carter-Williams has only been running the point on a full-time basis for a year. While his playmaking abilities are undeniable, his decision-making at times can be all over the place.
And much of that has to do with improving his feel as an orchestrator.
It doesn't help that his jump shot is terribly shaky. He made just 29.2 percent of his threes as a sophomore at Syracuse, and his mid-range pull-up game was no better.
After Carter-Williams' hot start in 2012-13, defenses began taking away his driving lanes and going under screens. Without confidence in his jumper, he began forcing the issue, trying to fit through gaps and openings he had no business trying to squeeze through.
He averaged 3.4 turnovers per game last season despite sharing the ball with Brandon Triche. Developing a more reliable jumper will open up his attack game, where he's a danger to defenses given his size (6'6'') and athleticism for a ball-handler.
He won't have many supporting weapons to lean on as a rookie in Philadelphia. And until he gets them, you can expect Carter-Williams to struggle with offensive efficiency.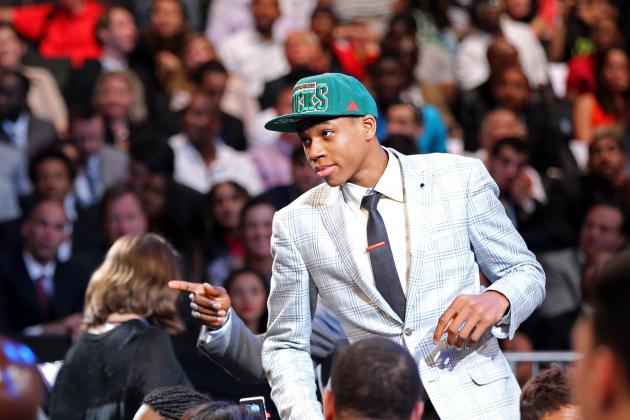 Mike Stobe/Getty Images

Giannis Antetokounmpo recently left Greece for the very first time in his life. Forget being NBA-ready, Antetokounmpo first has to worry about becoming life-ready.
I'd imagine Antetokounmpo will be on a three-year plan. He'll use the first year to adjust to an entirely new lifestyle—learning the language, frequent traveling, daily meetings, new teammates, intimidating schedules. He's not just changing levels, he's changing worlds.
The second year is when he'll start seeing minutes. It will be Antetokounmpo's experimental season—figuring out what he can and cannot do in the NBA game.
The third year is when he can apply what he learned from year No. 2 and finally make his move.
At 6'9'', with incredible length, fluidity and athleticism, he's got the game and the look. But figuring out his position, offensive role and place in the NBA could take years of preparation.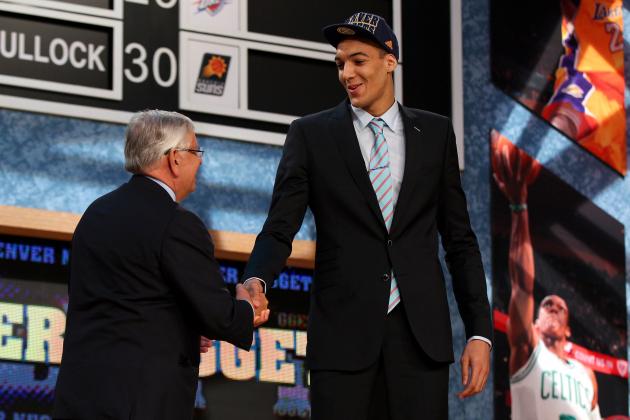 Mike Stobe/Getty Images

Like most international prospects, Rudy Gobert's learning curve will be steeper than most. He's been a coveted NBA prospect over the past few years thanks to an unprecedented set of physical tools.
At 7'2'', he has a 7'8.5'' wingspan and 9'7'' standing reach—measurements we haven't seen before.
But that's really all he is at this point in his young career—a couple of numbers and measurements. Gobert doesn't have the game or understanding of it to contribute right away.
Given Utah's lack of frontcourt depth, Gobert might actually see minutes as a rookie. He's likely to have his fair share of forgettable moments, as well as some standout ones that showcase his interior capabilities.
He projects as an above-the-rim presence on both sides of the ball, where he can finish inside, convert lobs, tip in misses and protect the basket.
You can expect flashes in 2013-14, just not a steady stream of production.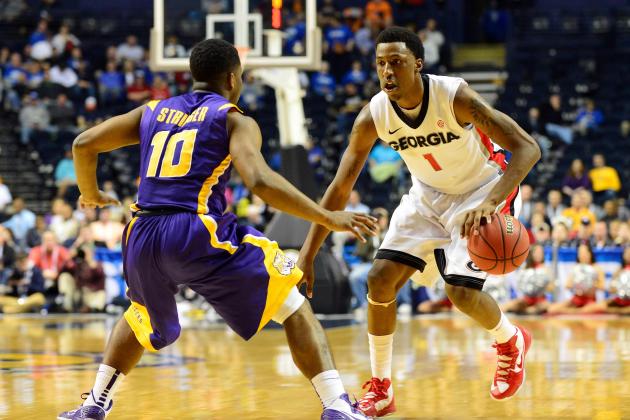 Don McPeak-USA TODAY Sports

Kentavious Caldwell-Pope's role in the pros will be drastically different from his role in the SEC.
He attempted 430 shots as a sophomore at Georgia. The next guy in the team's pecking order took 223 shots. Caldwell-Pope is going to have to adjust from being the No. 1 option on a routine basis to a complementary scorer who doesn't always have the ball.
And now with Brandon Jennings running the show, and a supporting backcourt consisting of Rodney Stuckey, Chauncey Billups and Will Bynum, Caldwell-Pope's minutes, touches and scoring opportunities will be limited.
With the Pistons looking to make a push for the playoffs, I can't imagine their coaching staff would ask too much of their 20-year-old rookie. Caldwell-Pope is more of a long-term asset than short-term contributor.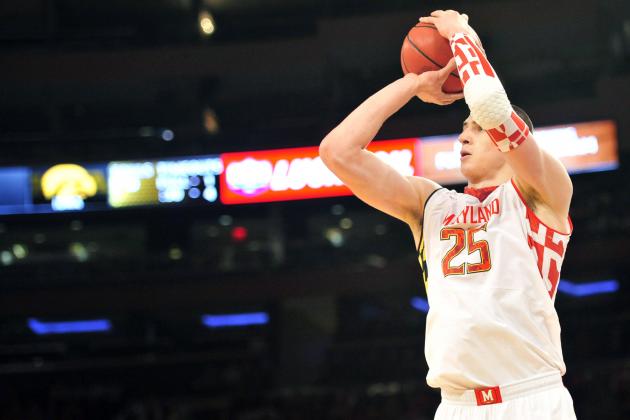 Joe Camporeale-USA TODAY Sports

The Phoenix Suns took Alex Len No. 5 overall due to his long-term potential as opposed to his short-term capabilities.
Only twice in two years at Maryland was Len able to record 20 points in a game. He was rarely ever featured and therefore never got in much of an offensive rhythm.
Len missed all of summer league after undergoing surgeries on both ankles and will start his NBA career slightly behind the eight ball. And with Marcin Gortat still in Phoenix's picture, Len's opportunities as a rookie could be limited.
Even with playing time, Len still lacks fluidity with his post moves and needs to continue filling out his arms and upper body.
He's got the size, length, athleticism and skill set in place, but it could be a few years before he learns to apply them accordingly.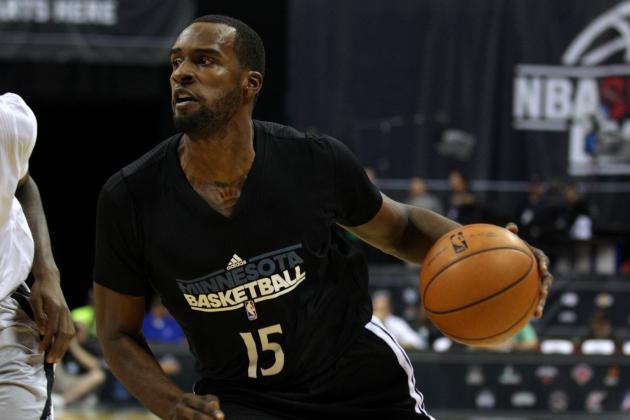 Stephen R. Sylvanie-USA TODAY Sp

Shabazz Muhammad has been the featured man on the floor at every level he's played at.
Cue the NBA.
No longer the strongest, most physical scorer on the floor, Muhammad will have to adjust from being an overwhelming presence to an undersized small forward.
At 6'6'', he lacks the size, athleticism and traditional skill set of an NBA 3.
As a freshman at UCLA, he got off 14.3 shots per game, a number that's likely to get cut in half while he makes his transition to the pros. Muhammad also doesn't rebound or create. If he's not scoring, chances are he's not serving any purpose.
The toughest challenge for Muhammad will be fitting in and finding his scoring opportunities without jeopardizing the flow of the offense, and that's not likely to happen for another few years.
Mike Stobe/Getty Images

Despite being drafted No. 16 overall, you're probably not going to hear Lucas Nogueira's name called in an NBA game for a while.
For starters, the Hawks are expected to stash him overseas for the 2013-14 season, per Chris Vivlamore of the Atlanta Journal-Constitution.
At 7'0'', 220 pounds, Nogueira has the size but lacks the mass of an NBA center. And with a raw, undeveloped offensive skill set, he's currently nothing more than a body to throw inside.
Of course, that body is tall and abnormally long, given his 7'6'' wingspan. Once he learns how to use it, he projects as a disruptive interior presence and shot-blocking machine.
Nogueira should look to add strength and low-post moves to his repertoire this year in Spain.