6 Things We've Learned from Tennessee Titans' Training Camp So Far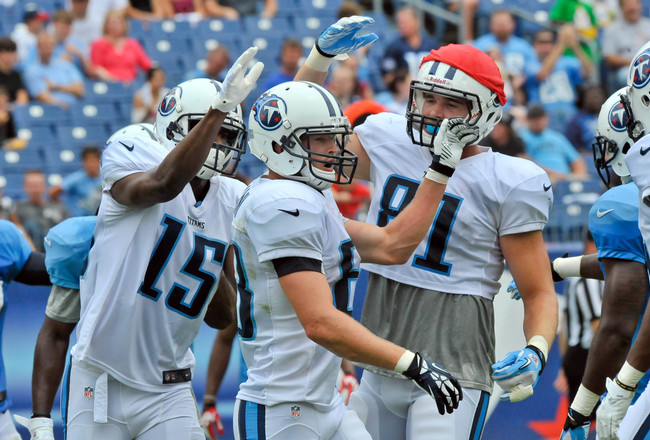 Jim Brown-USA TODAY Sports
Live football action has finally returned after 180-plus days since the Super Bowl, yet there is plenty that we have learned about the Tennessee Titans and probably even more that we have yet to learn.
The Titans will play their first preseason game of the 2013 season on Thursday, which will go a long way toward confirming things we think we know or keeping us clueless.
The Titans have plenty to be excited about for the upcoming season with all of the new faces and schematic changes on board. The various levels of positional camp battles have been exciting so far, but now it's time to mark off a few things that we can safely say are accurate.
Go ahead and click through for a look...
Colin McCarthy Still Cannot Be Counted On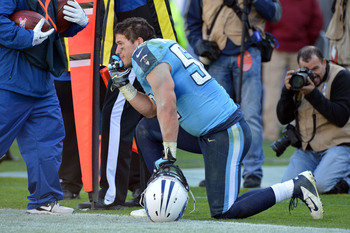 Don McPeak-USA TODAY Sports
Call it a coincidence or maybe a tough break, but just one day after linebacker Colin McCarthy made his triumphant return to running with the first-team defense during training camp, he was forced to sit out due to injury.
The linebacker is expected to sit out for at least a week after suffering a hamstring strain. He will not participate in the team's preseason opener against the Washington Redskins on Thursday either.
While a one-week injury does not seem like a big deal in the grand scheme of things, the amount of time on the field missed for McCarthy is piling up quickly.
The competition for starting middle linebacker between McCarthy and Moise Fokou should remain tight leading all the way up to the regular season.
Akeem Ayers Is Primed for a Breakout Season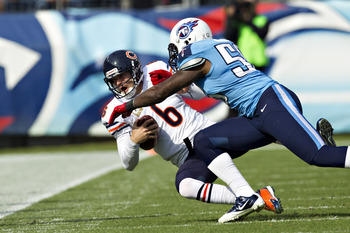 Wesley Hitt/Getty Images
Entering his third season in the NFL, Ayers is ready to be mentioned with the NFL's elite and the coaching staff intends to put him in position to do it.
Akeem Ayers led the Titans in tackles last season with 104 and was tied for second with six sacks. Defensive coordinator Jerry Gray has been studying how the Denver Broncos utilized Von Miller and Elvis Dumervil last season, according to John Glennon of the Tennessean.
They have some special pass-rush guys also. But they played linebacker, they were linebacker-type guys. We've got some similarities, so hopefully we can create some similarities to what they did last year.
By all accounts, Ayers has been one of the standout performers during training camp and has a much better understanding of the defense and his responsibilities.
The addition of Zaviar Gooden via the draft will help spell Ayers in clear coverage situations and further allow him to focus his energy on improving on pressuring opposing quarterbacks and stuffing the run.
Don't Expect Too Much from Justin Hunter This Season
Jim Brown-USA TODAY Sports
Justin Hunter hasn't had a good run of things since being drafted to stay in state with the Tennessee Titans. He missed almost all of organized team activities due to injury.
Wide receiver coach Shawn Jefferson didn't hesitate to speak his mind about how Hunter was handling the injury, sparking up a bit of controversy in the process:
Justin needs to get his butt going. Sometimes, we have to fight through things. That's how I was taught with Bill Parcells. If it ain't broke, then I'm not hurt. This is a very crucial time. This is where we see the growth in the kid, where he gets used to going through some adversity.
Bernard Pollard later chimed in on questioning Hunter's toughness once training camp had begun. Overall, Hunter has not performed well during practices as highlighted by his poor performance during the team's scrimmage.
The receiver rookie "dropped two balls, including one that bounced off his chest," according to Titans insider Jim Wyatt.
Hunter will need to step his game up to gain the trust of Jake Locker and his teammates, let alone be able to handle the mental and physical rigors of the NFL.
Receiving Corps Is in Good Hands (Pun Intended)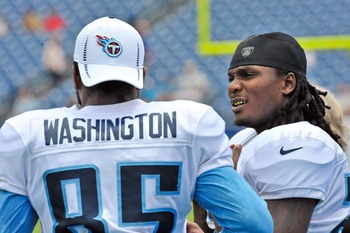 Jim Brown-USA TODAY Sports
Kenny Britt, Kendall Wright and Nate Washington all have come into training camp in the best shape of their careers.
Britt appears to have finally recovered fully from his torn ACL suffered in 2011, Wright has shed 12-15 pounds and become a quicker and more agile receiver, and Washington looks to improve on his team-leading receiving yards.
With the team's top three receivers all playing so well through training camp, it can only be considered good news for the still developing Jake Locker.
Being able to field a formidable three-receiver set in today's NFL has become almost a necessity.
Chance Warmack Is as Good as Advertised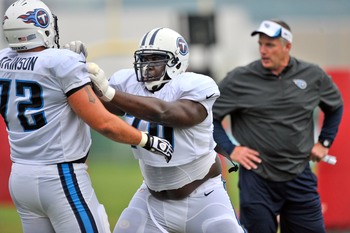 Jim Brown-USA TODAY Sports
When Chance Warmack missed the first five days of training camp, worries that the rookie's famous belly may begin to grow even larger had to start running through fans' minds.
After signing his contract, Warmack put any worries to rest by passing the team's physical and immediately taking practice reps with the first-team offense.
So far Warmack has done a good job of opening running lanes and keeping defenders from putting pressure on Jake Locker.
The Titans' revamped offensive line looks powerful and will only get stronger with time to jell.
Tommie Campbell Looks to Have Matured
Troy Taormina-USA TODAY Sports
The Titans gave Tommie Campbell the opportunity to win the No. 2 starting corner spot in 2012, and he was very much in the fight for the spot up until preseason action started.
While the Titans have yet to play their first preseason game, Campbell appears to have matured and come into camp in better shape and with a stronger approach to the game mentally.
The defense's scheme change to the more physical press-man coverage for the upcoming season has also worked in his favor.
How well Campbell performs on Thursday will be very telling as to how the team's starting secondary will look once the regular season starts.
Keep Reading

Tennessee Titans: Like this team?