Stock Up, Stock Down for Chicago Cubs' Top Prospects for Week 18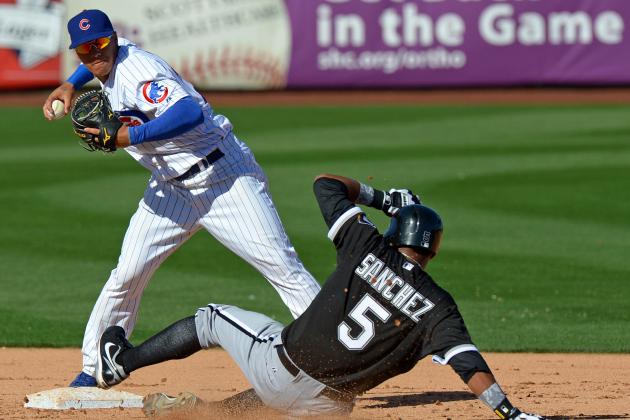 Jake Roth-USA TODAY Sports

The Cubs farm system has improved as much as any in Major League Baseball over the past two years, and only got better at the deadline with the trades of Matt Garza and Alfonso Soriano.
The 2015 season still looks like the most likely scenario for the team's return to competition in the NL Central, however, but there is plenty of reason for optimism on the North Side right now.
While they're not in Chicago yet, here is a look at how the team's top-10 active prospects performed over the past week and whether their stock is trending up or down.
Top prospect rankings according to MLB.com Prospect Watch.
*No. 3 prospect RF Jorge Soler (fractured left shin) is currently sidelined and will not be included until he's active. He was hitting .281/.343/.467 with eight homers and 35 RBI at the time of the injury.
*No. 6 prospect SP Arodys Vizcaino (recovering from Tommy John surgery) is currently sidelined and will not be included until he's active.
*No. 9 prospect OF Junior Lake was recently called up to the majors, so he will no longer be included here. He was hitting .295/.341/.462 with four home runs and 18 RBI at the time of the call-up.
*No. 13 prospect CF Brett Jackson was demoted to Double-A upon returning from a strained quad, and is hitting .218/.295/.341 line and 90 strikeouts in 252 at-bats. He won't be included until he at least returns to Triple-A, as it's safe to assume his stock is down while he's demoted.
Begin Slideshow

»
2013 Stats
.264/.316/.452, 28 2B, 2 3B, 14 HR, 54 RBI, 44 R
Overview
Though he looks to have slipped behind Kris Bryant and Mike Olt on the organization's long-term depth chart, Christian Villanueva still appears to have a bright future.
Still just 22, he's shown good extra-base power after a slow start to his first taste of Double-A action, and some of those doubles should turn into home runs as he continues to develop. He could be in position for a September call-up, seeing as he's already on the 40-man roster.
Last Week's Stats
7-for-26, 2 2B, 4 RBI, 1 R
Stock
Even
2013 Stats
18 GS, 8-2, 1.83 ERA, 34 BB, 122 K, 93.1 IP at Low-A Hickory
1 GS, 0-0, 0.00 ERA, 1 BB, 8 K, 5 IP at High-A Daytona
Overview
A 48th-round pick in the 2011 draft, C.J. Edwards has proven to be a steal to this point and looks like he has a chance to wind up being the best player the Cubs received in their deadline deal with the Rangers for Matt Garza.
He's still just 21 and while his mid-90s fastball is already a plus-pitch, his curveball/changeup combination still needs some refining. If those pitches continue to develop, there's no reason he can't be a solid middle-of-the-rotation big league starter with upside. It's worth noting, he has yet to give up a home run in 165.1 pro innings.
Last Week's Stats
Did Not Pitch (two games postponed, one cancelled last week)
Stock
Even
2013 Stats
.283/.360/.450, 20 2B, 16 HR, 68 RBI, 50 R
Overview
Though he ranks just outside the Cubs' top 10 prospects, Dan Vogelbach currently stands as the No. 3 overall first base prospect in the minors, according to Jonathan Mayo of MLB.com.
After hitting 17 doubles and 21 home runs in 245 at-bats last season, he has continued to impress this year as he continues to flash some of the best raw power in minor league baseball. Where the 20-year-old fits into the team's long-term plans remains to be seen, but he's a valuable piece of the farm system right now regardless.
Last Week's Stats
3-for-22, 1 2B, 3 RBI, 5 R
Stock
Down
2013 Stats
.276/.344/.358, 20 2B, 4 3B, 2 HR, 39 RBI, 58 R, 20 SB
Overview
Matt Szczur has held his own in his first full season of Double-A ball this year, as the outfielder continues to refine his overall game. Drafted out of Villanova in the fifth round of the 2010 draft, he was taken by the Cubs more for his athleticism and upside than for his baseball abilities at the time.
The 24-year-old has minimal power, but he has shown good on-base skills and plus-speed, and if nothing else, could wind up as a solid fourth outfielder in the team's long-term plans. A number of outfielders have seen their name penciled into the starting lineup this season and Szczur could join them with a September call-up.
Last Week's Stats
6-for-27, 1 RBI, 3 R
Stock
Down
2013 Stats
.267/.343/.442, 29 2B, 2 3B, 13 HR, 57 RBI, 52 R, 25 SB
Overview
A shortstop by trade, Arismendy Alcantara has begun the transition to second base, where he could be a big piece of the team's long-term puzzle after a breakout season.
He has slumped to just 9-for-56 over the past two weeks, but should get a shot to compete for the everyday second base job with light-hitting incumbent Darwin Barney and recently promoted Logan Watkins heading into next year. Alcantara has a good mix of power and speed, along with a plus-approach at the plate for a 21-year-old.
Last Week's Stats
7-for-28, 1 2B, 6 RBI, 1 R, 2 SB
Stock
Even
2013 Stats
13 GS, 5-5, 3.10 ERA, 22 BB, 74 K, 69.2 IP at Low-A Kane County
6 G, 5 GS, 3-1, 2.90 ERA, 12 BB, 28 K, 31 IP at High-A Daytona (Promoted on June 20)
Overview
The Cubs selected right-hander Pierce Johnson with the No. 43 overall pick in last year's draft as the first in what have been a number of high-floor pitching prospects added to the system since general manager Theo Epstein and company took over.
Johnson pitched out of the bullpen last week due to a number of Daytona games being postponed and he was hit hard in four innings of work. That should be nothing more than a minor hiccup though for the team's top active pitching prospect, who looks to be in position to open 2014 at the Double-A level.
Last Week's Stats
1 G, 4 IP, 3 ER, 6 H, 2 BB, 7 K, L
Stock
Down
2013 Stats
.333/.333/.750, 2 2B, 1 HR, 2 RBI, 1 R at Double-A Frisco
.213/.317/.422, 15 2B, 11 HR, 32 RBI, 37 R at Triple-A Round Rock
.125/.160/.188, 1 2B, 1 3B, 0 HR, 2 RBI, 2 R at Triple-A Iowa
Overview
The key piece acquired in the Matt Garza trade, slugger Mike Olt posted a .977 OPS with 28 home runs and 82 RBI in Double-A last season While his production is down this year, he remains a potential impact slugger at the big league level.
The 24-year-old got off to a slow start this season as he dealt with vision issues, but his power stroke has improved since and his terrific on-base skills have not waned either. He projects to be a better defensive third baseman than top draft pick Kris Bryant and could make his Cubs' debut in September with an eye on an everyday job in 2014.
Last Week's Stats
4-for-29, 1 2B, 1 3B, 2 RBI
Stock
Down
2013 Stats
.167/.143/.333, 1 2B, 0 HR, 2 RBI, 0 R at AZL Cubs
.292/.352/.583, 5 2B, 3 HR, 11 RBI, 9 R at short-season Boise
Overview
After hitting .329/.493/.820 with an NCAA-high 31 home runs and 62 RBI in 62 games at the University of San Diego, Kris Bryant was chosen by the Cubs with the No. 2 overall pick in this year's draft.
The 21-year-old signed received a $6.7 million signing bonus, tops among members of the 2013 draft class, and he has flashed his power potential immediately at short-season Boise. Expect him to move quickly and perhaps be the first bat from the class to reach the big leagues.
Last Week's Stats
10-for-25, 4 2B, 1 HR, 5 RBI, 6 R
Stock
Up
2013 Stats
.329/.376/.466, 17 2B, 4 3B, 3 HR, 23 RBI, 39 R
Overview
Ranked as the No. 16 prospect in the game in Baseball America's Midseason Top-50 list, Albert Almora has looked great since missing the beginning of the season with a broken hamate bone.
He's as advanced as any high school bat to come along in the past several years and he should flash the complete tool box once he reaches Chicago. Expect him to be a .300 hitter with 20/20 potential on the field and a leader in the clubhouse with an eye on 2015 as his possible ETA.
Last Week's Stats
6-for-21, 2 RBI, 1 R
Stock
Even
2013 Stats
.274/.338/.535, 19 2B, 4 3B, 17 HR, 57 RBI, 59 R, 12 SB at High-A
.243/.306/.586, 5 2B, 0 3B, 11 HR, 23 RBI, 18 R at Double-A (Promoted on July 6)
Overview
Javier Baez entered the season as the top prospect in the Cubs' system and the No. 16 prospect in baseball, according to Baseball America. He has lived up to that lofty standing so far this season and looks like a legitimate future star.
Ranked as the No. 10 prospect in Baseball America's Midseason Top 50 list, he is vying for a September call-up and the chance at an everyday job at some point next season. His power is for real and he has some of the best bat speed in baseball as he looks to be a key building block in the team's future.
Last Week's Stats
8-for-29, 2 2B, 1 HR, 4 RBI, 5 R
Stock
Even