Position-by-Position Breakdown of Miami Marlins' Standout Prospects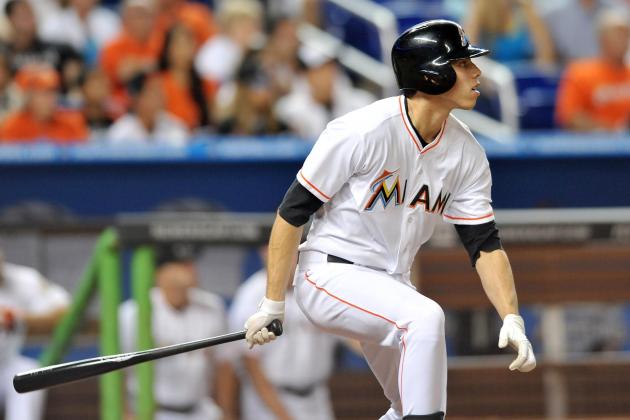 Steve Mitchell-USA TODAY Sports
Christian Yelich is still considered a prospect until he exceeds 130 MLB at-bats, thus making him one of the Marlins standout prospects.
When websites compile a list of each team's top 10 prospects, it's always done without regard to position.
For instance, among the Miami Marlins' top 10 prospects on MLB.com, there are five pitchers, two outfielders, one third baseman, one catcher and one second baseman.
It's an imperfect system. But what would the Marlins look like if they trotted out a team of prospects in real life? Such an exercise would show where the Marlins are strongest and where they are weakest.
Well, that's what we're here for.
Without any further ado then, here's a position-by-position breakdown of the Miami Marlins standout prospects in their order of numerical position on the baseball field.
Begin Slideshow

»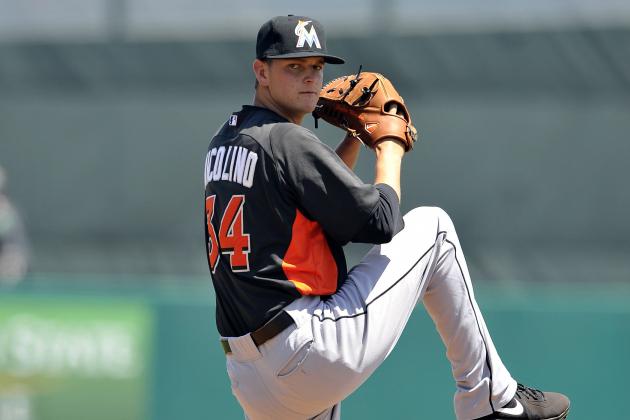 Brad Barr-USA TODAY Sports
One of the Marlins top pitching prospects, left-hander Justin Nicolino might be coming to a ballpark near you.
Prospect: LHP Andrew Heaney
Level: Double-A Jacksonville
Stats this season: 6-3, 1.40 ERA, 70.2 innings pitched (15 games), 9.0 strikeouts per nine innings
Career minor league stats: 7-5, 2.21 ERA, 97.2 IP, 9.3 K/9
ETA to the majors: 2014
It took 347 days for Andrew Heaney to yield more than three runs in a game.
That's how good Heaney is.
Heaney gave up five runs on nine hits in three innings Tuesday, which was easily his worst outing of the season to snap his 33-inning scoreless streak. The last time that Heaney had such a mediocre performance was when he allowed three runs on five hits in 4.2 innings on Aug. 24, 2012 for Single-A Greensboro.
According to MLB.com, Heaney is an advanced college left-hander who should get to the big leagues fairly quickly, possibly as early as 2014, according to Scoutingbook.com.
He was running his fastball up to 93 mph at Oklahoma State and maintained his velocity deep into starts. Heaney has a terrific slider, which Baseball America thinks is the best in the organization and which generates swings and misses.
His changeup has deception and sink, and it could be a third above-average or better pitch. Heaney's pitching arsenal should allow him to move up the system quickly, as he has a firm grasp of the strike zone and mixes his pitches well.
Wayne Rosenthal, the Marlins minor-league pitching coordinator, told the Miami Herald that Heaney has a bright future with the organization:
I see a very solid pitcher; Heaney knows what he's doing. He has a slider as an out pitch. This is his first full year. He's going to be a very good prospect. His body is very raw right now, and he's going to only get stronger.
Prospect: LHP Justin Nicolino
Level: Double-A Jacksonville
Stats this season: 7-4, 2.87 ERA, 116 IP (22 starts), 5.9 K/9, 2 CG
Career minor league stats: 23-10 record, 2.39 ERA, 301 1/3 IP, 8.0 K/9, 3 CG
ETA to the majors: 2014
If Andrew Heaney is No. 1, then Justin Nicolino is probably No. 1A
Acquired from the Toronto Blue Jays in the club's firesale trade this past offseason, Nicolino is a finesse lefty who has moved quickly through the minor leagues out of high school.
ESPN.com's Keith Law said Nicolino can pitch with a poise and approach that belie his age, as he boasts an easy and repeatable delivery. He may not ring up as many strikeouts as he moves up the ladder and doesn't offer any projection, but lefties with a feel for the ball and a good changeup can pitch towards the middle of a rotation for a long time.
According to MLB.com, Nicolino's fastball clocks in the 89-91 mph range and he throws it with good deception and movement. His curveball has good three-quarters break to it when he throws it correctly. However, his best pitch might be the changeup, which prompted Law to compare him to Cole Hamels.
Law said that Nicolino's changeup is a silly pitch, but it has great deception to where it looks like a fastball coming out of Nicolino's slot just under three-quarter with a little late fade to finish off hitters who weren't fooled by the release.
Law thinks Nicolino becomes an above-average starter because he has so many positives, including a legitimate out pitch, in his favor.
"Nicolino is very intelligent," Rosenthal told the Miami Herald. "He's a lefty, very crafty. He knows how to use his pitches."

USA TODAY Sports
J.T. Realmuto has some work to do behind the plate before he'll be considered for a promotion to the majors.
Prospect: J.T. Realmuto
Level: Double-A Jacksonville
Stats this season: .234/.301/.346, 4 HRs, 30 RBI, 359 plate appearances
Career minor league stats: .256/.321/.372, 24 HR, 129 RBI, 1,286 PA
ETA to the majors: 2014
On the one hand, J.T. Realmuto is living up to what he could become. On the other hand, Realmuto is struggling with another aspect of his game as he moves up the ladder.
A converted shortstop, Realmuto has a cannon for an arm and terrific pop-time on his throws, according to Scoutingbook.com. Meanwhile, Baseball America believes Realmuto is the organization's best defensive catcher.
Based on his numbers, Realmuto's defensive prowess seems to improve despite facing better competition. Realmuto has committed eight fewer errors than last season and thrown out 35 percent of runners trying to steal compared to his 36 percent ratio of last year. He also has just two more passed balls (nine) in 62 fewer chances this season.
Offensively, though, Realmuto has seen his batting average plummet from .287 in Single-A Greensboro two years ago to .234 this season. The power seems to have disappeared as well, as Realmuto has hit just four home runs this season, compared to 12 two years ago.
If Realmuto doesn't hit enough to keep his bat relevant, his spot as the team's No. 8 prospect, according to MLB.com, and his future as a major leaguer, might vanish into thin air.
Prospect: Mark Canha
Level: Double-A Jacksonville
Stats this season: .274/.373/.449, 11 HR, 45 RBI, 398 PA
Career minor league stats: .279/.372/.464, 46 HR, 208 RBI, 1,411 PA
ETA to the majors: N/A
Mark Canha is not among the organization's top 10 prospects. He's not even in the top 20, which goes to show how thin the Marlins are at first base.
That said, Canha seems to be the cream of the crop at the position.
The University of California product was drafted in the seventh round of the 2010 draft and has some pop in his bat, which is what teams want from a corner position. Canha impressed in his first full year with the organization, recording a slash line of .276/.374/.529 with 25 home runs and 85 RBI at Single-A Greensboro.
However, he took a step back last year against stiffer competition at advanced Single-A Jupiter, belting just six homers, but maintaining a .293 average. With 11 homers this season, Canha's power have seemed to return.
What Canha does exceptionally well is hit left-handed pitching. Coming into the season, Canha hit southpaws at a .313 clip with 13 home runs and 68 RBI in 316 at-bats.
Prospect: Viosergy Rosa
Level: Single-A Greensboro
Stats this season: .262/.367/.476, 21 HR, 61 RBI, 466 PA
Career minor league stats: .251/.358/.408, 26 HR, 116 RBI, 975 PA
ETA to the majors: N/A
When it comes to Viosergy Rosa, what was down is up in 2013.
Rosa, drafted in the 29th round of the 2010 draft out of Odessa College, hit just .240 with five home runs and 55 RBI in 429 at-bats in his first three season of professional baseball. This season, he has blown those numbers out of proportions by hitting .262 with 21 home runs and 61 RBI in 397 at-bats.
The upside-down reference doesn't pertain to just Rosa's overall numbers.
In his first three seasons, the left-handed hitting Rosa fared much better against southpaws. He hit .364 with three of his five home runs in matchups against lefties while batting .203 against right-handers. But this season, Rosa has hit 20 of his 21 homers while maintaining a .272 average against righties.
In the span of less than a year, Rosa went from an afterthought to someone who might have a chance at the big leagues.
Prospect: Avery Romero
Level: Short season Single-A Batavia Muckdogs
Stats this season: .343/.407/.473, 2 HR, 28 RBI, 194 PA
Career minor league stats: .299/.373/.418, 5 HR, 47 RBI, 358 PA
ETA to the majors: 2017
Avery Romero might very well be the opposite of Realmuto. Romero has a great bat, but lacks defensive skills.
Selected in the third round by the Marlins in the 2012 draft, Romero was a shortstop at St. Augustine's Pedro Menendez High School, but multiple reports have projected him to play at either second or third base in pro ball because of questions about whether he has the quickness to play the most important defensive position in the game.
In 2012, Romero showed he was better at second base, as he committed just two errors there compared to three errors at third base. Also, Romero's fielding percentage (.974 vs. .948) and range factor (4.67 vs. 2.50) was far superior at second base than at third base.
Romero struggled with the bat last season, hitting just .246. But he has bounced back in 2013, as he has a slash line of .343/.407/.473. As a result, Romero was chosen to the 2013 New York-Penn League All-Star Game, according to The Batavian.
According to MLB.com, Romero has strong hands and a quick bat, shows the ability to hit line drives to the gap and should develop average power in the future. If his power emerges, he could make for a solid third baseman or a good offensive-minded second baseman.
At the rate Romero is going, the Florida Times-Union projects Romero to make the three-level jump to Double-A Jacksonville at some point next year.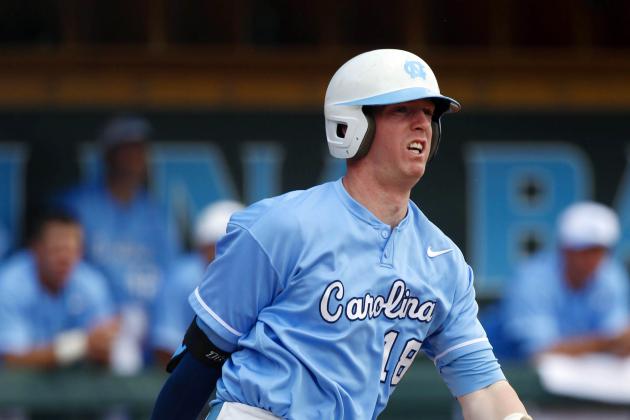 James Guillory-USA TODAY Sports
The Marlins drafted Colin Moran with their 2013 first round pick in hopes he will be their third baseman of the future.
Prospect: Colin Moran
Level: Single-A Greensboro
Stats this season: .243/.300/.357, 1 HR, 10 RBI, 80 PA
Career minor league stats: .243/.300/.357, 1 HR, 10 RBI, 80 PA
ETA to the majors: 2016
When the Marlins drafted Colin Moran with the sixth overall pick two months ago, the consensus was he had one of the most advanced bats among amateur players.
MLB.com described Moran as someone who should hit for average and who shouldn't take too much time for his bat to be big-league ready. How much power he grows into remains to be seen, but he's been a solid run producer throughout his college career.
ESPN.com noted that Moran has a great eye and generates good bat speed with solid extension through the zone for average power or a tick above. However, he doesn't have a pretty swing and it's not consistent. His hands come set in a different spot from swing to swing, and on some swings his front side goes soft (where he rolls over his front foot).
He must have extremely strong wrists as well because he's a little late in getting the barrel of the bat into the zone, but still manages to make a lot of solid contact.
Defensively, MLB.com predicts that Moran should be able to stay at third base. ESPN.com lauded Moran for his outstanding hands and easy throwing motion along with his great arm strength, so anything he gets to at third, he handles well.
That said, Moran is a mediocre runner and his feet are not quick. He tends to run a little flat-footed and often has trouble getting his feet started in the field because he's set up on his heels, but once he gets moving, he's fine.
If Moran has a career similar to his uncle, B.J. Surhoff, the Marlins would be happy with that. Surhoff hit .282 with 188 home runs during his 19-year MLB career.
"Are there players that get there that quickly? Yes," President of Baseball Operations Larry Beinfest told the Sun-Sentinel. "Is it the norm? No. It's not that easy, but this is a good looking bat and a good looking player. He's got soft hands. It all works pretty well."
Prospect: Austin Nola
Level: Advanced Single-A Jupiter
Stats this season: .246/.345/.325, 1 HR, 37 RBI, 408 PA
Career minor league stats: .232/.329/.302, 2 HR, 55 RBI, 675 PA
ETA to the majors: N/A
Adeiny Hechavarria might be the Marlins shortstop of the future, but there are a couple of players who hope to knock on the door one day.
Austin Nola is one of them.
Selected in the fifth round of the 2012 draft out of LSU, Nola is known better for his defense than his offense.
While Nola has committed 13 errors this season, it is just three more than last season and in 216 more chances. As a result, his fielding percentage (.974 in 2013 compared to .964 in 2012) and range factor (4.79 in 2013 vs. 4.59 in 2012) have been superior this season.
At the plate, the light-hitting Nola pushed his batting average up to .246 after hitting just .211 last year.
Prospect: Anthony Gomez
Level: Single-A Greensboro
Stats this season: .273/.306/.346, 5 HR, 54 RBI, 463 PA
Career minor league stats: .268/.309/.339, 7 HR, 82 RBI, 702 PA
ETA to the majors: N/A
Anthony Gomez was drafted a round after Nola, but Gomez may be the opposite of Nola.
Thus far, it's clear Gomez is the better hitter. He's hitting .273 after batting .260 last year, but when it comes to defense, Nola might be ahead of the curve.
When Nola and Gomez were together at short-season Single-A Jamestown and Single-A Greensboro for 25 days last year, Nola played shortstop in 16 games while Gomez manned the position just three times.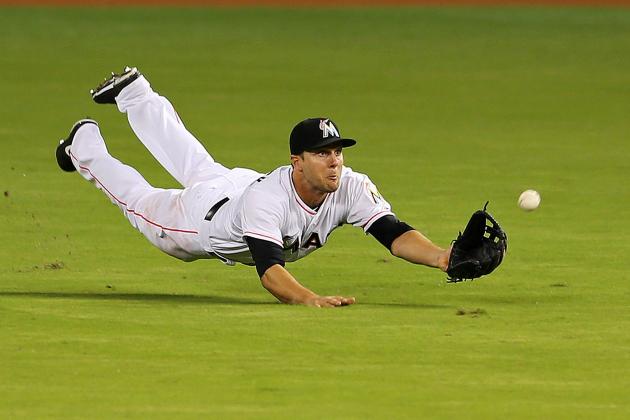 Mike Ehrmann/Getty Images
Jake Marisnick dives for the baseball ... in the big leagues.
Prospect: Christian Yelich
Level: Miami Marlins
Stats this season: .290/.333/.371, 0 HR, 3 RBI, 66 PA
Career minor league stats: .313/.387/.499, 36 HR, 163 RBI, 1,292 PA
ETA to the majors: Currently in the majors; promoted July 23
If Colin Moran needed someone to compare himself to as to what his future might hold, all he has to do is look up at Christian Yelich.
Like Moran, Yelich was considered the most advanced prep bat in the 2010 draft class, according to MLB.com. Three years in, many are still in love with Yelich's bat.
ESPN.com's Keith Law said he loves Yelich's swing, which he labeled in his preseason rankings as one of the prettiest swings in the minors, with strong, steady hands; a short and very consistent path to the ball; and good rotational motion giving him some power in his follow-through.
Baseball Prospectus said that Yelich has one of the purest swings in the minors, a short and powerful stroke despite his arm length. Yelich creates well-above-average bat speed, and as he continues to mature and learns the nuances of power, his doubles will start to turn into home runs and he could be a true middle-of-the-lineup threat.

However, there are two issues with Yelich.
First, he seems to have trouble hitting southpaws. He is 3-for-20 against lefties since being promoted to the big leagues. In the minors earlier this year, Yelich hit .192 (19-for-99) in the same situation.
Law said for a hitter as gifted as Yelich is, Yelich should be making some adjustments, even small ones, against lefties by now.
The second issue is Yelich's awkward throwing motion, although Baseball America said it has improved to the point where it's no longer a big detriment:
"Yelich is the top bat for me in the minors; even better than (Oscar) Taveras," a front office source told Baseball Prospectus. "I think the hit tool is a 70 and I think the power shows up down the line in the 25-plus range with a ton of doubles. He's a tough out and he's just going to get better when he's forced to face better. Next to (Byron) Buxton and (Xander) Bogaerts, we have him in that top tier of young talent in the game.
Prospect: Jake Marisnick
Level: Miami Marlins
Stats this season: .192/.236/.269. 1 HR, 3 RBI, 56 PA
Career minor league stats: .280/.351/.446, 38 HR, 199 RBI, 1,674 PA
ETA to the majors: Currently in the majors; promoted July 23
If Christian Yelich is the Marlins top prospect, then Jake Marisnick is the Marlins' most well-rounded prospect.
Arriving with Justin Nicolino from the Toronto Blue Jays this past offseason, Marisnick is considered a five-tool player by Baseball Prospectus, meaning he shows average or better utility across the board with his tool profile. While he lacks a singular high-end tool, the maturity of his average-to-plus collection of skills makes him a potential impact talent at the highest level.
Baseball America believes Marisnick is the organization's top athlete and its best defensive outfielder. MLB.com thinks Marisnick is an excellent defender in center field with more than enough range to stay there, although his solid arm would work from right field as well.
ESPN.com Keith Law grades Marisnick as above-average for his running, arm, power and glove.
Marisnick's biggest problem is that he has some holes in his swing, which Law said is tied into his mediocre recognition of breaking stuff. He has shown the ability at times to make adjustments to lessen his mistakes at the plate, something that will help him become a complete hitter.
Thus far, Marisnick is hitting just .192 in 52 major league at-bats. However, Marisnick also struggled earlier in the year at Double-A Jacksonville, but he rebounded to post a slash line of .294/.358/.502 with 12 home runs and 46 RBI prior to his promotion to the big leagues.
When asked to comment on Marisnick's future in the majors, a scout suggested to Baseball Prospectus that Marisnick "has the potential to be an all-star because he can do a little of everything. He can play all three outfield positions, even though he might be a better fit for right field down the line. He can run. He can put the bat to the ball. He can make hard contact and has a swing to put balls out of the yard. He offers a ton of value as a .275 type with 20 home runs and 20 steals from a premium position on the diamond. I'd take that in a second."