Examining the New York Giants' Open Competition for Third Running Back Spot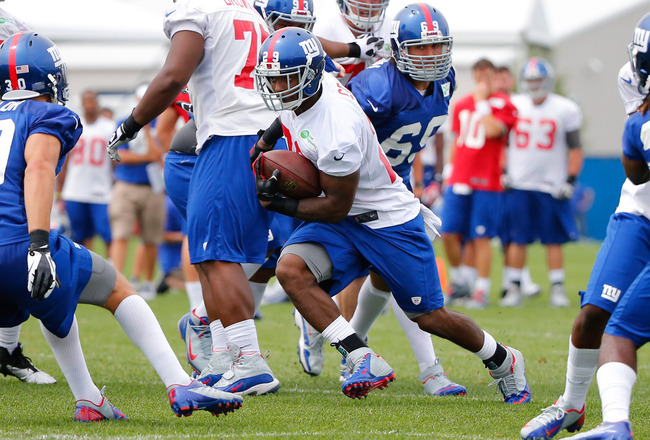 RB Michael Cox bursts through an open hole.
Jim O'Connor-USA TODAY Sports
Thunder and lightning.
New York Giants fans have witnessed it before. A power back whose forte it is to bowl over defenders for a pivotal first down accompanied by a zippy runner with the ability to break off a big gain at a moment's notice. It is the much desired yin and yang of an offensive backfield.
The Giants seem to possess that running back combination once again in current co-starters Andre Brown and David Wilson, the former being thunder and the latter lightning. Both players have a chance to excel in New York's potent 2013 offensive mix, despite their contrastive running styles.
But the adage has grown stale, proven cliché both in words and on the field. A "thunder and lightning" backfield does not strike the same fear in an opponent it once did. Many teams need an additional element—thunder, lightning and...rain?
Clearly the catchphrase has yet to catch up with the offensive backfield combination NFL teams now utilize. The Giants won't employ a true running back by committee approach; Brown and Wilson are sure to be the two main ball carriers. But head coach Tom Coughlin claims that a third back could find his way into the mélange, and he insists that his team currently has a "great competition for the third spot."
So let's take a closer look at this competition. Click through the slideshow to find out more about the three players currently vying for a slice of New York's running back timeshare.
Da'Rel Scott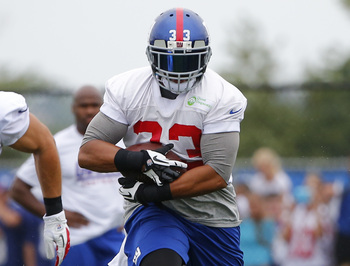 RB Da'Rel Scott is the favorite to win the job.
Jim O'Connor-USA TODAY Sports
The third-year back out of Maryland is the frontrunner of the competition. Before David Wilson was ever named ACC Offensive Player of the Year and subsequently drafted 32nd overall, the Giants' home run hitter was supposed to be seventh-round selection Da'Rel Scott (2011; 221st overall).
Scott missed most of last season with a torn meniscus in his right knee. Through four appearances he compiled just nine yards on six carries, all of which came towards the end of a blowout win over the Carolina Panthers in Week 3. One season earlier he managed only 16 yards on five carries before committing a cardinal sin as one of Tom Coughlin's rookies—Scott fumbled.
With two years of experience under his belt and a clear opportunity set before him, Scott is more focused than ever to establish himself in the Giants' offensive backfield.
"I've always had that work ethic, but you can tell the difference now. It's like I'm on a mission," Scott told Mike Still of the Philadelphia Inquirer in late July. "I'm ready to get that spot."
Scott can also be an asset in the return game. He ran back 14 kickoffs in 2012 for a total of 341 yards, a respectable average of 24.4 yards per return. If he catches out of the backfield well enough, Scott could also become a valuable third-down back a la D.J. Ware in 2011.
Ryan Torain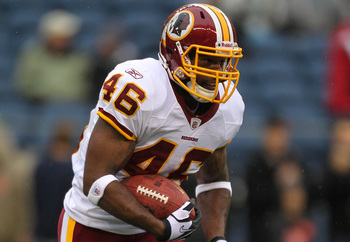 RB Ryan Torain has a few question marks.
Otto Greule Jr/Getty Images
When the Giants were in a pinch late last season, they signed Kregg Lumpkin and Ryan Torain to supplement their quickly dwindling depth at running back. Lumpkin played in five games, earning a few spot touches, while Torain, a former Washington Redskin, failed to record a single carry.
But this past offseason the Giants parted ways with Lumpkin and instead offered Torain another shot to make the team in 2013. Could they have kept the 26-year-old around out of anticipation of a bright future? His 2010 season would leave one to believe so.
With the Redskins that season—two years after he was drafted in the fifth round by the Denver Broncos (139th overall)—he took over the starting role for Clinton Portis. He became Washington's leading rusher with 742 yards on 164 carries, an impressive average of 4.5 yards per attempt. NFL Network analyst Brian Baldinger even classified Torain as Mike Shanahan's "next great find."
So what happened from there?
Injuries, mostly. Also, Tim Hightower was brought over from the Arizona Cardinals to be the starter the next season, and when Hightower went down in Week 5, Torain was overshadowed by younger backs like Roy Helu and Evan Royster. His inability to stay healthy caused his production to plummet; he carried the ball 59 times in 2011, totaling just 200 yards and a single touchdown.
Torain is the unit's biggest question mark. Why was he brought back over Lumpkin? Will he be able to avoid injury? Is he capable of replicating his 2010 production?
Michael Cox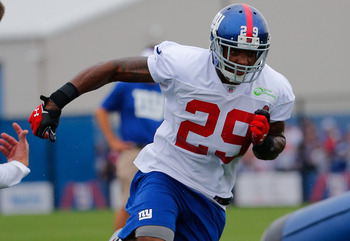 RB Michael Cox in a seventh-round rookie.
Jim O'Connor-USA TODAY Sports
At the back of the pack is Michael Cox, a seventh-round draft selection who, as the New York Times recently reported, got his athletic start as a junior hockey star in Boston. Cox has come a long way since then, playing (in a limited capacity) for three years with the Michigan Wolverines before competing for one season as a University of Massachusetts Minuteman.
On a team that won just a single game in 2012, Cox quickly became UMass' top offensive threat. He started all 12 games, gaining 715 yards and five touchdowns on the ground. He also added 13 pass receptions, making him a viable threat to catch the ball after releasing from the backfield.
That skill is important, considering Cox's size (6'0", 220 pounds). As a bigger running back, he can impress Coach Coughlin by becoming reliable on passing downs, which entails both soft hands and a firm understanding of the protection scheme. David Wilson, the envisioned starter, has struggled to gain this trust. Cox, on the other hand, was able to graduate from college a year early and was working on his master's degree in education while playing at UMass in 2012. The Giants hope he'll display a similar on-field intelligence.
The 24-year-old joins Ahmad Bradshaw and Da'Rel Scott as recent New York Giants running backs to be selected in the final round of the draft, but Cox is not a typical rookie. He has the frame, ability and smarts to contribute very early in his career.
Keep Reading

New York Giants: Like this team?