Aldo vs. Korean Zombie: Questions Facing Both Fighters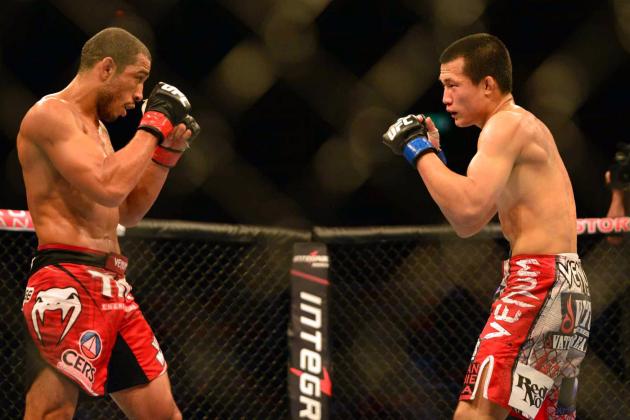 Jason da Silva-USA TODAY Sports
The awkward fight between Chan-Sung Jung and Jose Aldo disappointed many, and left neither fighter looking good.
What a disappointing fight.
On paper, this should have been an absolute barn-burner. Instead, we saw long-time featherweight champion Jose Aldo tire himself out by jabbing at Chan-Sung Jung for 15 minutes. When "The Korean Zombie" finally opened up on the hyperventilating Aldo, his surgically-repaired shoulder popped out and granted Aldo what was in reality a submission victory due to injury (he officially won by TKO).
This snoozer left fans wondering how good either fighter really was and how they really stack up against the rest of the MMA world.
So how do they stack up? What other questions are facing these two after their fight?
Find out right here!
Begin Slideshow

»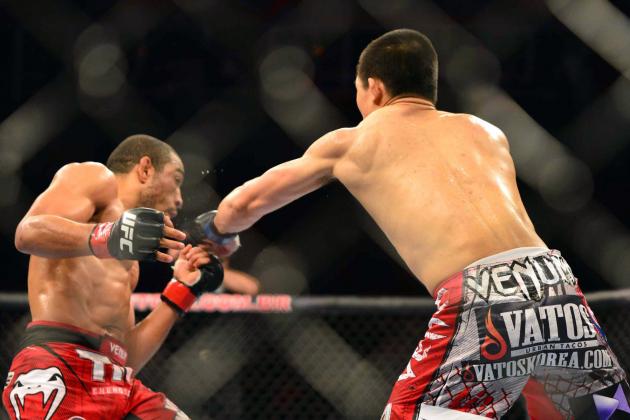 Jason da Silva-USA TODAY Sports
Jung started finding homes for his left in the fourth before his shoulder popped.
Between the third and fourth rounds, Jose Aldo appeared to be hyperventilating in his corner. Jung was not.
The challenger picked up on this. He began pouring strikes early on in the fourth that actually landed.
Then, in true "zombie" fashion, his arm fell off.
Aldo's cardio troubles are no secret, and have popped up in almost every fight where he didn't score an early finish. Jung, meanwhile, is known for his cardio. He basically spent the first 15 minutes of the fight standing in one place and eating jabs, which theoretically would have kept him quite fresh.
We'll probably never know the real answer to that question, unfortunately.
Rafael Suanes-USA TODAY Sports
Chan-Sung Jung was a top fighter a year ago...but a year is a very long time.
Check out this article I wrote a little over a year ago—it discusses how the rise of Chan-Sung Jung, who had just beaten Dustin Poirier but was still a work in progress, was merely a distraction from the shallowness of the featherweight division.
Well, in the time since, the UFC's 145-pound division has undergone an absolutely radical transformation. A number of lightweights have joined the fray, and a few fighters have risen through the ranks on their own.
While all that was happening, Jung was nursing a bum shoulder.
While Jung was possibly the best featherweight not named Jose Aldo in spring 2012, how does he stack up against Ricardo Lamas, Clay Guida, Cub Swanson, Frankie Edgar and Dennis Siver?
What about Nik Lentz, Hatsu Hioki, Chad Mendes and Conor McGregor?
Nobody knows, and we'll have to wait and see how Jung fares in his next few fights before we get a definitive answer.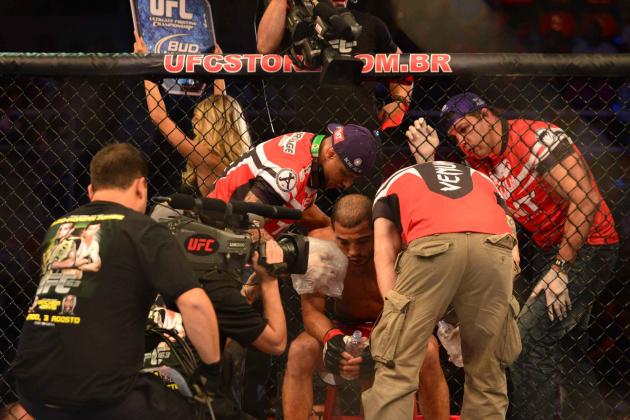 Jason da Silva-USA TODAY Sports
Both fighters suffered injuries that could keep them out of the cage for a while.
In addition to the fight ending with Chan-Sung Jung writhing in pain from his busted shoulder, it has been confirmed that Jose Aldo broke his foot during the fight, per MMA Fighting.
That, in my estimation, is bad.
Not only is it bad because they are hurt, but these are both now recurring problems for the fighters. Aldo hurt his foot in a motorcycle accident that forced him out of a fight with Frankie Edgar scheduled for UFC 153 (it was later rescheduled for UFC 156). Jung went under the knife last year to repair the shoulder that cost him the fight (which, evidently, didn't work all that well).
Recurring injuries are the worst in all sports, and lingering problems with the back, neck and knees have shortened the careers of many fighters. While these problems may or may not be serious, UFC brass have to be sweating over this development.
Jose Aldo is billed as one of the most exciting fighters in the UFC, and one of the most dominant champions in MMA. The reality, however, is that he hasn't fit that bill since 2010.
When Aldo was in the WEC, he savaged opponents in the same way Wanderlei Silva did in Pride. He fought in the promotion eight times, winning every time. Seven of those wins were knockouts, and the one fight that went to decision was when he tripled the size of Urijah Faber's left leg.
Since joining the UFC in 2011, though, he has sputtered in every fight that went longer than one round. This is almost certainly due to his notoriously difficult cut down to 145 pounds. While he has made it every time without issue, not having to cut those extra 10 pounds would likely be huge for Aldo.
Oh, and Aldo moving up yields a load of exciting matchups. That's nice, too.