Miami Dolphins: 7 Things We've Learned from Training Camp So Far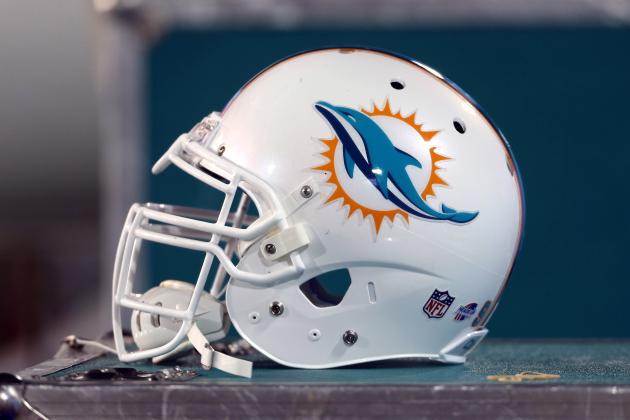 Ron Schwane-USA TODAY Sports

We are now 15 days, nine practices and one preseason game into the Miami Dolphins' 2013 training camp, and there is still a lot that is unknown.
We're not going to deal with that in today's piece.
Everything we don't know we will learn in the next four weeks of camp and preseason, and possibly even into the first couple of weeks of the regular season.
Instead, we're going to look at a few things that we do know about the Miami Dolphins, or at least, what we have learned through these first two weeks.
Begin Slideshow

»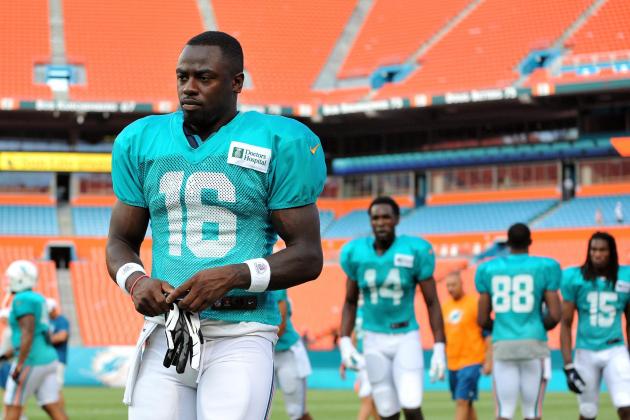 Steve Mitchell-USA TODAY Sports

It might be a while until we know for sure what Miami's offense is supposed to look like with their new look wide receiver corps.
Mike Wallace didn't play against Dallas in the Hall of Fame game nor did Brian Hartline.
Brandon Gibson started on Sunday and was targeted once, making one catch for seven yards.
But we know that Wallace, Hartline and Gibson will be Miami's top three wide receivers (barring injury). The question has been who will be Miami's fourth, fifth and possibly sixth wide receivers.
Marvin McNutt may have earned himself the starting slot for Sunday's Hall-of-Fame game, however he had two drops on his only two targets during the game.
The most impressive receiver from the HOF game was Mississippi State's Chad Bumphis. Bumphis followed a good yet inconsistent week at training camp with a five-catch, 85-yard evening against the Cowboys, however, he did have a pass that he tipped get intercepted and turned into a touchdown.
Bumphis' performance is pretty symbolic of how inconsistent Miami's receivers outside of Wallace, Hartline and Gibson have been so far. The battle for two (possibly three) roster spots will likely come down to the final day of training camp.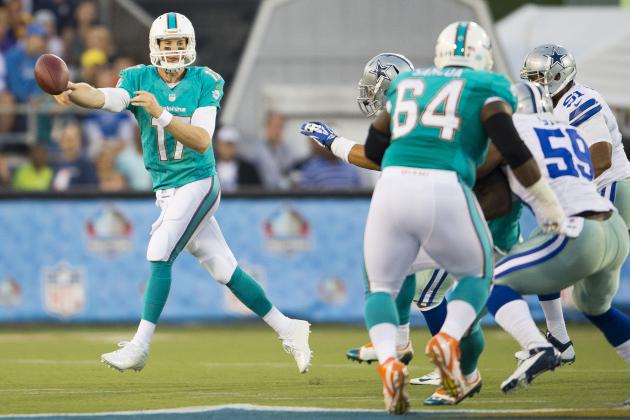 Jason Miller/Getty Images

Ryan Tannehill was awful during the game against Dallas.
I hear the commenters getting ready to unload, but let me explain.
Prior to the Hall of Fame Game, Tannehill was have a very good run of practices. He went a full week without throwing an interception during training camp (per ESPN.com's James Walker), and at the Monday Night scrimmage I attended at Sun Life Stadium, he was very effective, throwing three touchdowns without turning the ball over.
Keep in mind, Tannehill competes on a day-to-day basis against one of the best defensive lines in football (which I will cover later in this presentation) and still hasn't even had the chance to work a lot with Mike Wallace due to the receiver's groin injury that kept him out of practice for most of last week. Brian Hartline had been nursing an injury as well.
Then came the Hall of Fame Game. Where was this confident quarterback I had seen Monday Night and that was talked about so glowingly throughout training camp?
The first play was a fumbled handoff, and that miscue was on Tannehill more so than running back Lamar Miller. He would finish off going 2-of-5 for 11 yards, and while two of those passes were dropped, the passes themselves left much to be desired in terms of accuracy.
In other words, Tannehill's training camp against a defense that looks like it will be one of the best in the NFL has been great, but in his first taste of game action going up against the second string of a defense that's adjusting to a new coordinator and new scheme, he struggled.
Hopefully it was just first game jitters mixed in with the thought that Jonathan Martin is blocking for him and he's not wearing the red jersey. That's where my money is on for now.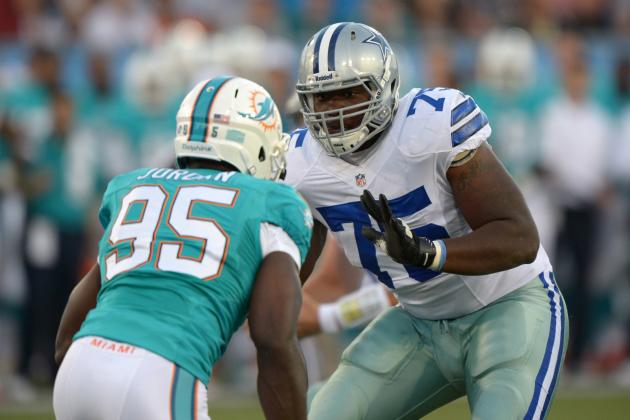 Kirby Lee-USA TODAY Sports

The only positives I saw over Twitter during Sunday's preseason game/overreaction fest (seriously guys it's one game, everyone—even Jonathan Martin—has the chance to improve) were raves about Miami's prized draft pick Dion Jordan.
The Dolphins used Jordan the way I envisioned him being used—and that means not just as a straight-up pass-rusher. The Dolphins also dropped him back into coverage and had him rush the passer both from three-point and two-point stances.
It was a treat to see Miami utilize his versatility, and it gave me more hope for the upcoming regular season. Jordan next to Cameron Wake will be a nightmare for quarterbacks. The only thing better (and still possible), would be him, Wake and Olivier Vernon rushing the passer at the same time.
Now Jordan's Sunday night wasn't the only memorable part of this week (if anything, it was the least memorable), as he recorded only two tackles and one quarterback hit.
Still, he was impressive in that first week. Seeing him on Monday, I had a real feeling that he was a man amongst boys at times against Miami's porous offensive line. I still think that to an extent Miami's poor offensive line play was the byproduct of the Dolphins' great defensive line play, and Dion Jordan is part of the reason for that.
Dion Jordan is the best I've felt about a Dolphins rookie since Jake Long in 2008, and it's easy for me to see him having the biggest impact of any Dolphin rookie in the last 30 years.
(And you know who made his debut 30 years ago this year.)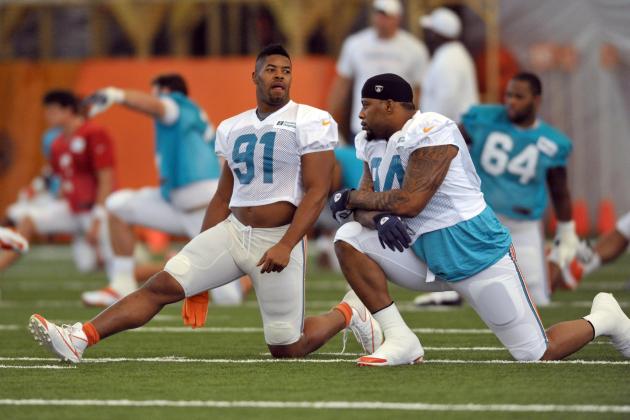 Steve Mitchell-USA TODAY Sports

Focusing on the defensive line and linebackers, I'll admit that on Sunday night against the Cowboys, the unit had its issues with tackling.
However, it doesn't have me too worried because for the most part, they did stop the Cowboys from scoring (14 of Dallas' points came off turnovers, and the Cowboys' last touchdown was off a failed fourth-down conversion which gave Dallas the ball at midfield).
Miami also had problems tackling during last year's preseason, but then, come the regular season, the defensive line was one of the NFL's best against the run.
Also worth mentioning: Miami was without Jared Odrick, Olivier Vernon and Randy Starks on Sunday.
How deep is this line, though? Derrick Shelby stepped up and had a monster performance with two tackles for a loss and two sacks while overpowering Dallas' offensive line. Shelby, aka someone who wasn't mentioned when I wrote about Miami's defensive line last week.
I'm wondering now, is there any team that needs defensive line help that has a left tackle to spare?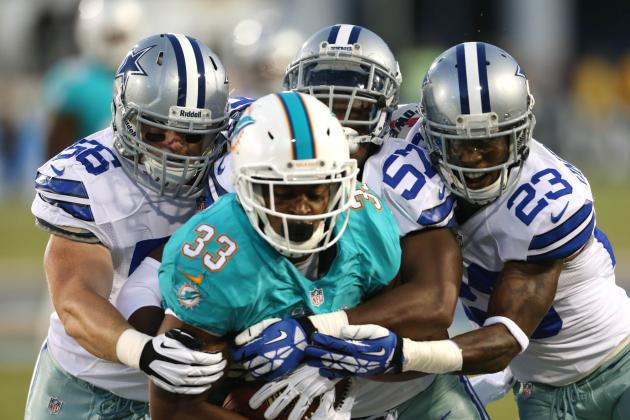 Ron Schwane-USA TODAY Sports

From now on when speaking about Daniel Thomas, I'm going to point out a player the Dolphins passed on to pick him (after trading up to pick him mind you) by inserting a link to a video highlight package of that bypassed guy.
Because right now it looks like Thomas is one of the worst wastes of a second-round pick in Dolphins history—and this is a team that has wasted second-round draft picks on backup quarterbacks from other teams (hi A.J. Feely!) or drafting quarterbacks who should be backups (hello John Beck and Chad Henne)...or Pat White.
During training camp, Thomas may have shown some flashes (video courtesy of my Instagram feed), but he's done that in every training camp. He's not showing enough, however, to beat out Lamar Miller for the starting running back job. You'd expect a second-round pick to play better than a fourth-round pick, but that's not the case.
During the game against Dallas, he was the worst of the running backs (and remember, Lamar Miller had a fumble which was caused by Tannehill), as both Jonas Gray and Mike Gillislee outplayed him as well.
So to recap, a second-round pick can't beat out a fourth-round pick for the No. 1 running back job and was outplayed by a fifth-round pick and an undrafted free agent.
The Dolphins do know that they're supposed to bring to Canton players who aspire to have a bust made in their likeness and not who are themselves busts, right? Now this isn't based off of this game, there are two seasons worth of turnovers to show why Daniel Thomas has been a bust for the Dolphins.
But it's telling when he's outplayed by every other Dolphins' running back on the roster.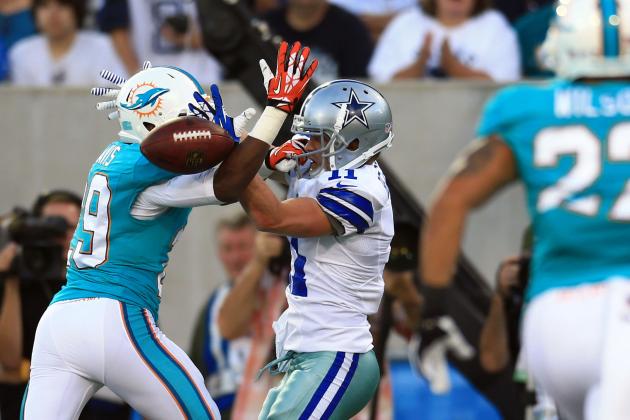 Andrew Weber-USA TODAY Sports

This is going to sound crazy, but I actually think Miami's secondary shows promise.
They weren't great against the Cowboys, but I wouldn't exactly say they were bad. The worst part of the defense seemed to be the linebackers.
The corners and safeties held their own pretty well, with the only really issues being Will Davis' blatant penalty in the first quarter (just a rookie mistake you'd expect in a player's first NFL preseason game), and the lack of turnovers (they do have to force more takeaways).
However, the Dolphins played only one series with Brent Grimes at corner and only two with Richard Marshall (the eventual nickleback). They didn't even play with Jamar Taylor, whom the Dolphins chose in the second round.
During practice, the Dolphins did have Taylor and the whole unit in the game. The only issues I've seen was the fact that they did go a full week without intercepting Ryan Tannehill (I knew I could find something bad about that), but other than that, I've noticed that they've been aggressive during camp, and the players seem to be a much better fit for the schemes than last year.
I'm not too worried about Miami's secondary, which is something I haven't said in a while. It will have its bumps and bruises due to its youth and inexperience, but it won't be the disaster that it seemed to be last year, when you had press corners trying to play zone.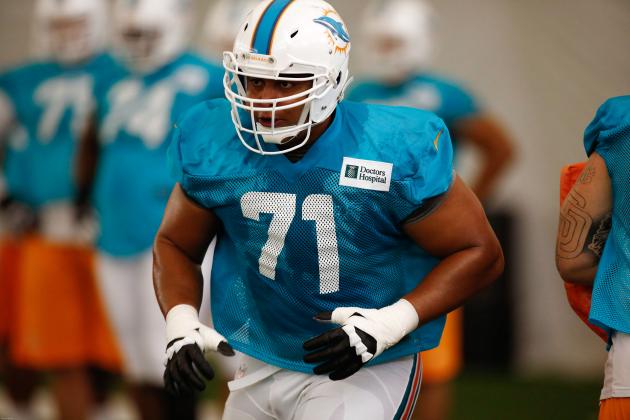 Robert Mayer-USA TODAY Sports

Jonathan Martin was graded as a first-rounder in 2012, so it was considered a steal when the Dolphins selected him.
Based on training camp, the only stealing being done is Martin stealing money from the Dolphins, as he was dominated by Miami's defensive line all week. Then he was dominated by Dallas' B-Team defensive line in the Hall of Fame Game.
I might have knocked Tannehill a lot earlier in the slide show, but some of the criticism toward the QB is the result of Martin just not doing his job as a blocker, and in actual games, Tannehill has to get rid of the ball because he's not wearing that red "no-contact" jersey he wears in practice.
Martin's replacement at left tackle should've been Incognito's replacement at left guard. The fact that Dallas Thomas was inserted at left tackle should compel Miami to look to the market to see who's available.
The first thing I'd likely do is revisit talks with the Kansas City Chiefs and their tackle Branden Albert; however, at this point it's Kansas City who has the leverage, not Miami.
Stopgaps such as free agents Sean Locklear, Frank Omiyale or Wayne Hunter might also be worth a phone call—if for no other reason than to backup Jonathan Martin.
The silver lining here is that—if Martin and the offensive line is the downfall of the Dolphins— the team is strong enough in other areas of the roster that it can afford to spend a first-round pick on a left tackle in next year's draft.
But first, survive this season. If Martin continues to play this terribly, they might not be able to.
Be sure to listen to Thomas Galicia's musings on the Dolphins with co-host Ryan Yousefi on Dolphins Central Radio. Available on iTunes and on Skitcher and YouTube with new episodes Wednesdays. Some observations come from what Thomas himself has seen while viewing Dolphins' Training Camp this week in both Davie and at the scrimmage at Sun Life Stadium.