Predicting Washington Capitals' Overachievers and Underachievers in 2013-14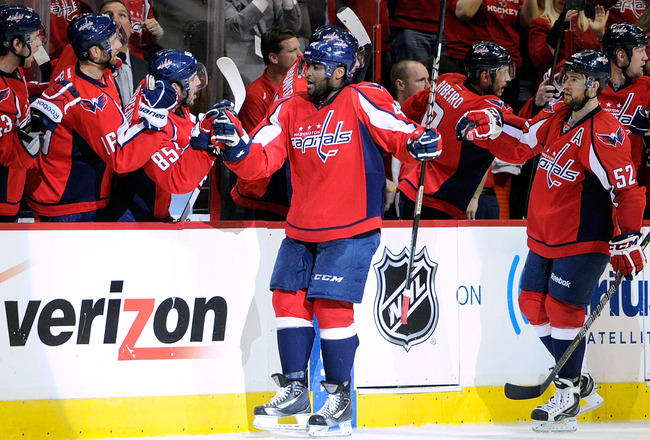 Greg Fiume/Getty Images
At the beginning of each NHL season, every player has expectations that lay before them, and depending on whether or not they meet those benchmarks, they'll be considered either overachievers or underachievers.
This year, the Washington Capitals will be gunning to advance beyond Round 2 of the Stanley Cup Playoffs for the first time since 1998, and in order to do so, they'll need at least a handful of players to exceed expectations.
Last year, we saw Mike Ribeiro, Troy Brouwer, Steve Oleksy and Braden Holtby overachieve, while Jason Chimera, Jeff Schultz and Brooks Laich (albeit due to injury) underachieved. Others, such as Nicklas Backstrom, Alex Ovechkin and Mike Green performed up to the level that's expected of them, because they're paid and generally regarded as stars in this league.
Heading into the 2013-14 campaign, here's a look at the Caps who will exceed expectations, and who will not.
Marcus Johansson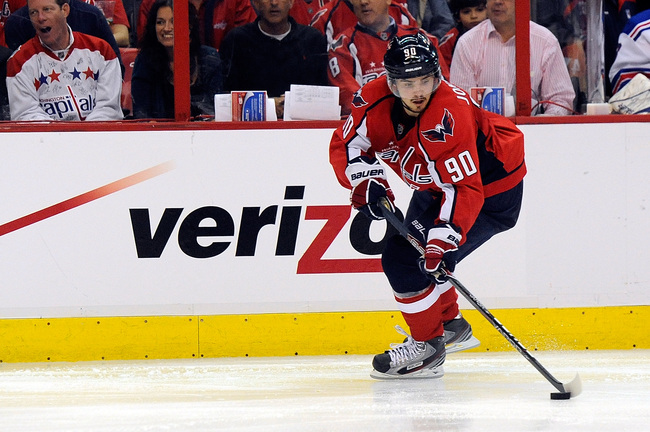 Patrick McDermott/Getty Images
Now entering his fourth season with the Capitals, Marcus Johansson is at a crossroads in his NHL career.
If Johansson can continue to grow as a speedy two-way forward, he will cement himself as a top-six forward in Washington's lineup for the considerable future, but if he takes a step back in 2013-14, there's a good chance that George McPhee will consider the young Swede to be expendable next summer.
Last year, Johansson struggled early, but after returning from a concussion, the 22-year-old posted 21 points in 25 games, and demonstrated his exceptional level of skill after being placed on the team's top line alongside Alex Ovechkin and Nicklas Backstrom.
Looking ahead, Johansson has to be at least a 50-point guy if he's skating with two of the game's best offensive threats, but if he finds himself centering the second line, 40 points is probably a more reasonable number.
Verdict: Overachiever
Johansson has been getting better each season, even if the point totals don't necessarily show it. He's become more confident with the puck, and his plus-minus numbers from 2013 were the best of his career. He'll stick with Ovechkin and Backstrom and end up with 50-55 points while receiving more special teams responsibilities.
Joel Ward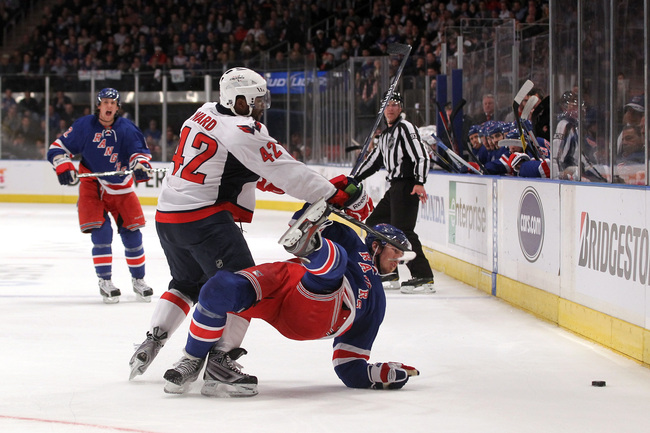 Bruce Bennett/Getty Images
In reality, Joel Ward is a solid grinder with some degree of offensive potential, but he's certainly not worth the four-year, $12 million deal George McPhee handed him two years ago.
To be fair to the Caps' longtime general manager, Ward was coming off a stellar postseason showing with Nashville, and his value was at an all-time high, but the hard-working 32-year-old isn't suited for top-nine duty.
It's not accurate to say that Ward hasn't met expectations in his two season with the Caps, because last season he put up points more rapidly than ever before, finishing with 20 points in 39 games.
And though Ward managed a paltry six goals and 18 points in 73 games in 2011-12, he scored arguably the biggest goal in recent franchise history when he eliminated the defending Cup champion Bruins in overtime of Game 7 that spring.
Verdict: Underachiever
Unfortunately, the winger's contract is high enough that 30-35 points should be considered a bare minimum in terms of offensive output, but in Ward's case, that's closer to his ceiling. He'll register somewhere close to 20-25 points, which simply isn't good value at $3 million a season.
Jack Hillen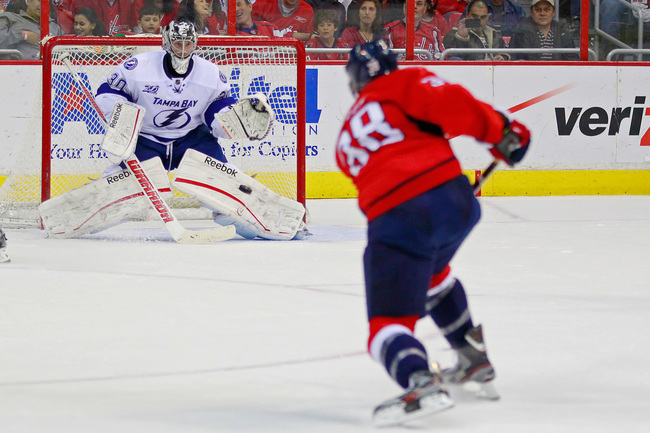 Geoff Burke-USA TODAY Sports
During the later stages of the 2013 season, Jack Hillen emerged as a legitimate top-six rearguard for the Capitals and even enjoyed a stretch in which he put up seven points in six games in the middle of April.
Overall, Hillen managed a respectable nine points in 25 games and demonstrated considerable puck-moving capabilities, but his diminutive frame and lack of physicality were exposed during the postseason against the Rangers.
In the New York series, Hillen ended up a minus-4 and was at times a weak link in the Caps' defensive corps.
Heading into his first full season as a Capital, Hillen will be competing for a regular position in the lineup, but with Dmitri Orlov back in the fold, he appears to be in danger of becoming the odd man out.
Verdict: Underachiever
Hillen was a feel-good story for Washington fans last season, and while he's a serviceable NHL defenseman, he's simply not equipped to fill that role on a team with hopes of contending for a Cup.
John Carlson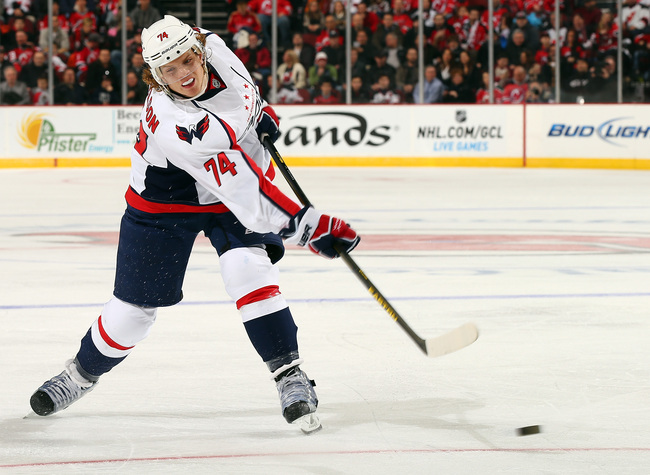 Elsa/Getty Images
With Mike Green back to doing things that Mike Green generally does, such as scoring clutch goals and moving the puck at break-neck speed, some of the pressure to create offense from the back end has been lifted off the shoulders of John Carlson.
But the Capitals know that they have a blue-chipper in Carlson, as the 23-year-old has put up points at a 35-40 point pace since becoming a full-time NHL player three seasons ago.
Now, with Carlson in the running to be selected for the U.S. Olympic squad, the big, mobile defenseman will have all the incentive in the world to play his best hockey early in the season, so expect even bigger numbers.
In addition, with Mike Ribeiro gone, Carlson could receive more time with the first power play unit, which will obviously offer up more opportunities for the former World Juniors hero to show off his cannon of a shot from the point.
Verdict: Overachiever
Carlson's been inconsistent at times during the last two seasons, but this year, he'll finally blossom into an elite two-way d-man, putting up 40-45 points along the way.
Eric Fehr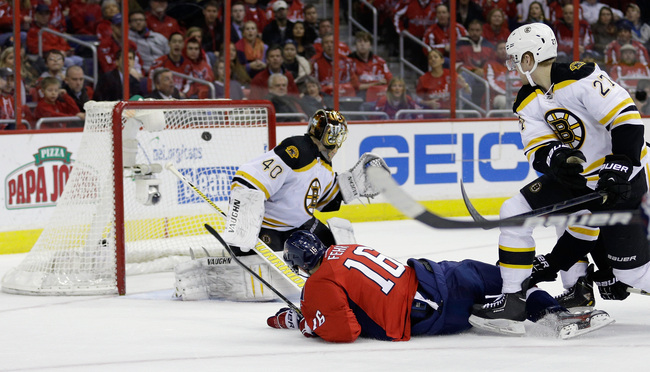 Rob Carr/Getty Images
A year ago, Eric Fehr was struggling to find a job in the NHL, but the Capitals gave the 2011 Winter Classic hero another shot, signing him to a one-year deal after the lockout ended in January.
And Fehr exceeded expectations, tallying nine goals and 17 points for a team that was extremely incompetent offensively during the first half of the 48-game season.
That's why McPhee decided to ink the 27-year-old winger to a two-year extension worth $3 million, so at least on paper, one has to think that the former 20-goal scorer will be given every opportunity to earn a top-nine role.
If that's the case, Fehr will put up numbers close to those he posted in 2009-10, when he tallied 21 goals and 39 points, along with another four points in seven postseason contests.
Verdict: Overachiever
Fehr has underrated hands and a deceptive shot, and if he's playing on one of the Caps' top three lines, he'll be playing with a quality center, which isn't a luxury the big Manitoba native has had often in the last two years. If he's healthy, he'll pot 15-20 goals and over 35 points, which is great value at a $1.5 million cap hit.
Keep Reading

Washington Capitals: Like this team?