10 Bold Predictions for the Big Ten on 2014 College Football Recruiting Trail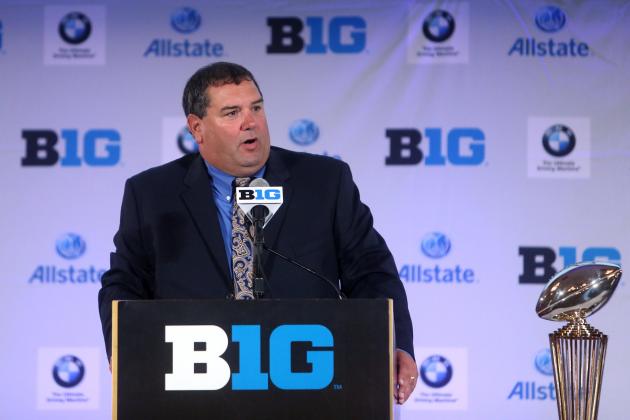 Jerry Lai-USA TODAY Sports

The Big Ten is not what it used to be. Nebraska is no longer the new kid on the block, and Rutgers and Maryland are poised to join the conference in 2014.
Along with those changes comes an expansion of recruiting territory, which soon will extend from the Great Plains all the way to the Atlantic Ocean.
What hasn't changed in the quality of the Big Ten and the competitiveness of its recruiting. The 2014 recruiting cycle has been a whirlwind, and the Big Ten already has had its share of great moments, with plenty more to come.
Michigan will land a great defensive recruit, but rival Ohio State will counter with one of its own. Years from now, Big Ten coaches will wish they had pursued a Wisconsin commitment harder, and two Big Ten programs will sign underrated classes.
Player evaluations are based on review of tape at Scout.com, Rivals, 247Sports and ESPNU.


Begin Slideshow

»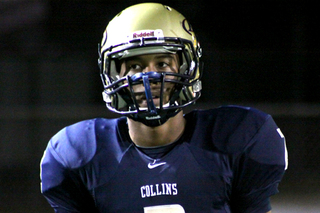 247Sports
Texas produces so much talent that a "good" recruit can be overlooked in the Lone Star State. That is essentially what happened to athlete Jordan Thomas, as his profile at 247Sports shows he only has three offers.
Thomas, who is 6'1" and 175 pounds, is committed to Northwestern and will be a steal for the Wildcats. He can play receiver and safety, and shows great athleticism, range and ball skills.
Thomas is not an explosive or sudden athlete, but he flashes adequate transition quickness when coming out of his backpedal. He is solid in man coverage, while also flashing great awareness on offense.
Big Ten coaches are going to be upset with their assistants for not recruiting Thomas.
Jeff Jones is a 5'11", 196-pound running back who is Minnesota's top commitment. Jones has a great blend of speed and power, which makes him an attractive recruit.
He has stuck with his pledge to the Gophers, but at least one Big Ten school that is higher in the league's pecking order will try hard to flip him. If Minnesota gets off to a bad start to the 2013 season, look for several Big Ten coaches to get in Jones' ear.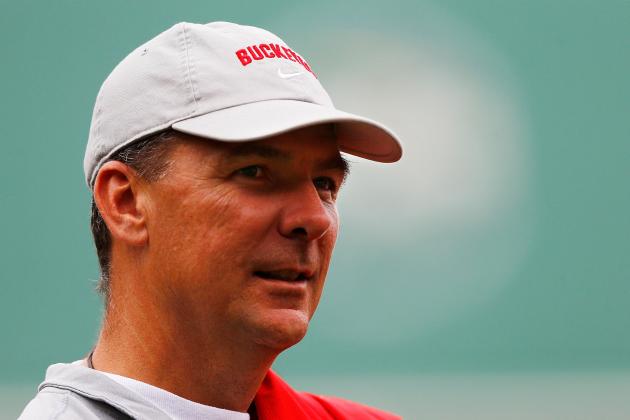 Jared Wickerham/Getty Images

Ohio State head coach Urban Meyer is a tireless recruiter, and part of the territory that comes with that label is angering other coaches. Meyer is not afraid to go after a committed recruit, as he is one of the best at flipping prospects to his school.
Meyer drew criticism from Big Ten coaches in 2012 for his recruiting methods, according to Graham Watson of Yahoo! Sports. Before the end of this 2014 recruiting cycle, Meyer will be the subject of more criticism from his coaching peers—because he will sign another top-10 class.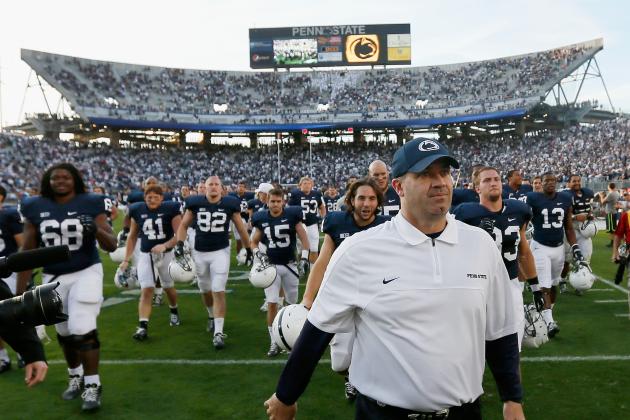 Rob Carr/Getty Images

One of the biggest storylines in 2013 recruiting was Penn State signing a great class. The Nittany Lions are not going through the brightest of days at this time, but they still managed to assemble a talented class of prospects.
They will flirt with doing the impossible again in 2014, as the Nittany Lions will land talented cornerback Dravon Henry. Already armed with the No. 24 class in the 247Sports recruiting rankings, landing Henry will elevate Penn State in the rankings.
Wisconsin is getting a great offensive line prospect in Jaden Gault. The 6'7", 285-pound offensive tackle has great strength and excels at protecting the passer.
Former Wisconsin left tackle Joe Thomas was underrated as a recruit, and Gault could be further along than the Cleveland Browns' Pro Bowler at this stage. In four years, Michigan and Ohio State will be scratching their heads at how such a talented blocker is not on their roster.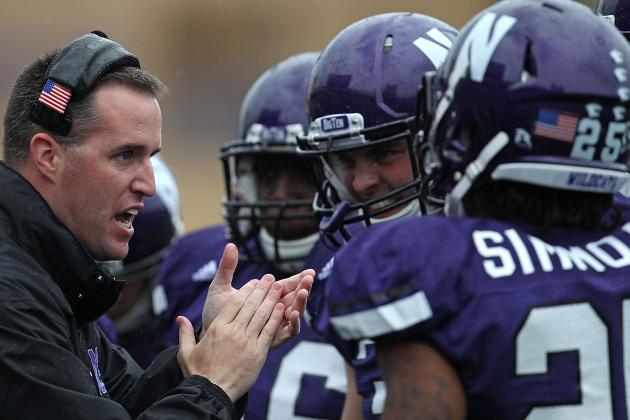 Jonathan Daniel/Getty Images

The strength of the Big Ten is the conference's flagship programs of Michigan and Ohio State. The Wolverines and Buckeyes are enjoying a great recruiting cycle, but other programs in the league are also smiling.
Northwestern has the No. 32 class in the country, according to 247Sports. The Wildcats have commitments from players such as running back Justin Jackson and athlete Jordan Thomas.
Michigan State also has to feel good about its 2014 recruiting efforts, as the Spartans' 14-man class is ranked 29th by 247Sports. With commitments from linebacker/safety Byron Bullough, center Brian Allen, defensive tackle Enoch Smith and fullback Gerald Owens, talent will be of good quality in East Lansing.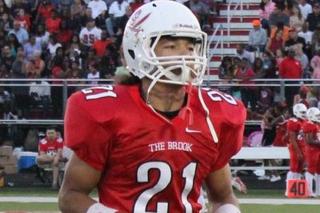 247Sports
Parrker Westphal is a talented cornerback from Illinois, and he is a coveted prospect on the recruiting trail. Vanderbilt, Northwestern and Arizona State are all under serious consideration, according to 247Sports.
However, the Commodores, Wildcats and Sun Devils will all fall short in their quest to land Westphal, as he will sign with Michigan. The 6'0", 186-pounder will find it too hard to pass up on potentially forming a great cornerback tandem with Wolverines commit Jabrill Peppers, while playing in The Big House for defensive coordinator Greg Mattison with many other talented players.
Urban Meyer is increasing Ohio State's presence on the SEC recruiting trail. Meyer knows he needs more speed and athleticism on his roster, and linebacker Raekwon McMillan is the perfect defensive player to lead the remodeling of the Buckeyes' defense.
McMillan, who is 6'2" and 242 pounds, is a hard-hitting 'backer with explosive quickness. Although Alabama, USC, Clemson and Georgia are in the mix—says 247Sports—McMillan will sign with Ohio State.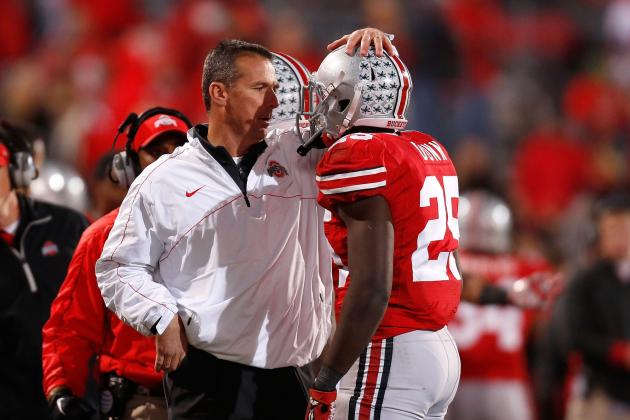 Kirk Irwin/Getty Images

The Buckeyes have become one of the sexier programs on the recruiting trail once again, as head coach Urban Meyer has given the program a makeover.
Ohio State can contend for a recruit with any program in the country and has gotten several surprise commitments since Meyer arrived in 2011. The Buckeyes will land another surprising pledge before the end of this recruiting cycle.
Offensive tackle Damian Prince, running back Curtis Samuel and safety Jamal Adams are on the Buckeyes' radar, according to 247Sports. However, look for the surprise commitment to come from a player who may not currently be linked to Ohio State.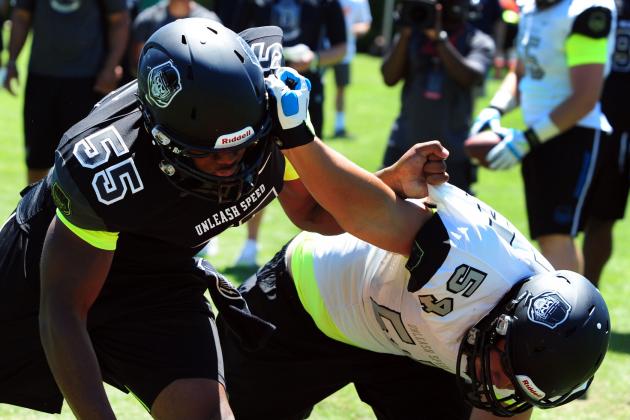 Steve Dykes-USA TODAY Sports

The recruitment of defensive end Da'Shawn Hand will come to a close on November 14, as he will announce his college decision, according to Steve Wiltfong of 247Sports and Hand's Twitter account.
Alabama and Florida are high on Hand's list, but he will announce for Michigan. Hand is a 6'4", 254-pound defensive end with good quickness, strength and athleticism. He is powerful versus running plays, and he also can rush the passer well off the edges and inside.
He will be taking his talents to Ann Arbor.
Edwin Weathersby is the College Football Recruiting Analyst for Bleacher Report. He has worked in scouting/player personnel departments for three professional football teams, including the New York Giants and Cleveland Browns.