Lyoto Machida: Time Is Right for Move to Middleweight Following UFC 163 Loss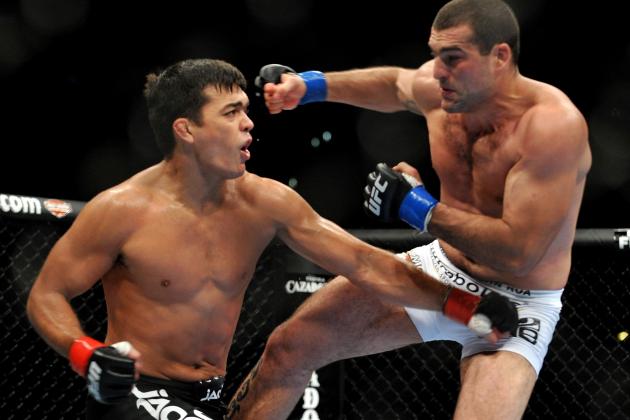 Jon Kopaloff/Getty Images
Lyoto "The Dragon" Machida is at a career crossroads following a close decision loss to Phil Davis.
For the second time, Lyoto Machida finds himself coming out on the wrong end of a decision that many claim should have gone his way. Regardless of the somewhat controversial nature of the loss and the thinness of the 205-lb division these days, the loss puts "The Dragon" far away from title contention.
That makes this the perfect time for the long-teased move to middleweight.
Now more than ever, Machida needs a change of scenery, and 185 lbs offers him more opportunities and bigger fights than what he currently has available to him. So why is this? What makes this the right move for the former champ?
Find out right here!
Begin Slideshow

»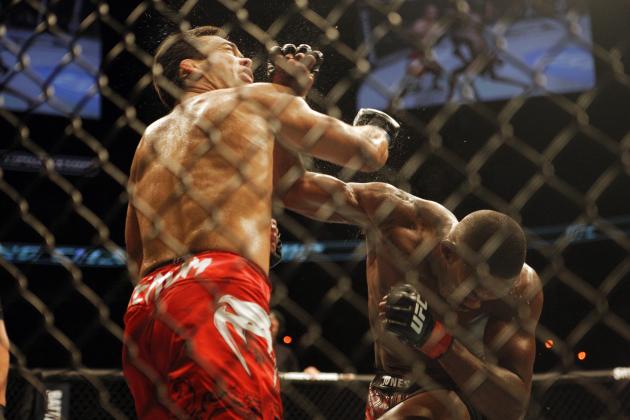 Tom Szczerbowski-USA TODAY Sports
Mixed martial artists being able to match Machida's quickness will become standard at 205 lbs in the near future.
Fedor Emelianenko got by in the heavyweight division for a long time based purely on having excellent technique. When the sport evolved to the point where amazing athletes were joining the fray with comparably great technique, he ran into Fabricio Werdum and Antonio Silva and finished with little difficulty.
Machida, to some degree, is in the same boat. Machida lacks the size of the current crop of upcoming light heavyweights, but has gotten by using his quickness and technique. Jon Jones, and the other light heavyweights that will enter the UFC over the next few years, are capable of matching him in skill and beating him on athleticism. While there are few light heavyweights that fit that bill right now (Jones is the only perfect example), guys like Phil Davis and Tyrone Spong are only a step or two behind.
In another year or two, we will start to see more Jon Jones-caliber athletes begin joining the light heavyweight division and, simply, Machida won't be able to keep pace. With his frame and height, he will find himself on par physically with the sizable crop of stars rising right now in the middleweight division.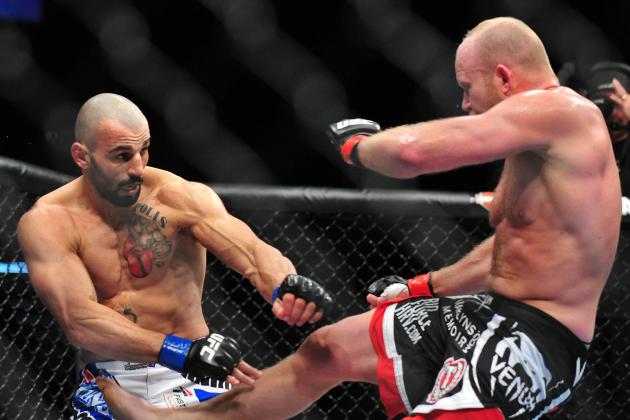 Gary A. Vasquez-USA TODAY Sports
Costas Philippou and Tim Boetsch are two well-regarded middleweights Lyoto Machida has a clear on-paper advantage over.
Lyoto Machida's two greatest strengths are his precise striking and takedown defense. Now imagine if size was added to that list.
No current middleweights would be able to match his striking, save possibly-retired former kickboxer Cung Le and, if he makes the drop, Gegard Mousasi. His takedown defense would likely allow him to shake off even high-level grapplers like Yushin Okami, Mark Munoz and Chris Weidman. Add to that an increased ability to finish fights and outmuscle opponents and you have a quick title contender.
Against strikers like Costa Philippou and Michael Bisping, he would likely be able to out-point them standing with ease. Against grapplers like Tim Boetsch or Tim Kennedy, he would almost certainly be able to shake off takedown attempts and freely land hands.
There are very few realistic threats to Machida at 185 lbs in the present or long-term. That simply isn't the case at 205 lbs.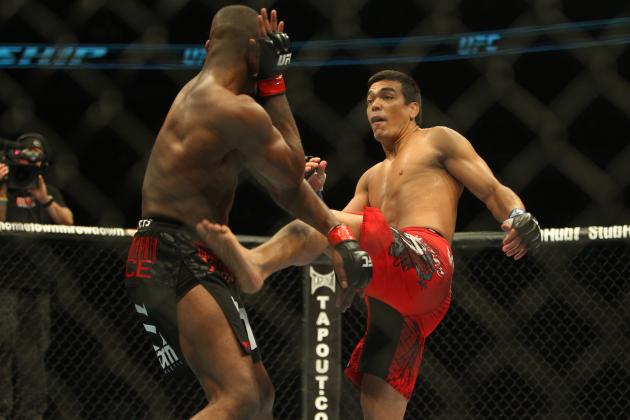 Tom Szczerbowski-USA TODAY Sports
In this era of champions choosing their opponents, Machida is unlikely to ever get a rematch with Jon Jones.
"I don't want to fight Lyoto Machida. He was my lowest pay-per-view draw last year...Lyoto is high risk and low reward."
That was Jon Jones in an interview with ESPN last year, discussing a potential rematch with "The Dragon". In spite of the fact that Jones walked away with one of the most shocking submissions in MMA history, Machida is the on-paper greatest threat to the champ's belt.
Unfortunately, nobody seems to care.
Machida would not generate superior buyrates to guys like Alexander Gustafsson or Glover Teixeira and, as such, offers the UFC very little in return for risking their second-biggest star. Worse yet, the same goes for both Gustafsson, Teixeira and other potential contenders like Phil Davis and Daniel Cormier. That leaves him with very few potential opponents, and is likely staring down the barrel of matchups against guys like Thiago Silva, James Te-Huna and Ryan Jimmo.
Or...he could drop down to 185 lbs.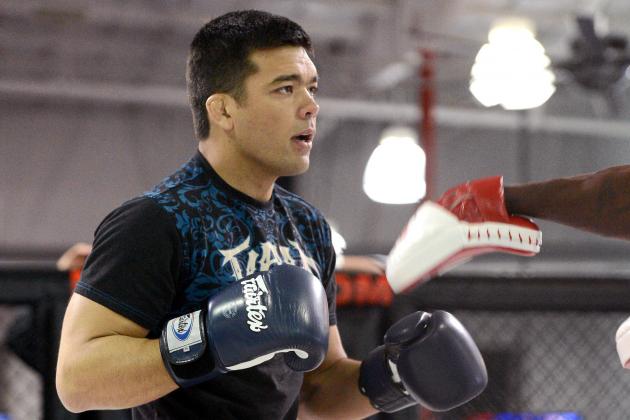 Jayne Kamin-Oncea-USA TODAY Sports
The middleweight division is big on talent but small in the ratings.
What do Tim Kennedy, Costas Philippou and Yushin Okami all have in common? Two things spring to mind for this list; they are all likely to contend for the belt in 2014, and nobody knows who they are outside hardcore MMA fans. Lyoto Machida is far more recognizable than the vast majority of middleweights and as such, is likely a substantially larger draw than any of them.
The middleweight belt, as it stands, is tied up until Spring 2014, with Anderson Silva and Chris Weidman set to face off in late December. That leaves enough time for Machida to get a couple fights under his belt and establish himself as the top middleweight contender in time for a fight in the Summer or Fall.
It's worth mentioning that Vitor Belfort is committed to waiting for the title shot, and has the drawing power and resume to get it when the time comes. Still, he could be waiting for up to a year from now to get that shot, and a fight with Machida could very well be a PPV-caliber main event with the right backup.
If "The Dragon" committed to dropping to middleweight right now, he could end up against somebody like Michael Bisping or Luke Rockhold (if he gets past Tim Boetsch) in January or February. From there, depending on how things shake out, he could either challenge for the belt or go right for a title shot in May or June.
Gary A. Vasquez-USA TODAY Sports
Machida walks around close to 200 lbs, and is not especially defined.
Cutting weight is a complicated science that changes from fighter to fighter. Lyoto Machida, though, hasn't had to worry very much about making 205 lbs at any point in his career. That is because he walks around close to his fighting weight, which is strange at any weight class.
For comparison's sake, Machida walks around between 200 and 210 lbs. Anderson Silva walks around between 220 and 230 lbs. Chael Sonnen weighed well over 200 lbs just hours before his UFC 148 middleweight title fight.
Basically, that means Machida could almost certainly make weight at 185 with little trouble. Granted, we've seen fighters have trouble with supposed-to-be-easy-cuts (Jake Shields, for example, struggled mightily in his return to welterweight). Even so, this is worth a shot for Machida.
Anderson Silva and Lyoto Machida have had one of the tightest bromances between active fighters over the last few years. That is a major reason Machida has hung around so long at 205 lbs, and with the belt currently strapped around Chris Weidman, there is little keeping him from making the move.
Granted, Silva could very easily retake the belt in December, but with a title shot at light heavyweight essentially off the table, there is plain-and-simple nothing to keep him from dropping.