Boise State Football: Freshmen to Watch in Broncos' 2013 Fall Camp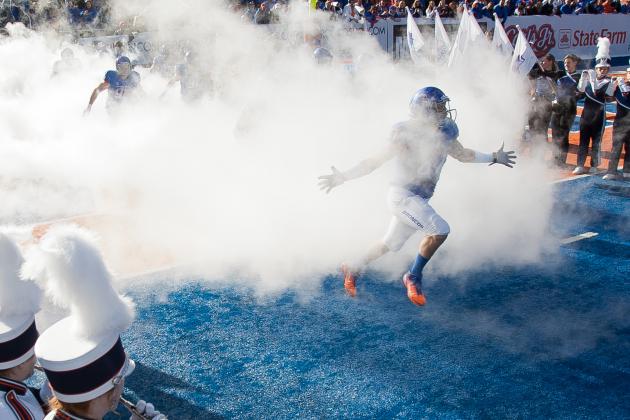 Otto Kitsinger III/Getty Images

The Boise State football team starts its 2013 fall camp with a considerable number of freshmen on its roster. In fact, of the 96 players listed, 42 of them are either redshirt or true freshmen.
That equates to just over 43 percent of the 2013 squad with one year or less in the Broncos system.
For a team that prides itself on developing players over time, having nearly half of the team with little to no development would seem like an issue.
However, Boise State has achieved very good back-to-back recruiting classes. In fact, the 2012 and 2013 classes are probably the best two-year combination, at least on paper, in school history.
With some issues at depth and with the possibility of 12 starting jobs up for grabs, you have to think more than a couple of these same freshmen are going to have to rise to the occasion.
As fall camp ensues, one of the most intriguing storylines to watch will be seeing which freshmen among the ranks will be able to play beyond their years.
Let's break down the possibilities and what they might mean for Boise State this season.
Begin Slideshow

»
There will be two freshman quarterbacks in camp this fall for the Broncos.
Redshirt Freshman: Nick Patti
First, there is the redshirt freshman most Boise State fans are familiar with. Nick Patti came to Boise last season with a lot of fanfare.
After losing Kellen Moore to graduation, many fans thought that lightning would strike twice in a row. Patti was, in the minds of many, the next great quarterback at Boise State.
However, what many fans seem to forget is that even Moore redshirted.
Still, Patti has not lived up to the hype of the fanbase. But, to be fair, who could? Patti is a very good quarterback, and there is little doubt that he will be in the thick of the quarterback battle in 2014.
As for Patti playing in 2013, it will probably happen.
A play here, a play there, it would be plausible to say that offensive coordinator Robert Prince may use Patti in creative ways as the season progresses. That has been done with other backups, and you have to believe it will be no different with Patti.
True Freshman: Ryan Finley
As for the true freshman on the roster, Ryan Finley doesn't bring the same kind of pressure on his shoulders that Patti did last season.
Most fans expect the outstanding player out of Paradise Valley High School in Phoenix, Ariz., to take a redshirt in 2013.
Still, after leading the entire state of Arizona with 3,442 yards passing in 2012 as a senior in high school, it is safe to say there are still high expectations. He may not be competing for playing time, but fans and coaches alike are looking to see what this kid can do at the next level.
It all starts for Finley this fall. If he can earn the respect of the coaches, players and fans and show that he can learn the system and play with confidence, he will be in a great position to challenge the others next season for the starting job.
There are actually four freshman running backs on the Boise State roster going into fall camp. In total, there are three redshirt freshmen and a single true freshman on the squad.
True Freshman: Aaron Baltazar
If you haven't seen Aaron Baltazar play yet, you are in for a treat. This guy has great vision and good hands, and he can wind, turn and twist with the best of them.
He is elusive and has good speed to make him a very good all-around back. At 5'11" and 185 pounds, Baltazar has decent size, but you can expect some additional weight to be added as he enters the Boise State system.
The Broncos seem to be set at running back in 2013, so a redshirt is almost a certainty. However, fall camp should give an indication of just how good he can be.
Expect Baltazar to turn some heads in August.
Redshirt Freshmen: Jamel Hart, Devan Demas and Charles Bertoli
Jamel Hart is a walk-on redshirt freshman who probably finds time on special teams this season, but Devan Demas and Charles Bertoli may get some carries at running back.
Both Demas and Bertoli look great on film.
Demas came to Boise in 2012 by the way of Cypress Creek High School in Houston, Texas. If you are taking notes, that is the same school where the Broncos found D.J. Harper.
Demas has a way to go before playing like Harper, at least at the college level, but his game film from high school shows a considerable amount of talent.
In his senior season in 2011, Demas racked up over 2,100 all-purpose yards along with 26 touchdowns. Look for him to utilize his versatility, speed and craftiness to impress this fall, and look for him on the blue this season—even if it is sparingly.
Bertoli is a guy many fans know nothing about. However, if they were at the spring game, they got to see what he might be able to do.
Bertoli looked impressive in the spring game, and if he looks that good in fall camp, he will no doubt get into the mix in 2013.
There are a total of eight freshman offensive linemen on the 2013 Boise State roster. Among them are some extremely talented players, no doubt hungry for playing time.
True Freshmen: Archie Lewis, Eli McCullough and Andrew Tercek
Archie Lewis was in camp this spring, while Eli McCullough and Andrew Tercek join the Broncos this fall. These three big men are most likely getting three big redshirts this season.
However, if one player of the three had to be picked as the one most likely to earn playing time in 2013, it would probably have to be Tercek.
McCullough should be a good one for Boise, but he needs a bit more development. Tercek, on the other hand, looks like he could compete for at least a backup spot this fall.
Still, it would be very difficult for that to happen considering the amount of talent ahead of him.
Redshirt Freshmen: Travis Averill, Kellen Buhr, Steven Baggett, Avery Westendorf and Mario Yakoo
If one had to guess which of these five offensive linemen could win a starting spot in 2013, that vote might go to either Travis Averill or Mario Yakoo.
Among those two, the most likely candidate would perhaps be Yakoo, if for no other reason than sheer size.
Yakoo is 6'3" and 320 pounds. In other words, you could fit two Shane Williams-Rhodeses in that space and still have room for a football.
Yakoo is a brutal player, and if he stays healthy, it may be impossible to keep him out of the lineup.
Steven Baggett is another player to watch. He is a very physical player, but he weighs less than the other redshirt freshmen.
There are four freshman tight ends and three freshman wide receivers listed on the 2013 Boise State football roster going into fall camp. However, not all of them will be participating.
True Freshman Tight Ends: Alec Dhaenens, Jake Roh
Unfortunately for Alec Dhaenens, he suffered a knee injury in his senior season of high school. He is a very talented tight end and, when healthy, should be something special for the Broncos.
He will most likely grayshirt in 2013, but a redshirt could be in his future if rehab is progressing better than expected. Either way, when he finally hits camp, expect him to make some noise.
Jake Roh was a very talented receiver and linebacker for Chaparral High School in Scottsdale, Ariz. He is a complete athlete, and that shows in his game film.
If Roh doesn't make at least a few waves this fall, it would be surprising. He has decent size, has good speed, catches the ball in traffic very well and gets considerable yardage after contact.
True Freshman Wide Receivers: D.J. Dean, Tanner Shipley
On the wide receiver side, D.J. Dean and Tanner Shipley will try to make their presences known.
Dean is a local player who delayed enrollment one year because of injury. He finally arrived on campus in the spring of this year.
Shipley is a distant cousin of the NFL's Jordan Shipley. He had other offers from Oregon State, BYU, Colorado and Wyoming. However, Shipley jumped at the chance to be a Bronco.
Expect him to do his best to impress coaches enough to escape a redshirt. However, that probably isn't likely with the amount of talent ahead of him on the roster.
Redshirt Freshman Tight Ends: Brennyn Dunn, Jackson Reed
A pair of in-state walk-ons will be competing this fall for some playing time.
Jackson Reed is out of Timberline High School in Boise. He has the size for the job at 6'4" and 218 pounds.
Brennyn Dunn came to Boise from all the way on the other side of the state. He was a star tight end and defensive end for Preston High School in Preston, Idaho. He also has decent size at 6'3" and 212 pounds.
Both of these guys turned down scholarship offers from other schools to walk on for the Broncos. That alone shows that they have the heart needed.
Still, with the Broncos set at tight end, it may be a while before they get their chance.
Redshirt Freshman Wide Receiver: Taylor Pope
Taylor Pope is intriguing. He was a very good quarterback in high school, but he was also an extremely good special teams player.
At Boise State, he chose to walk on as a wide receiver.
With his experience on special teams, you would imagine he will try to make a name for himself there. The roster is full of wide receivers with experience in front of him, so it could be a while before he catches any passes for the Broncos.
Boise State will have four freshman cornerbacks and two freshman safeties on the roster this fall.
True Freshman Cornerbacks: Dionza Blue, Cameron Hartsfield and Jonathan Moxey
Of the three true freshman cornerbacks in camp for the Broncos, all three are extremely talented, and all three have a chance at playing time.
It is really anyone's guess at which of the three makes the biggest splash. However, in watching film of all three, even though Dionza Blue was the highest-rated recruit, it is Jonathan Moxey who looks the most physical.
Cameron Hartsfield looks like he is a solid cover guy as well. Again, it is a coin toss right now, but that is why fall camp is so important.
True Freshman Safety: Thomas Sperbeck
Thomas Sperbeck was an outstanding quarterback at Jesuit High School in Carmichael, Calif. He actually led his team in rushing, passing, tackles and scoring as a senior.
If you watch his game film, you'll see he is physical, smart and doesn't shy away from a hit. He has deceptive closing speed and is an excellent tackler.
Sperbeck may be good enough and smart enough to skip a redshirt and find the blue in 2013.
Redshirt Freshman Cornerback: Chaz Anderson
Chaz Anderson looked good in the spring, and that should continue this fall. While his name doesn't get mentioned that much, you can expect to hear more and more of it in fall camp.
There will be a brutal battle going on at cornerback for the Broncos this fall. Expect Anderson to be in the thick of the action and competing well for a starting spot.
Redshirt Freshman Safety: Chanceller James
Chanceller James was the Special Teams Scout Team Player of the Year for the Broncos in 2012 as a freshman. If you watch his high school highlights, it is easy to see why.
He is fast and physical. Those are two qualities any coach loves to see in a safety.
Look for him to raise some eyebrows this fall.
At linebacker, the Broncos have seven freshmen on the roster this fall. Or is it five and two nickels?
True Freshman Linebackers: Darren Lee, Tanner Vallejo, Joe Martarano and Mat Boesen
Boise State usually has a player on their defense called the "nickel." However, in 2013, the Broncos may be calling that player the "strong-side linebacker," which is a far better description of what they ask of that player, anyway.
This season, true freshman Mat Boesen will be in camp looking for playing time at nickel/strong-side linebacker—and don't be surprised if he earns some. He was a dominant high school player, and with his size at 6'4" and 220 pounds, he is much further along than most.
Darren Lee and Tanner Vallejo will most likely redshirt, but Joe Martarano has a serious chance at earning playing time this fall. In fact, don't be surprised if by the end of the season he isn't at least making a huge push to be a starter.
At 6'3" and 228 pounds, Martarano, like Boesen, brings talent and size to his true freshman presence.
Redshirt Freshman Linebackers: Andrew Pint, Christopher Santini and Ben Weaver
Ben Weaver is another linebacker to keep an eye on this fall. He was the Defensive Scout Player of the Year in 2012 as a true freshman for the Broncos.
Weaver should be a standout on special teams in 2013, but he should also be competing for playing time as a backup linebacker.
Andrew Pint was an incredible tackler in high school. That should serve him well on special teams, but to earn playing time this fall at linebacker, he will have to do some pretty incredible things.
Christopher Santini rounds out the group at nickel/strong-side linebacker. Santini is another brutal player who will no doubt do damage on special teams and compete for playing time.
He was named the Ultimate Rebar Award winner at the team's annual banquet last year, according to BroncoSports.com.
Rebar is a steel bar used to reinforce concrete, and Santini should help reinforce the Broncos' special teams and defense this season.
The defensive line for the Broncos has some good starting talent. However, there is also a depth issue. Some of these six freshmen will need to step up in a big way.

True Freshman Defensive Linemen: Kamalei Correa, Nick Terry and Gabe Perez
With the departure of Sam Ukwuachu, the Broncos are in need of a very good defensive end. Kamalei Correa has the potential to develop in that position, but with Beau Martin, Tyler Horn, Sam McCaskill, Darien Barrett and Kharyee Marshall on the roster, he may not find the field in 2013.
Still, as previously mentioned, depth is an issue on defense every year, but this season more than most for the Broncos. Look for Correa to burn a redshirt at some point this season if the line gets thin. He is also a player who could be moved to the interior if needed.
Speaking of the interior, if you don't know the name Nick Terry, you will. He is a physically dominant player, and the Boise State coaching staff recruited him with the idea that he could play early.
He still has to earn it, but with his size and ability he should, at the very least, be in the rotation at some point this season.
Gabe Perez is a talented freshman. He is listed on the roster at "STUD." Before you grin, STUD is just a designation for a defensive end who can drop back into coverage. It is a hybrid position that Perez is well-suited to play.
He may also find a way onto the field in 2013.
Redshirt Freshman Defensive Linemen: Darien Barrett, Sam McCaskill and Elliot Hoyte

Darien Barrett is a defensive end who is talented enough to compete for a rotation spot this season, but fellow redshirt freshman Sam McCaskill may out play him in camp. If that happens, Barrett would see only limited time on the field.
Elliot Hoyte has serious potential, but with the interior looking like it's stuffed full for the moment, barring injuries, Hoyte may see only limited playing time as well.
Next season, however, look for Hoyte to be a real contender for a starting spot.