Golden State Warriors' 5 Biggest Concerns Heading into the 2013-14 NBA Season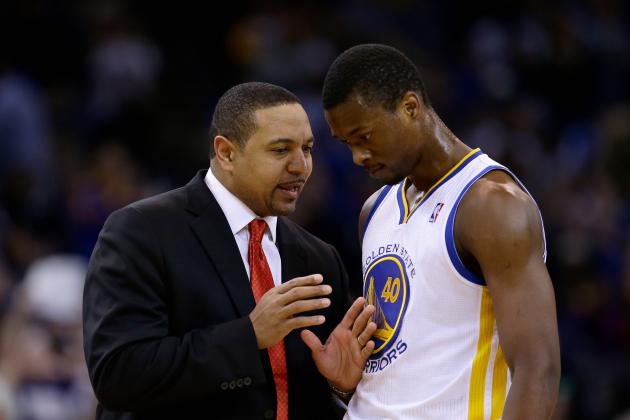 Ezra Shaw/Getty Images
Mark Jackson will have a lot on his plate come the 2013-2014 season, including how to play Harrison Barnes.
After a wild ride in the 2013 NBA playoffs, the Golden State Warriors have had almost as wild of a time in the offseason. Between trades and signings big and small, the Warriors have been newsworthy all summer.
But despite all the improvements made so far, there are still areas of concern. They addressed many needs, but this team is still far from perfect.
With that in mind, here's a list of the top five problems facing the Warriors. These are issues that could prevent them from taking the step forward that everyone expects.
Some of the problems are mental, some are performance-based and some are about risk. One way or another, they all factor in.
Let's get started.
Begin Slideshow

»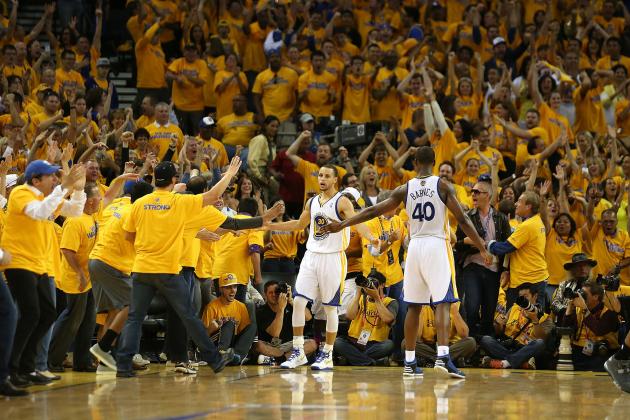 Jed Jacobsohn/Getty Images
A hungry fan base and a young team with a little success means that fans will expect more in year two, much more.
This is pretty straight forward, and something these Warriors have never had to do. Dating back to the 1994-95 season, the Warriors have only made the playoffs twice.
But the fans are some of the most passionate in the NBA, hence Oracle Arena's very apt nickname, "Roaracle." And they know they have a team with a ton of potential.
Golden State's core of Stephen Curry, Klay Thompson and Harrison Barnes is incredibly young, with 25-year-old Curry being the elder statesman. And after making the Western Conference Semifinals in 2013, it makes sense for the expectations to rise.
It's a mental thing that the Warriors will have to adjust to. Last year, they had nothing to lose; they weren't supposed to be good and were playing with house money.
This year, they're expected to win. Losing will look and feel differently than before, and there will be more pressure to collect wins.
Is this something that will definitely have a negative impact on these Warriors? No, and that's why it's only No. 5 on this list.
But make no mistake, the pressure will be there. No longer are they the plucky upstarts. Now they're expected to win.
And when adversity hits, as it always does, they will have to bounce back. There will be more pressure to recover, and it's how they do so that will define this season.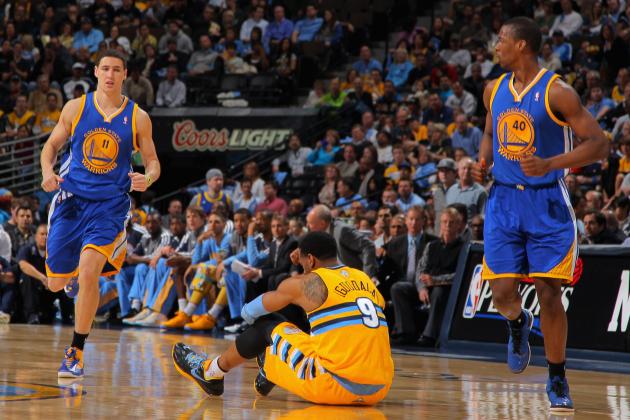 Doug Pensinger/Getty Images
Between these three guys, Mark Jackson is going to have to find starter's minutes for three players.
Signing Andre Iguodala for four years and $48 million certainly got the Bay Area excited. But it also created a bit of a logjam at the wing.
Between sharpshooter Klay Thompson, Harrison Barnes the slasher and Iguodala, the Warriors have three starters for two positions.
One of them has to go to the bench. It won't be Iguodala, who has started all 695 career games. I can't imagine he signed on to come off the bench, or that the Warriors would give $48 million to a sixth man.
So it's either Thompson or Barnes, and it's going to be a blow to the confidence of whichever has to come off the bench.
Think about it: Thompson and Barnes are both budding stars who started all of their games last season. They played well, and each had big moments in the playoffs.
They weren't expecting to be demoted the following year.
Now, neither has given any indication that he would throw a fit over this, and that's a big reason that this is only the fourth issue on this list. If either had any inclination of being a prima donna, this issue would be much higher.
What it really comes down to is whether Barnes or Thompson can be successful coming off the bench. If they can be effective in their new roles, then this isn't a big deal.
But if either one has problems in his bench role, Iguodala isn't going anywhere. So they would be stuck in that role for a while. And the Warriors will find themselves down a young building block.
Losing or significantly damaging a young building block is a huge deal, one the Warriors can't afford.
This is a perfect example of the saying, "If it ain't broke, don't fix it." The Warriors were great last year, and the front office deemed it worth the risk to upset that wing rotation they had.
Hopefully, they can live with the potential consequences.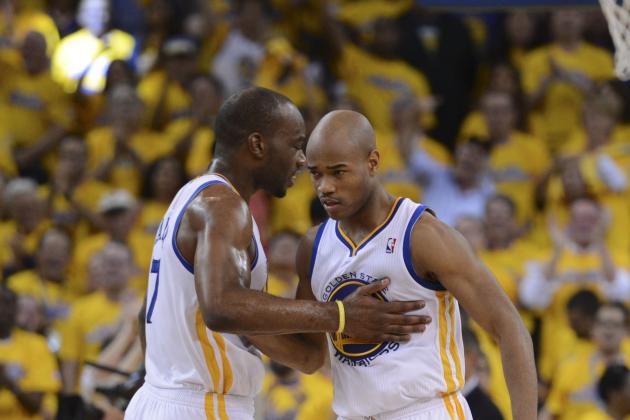 Kyle Terada-USA TODAY Sports
Carl Landry and Jarrett Jack left gaping holes in the Golden State bench rotation, holes the Warriors have to fill.
A huge reason the Warriors had a surprising season in 2012-13 was their bench production. Jarrett Jack was in the running for Sixth Man of the Year, and Carl Landry was a great fit as a bench version of David Lee.
And as the Warriors fanbase knows very well, both those guys are gone.
So, the Warriors were left with two big holes on their bench. Jack and Landry were significant contributors who even played big minutes with the starters, but the Warriors had very limited cap space.
In come Marreese Speights, Jermaine O'Neal and Toney Douglas. These are the guys who need to fill in for the two former bench studs.
And even though they don't have the name value, they'll have to provide similar contributions on the floor.
Speights has an effective field-goal percentage from mid-range of 42 percent, so he can knock down that jumper just like Landry. He's also a more rugged rebounder and brings more size to the front line.
Jermaine O'Neal had a resurgent year in Phoenix, averaging 8.3 points, 5.3 rebounds and 1.4 blocks per game. And he shot 48.2 percent from the field, coming close to setting a career high.
And Toney Douglas plays tough defense, while shooting 37 percent or higher from beyond the arc in four of his five seasons.
So, for the money the Warriors had, they got some good guys to fill in. But they're different players than Jack and Landry.
Landry was a great mid-range shooter last year and had a sneaky-good post game. Jack was so good he played big minutes at point in the fourth quarter, allowing Curry to play off the ball if he needed.
Douglas, O'Neal and Speights are good, but they're not at the Jack/Landry level. And though the new three bring some of the same traits as Jack and Landry, their playing styles are very different.
The question is, will the bench be as effective as last year? And the answer is no, they won't be. They might be good, but that has yet to be seen. They'll be different, too, so the team will have to adjust.
If the bench can't be effective, then the Warriors are down a huge reason they were able to be successful last year. Injuries will hit and if guys can't fill in, then the Warriors are in trouble. It's a big worry for the Golden State faithful.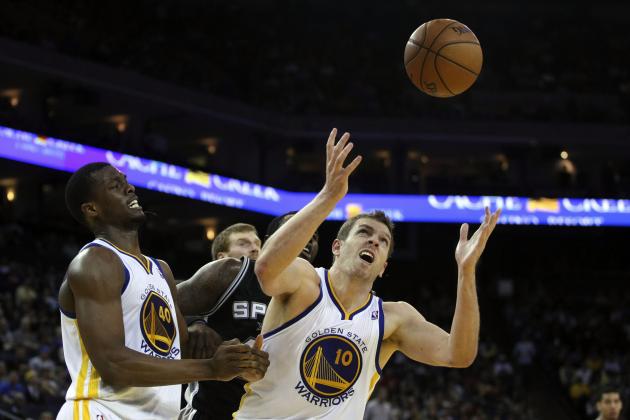 Kelley L Cox-USA TODAY Sports
Though David Lee may have been an All-Star last year, his absence in the playoffs brought other issues to light.
When David Lee tore his hip flexor in Golden State's first playoff game, any hopes of a series win seemed to go out the window.
But the Warriors adapted. They played Harrison Barnes at the four during the series, and he was excellent. His points per game went from 9.2 to 16.1 in those additional minutes.
But it was more than just that. Barnes had a mismatch every night. He was too quick for other power forwards and has a nice mid-range game to force the big men to play him close.
He was also big enough and athletic enough to hold his own on defense and on the boards. Even better than that, though, was that other teams were being forced to play small to match Barnes.
Looking at you, George Karl.
All of a sudden, people started to think more about David Lee and just how valuable he was. Yes, he has been a double-double machine, but let's look at some more advanced numbers.
When David Lee is off the court, the Warriors were better in many aspects, according to 82games.com. The defense is 3.7 points better per 100 possessions, and they actually rebound better, even though that's something Lee is supposed to do well.
Lee is also due almost $45 million over the next three years. That's an awful lot to pay for a guy who might be expendable and can only really play offense.
No wonder the Warriors have explored trading the veteran power forward.
Bottom line is that David Lee is going to play next year, and he won't be awful. But based on the playoff success the Warriors had without him, their potential is best reached with David Lee off the court and Harrison Barnes in his place.
Especially with Andre Iguodala joining the fold. A starting lineup of Curry, Thompson, Iguodala, Barnes and Bogut would give the Western Conference fits.
The only thing standing between the Warriors and what seems like a starting lineup of destiny is David Lee and his bloated contract.
The Warriors can be good with him, but they can be better without him. He's valuable on offense but a huge defensive liability who slows down the pace of the Warriors.
David Lee may be loved in the Bay Area, but with him the Warriors can only be so good.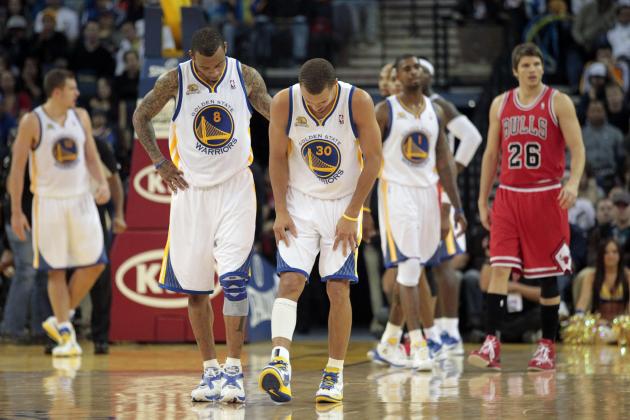 Cary Emondson-USA TODAY Sports
It's not an exaggeration to say the weight of a franchise is on Stephen Curry's ankles.
Now, before anyone goes and gets all upset that this slide is accusing Stephen Curry of being anything other than awesome, let's explain what this slide means.
Stephen Curry is an amazing player and one of the best in the league. He is the clear-cut star of the team, and without him the Warriors would be at the bottom of the Western Conference.
And that's why he's the No. 1 issue heading into the year. Without him on the court, the Warriors are in serious trouble.
Curry has a history of serious ankle problems, having had major surgery on each ankle in back-to-back summers. They held up for most of the year, but then he sprained his ankles twice in the playoffs.
Though he has taken steps forward in staying healthy, his sprain against the Spurs showed how problematic those ankles can be. It twisted in a non-contact situation during a cut players make all the time. And that one tweak hindered Curry for the rest of the series.
So Warriors fans are holding their breathes, hoping that the franchise savior doesn't miss significant time this year. But injuries aren't the only concern when it comes to Curry.
The Warriors rely on him too much. He's too integral to the team. This causes problems when he misses time, of course, but also when he's on the bench.
According to 82games.com, the Warriors are an amazing eight points worse on offense per 100 possessions with Curry off the court.
And that was with a great backup like Jarrett Jack. Without Jack, expect that difference to be even greater.
What this boils down to is that Stephen Curry is too valuable to the Warriors, especially for someone with such a troubled injury history.
It's also a small miracle that Curry didn't suffer a major injury last year. He had some tweaks here and there, but considering he was seventh in the league in minutes per game and played 78 games, he could have had it a lot worse.
The Warriors need to figure out a backup option, because Curry can't play those kinds of minutes again without significant risk of a major injury. And if that happens, the Warriors will really be hurting.
Between new expectations, a logjam at the wing, a new bench unit, troubles with David Lee and an overreliance on Stephen Curry, the Warriors have many issues to address going into the season.
Call me crazy, but putting all of your eggs into a basket with two ankles made of paper mache makes me very nervous. So in relation to everything else, Curry takes the cake as the the No. 1 issue.