9 Memorable Retro Cricket Kits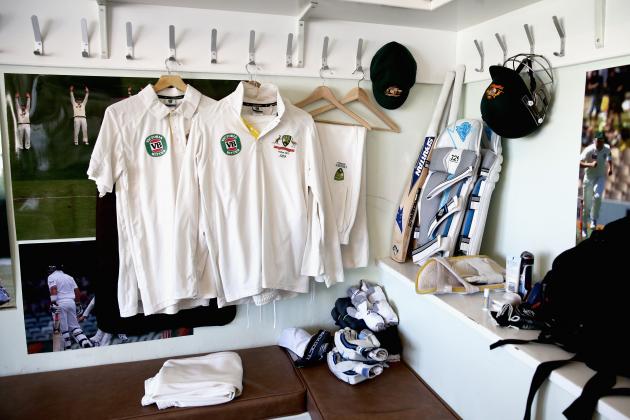 Ryan Pierse/Getty Images

Cricket and fashion aren't obvious bedfellows. Over the years there have been both horrific and fantastic kits on show.
Some have been elevated to cult status: for instance, kits from the 1992 World Cup have become trendy years after they were first worn.
We've picked some of our favourites. If we missed any, add your own picks in the comments.
Begin Slideshow

»
Picture from: http://www.leicestershirevillages.com/syston/gallery,247644.html
Women used to play in dresses. Long, high-waisted dresses.
When women's cricket first started way back in the 1800s, much of the reporting also mentioned how they were dressed.
At least the men were presented just as badly.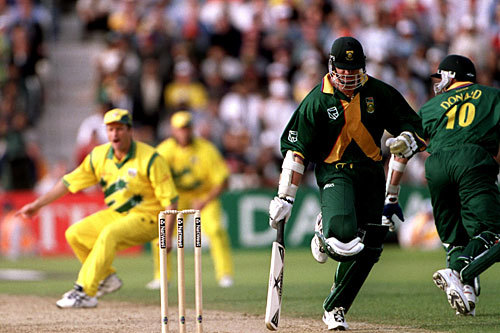 Photo credit: http://www.espncricinfo.com/ci/content/image/420680.html
The awfulness of this baggy kit is underscored by the awful memory this photograph represents for South Africans as a calamitous piece of running between the wickets saw them lose the semi-final at the death to Australia.
Attempting to incorporate the South African flag into its design without using many of the colours of the actual flag, it just looked like an upside down Y.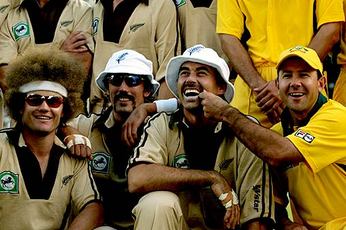 Photo credit: http://www.dailytelegraph.com.au/sport/gallery-e6freye9-1111119692901?page=16
Beige isn't even a real colour—but New Zealand thought it fit to stick it on as a kit. Another kitrastophe for which Mr. Packer can take the blame.
This is a real photo, from a real cricket match. Although we know it doesn't look like it.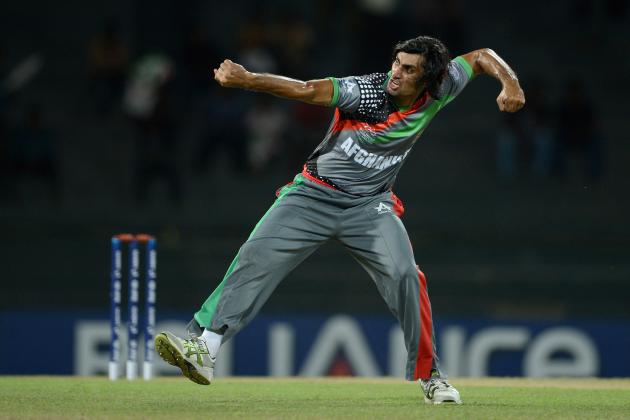 Gareth Copley/Getty Images

Not quite retro yet, but it already looks it.
Afghanistan captured the imagination of millions with their debut in the World T20 competition last year, but they probably didn't win over too many fashionistas.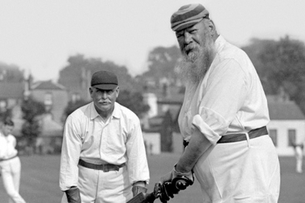 Photo credit: http://midlifekayak.com/2011/09/13/date-set-for-start-of-round-britain-paddle/#jp-carousel-359
From the late 1800s to early 1900s, cricket gear was pretty bad. WG Grace, that man with the magnificent beard, was part of that era.
High-belted pants, buttoned-up shirts and cricketers wearing their own caps—fashion wasn't really the strong point of the Grace era.
But boy, the cricket was quite something.
Photo credit: http://www.newsfirst.lk/english/sites/default/files/srilanka_96_605483_0.jpg
Their World Cup triumph in 1996 should be written out of history because of this monstrosity of a kit, which sometimes seemed to glow purple.
Featuring yellow highlights—especially under the arms— this is one of the lesser-celebrated retro kits.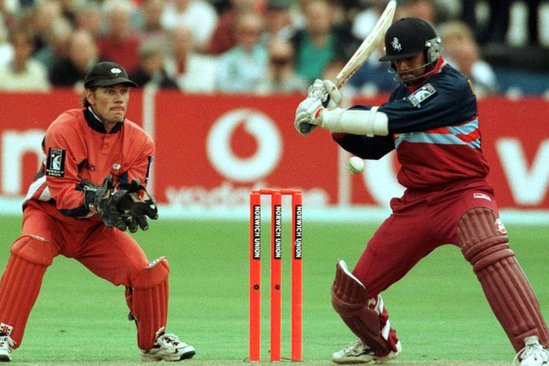 Photo credit: http://news.bbcimg.co.uk/media/images/58949000/jpg/_58949943_kent_getty.jpg
Yorkshire were sponsored by Yorkshire Tea. Therefore they obviously had to wear a kit which matched the orange on a Yorkshire Tea box.
The effect of watching human tangerines running around playing cricket was supplemented by the even brighter orange of the stumps.
Pictured here is Yorkshire wicketkeeper Richard Blakey with the one and only Rahul Dravid.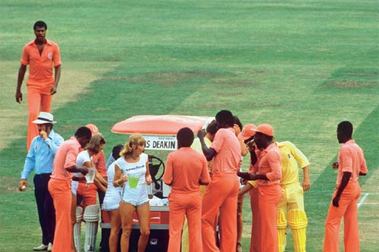 This gem from Cricinfo is from a drinks break taken during Kerry Packer's World Series Cricket in 1977.
The West Indies unashamedly stepped out in a pink kit, although it would probably be called "salmon" these days. This was in the early days of coloured clothing, so perhaps they can be forgiven.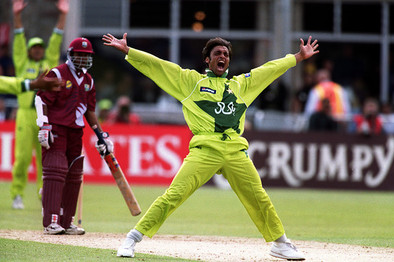 The colour scheme is awful, but as a whole it's actually quite fabulous.
It looks as though it's been made out of lime skins then had a contrasting colour slapped right in the middle. How the fielders were never a distraction behind the bowler's arm is still a mystery.