Title shots in the UFC can be tricky business, and Ricardo Lamas is certainly familiar with the process.
The surging featherweight has been on a blistering tear since dropping down into 145-pound waters and has racked up victories over a collection of the division's best. "The Bully" scored an impressive knockout over Matt Grice in his divisional debut back in 2011 and has gone up to pick up wins over top-ranked fighters the likes of Cub Swanson, Hatsu Hioki and Erik Koch.
The 31-year-old Chicagoland native dismantled Koch in his most recent showing at UFC on Fox 6 back in January, and the victory appeared to have him knocking on the door of a title opportunity. But while Lamas has been ultra-impressive inside of the cage, his luck outside has been anything but.
After his potential title shot against Jose Aldo was given to lightweight star Anthony Pettis, Lamas decided to keep the dice rolling and accepted a bout with Chan Sung Jung at UFC 162. While the fight against the "Korean Zombie" was never made an official title eliminator by the UFC, the bout had all the makings of being exactly that.
Nevertheless, in an unfortunate turn of events, Pettis suffered an injury and was forced to withdraw from the bout with Aldo, and insult was added to injury when the UFC tapped Jung to step in to the fight. Where Lamas had been on a tremendous roll, the 26-year-old Jung had been on the sidelines for over a year recovering from a shoulder injury.
With no other top-ranked featherweights available, Lamas was removed from the UFC 162 fight card entirely and forced to watch a title opportunity he believed he had earned be given to Jung.
The scenario and circumstances at hand have obviously created frustration for Lamas, and after Aldo successfully defended his title on Saturday night against Jung at UFC 163, the featherweight contender went on the offensive.
Lamas posted a video via Twitter announcing his official campaign for the next title opportunity and has no plans of letting his foot off the gas pedal.
http://t.co/Fh72Ey4Lhh - Jose Aldo wins - @RicardoLamasMMA has a message for him and the UFC - check this out! @DuaneFinleyMMA

— Damon Martin (@DamonMartin) August 4, 2013
Congrats again to Jose Aldo! @ufc @danawhite @arielhelwani @DuaneFinleyMMA @seanshelby who u gonna put in next? I got an idea #LamasNext !!

— Ricardo Lamas (@RicardoLamasMMA) August 4, 2013
"The title is what I want," Lamas told Bleacher Report. "I just want the chance to go after what I've earned. That is the reason we are all here in this sport. We all want to be world champs and be the best in our weight class.
"I want the UFC to see there is a lot of fan support for me out there, especially in Chicago where I am from. They want to see me get what I've earned and that is what I'm going for."
While Lamas is making his case for the next title opportunity, he is certainly not alone in the quest to get the next opportunity.
Over the past year, the featherweight division has risen to become one of the most competitive divisions under the UFC banner. In addition to the Team Top Notch fighter, top-ranked ranked featherweights Cub Swanson, Chad Mendes and Frankie Edgar are all aiming at the top spot as well.
Of the four fighters hovering in the division's championship tier, Lamas is the only one of the group who has not had the opportunity to face the young Brazilian phenom.
Where he believes his work inside the cage should be enough to earn him the opportunity, he also believes the chance to get a fresh challenge in the Octagon with the pound-for-pound great should also be a factor to be considered.
"I think it's a clear picture right now," Lamas said. "Cub [Swanson] has been on a roll, but I have a win over Cub. I would understand if would have lost after being him, but since then I have beaten two guys who were supposed to fight for the title. Out of the three other guys in my weight class people are talking about which are Cub, Frankie [Edgar], and Chad [Mendes], I'm the only one who hasn't had the chance to fight Aldo yet.
"All three of those guys have fought Aldo already. Let's get some new blood in there. I'm a guy who want back down from anyone inside the cage and I will bring the fight right to him. I just want to fight him and see how I stack up against the best in the world. I've earned the title shot and it's my turn to fight Aldo."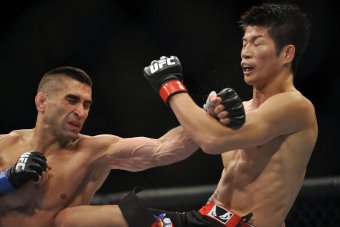 Joe Camporeale-USA TODAY Sports
While Lamas has been forced to play the waiting game over the past several months, if he wants his next step to be a title shot, he may have to wait a bit longer.
In the aftermath of Aldo's victory over Jung at UFC 163, the 26-year-old champion revealed he had broken his foot midway through the opening round. The official medical information is yet to be released, but it is highly likely Aldo will need additional recovery time before he entertains the idea of taking another bout.
In addition to the injury, there is also the possibility of Aldo moving up to compete in the lightweight division. The featherweight champion has spoken about potentially moving up a weight class to fight for the 155-pound title, and if this were to happen, the time frame on a potential title shot for Lamas would also be extended.
That being said, Lamas is aware of the variables in play but isn't wavering from his stance. He wants to be declared as the legitimate No.1 contender in the featherweight division and isn't taking no for an answer.
"There are a lot of factors," Lamas said. "I heard that Jose Aldo said he would move up to 155 pounds if the UFC wanted him to and we are going to have to wait to see what happens. If that does end up being the case, and Aldo goes up or he's hurt for awhile, then let's do an interim title fight. I'm up there at the top and just want the chance to get what I've earned.
"Watching the card at UFC 162 and then the fight between Aldo and 'Korean Zombie,' I felt like it should have been me in there fighting for the title. It's frustrating but I'm going to get there. I'm not stopping until I get there. I'm knocking on the door and if they don't opening it up I'm going to kick it in."
Duane Finley is a featured columnist for Bleacher Report. All quotes are obtained firsthand unless noted otherwise.