Aldo vs. Korean Zombie: Power Ranking UFC 163's Main Card Fights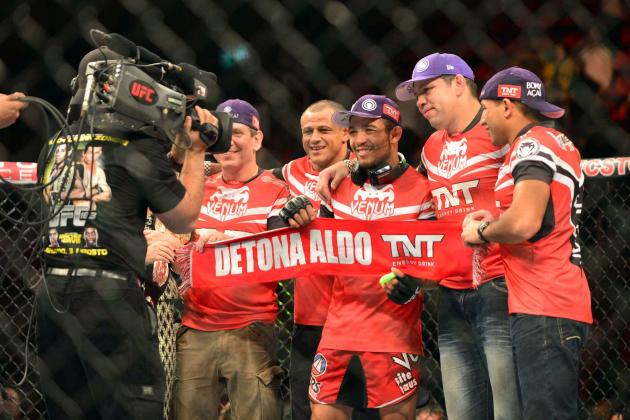 Jason da Silva-USA TODAY Sports

In retrospect, it was only fitting that the injuries plaguing the original UFC 163 fight card carried into the actual fights that took place in Rio de Janeiro, Brazil. UFC flyweight champion Jose Aldo injured his foot in a title defense that resulted in challenger Chan-Sung Jung dislocating his shoulder mid-fight.
Bizarre indeed.
Arguably as troublesome, not a single bonus was awarded to a main card fighter—the best knockout, submission and overall fight took place during the preliminary fight card. It's no surprise, then, that two of the five main card fights went to decision.
Nevertheless, there were a few memorable moments tucked away inside the pay-per-view fights of UFC 163.
Let's get the core of things by ranking the main card fights in terms of explosive energy that resulted in moments you won't soon forget.
Begin Slideshow

»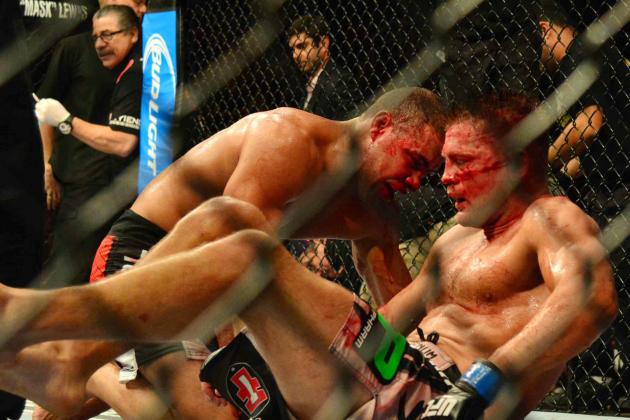 Jason da Silva-USA TODAY Sports

Result: Thales Leites def. Tom Watson via unanimous decision (30-27, 30-27, 30-27)
The above photo effectively summarizes this fight.
Notorious for having a rather substandard gas tank, Thales Leites managed to gut it out longer than opponent Tom Watson at UFC 163. Leites outworked Watson regardless of where the fight took place, though both men visibly wilted over the course of three rounds.
By the third round, the only viable question was whether or not Watson would survive long enough to not get tapped. To his credit, he weathered Leites' grappling storm and lasted until the final bell.
The bout was less than spectacular, though it did afford Leites his first victory in over a year.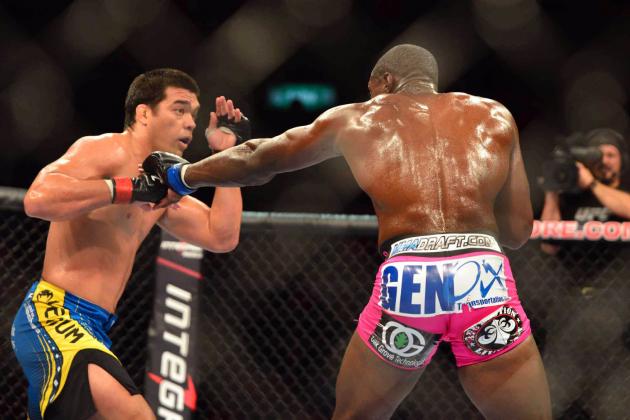 Jason da Silva-USA TODAY Sports

Result: Phil Davis def. Lyoto Machida via unanimous decision (29-28, 29-28, 29-28)
Controversy seems to go hand in hand with the sport of mixed martial arts. Whether it's a matter of incompetent refereeing or inexplicable judging, bouts may sometimes leave fans discussing all the wrong things.
At UFC 163, Phil Davis and Lyoto Machida point fought their way to an eventual decision. Unfortunately for the "Dragon", the judges saw a different fight than the ultimate stats would reveal—Davis walked away with the win.
UFC President Dana White's signature statement certainly held true for this bout: "Don't leave it up to the judges."
A roar of boos filled the HSBC Arena as quickly as worldwide MMA fans began to debate the finer details of who rightfully deserved the nod. Ultimately, though, the fight can be safely described as one in which neither fighter fully engaged in search of a decisive finish.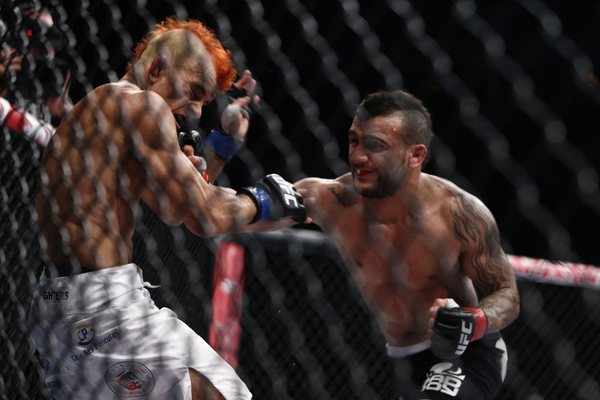 Esther Lin, MMAFighting
Result: John Lineker def. Jose Maria via TKO (punches)—Round 2, 1:03
At first glance, John Lineker's power punching, forward moving style would make you doubt that he's a 5'2" flyweight.
He's quickly building a reputation as a 125-pound wrecking ball, but at UFC 163, he also displayed a granite chin.
Early in the bout, Jose Maria caught Lineker with a clean combination. Briefly staggered and dazed, his legs appeared slightly wobbly. Maria charged in for the finish, but Lineker's ability to withstand a punch rang true.
A minute into the second round, he launched a blitzkrieg that resulted in Maria laying in the fetal position on the canvas. The back-and-forth war was made all the better by Lineker's ability to finish the fight.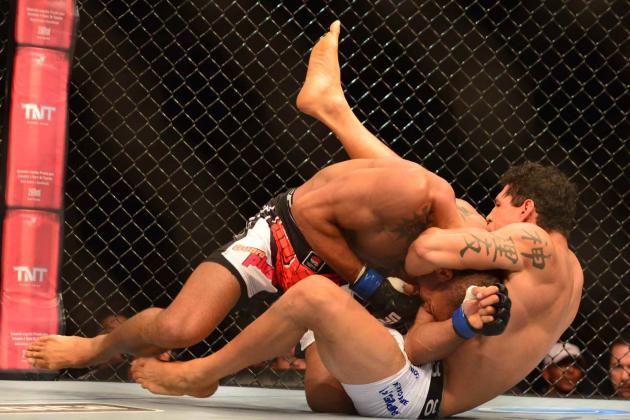 Jason da Silva-USA TODAY Sports

Result: Cezar Ferreira def. Thiago Santos via submission (guillotine choke)—Round 1, 0:47
Cezar Ferreira trains under Vitor Belfort's wing, so it comes as no surprise that, during his UFC 163 fight against Thiago Santos, the perks of learning from "The Phenom" became all too clear—Ferreira surged forward with a ferocity that looked eerily like vintage Belfort.
The entire spectacle didn't even last a minute, likely the result of Ferreira's determination to make it so.
He slammed Santos with an overhand left and, as soon as Santos stumbled back, rushed forward in an attempt to finish. A few critical strikes dropped the hurt fighter to his knees. Ferreira answered with a beautiful sequence that began in a front head lock, progressed into a pair of rolls as Santos attempted to escape and eventually culminated in Ferreira securing an arm-in guillotine choke.
It was as merciless as it was brief. In fact, if not for the brevity of the entire affair, it may have topped this power ranking.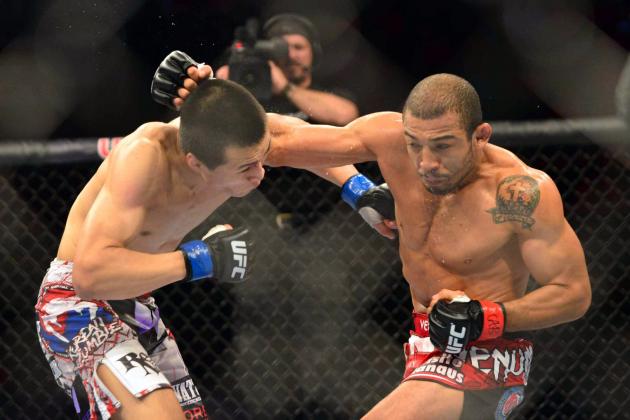 Jason da Silva-USA TODAY Sports

Result: Jose Aldo def. Chan Sung-Jung via TKO (strikes)—Round 4, 2:00
Jose Aldo threw a single leg kick—and none thereafter—in his title defense against Chan-Sung Jung at UFC 163. Trust me, it feels as strange to write it as it likely is to read it.
Of course, it would later be revealed that Aldo injured his foot in that kick attempt—the brunt of the blow slammed into Jung's knee.
As a trademark champion ought to, Aldo improvised.
Over the course of the coming rounds, he varied his usual striking efforts with a series of takedowns and clinch work against the fence. Notably, he caught Jung mid-flight during a few flying knee attempts and accordingly slammed the challenger to the canvas.
The "Korean Zombie" never relented, though—he fought with diligence and focus, even managing to land more significant strikes than the champ in the bout's third frame.
Strangely enough, Aldo's foot injury wouldn't be the most bizarre development of the fight. Instead, the climax occurred two minutes into the fourth round with Jung throwing an ill-positioned overhand right.
His shoulder slipped right out of its socket.
Though he tried to gut out the unimaginable pain by forcing the shoulder back into its socket, it was to no avail—Aldo noticed the injury and locked his sights on the joint. Punches and kicks in that general region eventually downed the Korean Zombie en route to Aldo's 16th consecutive victory.
The bout was as bizarre as it was exciting, with both men striving to overcome the perseverance of the other.