Aldo vs. Korean Zombie Results: Reasons Why Aldo Should Stay at Featherweight
Jason da Silva-USA TODAY Sports
Jose Aldo expressed in the UFC 163 post-fight press conference that he'd love to go the lightweight division if UFC matchmaker Joe Silva presented him with the proper opportunity.
That likely meant a title shot or, at the least, a No. 1 contenders bout. It'd be hard to say no to that offer, but Aldo should remain at 145 pounds for a number of reasons.
He's had some tough weight cuts, and his conditioning is his biggest question mark. But it looks like that might be a problem of the past. If Aldo can maintain his weight to avoid the rough weigh cuts, he should stay at featherweight, where he is the unquestionable top dog.
He's Only 26 Years Old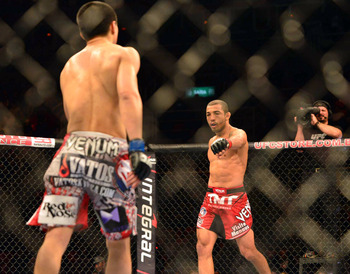 Jason da Silva-USA TODAY Sports
Although we consider him to be a top pound-for-pound fighter in the world, it's easy to forget Jose Aldo is only 26 years old. The man has accomplished in such a short time what it takes some men a lifetime of hard work to do.
Switching divisions is usually reserved for fighters on the tail end of their career or who can't advance their career any further in the division they're in.
Aldo is neither of those.
He doesn't need to shake things up and potentially damage his body by shifting weight classes. Aldo still has plenty of years to compete in the division where he's nearly guaranteed to remain champion and headline future cards.
Yes, a jump up for a title fight is likely in his future, but even if Aldo moves up to lightweight, he should return to featherweight where he'll enjoy his greatest advantage...
Jose Aldo Won't Enjoy the Advantages He's Accustomed to Having
Jason da Silva-USA TODAY Sports
Jose Aldo is undoubtedly a talented fighter, but those talents are amplified by his physical gifts. Aldo's agility, speed, size and strength all make him one of the best fighters in the world.
Those same physical gifts would be negated if he chooses to fight in the lightweight division. He'd likely retain his speed and agility due to being a smaller fighter, much like Frankie Edgar at lightweight. But Aldo would definitely be lacking when it comes to size and strength.
Just look at Aldo and UFC lightweight champion Benson Henderson, the man Aldo would likely face in his lightweight debut (should Henderson retain his title at UFC 164). Although only separated by two inches of height, Henderson is massive for a lightweight.
The same can be said for a number of the top guys in the lightweight division.
There Are Still Big Fights for Jose Aldo at Featherweight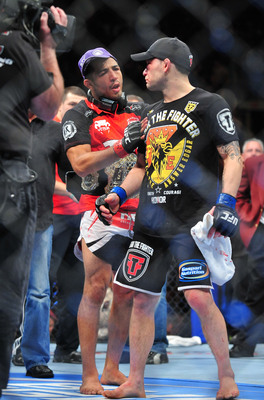 Gary A. Vasquez-USA TODAY Sports
Yes, the big-money fights for Jose Aldo are with Benson Henderson and Anthony Pettis. With that being said, there are still some meaningful fights for Aldo at featherweight.
There's Ricardo Lamas, for example. One of the best featherweights in the world, Lamas has won four straight, including wins over former top-ranked (outside the UFC) Hatsu Hioki, Cub Swanson and former title contender Erik Koch.
Sounds like a nifty resume for a future title challenger. Unfortunately for Lamas, he'll likely have to face Swanson again to decide who will challenge for the featherweight title.
A Lamas-Aldo or an Aldo-Swanson rematch could be a big sell for the UFC given how great Lamas has looked and how much Swanson has evolved since his WEC days.
There's also a rematch with Frankie Edgar that could be an easy sell for the UFC as well. The two men were very even in their first contest, and with Edgar's newfound "try to finish a fight" strategy being employed, Aldo may have trouble keeping up with an improved Edgar.
Keep Reading