Power Ranking the Pac-12 Head Coaches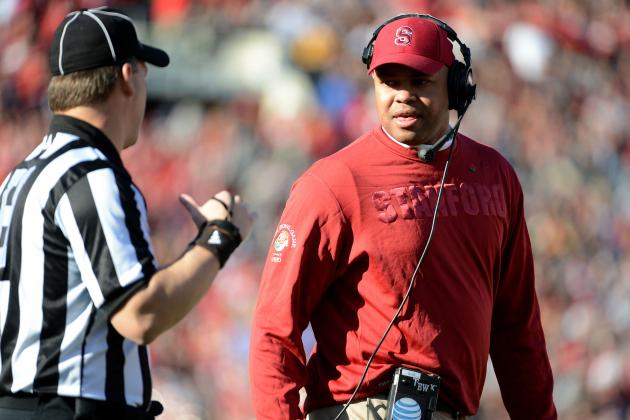 Harry How/Getty Images

The Pac-12 has some of the best up-and-coming head coaches in the country. With 10 of the 12 programs experiencing a coaching change since 2009, many of these guys are young and eager to prove themselves.
Proving is exactly what happened last season, as eight teams qualified for a bowl appearance.
Three new head coaches enter the league this season, which means there is sure to be jockeying for position in the coach rankings.
Note: Rankings are in order by what each coach has already accomplished and how much upside he has left in his coaching career. It's all about results and that bright light at the end of the tunnel.
Begin Slideshow

»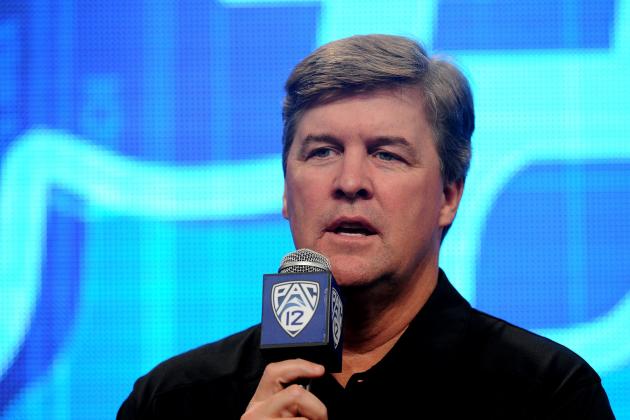 Jayne Kamin-Oncea-USA TODAY Spor

Coaching Record: 16-21
Bowl Record: N/A
Pros
Mike MacIntyre was able to lead San Jose State to a 10-2 record and a finish in the AP Top 25. Just think about that for a second. Before last season, the Spartans had only one bowl appearance since moving to the WAC in 1996. If a coach can win with minimal talent, it's safe to believe he can get the job done with better players.
Cons
He's been a head coach for only three seasons, with each season at San Jose State—a school that doesn't come with a lot of pressure to win. Coaching a small school is one thing, but the expectations are higher in a BCS conference, especially at Colorado, where fans are desperate for a quick turnaround.
How to Improve Ranking
What did the great Al Davis say? Just win, baby! MacIntyre has many believers, but he must prove himself on the larger stage.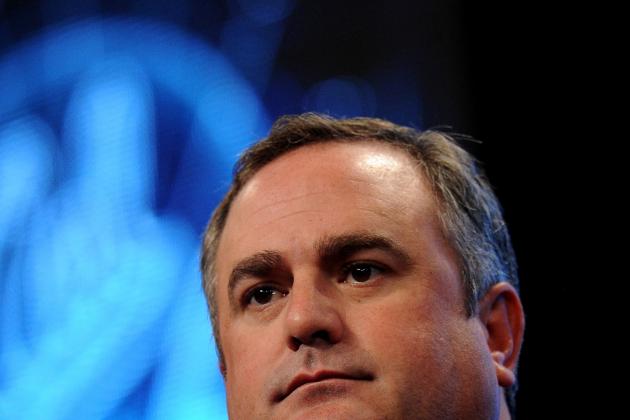 Jayne Kamin-Oncea-USA TODAY Spor

Coaching Record: 22-15
Bowl Record: 0-1
Pros
Sonny Dykes knows how to produce offensively, and that is great news when coaching in the Pac-12. Whether it was his work with Texas Tech, Arizona or his head coaching job at Louisiana Tech, Dykes put a team on the field that can score with the best of them. He will have no problem feeling right at home in his new conference.
Cons
Similar to MacIntyre, Dykes hasn't done anything at a major program. His only head coaching experience comes at Louisiana Tech, a school that appeared in only three bowl games since 1990. It's also worth noting that the last coach to leave that program was Derek Dooley, who didn't last very long at Tennessee. Winning in the WAC and the Pac-12 are two different ballgames.
How to Improve Ranking
Dykes needs to get the folks in California excited about college football again by turning around an offense that ranked 93rd in the country. A bowl appearance isn't expected right away, but a light at the end of the tunnel needs to be seen.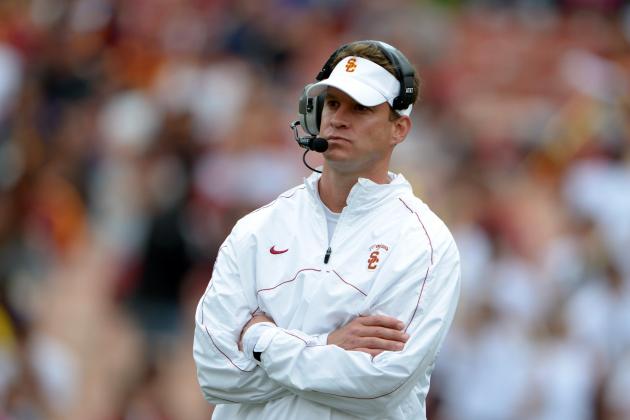 USA TODAY Sports

Coaching Record: 32-19
Bowl Record: 0-2
Pros
Lane Kiffin is one of the top recruiters in the country. There aren't many coaches who can consistently land top-tier players, especially when dealing with scholarship reductions and off-the-field issues. Even last season, when several players decommitted, USC still had a top-25 recruiting class, according to 247Sports. Success is almost certain when elite players line up out the door each season.
Cons
If you are looking for Kiffin's downfall, just look at last season. He may bring in the talent, but that doesn't mean much if it doesn't come with victories. For a big-name coach and somebody who can out-recruit most, Kiffin is an underachiever.
How to Improve Ranking
Leading USC to a BCS bowl would quickly get him off the hot seat, but that may not be a realistic expectation for this season. Kiffin needs to go one full season without any off-the-field drama and give the rest of the teams in the conference a run for their money. The potential is there, but that only takes a team so far. It's time to see results.
James Snook-USA TODAY Sports

Coaching Record: 87-52
Bowl Record: 5-4
Pros
If you're looking for an offensive juggernaut, look no further than Mike Leach. He's helped design some scary offenses over the years and has watched several of his players go on to break NCAA and school records. A team will always have a chance to win when the offense is consistently finishing in the top 10 in scoring. That's usually the case with Leach calling the shots.
Cons
Leach isn't the greatest recruiter, and his uptempo offense usually doesn't do his defense any favors. Last season, Washington State ranked 101st in the country with 33.7 points allowed. Leach has also been linked to player abuse more than once in his career, which doesn't exactly help his case for moving up the ladder.
How to Improve Ranking
Leach is one of the more experienced and brightest coaches in this conference. There is little doubt he will turn Washington State into a respectable team if the program can be patient. However, until then, there are other coaches who have a lot more upside.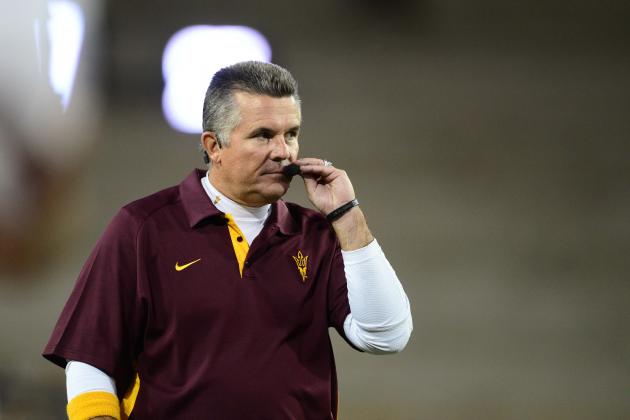 Mark J. Rebilas-USA TODAY Sports

Coaching Record: 57-34
Bowl Record: 4-1
Pros
Last season, Todd Graham led Arizona State to its first winning season since 2007 and its first bowl victory since 2005. He had great success in his four seasons with Tulsa and usually does well in big games. His 4-1 record in bowl games is commendable, and the Sun Devils were competitive in losses to Oregon and Oregon State last year, while knocking off a ranked Arizona team.
Cons
Was last year a fluke? Like a few coaches in this conference, Graham hasn't provided much of a résumé with big programs. He had minimal success in his one season with Pittsburgh (6-6), and he is only entering his second year with Arizona State. Graham and his coaching staff also haven't exactly gotten off to a great start in recruiting.
How to Improve Ranking
After earning positive attention last season, Graham needs to stay on his current path. However, this year is when he can really make a splash. Arizona State is returning 17 starters and has fairly high expectations. There is plenty of upside, and if everything goes well, Graham has a chance to make a big move up in the Pac-12 coaches' rankings.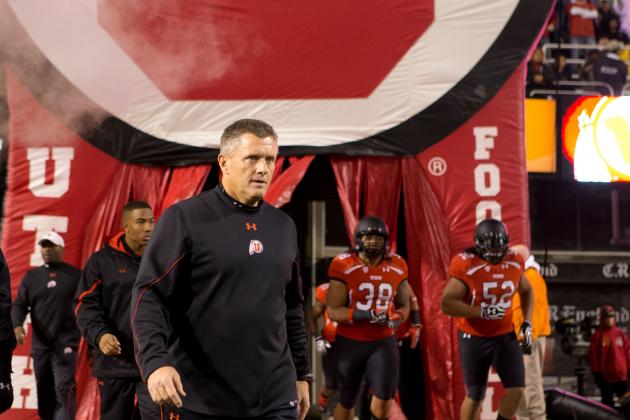 Russ Isabella-USA TODAY Sports

Coaching Record: 70-32
Bowl Record: 6-1
Pros
Kyle Whittingham's record speaks for itself. He's won 68 percent of his games and last year had his first losing season in his eight-year coaching career. Whittingham is a hands-on head coach and has one of the best coaching staffs in the country. Somehow, he's turned Utah into a consistent winner, despite not having the most talented players.
Cons
That coaching record can be a little deceiving, as Whittingham spent his first six seasons in the Mountain West Conference. Since moving to the Pac-12 two seasons ago, Utah is 13-12 and last year missed the postseason for the first time since 2002. Is the tougher competition truly getting to Whittingham? Will he be able to get Utah back on track?
How to Improve Ranking
Folks need to settle down before throwing Whittingham on the hot seat. He's dealing with a culture change in the Pac-12 and doesn't have the same talent as the rest of the teams in the conference. As long as he can continue to build the program and get the Utes back into a bowl game, he'll continue to move up the rankings.
Jaime Valdez-USA TODAY Sports

Coaching Record: N/A
Bowl Record: N/A
Pros
Mark Helfrich was the eyes and ears of former Oregon head coach Chip Kelly. Although he may not have been calling the plays, he was helping Kelly with the formations and making the calls easier for the man in charge. Helfrich is familiar with the program and won't have to do much changing as a first-year head coach.
Also, Kelly was a former Oregon offensive coordinator before becoming a head coach. If that is an indication of things to come, the Ducks will continue flying.
Cons
The biggest concern with Helfrich is that he has no head coaching experience. Sure, he earned his stripes as an offensive coordinator and has earned the respect of his players. But there's a big difference between being in the background in the skybox and being the go-to guy on the field. Some can handle it, while some can't. Only time will tell.
How to Improve Ranking
There won't be many changes with the way things are done in Eugene. Although Helfrich is the only Pac-12 coach who has yet to coach a game, he has at ton of potential. This is a solid starting point for the 39-YEAR-OLD, with room to slide up the totem pole rather quickly.
Although Helfrich is the only Pac-12 coach who has yet to coach a game, there is tons of upside and potential with the 39-year-old. This is a solid starting point, with room to slide up the totem pole rather quickly.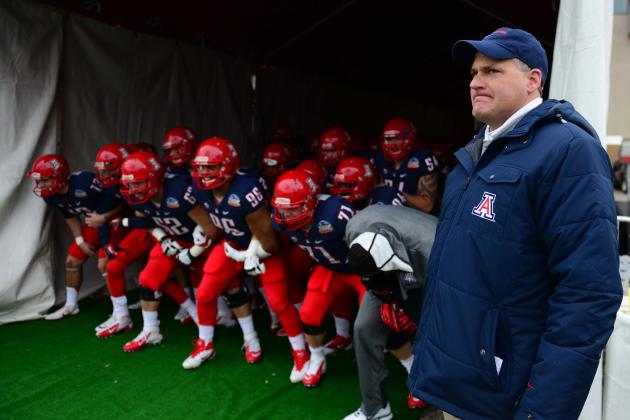 Mark J. Rebilas-USA TODAY Sports

Coaching Record: 84-53
Bowl Record: 4-4
Pros
Rich Rodriguez has one of the brightest offensive minds in college football. He runs an effective no-huddle offense that usually produces tons of points and video-game numbers. Just ask Arizona running back Ka'Deem Carey, who led the country last season with 1,929 rushing yards. Rodriguez is also a solid recruiter and has the top 2014 recruiting class in the Pac-12, according to 247Sports.


Cons
It is going to take more than one year for many to forget the three dreadful seasons Rodriguez coached Michigan. It's also going to be difficult to consistently win when his defense struggles the way it does. Arizona finished last season ranked 105th in college football in points allowed.
How to Improve Ranking
Rodriguez's Arizona team surprised many last season, finishing 8-5, including an incredible come-from-behind 49-48 victory over Nevada in the New Mexico Bowl. If he can turn Arizona into a Pac-12 contender, he should be considered one of the top coaches in the country. After all, the Wildcats have only four bowl appearances since 1999. It's going to be interesting to see how the next few years play out.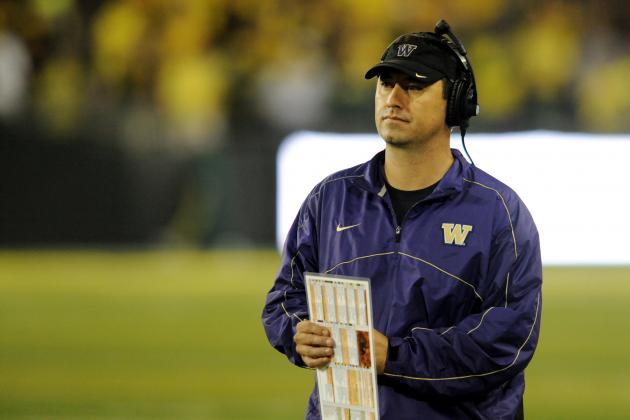 Steve Dykes/Getty Images

Coaching Record: 26-25
Bowl Record: 1-2
Pros
Steve Sarkisian is one of the best recruiters in this conference, and the 2014 recruiting class is shaping up to be another solid group. Sarkisian is also terrific at developing players who go on to play in the NFL. That group includes Donald Butler, Jake Locker, Chris Polk and Desmond Trufant.
Cons
The concern with Sarkisian is that Washington has yet to take that next step. He's coached Washington for four seasons and has finished the last three with a 7-6 record. It's nice to see that the Tyrone Willingham days are over, but Washington fans are eager to win a conference title. Expectations are higher than they have been in years. Barely qualifying for the postseason is no longer enough.
How to Improve Ranking
Sarkisian must get Washington over the hump. He has the ability to emerge as one of the best coaches in the nation, especially at the young age of 39. He recruits extremely well, puts players in position to succeed and has shown he can win big games. Now, he needs to work on consistency, so the rest of the country can take him seriously.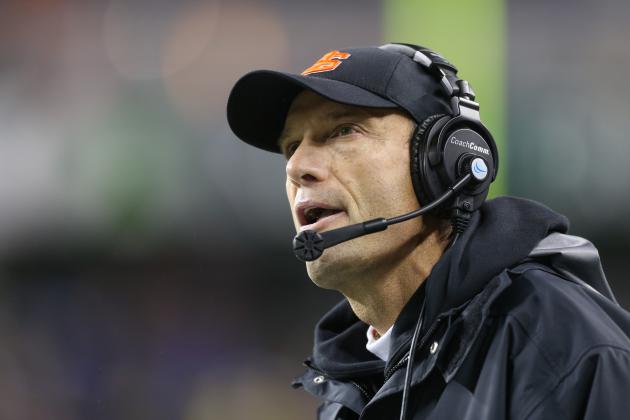 Otto Greule Jr/Getty Images

Coaching Record: 81-67
Bowl Record: 5-2
Pros
Mike Riley coaches the second-most popular team in the state of Oregon and is still able to compete at a high level. He's coached the Beavers since 1997 and has finished seven seasons with at least seven victories. Oregon State has also been ranked in the AP poll in six of the last seven seasons. Riley gets all he can from the limited talent at his disposal.
Cons
Under Riley, Oregon State has been susceptible to the occasional down year. Whether it was a 5-6 season in 2005 or missing a bowl game in 2010 and 2011, consistency is tougher than usual to maintain in Corvallis. The Beavers are always going to be a tough out, but that has yet to result in a BCS bowl appearance.
How to Improve Ranking
It seems like Riley has done just about anything and everything one can do at Oregon State. He's the all-time winningest coach in the program's history and is full of surprises like last year's 9-4 performance. The only thing left to do is win a Pac-12 title.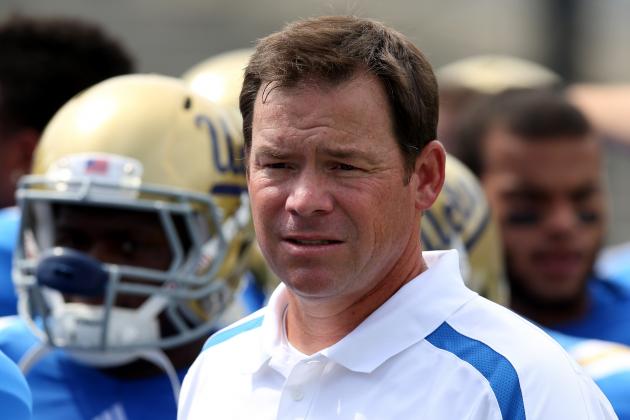 Stephen Dunn/Getty Images

Coaching Record: 9-5
Bowl Record: 0-1
Pros
What's there to say about Jim L. Mora? He took over a UCLA program that was down in the dumps and led it to a 9-5 season in his first year as a college football coach. He's also gotten off to a fast start recruiting, landing numerous talented players in the 2014 recruiting class. There aren't many coaches who have turned around a program as quickly as Mora.
Cons
The only thing to question with Mora is beginner's luck. Is Mora really that great of a coach or will he be brought down to reality sooner than later? It's tough to keep UCLA out of the shadow of USC, and Mora will continue to have to fight that uphill battle. While everything looks wonderful at the moment, long-term success doesn't usually happen overnight.
How to Improve Ranking
With the expectations that have come from last season, Mora can shoot his coaching stock through the roof with a Pac-12 title. He has a great recruiting staff and comes off as a no-nonsense kind of coach. The sky is the limit for Mora and UCLA.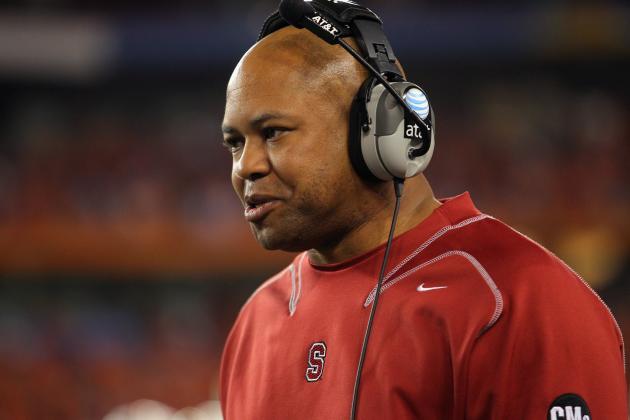 Doug Pensinger/Getty Images

Coaching Record: 23-4
Bowl Record: 1-1
Pros
Remember how the world was going to crash down on Stanford after Jim Harbaugh left for the NFL? The excuse then was that once Andrew Luck bolted for the next level, Stanford was no longer going to have a respectable football team. What's the excuse now? Shaw is a two-time Pac-12 Coach of the Year and has one of the toughest-coached teams in the country. He's earned his keep.
Cons
Shaw has yet to give Stanford fans any reason to complain.
How to Improve Ranking
The only thing left for Shaw to accomplish is winning a national championship. While some may think that goal is still years away, Stanford will be a legitimate contender this season.