Notre Dame Football: 5 Freshmen to Watch in 2013 Fall Camp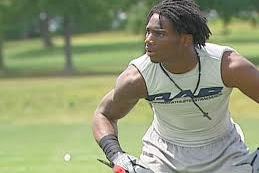 Fall camp provides an opportunity to establish a depth chart prior to the start of the season but also a chance to get a first look at the freshman class in formal practice situations.

While five Notre Dame freshmen enrolled in January, most of the class will participate in its first college practice Monday when the Fighting Irish begin fall camp at Shiloh Park in Marion, Ind. The team will hold four practices at Shiloh Park before returning to South Bend for the remainder of camp.

With some key losses at the skill positions and some depth concerns on defense, head coach Brian Kelly will be looking for a number of his newest players to answer the bell and become early contributors. Let's look at five candidates who could earn immediate play time for the 2013 Irish.
Begin Slideshow

»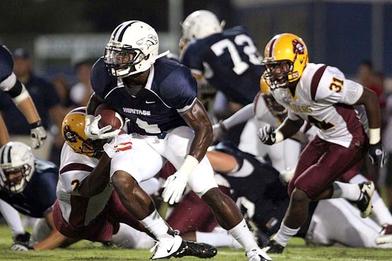 We don't know much about the Fort Lauderdale, Fla., prospect other than that he likes Chipotle (hat tip @NDatRivals), but expectations are through the roof for the Irish's most heralded running back recruit in decades.
Notre Dame's two leading rushers from 2012 are gone.
George Atkinson III has added lower-body strength to help make him a more well-rounded running back, but there still isn't evidence that he can flourish as a feature back.
Fellow junior Cam McDaniel also returns, but there's not much of a game-breaking element to his game.
The door is open for Greg Bryant to—while probably not start right away—quickly become a 10-carry back and help maintain Notre Dame's recently found identity as a ground-and-pound team.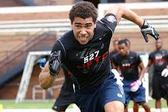 While James Onwualu may not be as physically gifted as fellow Cretin-Derham Hall product and former Fighting Irish star Michael Floyd, he's more versatile than the Irish's all-time leading receiver.
An early enrollee, Onwualu quickly showed a grasp of the offense in just 15 practices during the spring. At a position that is searching for a third option after DaVaris Daniels and TJ Jones, Onwualu steps into a great situation for early playing time.
There are intangibles with Onwualu that cannot be taught—a great sign for his future development. He's not a burner but is shifty and a solid route runner.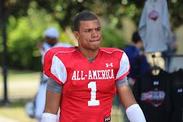 Max Redfield was one of three 5-star prospects that the Irish signed last February, as per 247Sports. One, of course, now plays for UCLA, but that's last week's news.
Safety is one of the few positions on the Notre Dame defense where there is depth, so there isn't a sense of urgency for Redfield to make a quick impact. However, that doesn't mean he won't be an early contributor.
He won't be starting against Temple but could push Elijah Shumate for the job at some point in the season. If nothing else, he should be a valuable special teams player from the outset.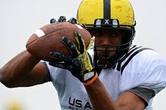 Corey Robinson may have been the most impressive of the early enrollees during the spring. Notre Dame loved the potential with the 6'5" Robinson, but the learning curve may have been accelerated after his performance in March and April.
The heir apparent to Jones after he exhausts his eligibility after this season, Robinson has the frame to be an ideal red-zone target. He's the closest thing to Floyd that Notre Dame has on its current roster, despite flying somewhat under the radar until late in his high school career.
With Jones and Daniels locked into the two outside receiver positions, he won't be a starter this year barring injury. If his fall camp goes as well as his spring did, he could be a 25-catch player as a freshman.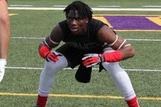 Photo: 247Sports
The crown jewel of the 2013 class was Jaylon Smith, an in-state product who committed to Notre Dame early in the recruiting cycle and helped build one of the best classes Notre Dame has ever signed. A natural fit at the Irish's "Dog" linebacker position, Smith excels both moving forward and backward.
Danny Spond was a pleasant surprise at Dog last season, so Smith is not going to come in and immediately take control of the position.
He'll see plenty of snaps, mainly in obvious passing situations while he continues to develop physically. Smith will almost certainly be on every special teams unit this season.
There will be the typical freshman mistakes, but there will also be the athletic plays that simply haven't happened in recent years at Notre Dame. An All-American in 2014? Don't rule it out. Smith is that good.