8 Things We Learned from Minnesota Vikings Training Camp So Far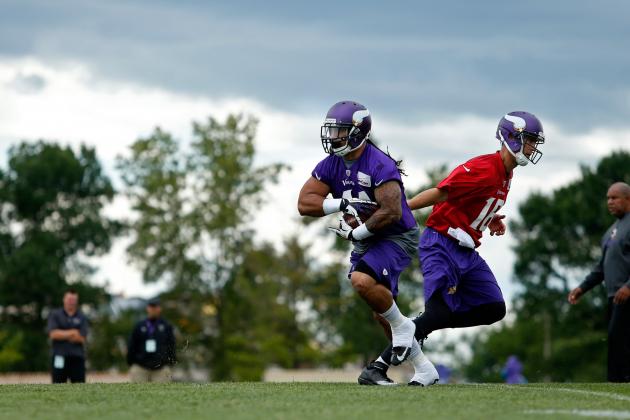 Bruce Kluckhohn-USA TODAY Sports

All eyes are on the Minnesota Vikings as training camp progresses. For the team, it's time to prove that last season was not a fluke, and it can once again be a perennial playoff contender. In order to do that, the offense will need to be more balanced and consistent, and the defensive unit will need to show it can stop the high-powered passing offenses within the NFC North.
At the midpoint of training camp, with the first preseason games coming up on Friday, August 9, some things are becoming apparent.
Here are some things we've learned so far.
Begin Slideshow

»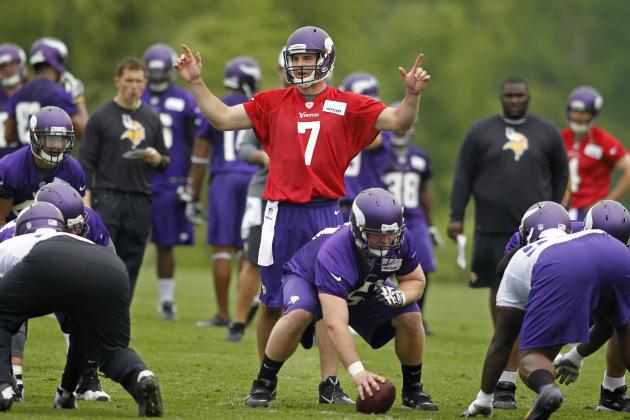 Bruce Kluckhohn-USA TODAY Sports

The success of the Minnesota Vikings rests squarely on the shoulders of quarterback Christian Ponder.
He was very good last season when the Vikings opened the season 4-1. He completed 69 percent of his passes and had six touchdowns and only two interceptions. His passer rating was a decent 95.4.
When the Vikings went into a slump, winning only two of their next seven games, Ponder's struggles correlated almost perfectly. His completion percentage over those seven games dropped to 58 percent. He threw another eight touchdowns, but also had nine interceptions. His passer rating was only 68.1 as the Vikings dropped to 6-6 on the season.
He then played better to close out the season over the final four games as the Vikings went 4-0. His passer rating over the final four games was 88.3, with four touchdowns and only one interception.
So far in training camp, Ponder has been inconsistent. According to a story in the Star Tribune by Mark Craig, during the first practice with full pads, Ponder completed only four of 12 passes—despite the fact the defenders could not tackle him.
During Saturday night's practice on Blakeslee Stadium, Ponder looked a lot better, completing 12 of 15 passes for a touchdown and an interception. On one play, he connected with Jerome Simpson for a 60-yard pass play.
If the Vikings are going to be any better than they were last season, they will need Ponder to play much more consistently. He will have plenty of weapons around him; he must avoid a roller-coaster performance.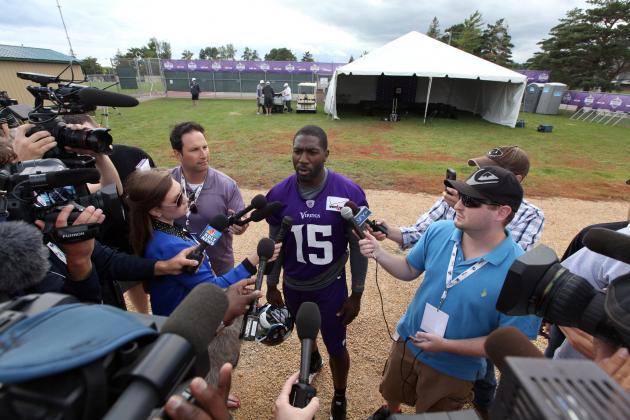 Brace Hemmelgarn-USA TODAY Sport

The Minnesota Vikings' No. 1 receiver, at least on paper, leading into the preseason, is Greg Jennings. Before training camp even had its first full-pads practice, Jennings had caught the ire of head coach Leslie Frazier.
Frazier didn't appreciate Jennings' comments regarding his former quarterback, Aaron Rodgers. The last thing the Vikings need is to give anymore motivation to the team that has beaten them six of the last seven games, including a 24-10 loss in the playoffs at Lambeau Field.
In a report from the St. Paul Pioneer Press last week, Frazier indicated that he spoke with Jennings about his comments.
We're the Vikings and we want to talk about us, what we're trying to get done. That's where our focus has to be. There's so much work to be done, and we don't want to be looking at what's happening with other teams, other teams' players. We've got to focus on us. He's good with that.
Jennings made a public apology—kind of. Following practice last Thursday, August 1, he had this to say:
"I don't really recall saying anything negative about Aaron or anyone over there, but hey, I apologize," according to ESPN.

Yahoo! Sports also reported that Jennings said:
Everything I say, I'm joking. I'm messing. I'm pulling Aaron's arm. I mean if he doesn't know that or you guys don't know that, I played with the guy for seven years. I think he knows that.
Perhaps, Jennings is just trying to move any spotlights, and the scrutiny that comes with them, away from fellow receiver, rookie Cordarrelle Patterson.
In any case, hopefully he learned that Frazier wants the focus to be on the Vikings during camp.
Brace Hemmelgarn-USA TODAY Sport

Just like last year, head coach Leslie Frazier is not giving away any first-team positions.
In 2012, safety Harrison Smith opened training camp working with the second team. Most of us felt it was just a move to motivate the rookie and respect the veterans who were competing.
This year, according to a story from the Star Tribune, another first-round selection has been practicing with the second team. Cordarrelle Patterson appears to be the Vikings' fourth receiver with Greg Jennings, Jerome Simpson and Jarius Wright getting the most reps with the first team.
Of course, it's early, and with Patterson's size (6'3", 205 lbs), it's just a matter of time before he breaks into the starting lineup. Regardless of whether he opens the season as the first-team split end or not, he will have plenty of opportunities to contribute.
The Vikings' top pick in the draft, defensive tackle Sharrif Floyd, is also seeing most of his action with the second-team defense.
According to a post by Ben Goessling from the St. Paul Pioneer Press, the Vikings have no intention of playing Floyd next to Kevin Williams on the defensive line and will rotate the two players at the 3-technique position.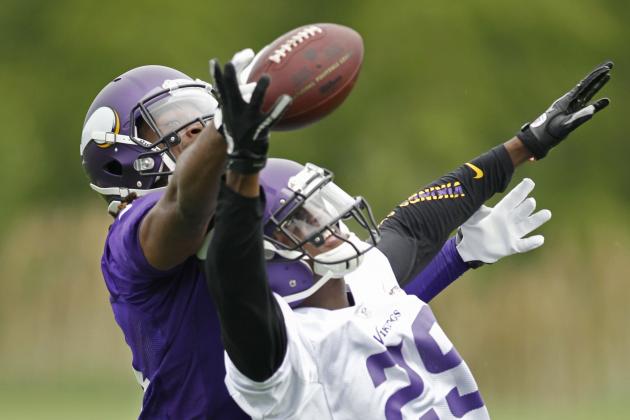 Bruce Kluckhohn-USA TODAY Sports

When the Minnesota Vikings drafted cornerback Xavier Rhodes in the first round, they were looking for a physical defender with the size and tenacity to match up with the big wide receivers of the NFC North.
Early indications are that Rhodes matches that description.
Mike Wobscall from Vikings.com described a one-on-one drill where Rhodes stopped third-year receiver Stephen Burton in his tracks, essentially ending the play at the line of scrimmage before it even began. Of course, at 6'1" and 221 pounds, Burton isn't exactly the same caliber as Calvin Johnson (6'5'' and 239 pounds) or Brandon Marshall (6'4", 229 pounds).
According to another Vikings.com post by Wobscall, Rhodes was named the team's defensive standout of the first week of training camp.
That's a sign that the Vikings have another great crop of draft picks that will contribute during the 2013 season.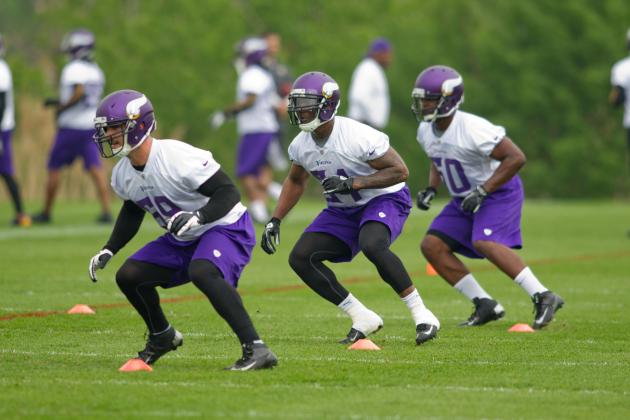 Bruce Kluckhohn-USA TODAY Sports

For a while, it appeared that, perhaps, the middle linebacker position was a game of musical chairs, and the starter would be determined when the music stopped.
With the departure of Jasper Brinkley, Erin Henderson was moved to the middle. When the Vikings signed former Packer Desmond Bishop, who played inside linebacker in Green Bay's 3-4 defense, it was widely assumed that Henderson would be moved back outside, and Bishop would assume the middle linebacker position.
When camp opened, Henderson was in the middle, and Bishop was on the weak side. According to a report on NFL.com, Frazier indicated that he is pleased with Bishop's progression on the outside and that Henderson is thriving in the middle.
In a tweet from the St. Paul Pioneer Press, it would seem that the competition is over. In a story by AJ Mansour of KFAN.com, when Henderson came off the field with a slight injury last Thursday, Audie Cole took over in the middle instead of Bishop moving over.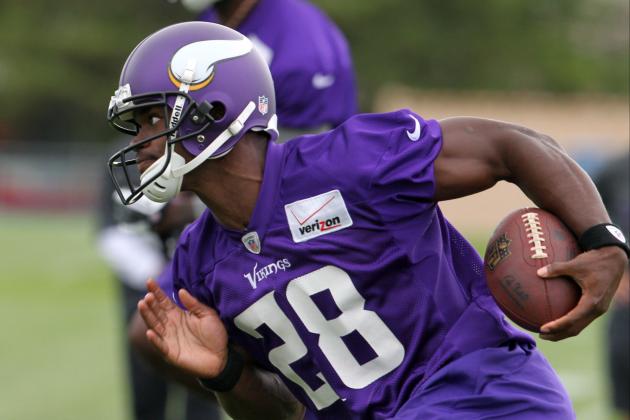 Brace Hemmelgarn-USA TODAY Sport

Head coach Leslie Frazier is a smart man. Last year, he implemented a "hands off" policy when it came to Adrian Peterson—no one was allowed to make contact with the team's premiere running back.
Not getting a single carry during the exhibition season only seemed to slow down the eventual MVP—briefly. During the first six games of the season Peterson averaged 83.2 yards per game and only exceeded 100 yards in a game once. At that pace, he would have finished with 1,331 yards—a most acceptable total for a player coming off major knee surgery.
Over the final 10 games, Peterson found his legs and kicked it into another gear. He averaged 159.8 yards per games and rushed for over 100 yards in nine of those games. He exceeded 200 yards twice and finished with 199 in another.
In a post from Dan Wiederer from the Star Tribune, Frazier indicated that Peterson will not see a lot of action in the preseason.
The Vikings know what they have, and last season certainly proved that Peterson doesn't need a lot of work to get ready for the upcoming season. Of course, if Peterson is to fulfill the goal of rushing for 2,500 yards, he will need to have a quicker start once the season begins.
The last thing the Vikings need is a freak injury before the season begins to slow down their most explosive offensive weapon.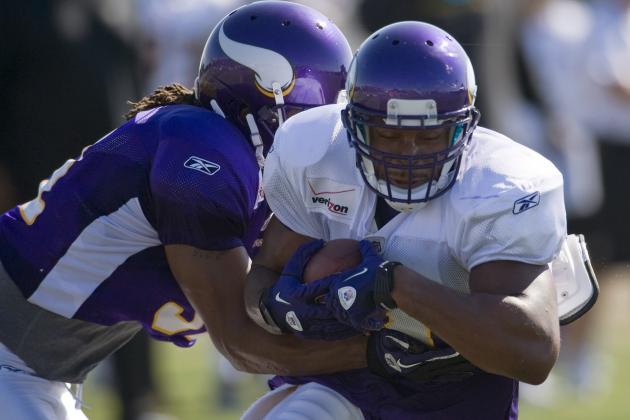 Hannah Foslien/Getty Images

Last year, the Minnesota Vikings were dealing with plenty of health issues. The biggest was the rehabilitation of Adrian Petersen's knee, but there was also the injury suffered by Greg Childs during their Saturday night practice at Blakeslee Stadium as well as injuries that limited tight end John Carlson and offensive tackle Geoff Schwartz.
So far this year, the Vikings have been extremely healthy. Childs is still attempting to make it back from patellar tendon tears to both knees and is currently on the physically unable to perform list.
Some players have been banged up, but no one is expected to miss any significant time. For Saturday's practice, linebacker Desmond Bishop was dealing with a slight groin pull, and safety Mistral Raymond, wide receiver Chris Summers and rookie cornerback Xavier Rhodes were all nursing a hamstring.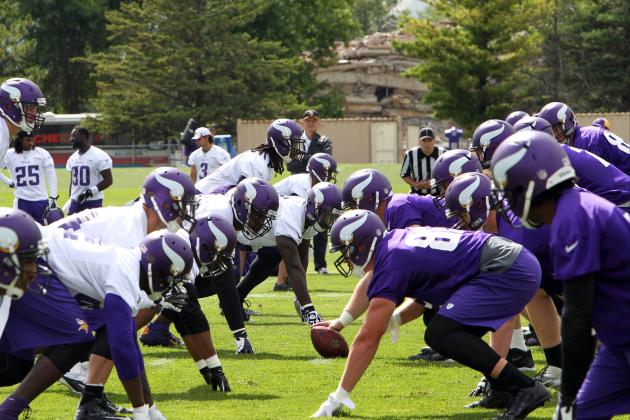 Brace Hemmelgarn-USA TODAY Sport

The Minnesota Vikings have 14 offensive linemen currently on the roster. They most likely open the season with only eight of them.
DeMarcus Love may have made the decision pretty easy for the coaches as to who will be one of the first to go. A sixth-round draft pick of the Vikings in 2011, Love was inactive for all 16 games of his rookie season. In 2012, he had surgery to both knees in January and pectoral surgery in September that ended his season before it began.
Last week, the NFL suspended the third-year tackle from Arkansas for the first four games of the season for violating the league's substance abuse policy. With the Vikings drafting two linemen later in this year's draft, it was unlikely that he was going to make the team. Now for that to change with a four-game suspension looming, he will have to be the best lineman in camp, and that's very unlikely.