Breaking Down the Future of the Middleweight Division in Boxing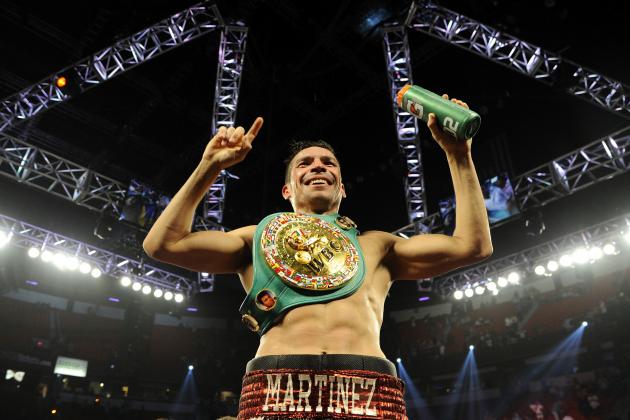 Jeff Bottari/Getty Images

Sergio Martinez still remains at the top of the middleweight rankings with The Ring and on Boxrec.com. But the 38-year-old Martinez has required knee surgery following each of his last two bouts, an ominous sign for a fighter who relies on speed and athleticism to the degree that Martinez does.
Against Martin Murray last April, he was very lucky to escape with a narrow decision. He was knocked down in Round 8. The referee ruled a slip when he hit the canvas in Round 10, but, in my opinion, that should have been a knockdown, too.
I'm not prepared to say that a fighter as great as Martinez doesn't have one or two more big nights left in him. But he is clearly not the future of the division.
Other rising stars are prepared to fill the void he will leave.
The middleweight division has always been one of the most exciting in the sport. From Bob Fitzsimmons to Harry Greb and from Sugar Ray Robinson to Bernard Hopkins, the 160-pound class has featured a high percentage of the sport's all-time greats.
The names on this list will be involved in some of the biggest fights in boxing during the coming years.
Begin Slideshow

»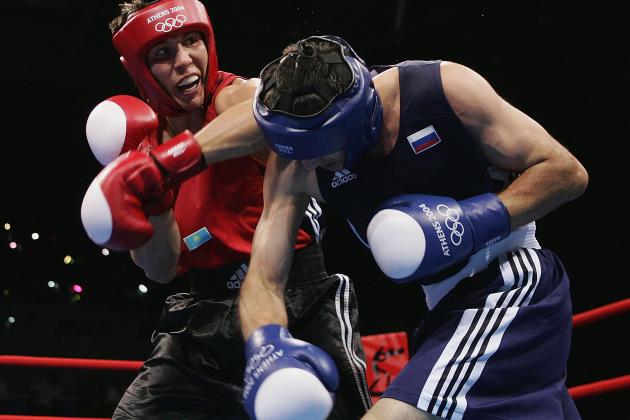 Al Bello/Getty Images

Gennady Golovkin is, perhaps, the hottest fighter in all of boxing right now. The WBA middleweight champion is 27-0 with 24 knockouts. Nobody has finished a fight against him in the last five years.
To many fans, Golovkin has already become the top fighter in the division. He has destroyed fighters who have been competitive against everybody else at middleweight.
In June, Golovkin knocked out Matthew Macklin with a body shot in Round 3. Macklin had previously lost a split decision in Germany to Felix Sturm that many observers felt he deserved to win.
In March 2012, he fought on very even terms for the first half of his fight against Sergio Martinez, before Martinez could establish control and then stop him in Round 11.
Against GGG, Macklin never had a prayer. On Twitter, the day after the fight, Macklin gave Golovkin major credit:
The fight. GGG is by far the best I've ever been in a ring with. It'll be a while before anyone beats him at 160! Don't see anyone out there
— matthew macklin (@mattmacklin) June 30, 2013
Golovkin has been a heavily avoided fighter for years now. But at this point, anybody who really wants to be taken seriously at 160 is going to have to risk a shot at him.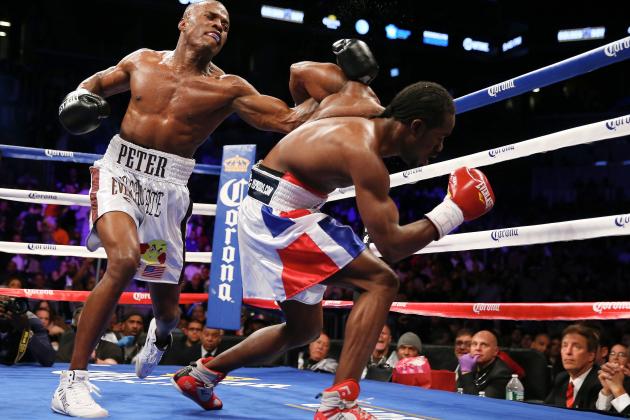 Elsa/Getty Images

While Gennady Golovkin has received a lot more attention over the past year, WBO middleweight champion Peter Quillin has turned in some impressive performances, as well, while running his perfect record to 29-0 with 21 KO's.
Quillin is a big, athletic middleweight with punching power. In June 2012, he beat Winky Wright by a near shutout.
It was just the second fight in five years for Wright, and his best days were nearly a decade ago. But it was the sort of young gun vs. old lion fight that a fighter has to win to reach the championship level, and Quillin took care of his business.
Quillin followed that by capturing the WBO title from Hassan N'Dam N'Jikam last October, knocking him down six times on the way to a unanimous decision.
Quillin is based in Brooklyn and has developed into a house fighter for the newly opened Barclays Center, which is quickly becoming a top boxing venue on the East Coast. Last April, he looked terrific there once more, when he knocked down Fernando Guerrero three times before TKOing him in seven.
Quillin is overdue for a fight with another top-five middleweight. Golovkin has fought three of his last four fights in either New York State or Connecticut, including once in Madison Square Garden.
A Golovkin-Quillin unification bout in Brooklyn would be a major fight.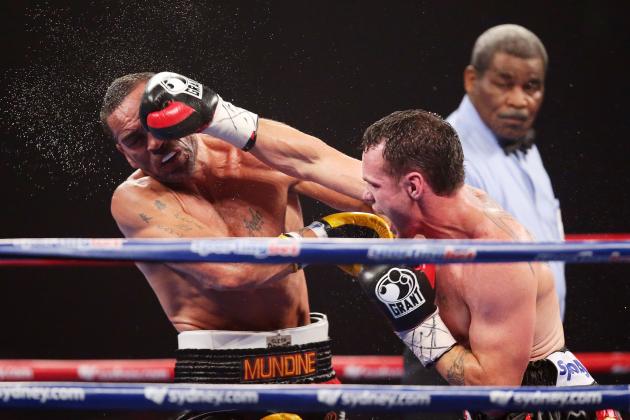 Matt King/Getty Images

Australian Daniel Geale will defend his IBF middleweight title against Darren Barker of England on August 17 in Atlantic City. The fight will have both immediate and long-term significance for the 160-pound division.
Geale should be regarded as at least the third- or fourth-rated middleweight in the world. He has won two world championships by going to Germany and taking split decisions from German champions. Anybody familiar with the history of decisions in Germany will recognize how much of an accomplishment this is.
After Geale beat Felix Sturm for the WBA "super" world title last September, he was supposed to have a mandatory unification bout with Gennady Golovkin. He, instead, opted to vacate the WBA strap and go back to Australia to face fellow Aussie Anthony Mundine.
It was disappointing, but entirely understandable, considering Mundine was responsible for Geale's only loss and that the fight was a huge deal down under. Geale won a comfortable decision.
Barker is among the top middleweights in the United Kingdom, a nation with a lot of tough 160-pound fighters. His only fight at the world-class level came against Sergio Martinez in October 2011. He put on a gutsy performance before getting stopped in Round 11.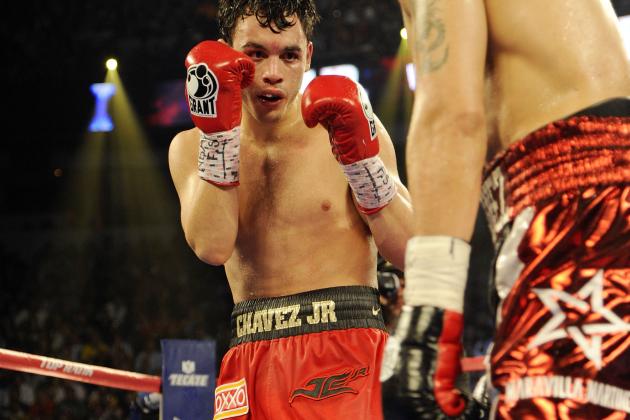 Jeff Bottari/Getty Images

Julio Cesar Chavez Jr. has been a box-office draw for years, based solely on his famous name. Still, in the past couple of years, he has begun to legitimately step outside of his famous father's shadow.
Chavez is an enormous middleweight, and a willingness to walk through punches has been a large part of his success to date. He came back to beat Andy Lee by Round 7 TKO when trailing on the cards in June 2012, in what I would regard as the top win of his career.
Chavez headlined a pay-per-view on Mexican Independence Day weekend last year against Sergio Martinez. He received a boxing lesson from Martinez, but kept coming all night and made things thrilling in Round 12, when he dropped Martinez and nearly ended the fight.
Chavez is scheduled to fight Brian Vera in September. Vera is a tough, grinding warrior, but does not have exceptional punching power. Chavez should be able to win a war of attrition, if nothing else.
Beyond that, there would be a great deal of fan interest in Chavez vs. Gennady Golovkin. I would definitely favor GGG, but Chavez is the one fighter at 160 whom I think would have the best chance of absorbing the WBA champion's power.
But I wouldn't be surprised if Chavez, instead, moved up to 168 to fight Andre Ward.
Martin Murray received the first loss of his career last April when he traveled to Argentina to challenge Sergio Martinez, a fight I discussed in some detail in the introductory slide.
I've heard and read a lot of fans' comments declaring that fight a robbery in the months since it happened. I don't exactly agree with that assessment. A score of 115-112 for Martinez seems about right to me, given the referee's ruling of a slip in Round 10.
However, I think that was a terrible decision by the referee, and if he had gotten it correct, my score would have been 114-113 Murray.
Either way, Murray gave a fighter who went into the bout universally regarded as a top pound-for-pound star all he could handle.
The only other blemish on Murray's record was a December 2011 draw with then-WBA champion Felix Sturm in Germany. It was another fight where I think he got a raw deal.
Murray is not flashy, but he is solid as a block of granite. While he has come up short in both of his world title challenges, considering the circumstances, he is completely deserving of a third shot.
As previously discussed, Cameroon-native and French-resident Hassan N'Dam N'Jikam lost the first fight of his career and dropped his WBO title to Peter Quillin last October in Brooklyn. He was knocked down six times over the course of the fight, twice each in Rounds 4, 6 and 12.
But the fight was not quite the blowout it appears to be on paper. All three judges scored the bout 115-107.
In between getting badly walloped in three different rounds, N'Dam managed to win five rounds outright on each judge's card. The recuperative powers and pure heart N'Dam displayed that night won him a lot of fans in defeat.
It's possible that N'Dam simply isn't quite at the level of a true world champion. But anybody who can keep coming back from that kind of shellacking to make for an exciting fight is going to get more opportunities.
Even if he never manages to win another world title, N'Dam should remain a major factor at 160, as a particularly dangerous and exciting gatekeeper.
Curtis Stevens is 25-3 with 18 KO's. The Brownsville, N.Y., native spent most of his career fighting at super middleweight, where he compiled some impressive knockouts, but struggled at times.
In the last year, Stevens has dropped down to middleweight, which is a much better fit for the 5'7" brawler. Even at 160, he is thick and powerfully built.
He is fresh off a first-round destruction of Saul Roman on an NBC Sports card. He followed up on his victory by calling out Gennady Golovkin in the post-fight interview, which has been something of a theme for Stevens since moving to middleweight.
I don't think Stevens should be in line for a shot at Golovkin at this point, but if K1 once more has trouble finding a willing opponent for Golovkin among the top-rated fighters in the division, then Stevens would make an exciting second-tier opponent, for as long as the fight lasted.
Stevens is definitely bigger than GGG and has punching power in his own right. He's far less polished, but Golovkin is a come-forward fighter, and Stevens should be able to force a brawl with him.
Ultimately, I don't think that fight would be very competitive. But if NBC was willing to bid enough to get the fight on regular cable, it could be a very exciting night for boxing and would draw in a lot of casual fans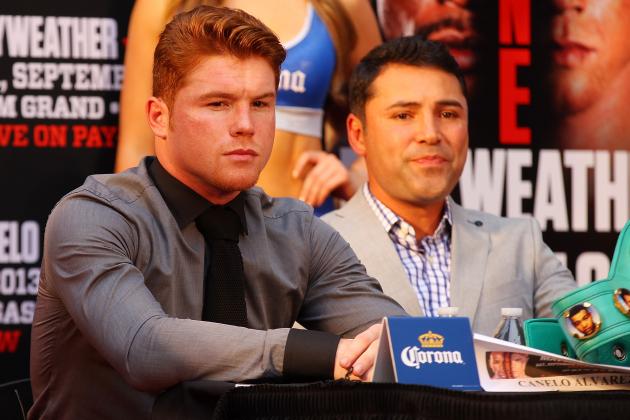 Mike Stobe/Getty Images

Saul Alvarez is the current WBA and WBC junior middleweight champion, and he's set to defend those belts against Floyd Mayweather, this coming September, on Mexican Independence Day weekend. Even if Mayweather wins, I think it's unlikely that he will stay at 154. So win or lose, Alvarez will probably remain the man at 154 going into next year.
But in the long-term, a move to middleweight would seem like a natural progression for Canelo. He is only 23 and powerfully built. The 160-pound limit should be a more comfortable weight cut for him as his body ages.
It is fair to question how effective Alvarez could be against the elite at middleweight. Being a stronger athlete has been a big advantage for him so far in his career.
Still, Alvarez has developed his boxing craft at a steady and consistent rate. As his level of competition has gotten better, his skills have gotten better, too.
Alvarez is one of the biggest stars to emerge in boxing in the last decade. If he jumped to 160, every big name in the division would be anxious to get a crack at him.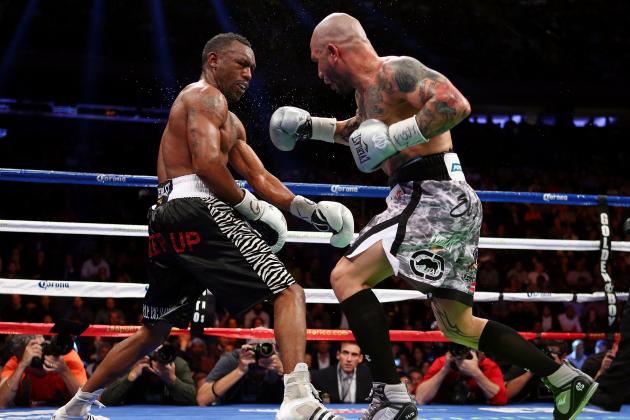 Elsa/Getty Images

Austin Trout has already won a title at junior middleweight. In June 2012, he pitched a near shutout against the always tough Delvin Rodriguez and followed it up in December by beating Miguel Cotto by wider margins than Floyd Mayweather had the previous May.
Last April, Trout suffered the first loss of his career in a unification bout with Canelo Alvarez. I thought Alvarez definitely deserved to win, but it was a very competitive fight, by far the toughest of Canelo's career.
Judge Stanley Christodoulou, who scored the fight, 118-109, for Alvarez, must have filled out his card in his hotel room, prior to arriving at the Alamodome.
A rematch for these two young fighters should definitely happen at some point. I wouldn't be shocked to see it occur at middleweight.
Trout has the size to be competitive at middleweight, especially considering the way he uses movement to take away an opponent's offense. He's only 27. As he moves toward 30, 160 might be a much more comfortable home for him.
At 6'1" and 25 years of age, undefeated junior middleweight contender Demetrius Andrade is a future middleweight if I ever saw one.
The Providence, R.I., native has an extensive amateur background and represented the United States in the 2008 Olympics. His development in the professional game has been steady and respectable. He has a record of 19-0 with 13 KO's, and, in September, will face Vanes Martirosyan, challenging for his first world title just shy of the five-year anniversary of his professional debut.
Andrade is a southpaw, and a well-trained southpaw with length is always going to be a dangerous matchup for most fighters. He has very good movement and defense. He looks more dangerous as a counterpuncher, but he attacks well behind his right lead.
Martirosyan is a big step up for him in competition. I think he will win, but how he performs here will tell a lot about how likely he is to be a factor at middleweight in the coming years.