UFC 163: 5 Fights for Jose Aldo to Take Next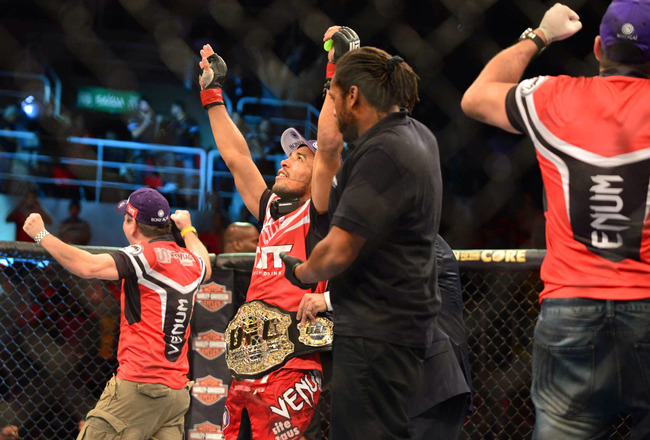 Jason da Silva-USA TODAY Sports
Jose Aldo defended his featherweight crown one more time at UFC 163.
Aldo controlled each round against the Korean Zombie, Chan Sung Jung, and then swarmed him in the fourth round for the TKO stoppage. He continues his incredible roll, further proving he is the absolute best in the world at 145 pounds.
The question is: What's next?
There are a lot of challengers waiting in the wings and many possibilities outside of the division. What does the UFC want to do with its featherweight kingpin? Time will tell, but I have some ideas.
Here are five fights the UFC could schedule for Jose Aldo's return to the Octagon.
Cub Swanson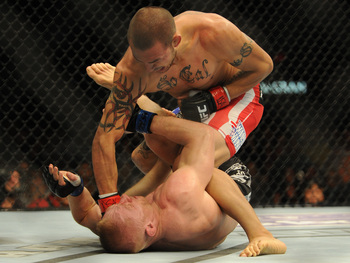 Jayne Kamin-Oncea-USA TODAY Spor
Cub Swanson and Jose Aldo have met once before, but the fight was over in eight seconds.
Aldo came across the cage, threw a flying knee and broke Swanson's orbital bone. Swanson never got a real chance to show what he could do against Aldo. A rematch would almost assuredly go longer than eight ticks of the clock.
Swanson is on a five-fight winning streak that has shown his great finishing ability.
If the UFC puts Swanson in with Aldo, it will be one of the most dynamic battles the company could book at 145 pounds. Swanson isn't the top-ranked featherweight, but he may be the most appealing choice on the table.
Chad Mendes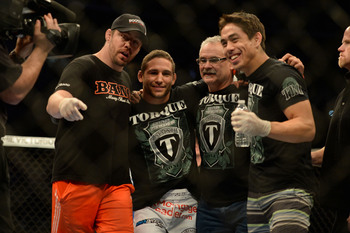 Kyle Terada-USA TODAY Sports
Chad Mendes challenged Jose Aldo for the UFC Featherweight Championship at UFC 142. For much of the fight, it was an even contest. Then Aldo blasted him with a knee to the face.
Since that fight, Mendes has been on an absolute tear. Three wins, three TKO/KO stoppages.
Mendes is the No. 1-ranked challenger, but he may need another win even still. He shouldn't need one, but that may be the case.
Mendes has given every reason to believe a rematch with Aldo will be very different. His striking has improved greatly, his wrestling is still excellent, and his training camp helps him blend the two seamlessly. It makes him a dangerous opponent.
The UFC could easily sell Mendes as the next challenger because he's the top contender.
TJ Grant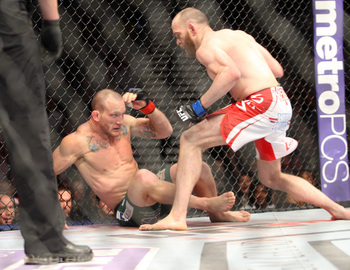 Bruce Fedyck-USA TODAY Sports
There has been talk for a long time that Jose Aldo could move up to the lightweight division, and after UFC 163, he made it clear he's open to the possibility in an interview on Fuel TV.
Who should he face?
With Benson Henderson and Anthony Pettis scheduled to fight for the strap, perhaps Aldo needs one fight in the division before earning the title shot. Who better than TJ Grant?
Grant was supposed to fight for the title, but an injury sidelined him. This is a great fight to challenge both men and to line up the undisputed No. 1 contender.
This would test Aldo's ceiling at lightweight. He's a massive featherweight, but the likes of Grant, Henderson and others are very big lightweights. Will his speed advantage make up for that difference? We don't know. Yet.
If he moves up to lightweight, the UFC could decide on this contender's bout.
Winner of Benson Henderson vs. Anthony Pettis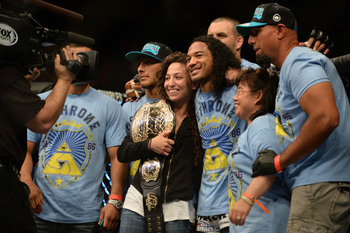 Kyle Terada-USA TODAY Sports
Jose Aldo was supposed to fight Anthony Pettis at UFC 163 for the featherweight title. An injury put the fight on the shelf, TJ Grant got injured, and Pettis took the lightweight title shot.
Add that in with the growing desire for Aldo to have a superfight with someone, and you have the makings for a new lightweight contender.
Aldo is a fun matchup for Pettis but also an intriguing one for current champion Benson Henderson. It is a fight that can be sold. Champion vs. champion. Aldo can come right in for a title shot and leapfrog everyone.
With a growing list of featherweight contenders, and TJ Grant returning to the lightweight division, it may not be the best time for a move. However, if Aldo wants a new challenge, it is hard to deny him an instant shot at gold.
Ricardo Lamas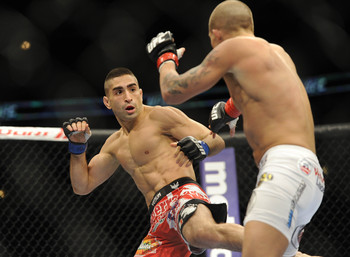 David Banks-USA TODAY Sports
Who should challenge Aldo next? Ricardo Lamas.
Lamas continues to be overlooked. When names are brought up for Aldo's next challenge, Lamas is even below Cub Swanson, who Lamas defeated soundly by submission.
He is a proven finisher and the No. 2 ranked featherweight in the world. He deserves a title shot. He doesn't deserve to be skipped over again by a fighter who he finished inside the Octagon.
Lamas continues his ascent up the divisional ranks, and there is only a little bit left to go. If Aldo stays at featherweight, there is no better choice for his next opponent. Lamas' highlight reel is every bit as impressive as the other contenders'.
Give him a full training camp, and that gives the UFC time to promote him as the top challenger. It is time for Lamas to receive his shot at gold.
Keep Reading