Projected 23-Man Roster for the United States' 2014 World Cup Qualifiers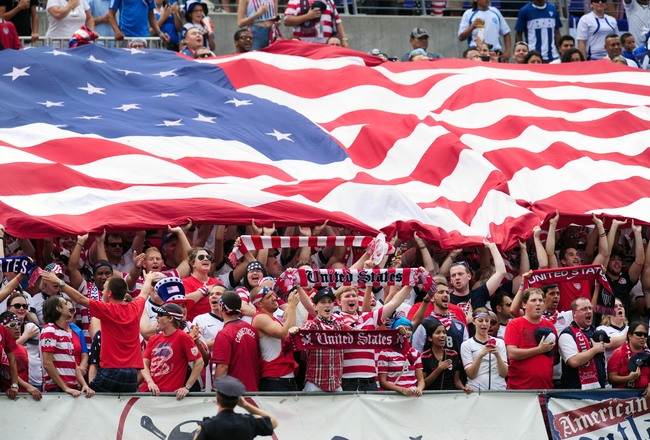 Evan Habeeb-USA TODAY Sports
The United States men's national team has endured an incredible amount of friendlies, World Cup qualifiers and Gold Cup games over the past few months. With the "A" team and "B" team both used in this exhausting list of games, head coach Jurgen Klinsmann has had an extended opportunity to evaluate his team.
As the next round of CONCACAF World Cup qualifiers start in September, let's take a look at the 23 names that should be on the team.
Goalkeepers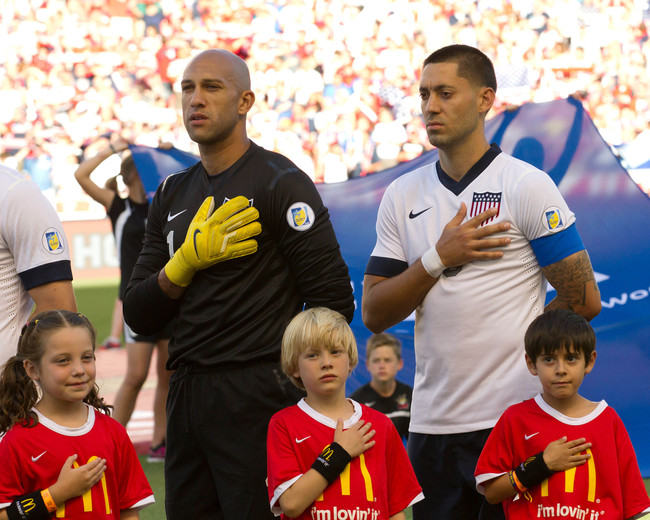 Russ Isabella-USA TODAY Sports
Obvious selection. Tim Howard has been the starting goalie for a long time, and Klinsmann won't turn away from him now.
Brad Guzan
I feel a little bad for Brad Guzan because he has been the backup to Howard for so long, but he has shortened the distance between the two. His improved play for Aston Villa has really made the goalie competition a little more interesting.
Sean Johnson
Sean Johnson gets the nod here over Nick Rimando because he has more of a future with the national team. The third goalie won't get any playing time but will get the opportunity to learn from two great goalies in front of him.
Rimando is 34 years old, so he really can't gain that much from spending time on the bench.
Outside Defenders
Dennis Wierzbicki-USA TODAY Spor
DaMarcus Beasley
The Gold Cup captain has shot up the national team depth chart with his new position in the defense. While he may not get the start, he will definitely be there to support the team
Fabian Johnson
One of the recently cap-tied players, Fabian Johnson has already made an impact for the United States. Form either left defense or left midfield, we know that Johnson will be attacking the net.
I'll list him as a defender, but he certainly has the versatility to play midfield as well.
Michael Parkhurst
Michael Parkhurst impressed during the Gold Cup. While the competition wasn't at the highest level, his extended playing time shows that he is in good graces with Klinsmann.
Parkhurst has an outside chance to get a start or two because of his consistency.
Brad Evans
Brad Davis was involved in a lot of World Cup qualifying in June, and I expect Klinsmann to bring him back aboard. Cherundolo is coming off a few knee injuries and is past the age where he can compete with quicker attacking opponents.
Center Defenders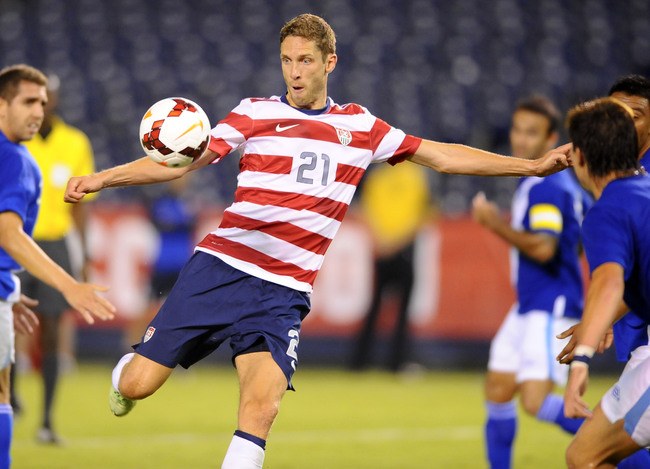 Christopher Hanewinckel-USA TODA
Matt Besler
Matt Besler is one of the fan favorites in a position that clearly lacks star power. Besler will most likely start because of how consistent he played over the past few months in qualifying and the Gold Cup.
Omar Gonzalez
The L.A. Galaxy starter is definitely in good graces of Klinsmann. While he didn't see any Gold Cup action after getting called up for the semifinals, he was given the opportunity to train with Clarence Goodson and Besler.
Clarence Goodson
Klinsmann gave Goodson extended play time during the Gold Cup over Michael Orozco Fiscal, so I expect him to at least get a chance to be on the team. He is also very dangerous on set pieces, something that the U.S. often utilizes.
Geoff Cameron
Geoff Cameron is getting the call at center defense because he is a quality player who can play multiple positions.
While many thought he was simply a center back, he has shown that he can play the holding midfielder position and he actually notched some time at right back during his club season.
Center Midfielders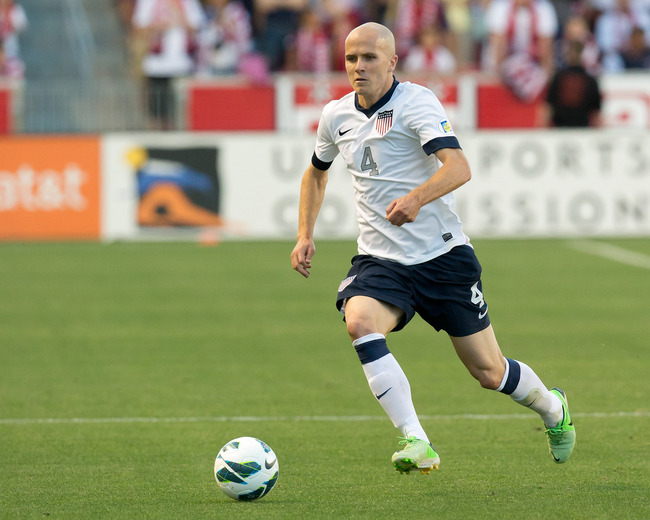 Russ Isabella-USA TODAY Sports
Michael Bradley
I don't want to waste your time by explaining why Michael Bradley deserves a position. He is the heart and soul of the team.
Jermaine Jones
Bradley's partner in crime is a lock. His role as a classic No. 6 pairs perfectly with Bradley.
Mix Diskerud
I talked about Mix Diskerud's possible role in the future, but his Gold Cup play has guaranteed him a spot. I would love to see him late in the game working with Bradley, but Jones is the starter.
I don't see Kyle Beckerman getting any play time; he is far too erratic, and his play isn't quick enough to play at the international level.
Outside Midfielders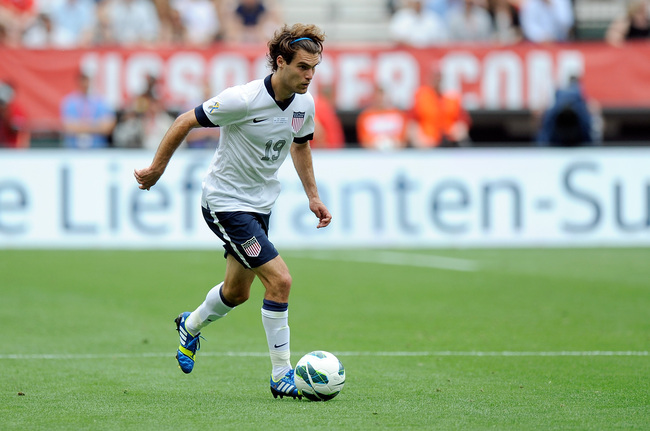 Greg Fiume/Getty Images
Graham Zusi
Despite a small injury in the MLS All-Star Game, Graham Zusi has made an incredible impact for the U.S. His great crossing ability pairs really well with Jozy Altidore—so assuming he's healthy, he will be there.
Alejandro Bedoya
Alejandro Bedoya definitely impressed during the Gold Cup. He had a couple of beautiful assists to Landon Donovan in the semifinals and continued to impress in the finals.
Bedoya is a great spark of energy who would play well at the end of a game.
Joe Corona
The young Tijuana midfielder was very off and on during the Gold Cup. Often times he played spectacularly like when he scored this goal, but others he looked lost on the team.
He should get the chance to train with America's finest during World Cup qualifying.
Jose Torres
I think Joe Torres gets a spot here. This spot would have gone to Brek Shea, but his preseason injury against the Philadelphia Union will keep him out for at least four weeks.
Attacking Midfielders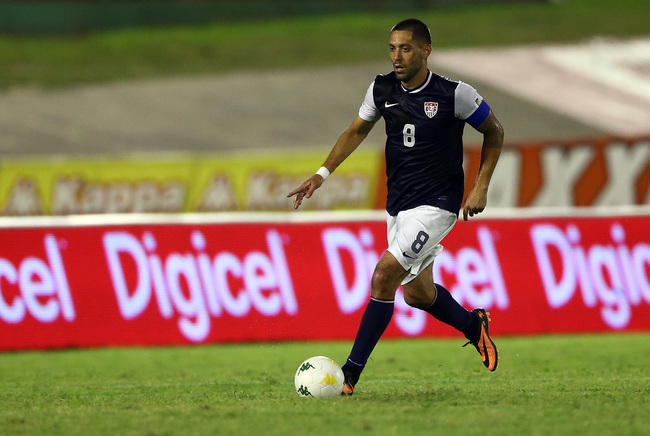 Streeter Lecka/Getty Images
The new Seattle Sounder is a lock for the team, but his position is still in question. He will most likely play behind Altidore, but he also has a lot of experience in the outside midfield.
Landon Donovan
I'm sure everyone was waiting for his name to come up. I'm listing him as an offensive midfielder because that is what he has historically played, but he will most likely play outside midfield during qualifying.
Forwards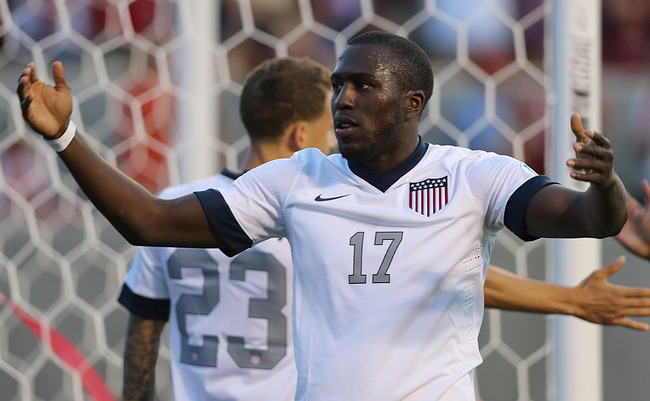 George Frey/Getty Images
Jozy Altidore
Jozy Altidore is a lock for every game the United States has for a long time after his four-goal streak. While many questioned whether he still deserved a chance on the team because of his goal drought, his time at AZ Alkmaar changed him.
He is the forward everyone has been waiting for.
Eddie Johnson
Eddie Johnson definitely won the backup forward spot over Chris Wondolowski and Herculez Gomez. I know there are a lot of Wondolowski supporters out there, but Johnson is far more athletic and versatile as a forward.
Ultimately, Johnson has the ability to play at the international level.
Aron Johannsson
This is the surprise pick of the entire list. Aron Johannsson just chose the United States over Iceland, so I expect Klinsmann to give him a chance to prove himself. He's a better option than Wondolowski or Gomez.
Conclusion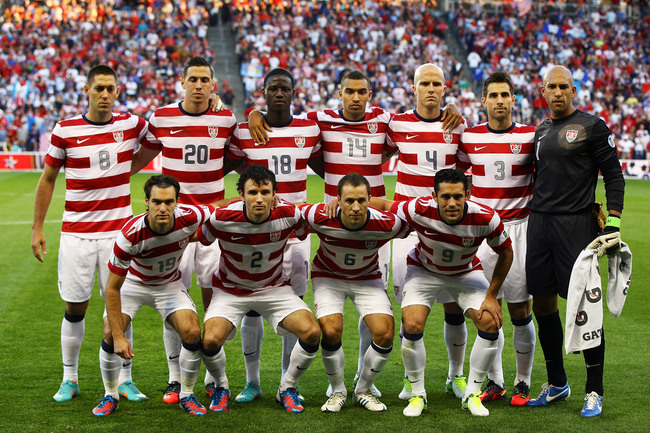 Jamie Squire/Getty Images
There is my predicted 23-man roster for the qualifiers in September, but obviously it is up for debate. Let me know who you think should be on the roster.
Follow me on twitter: @ J_Finkel
Keep Reading

United States (National Football): Like this team?