UFC 163: 6 Memorable Moments from Aldo vs. Korean Zombie Fight Card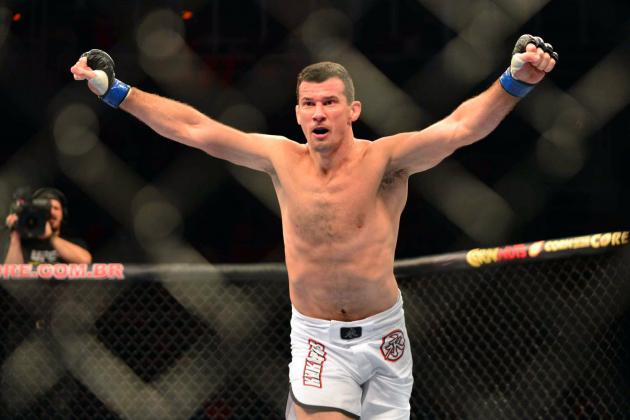 Jason da Silva-USA TODAY Sports
Anthony Perosh
UFC 163 offered a night of quality finishes, fights and some strange endings.
In the main event, Jose Aldo successfully defended the UFC Featherweight Championship against The Korean Zombie. He got the finish in the fourth round, but there will be more on that later in this slideshow.
Phil Davis took a contentious decision over Lyoto Machida in the co-main event to move up the light heavyweight ladder.
There was plenty of other action in the other 10 bouts. Rio de Janeiro was given another quality night of fights at the HSBC Arena. On paper, it wasn't the strongest card, but it had plenty of entertaining fighters to fill out the event. They came to fight and fought for our entertainment.
These are six memorable moments from Saturday night's card.
Begin Slideshow

»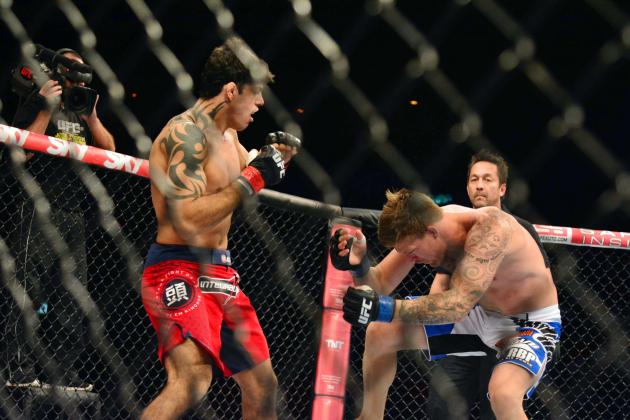 Jason da Silva-USA TODAY Sports

Viscardi Andrade is largely unknown to the majority of the UFC audience, but he put his name out there on Saturday.
Andrade dropped Bristol Marunde with a straight combination and pounced.
Referee Mario Yamasaki nearly had to sprawl as Marunde tried to take him down in his haze. That's how badly he was rocked by Andrade. The Brazilian kicked off the night in proper fashion.
What lies ahead for Andrade is uncertain. If he continues to make waves like this, he'll earn bigger and bigger fights.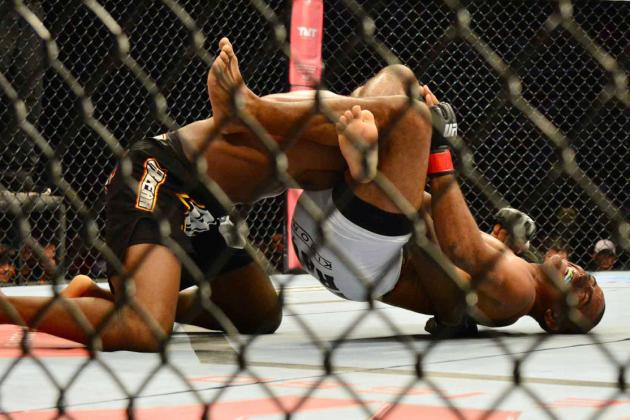 Jason da Silva-USA TODAY Sports

You could pick any one of four moments from the end of Sergio Moraes' fight versus Neil Magny, but I'll lump them all in together.
The transition to side control, the transition to mount, the triangle choke and the sweep. All brilliant.
Moraes is a jiu-jitsu standout and champion, so it's no surprise he dominated on the mat. He's on another level.
If you want to watch high-level jiu-jitsu in action in MMA, then you should track down this fight. It showcases just how good jiu-jitsu can be, and the fluid movement from Moraes was mesmerizing. Absolutely fantastic stuff.
Jason da Silva-USA TODAY Sports

Anthony Perosh's KO came out of nowhere.
Vinny Magalhaes came forward, and a big right slipped right down the pipe. Perosh followed up on the mat, and that was it for the fight.
Magalhaes was a heavy favorite for this bout, but it wasn't to be. Perosh was coming off a seven-second KO loss and won this in only 14 seconds. Astonishing.
There are not many words for this fight. It was only 14 seconds long for crying out loud. Props to Perosh.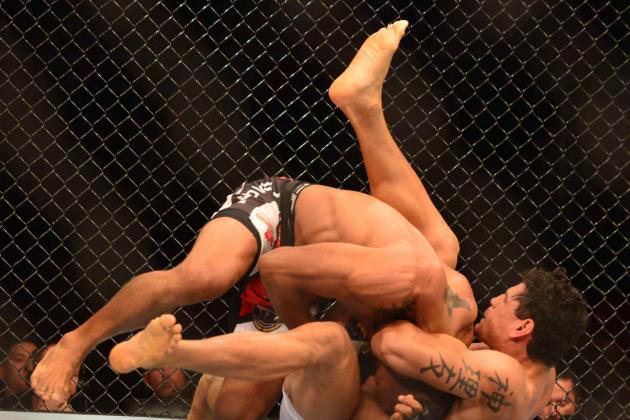 Jason da Silva-USA TODAY Sports

Cezar Ferreira made an impression at UFC 163 in just 47 seconds.
He hurt Thiago Santos and then locked up a guillotine. Just like that, it was all over.
Where does Santos go from here? It's hard to tell. He's still a work in progress, but he clearly has a lot of talent. He has good upside.
Santos simply didn't have time to work his game plan on Saturday. Ferreira was too quick, too powerful and too technical with his finish. A quality performance.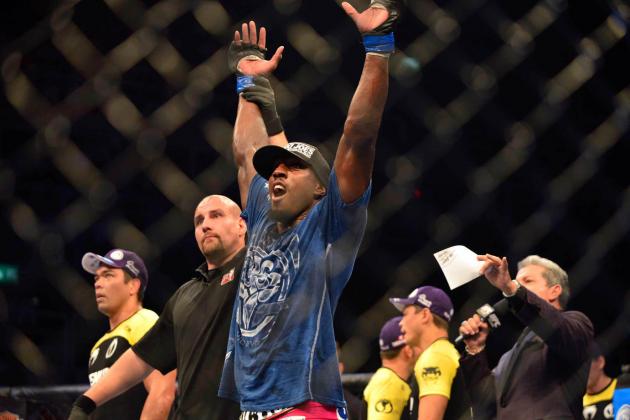 Jason da Silva-USA TODAY Sports

I scored the fight between Lyoto Machida and Phil Davis 30-27 for Machida. I didn't think it was even that close.
But I shouldn't be surprised. Judges in this sport are terrible.
Effective striking? Machida in all three rounds. Effective grappling? Even in the first two and all Machida in the third. Effective aggression and Octagon control? Machida in all three rounds.
All Davis did was land two late takedowns that had no consequence. Machida repeatedly tagged him on the feet time and again. I am flabbergasted at how the judges valued those two late takedowns. Is it the worst decision we've ever seen? No, but it was bad. Very bad.
What is a fighter to do?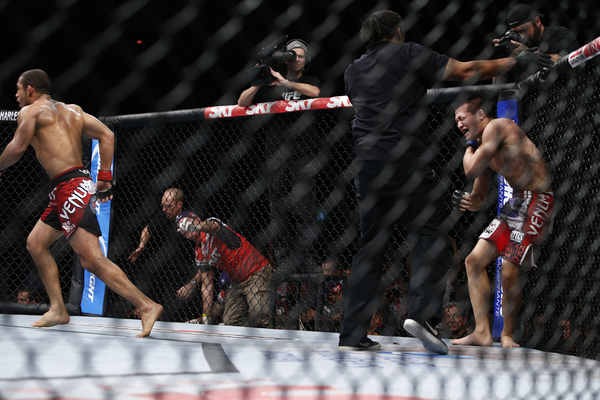 Photo Credit: Esther Lin/MMAFighting.com
In the fourth round, Chan Sung Jung—better known as The Korean Zombie—had his shoulder pop out of place.
He kept fighting. Nuts.
There was no injury timeout. Aldo saw it, pounced and finished. Still, credit to The Korean Zombie for trying to fight through the injury. He is a very tough fighter and has a lot of heart. There are not a lot of fighters who will do that.
Aldo picked up the win, but The Korean Zombie was game for this fight to the surprise of many, myself included. A lot of credit to the challenger on this night.