Tiger Woods didn't fire another nine-under 61 on Saturday, but his two-under 68 ensures he'll have a comfortable seven-shot lead heading into the final round on Sunday at the 2013 Bridgestone Invitational. The only drama left in the final round is the chase for second place and Woods' chances to break his 72-hole record of 259 at the tournament.
He needs a six-under 64 on Sunday to tie the mark.
Here's a look at the leaderboard after three rounds:
2013 Bridgestone Invitational Leaderboard After Round 3

| | | | | |
| --- | --- | --- | --- | --- |
| Position | Country | Player | Total | Round Score |
| 1 | USA | Tiger Woods | -15 | -2 |
| 2 | SWE | Henrik Stenson | -8 | -3 |
| 3 | USA | Jason Dufner | -7 | -3 |
| T4 | ENG | Luke Donald | -6 | -2 |
| T4 | USA | Bill Haas | -6 | -1 |
| T4 | ENG | Chris Wood | -6 | E |
| T7 | ESP | Miguel A. Jimenez | -5 | -5 |
| T7 | USA | Keegan Bradley | -5 | 1 |
| T9 | AUS | Adam Scott | -3 | -4 |
| T9 | USA | Zach Johnson | -3 | -2 |
PGATour.com
For three days, Woods has simply out-classed the field. His play should inspire a masculine remix to a recent Alicia Keys hit single called "Man on Fire."
Will Gray of the Golf Channel gets creative in an effort to find some competition for Woods in Akron, Ohio.
You know, if you squint your eyes until Woods' name disappears, this is a pretty tight leaderboard in Akron. Race is on for silver medal.

— Will Gray (@WillGrayGC) August 3, 2013
He'll be looking to continue the momentum he's established in the fourth round and on Thursday at the PGA Championship.
Tiger Roars out of the Gates, Coasts at the End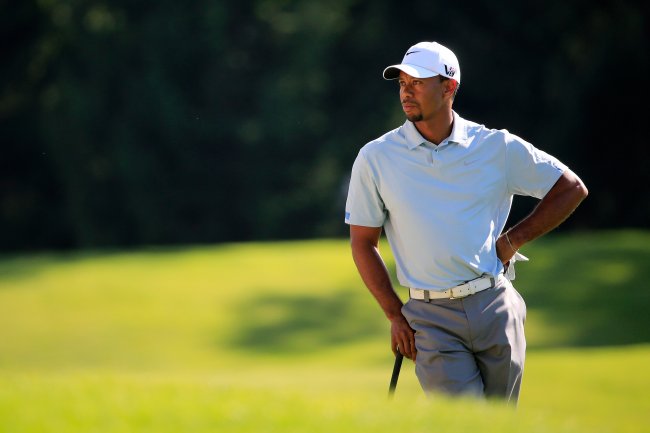 Sam Greenwood/Getty Images
From the first two holes, Woods served notice to any challenger with thoughts of sneaking into contention that the world's No. 1 player wasn't having it. Take a look at his birdie on the first hole here:
Woods birdied the first two holes and that allowed him to near a high water mark in his illustrious career. Bob Harig of ESPN gives us the stats:
Per stats guru @JRayESPNGolf: Tiger starts birdie-birdie -15. most under par he's ever been on tour after 54 holes is -20 (2000 Disney).

— Bob Harig (@BobHarig) August 3, 2013
Talk of an injured elbow appears to be a thing of the past. Here, CBS Sports Eye on Golf shows Woods blasting a shot out of the rough like Miguel Cabrera lining a low fastball into the left-field seats.
Tiger's elbow seems to be OK. https://t.co/lSaE0pj5my

— Eye on Golf (@EyeOnGolf) August 3, 2013
Every day there is seemingly another Woods shot that makes us say: "See, this guy is amazing." On Saturday, it was this 39-foot chip shot on the 13th hole.
The Race to Play Second Fiddle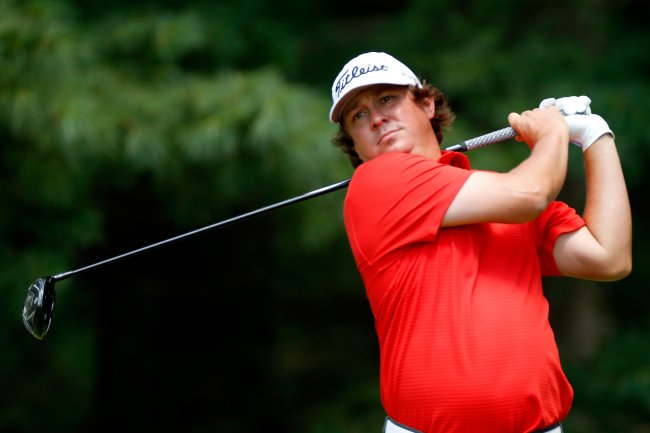 Gregory Shamus/Getty Images
Jason Dufner rode four straight birdies to begin the day en route to a three-under 67. While it has probably been said countless times over the last two days, I'll say it again: It has to be a letdown to play so well only to have Woods' brilliance best you by eight shots through 54 holes.
Take a look at one of Dufner's seven birdies on Saturday.
Henrik Stenson also shot a three-under 67 to move one shot ahead of Dufner for second place on the leaderboard. Stenson's consistency has been excellent thus far. He was mortal on Friday with an even-par 70, and that's the reason he's still seven shots behind Woods.
If he had three under-par days, he'd have an outside shot to win...maybe not.
Laying the Foundation for Rochester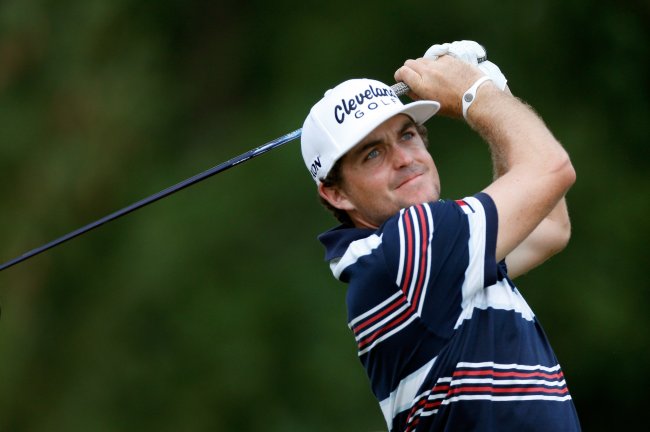 Gregory Shamus/Getty Images
With the tournament winner likely decided, a good number of the players in the field are probably working on their game in preparation for the PGA Championship in Rochester, N.Y. next week.
Keegan Bradley won the tournament in 2011 and he's at six-under par through three rounds in Akron. Here he drains an eagle on the second hole.
How many shots will Woods win by?
Despite only managing an even-par 70 on Saturday, Bradley has shown himself to be a strong competitor late in the golf season. With a title at Bridgestone in 2012 and the aforementioned triumph at the PGA Championship under his belt, the 27-year-old can't be ignored.
Most of the eyes will be on Woods tomorrow and next week in the year's final major, but Bradley could be a sleeper.
Follow me for sports news, results and spirited opinions.