Although Major League Baseball's non-waiver trade deadline has come and gone, there's no shortage of rumors surrounding America's past time.
During the final two months of a normal MLB season, rumors about waiver trades, injury updates and lineup adjustments run rampant.
This season, we also have rumors about the threat of major suspensions for some of the league's biggest stars. The Biogenesis scandal has rocked the game since Tim Elfrink of the Miami New Times broke ground with the story in late January.
How many games should Alex Rodriguez be suspended for?
Bud Selig and MLB officials have already announced a lengthy suspension for Milwaukee Brewers outfielder Ryan Braun. Nelson Cruz (Texas Rangers), Melky Cabrera (Toronto Blue Jays), Bartolo Colon (Oakland Athletics) and Jhonny Peralta (Detroit Tigers) were also implicated in Elfrink's report.
Without question, New York Yankees third baseman Alex Rodriguez was the biggest name connected to baseball's latest performance-enhancing drug scandal.
In our latest batch of MLB rumors, we'll discuss A-Rod, Lance Berkman and a few other notes on minor player movement.
Latest on A-Rod Suspension
MLB isn't happy with A-Rod. A-Rod isn't happy with MLB. According to the New York Daily News' Twitter account, it's looking like the player should have been a bit more gracious with his approach to a possible suspension:
MLB done talking with A-Rod, who faces minimum 214-game ban following latest outburst | http://t.co/PI9Fa28x0u

— NY Daily News Sports (@NYDNsports) August 3, 2013
Bill Madden, Michael O'Keeffe and Teri Thompson all worked on the latest Daily News report concerning the 38-year-old player, and they don't paint a picture of A-Rod returning to Joe Girardi's lineup in 2013.
Or 2014.
Or, depending on the numbers, 2015.
Per the report, MLB has rejected Rodriguez's request to negotiate a suspension settlement. An announcement of A-Rod's suspension is expected to come on Monday, and he faces a 214-game ban from baseball's hierarchy.
Here's an excerpt from the story, explaining why the ban could be so lengthy:
MLB investigators have gathered what they believe is voluminous evidence proving that Rodriguez violated the game's collectively bargained drug agreement in 2010, 2011 and 2012 by obtaining performance enhancing drugs from Anthony Bosch and his Biogenesis anti-aging clinic.

[He] also violated the "just cause" provision (rule 7 G.2) of the collective bargaining agreement by obstructing commissioner Bud Selig's investigation and for lying to MLB officials about performance-enhancing drug use. Rodriguez will be suspended under both provisions, according to the source.
A-Rod hit a home run for Double-A Trenton on Friday night, and ESPN's Ian Begley reported on Saturday that he and the Yankees were working on a "tentative" plan to return the three-time American League MVP to the Bronx on Monday.

That plan could be for naught if MLB decides to drop the hammer the same day.
Lance Berkman Targeting Return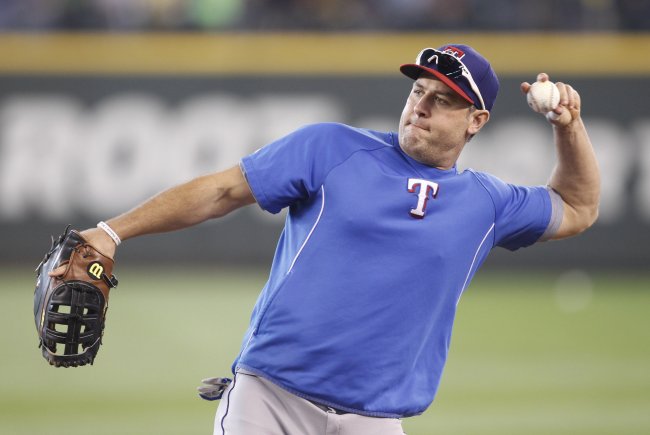 Joe Nicholson-USA TODAY Sports
The Rangers have struggled to score runs since the All-Star break, but help could be on the way.
Berkman, who was put on the disabled list on July 7, is reportedly targeting a return to the lineup around mid-August. Fox Sports' Anthony Andro had this tweet concerning Berkman's intentions:
Rangers Lance Berkman feels optimistic. Ran at 50% today. His goal is rehab assignment around Aug. 8-9. "I'm coming back."

— Anthony Andro (@aandro) August 1, 2013
There had been talk that the 37-year-old would hang up his cleats in favor of coming off the DL, but he squashed those rumors on Thursday. As reported by Evan Grant of The Dallas Morning News, Berkman has recognized that the Rangers need another strong bat in the lineup with the playoffs in sight.
"I've made up my mind to try and play," said Berkman. "This team needs a bat and I'm gonna do my dangdest to make that happen."
The switch-hitter was batting .254 with six home runs and 34 RBI before he went on the shelf. The Rangers were shut out four times in their first 10 games after the All-Star break, but the lineup has shown signs of life since then, putting up seven runs or more in three of their last four games.
Although they are trending in the right direction, a healthy Berkman would give the Rangers one more threat that Ron Washington desperately needs in the batting order.
Other Notes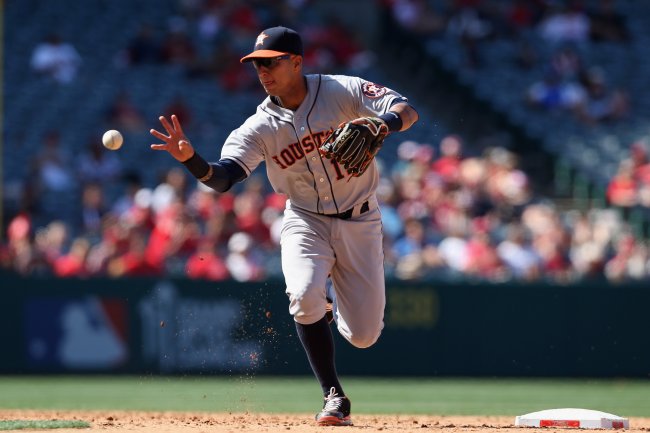 Jeff Gross/Getty Images
In other news, Mark Gonzales of the Chicago Tribune is reporting that the Chicago White Sox are cutting outfielder Dewayne Wise's second stint with the club short:
Sox have requested waivers on OF Dewayne Wise for the purpose of granting his unconditional release.

— Mark Gonzales (@MDGonzales) August 3, 2013
Wise, who hit .234 in 30 games for the Sox this year, also played for Chicago in 2008 and 2009. He was released by the Yankees in late 2012 and decided to return to the White Sox to close out last season's campaign. Wise signed a one-year contract to return to the team this offseason.
Scott Merkin of MLB.com added this tidbit on Wise on Twitter:
Dewayne Wise granted unconditional release. Wise, 35, has been on DL since June 2

— Scott Merkin (@scottmerkin) August 3, 2013
Although his time with the club has apparently come to an end, Wise will certainly be remembered for his home run-saving catch in the ninth inning during Mark Buehrle's 2009 perfect game.
In other player news, the San Diego Padres have reportedly signed a new shortstop.
MLB.com's Corey Brock reported on Saturday that Ronny Cedeno had signed a minor league deal with San Diego:
Interesting. The #Padres have signed SS Ronny Cedeno to a Minor League deal. Scheduled to start tonight for @Storm_Baseball.

— Corey Brock (@FollowThePadres) August 3, 2013
A career .245 hitter in 830 games, Cedeno played in 51 contests for the Houston Astros this season. If he finds his way to the big leagues with the Padres, they would be his sixth professional franchise.
Follow B/R's Ethan Grant (@DowntownEG) on Twitter.