The 10 Streakiest Players in the NHL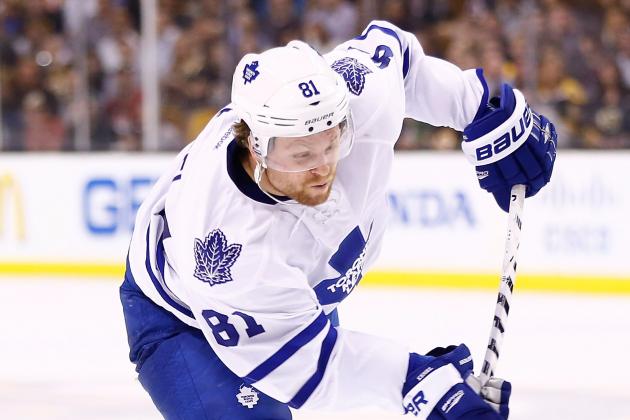 Jared Wickerham/Getty Images

The old cliche is that most great goal scorers tend to be streaky. Now, we are going to look at the top 10 streakiest players in the NHL today.
Keep in mind that streaky is not necessarily bad. While most coaches prefer that their players be more consistent, the fact is that some great players are streaky although their hot streaks far outnumber the times they are ice cold.
Still, the players on the list do tend to run hot and cold or get their goals or points in bunches.
Feel free to comment on the list and mention any players you feel I may have missed. Just indicate why you feel your choice belongs in the top 10.
Begin Slideshow

»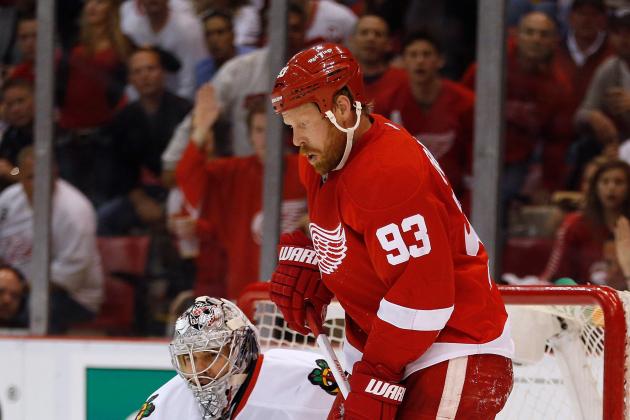 Gregory Shamus/Getty Images
"The Mule" can run hot and cold.
Detroit's Johan Franzen had a disappointing year last season and was very streaky in the process.
In April, he was red hot, scoring seven goals and 13 points in 13 games. Included in that are a pair of three-game goal scoring streaks and a four-game point streak.
But Franzen also had a nine-game slump which saw him score only one point, a goal.
In the playoffs, Franzen again slumped, scoring just one goal and two assists in the final nine postseason games. He was held off the scoreboard completely in the final three games against the Blackhawks, all of which the Wings lost.
Franzen wasn't very streaky before last season. If he can return to his former consistency, his statistics should improve to prior levels in 2013-14.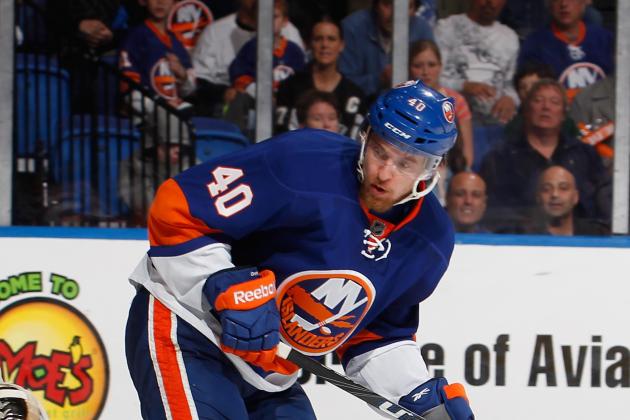 Paul Bereswill/Getty Images
Speedy Michael Grabner tends to score in bunches.
Like many goal scorers, Michael Grabner of the Islanders is very streaky.
Grabner's best season was 2010-11, when he scored 34 goals and was a Calder Trophy finalist.
During that season, he had goal scoring streaks of six, four and three games. During the six-game streak, Grabner scored 10 goals and added three assists.
While he was hot at times, Grabner also had slumps where he had plenty of scoring chances but couldn't convert on any of them. During the 34-goal season, he went eight, seven, six and five games without scoring at various times during the season.
The following season, Grabner again endured long droughts, including a 13-game stretch which saw him fail to score a goal.
A speedy winger like Grabner gets plenty of great scoring chances, but he is very streaky about converting them.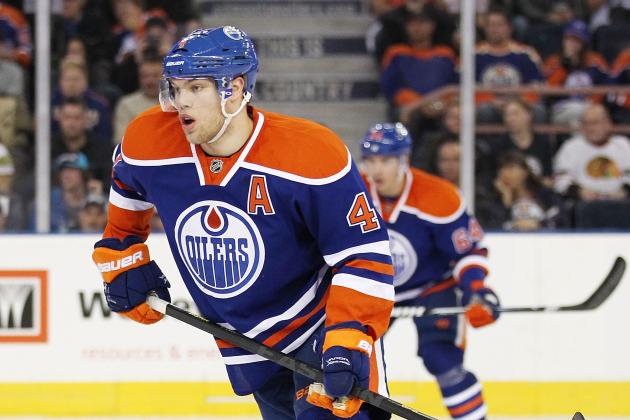 Perry Nelson/Getty Images
Taylor Hall often goes on scoring streaks.
Many young players tend to be streaky, and Edmonton's Taylor Hall was no exception.
Hall was very productive last season, but he tended to score in spurts. For example, he opened the season by accumulating at least a point in his first seven games.
Hall went on a four-game scoring streak from March 10 to 17, scoring two goals and seven points.
Later that month, Hall started a six-game scoring streak which included a three-point game, a hat trick and a five-point game that included a goal and four assists.
He followed that streak up with a five-game drought that saw him fail to register any points at all.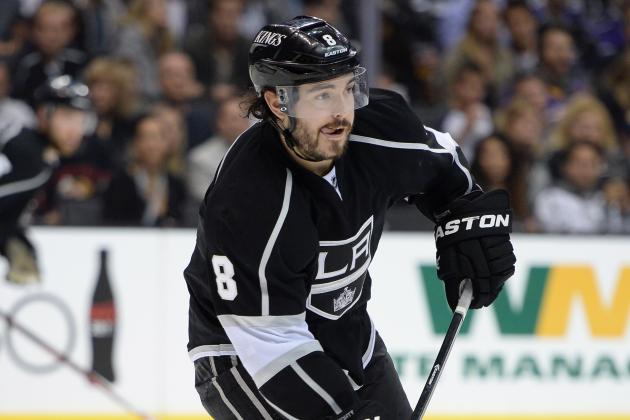 Harry How/Getty Images
Drew Doughty's production ebbs and flows.
Few players were as streaky as Drew Doughty during the 2011-12 season.
During the regular season, Doughty wasn't very productive offensively. He had an eight-game drought that saw him score just one point. He had another 14-game slump that saw him accumulate just one assist.
Then, in the playoffs, the talented young defenseman caught fire. He scored four goals and 16 points in just 20 points and was a plus-11. Included in that playoff run was a four-game and a five-game point-scoring streak.
Doughty didn't revert to his pre-playoff level last season, but he wasn't as productive as he was during that incredible postseason streak either.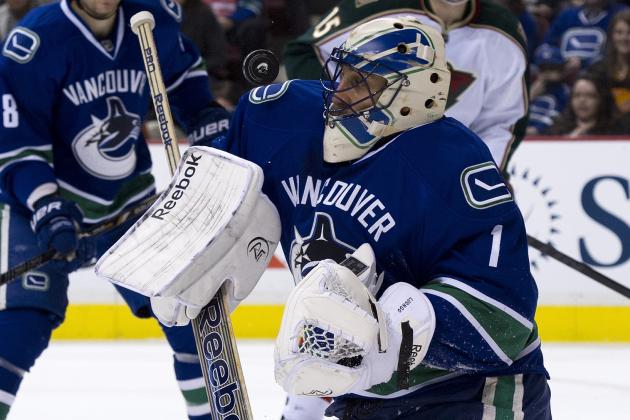 Rich Lam/Getty Images
When he's good, Roberto Luongo is very good, but when he's bad...
Vancouver goalie Roberto Luongo is like the proverbial "girl with the curl." When "Bobby Loo" is good, he's very good, but when he's bad...
In his last season as a starter (2011-12), Luongo had several streaks, the best being a 7-0-1 run from December 4 to 21. He also had a 7-0-3 run from January 18 to February 21.
The year before that, Luongo had several longer streaks where he did not lose in regulation, including an 8-0-1 spurt.
While Luongo is capable of long stretches of excellence, he also has famously come up short in several clutch situations.
"Bobby Loo" has been among the league's best goaltenders over the course of his career, but he has always been a bit streaky.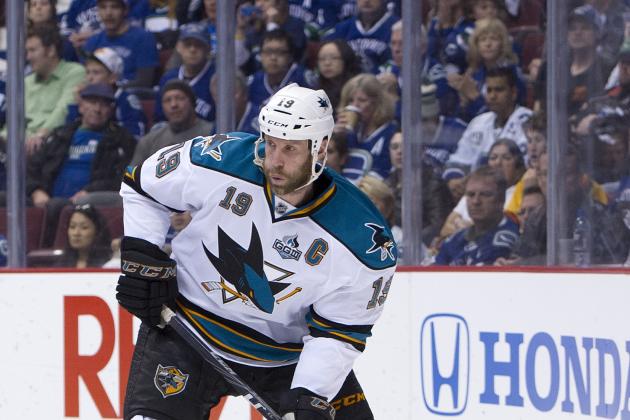 Rich Lam/Getty Images
Joe Thornton's slumps have often come in the playoffs.
San Jose's Joe Thornton is still a very good player, even if he is no longer dominant.
However, Thornton has become a very streaky player in recent years as well.
"Jumbo Joe" started last season on fire, registering at least a point in the Sharks' first six games. He picked up only one assist in the next seven games and then followed that up with a six-game point-scoring streak.
The previous season, Thornton had point streaks of six, five and five games.
Thornton remains a productive setup man, but his offensive production is now streakier than ever.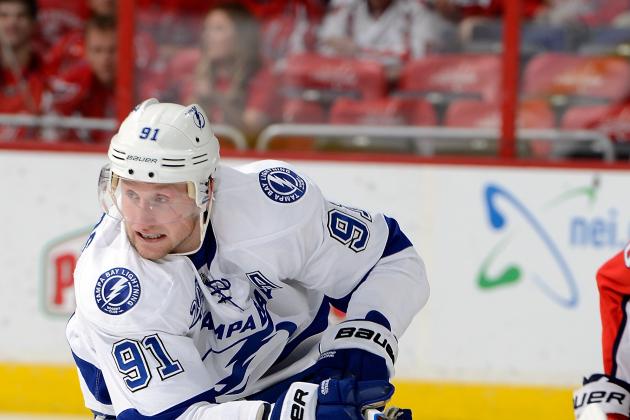 Greg Fiume/Getty Images
Stamkos has been streaky but is hot more often than almost any other player.
Steven Stamkos is one of the deadliest snipers in the game today, but he is also a very streaky goal scorer.
In last year's 48-game season, Stamkos put together point streaks of eight and 10 games and goal-scoring streaks of six games, five games and two incidences of scoring in three consecutive games.
In 2011-12, Stamkos scored 60 goals to lead the league. During that season, he had four instances where he scored in four straight games.
Stamkos is dangerous, but like most great goal scorers, he tends to score in bunches.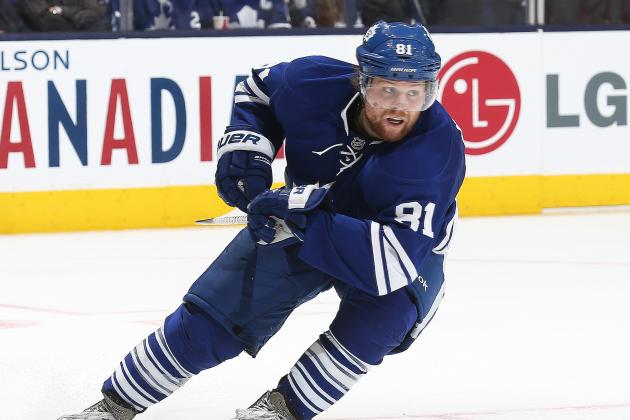 Claus Andersen/Getty Images
Phil Kessel helps the Leafs when he's on a hot streak.
Phil Kessel scored 20 goals last season for the Maple Leafs, but he was one of the league's streakier players.
Kessel failed to score a goal in the first 10 games of the season. However, he later had a six-game point-scoring streak and scored six goals and 14 points during a nine-game spurt.
In the last 11 games of the season, Kessel scored 10 goals and 18 points. The streak included a pair of five-game point-scoring streaks and four straight games in which he scored a goal.
Kessel is a dangerous goal scorer, but he tends to score in bunches.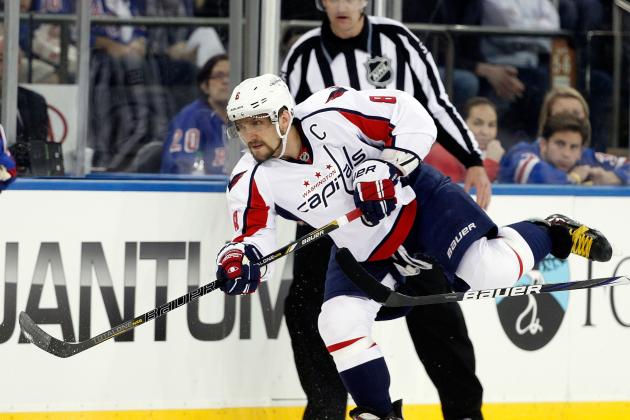 Paul Bereswill/Getty Images
Alex Ovechkin started last season ice cold but finished it on fire.
Alex Ovechkin won the Rocket Richard Trophy last season, but he was extremely streaky over the course of the lockout-shortened season.
In the first 10 games of the season, "The Great Eight" scored just two goals.
But Ovechkin finished strong. In the final 23 games of the season, the Russian sniper scored 22 goals and 35 points.
His final totals for the season were 32 goals and 56 points in 48 games.
In the playoffs, Ovechkin disappeared again. He failed to register a point in the final five games of the Capitals' opening-round loss to the Rangers. Washington was shut out in the final two games of the series.
Ovechkin is unquestionably one of the best players in the game today, but he is also very streaky.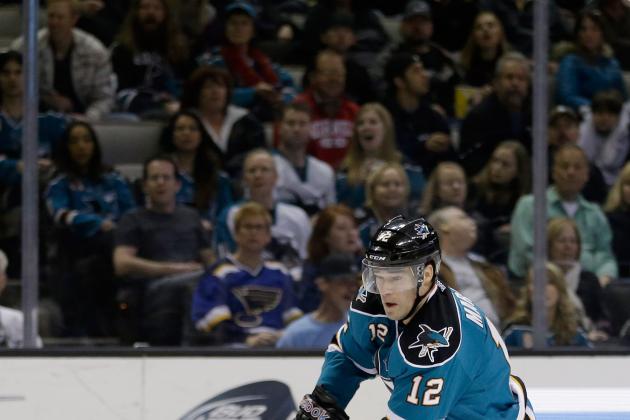 Ezra Shaw/Getty Images
When he's hot, Marleau helps the Sharks go.
Patrick Marleau started the past season on fire. The Sharks star scored goals in the first five games of the season. He scored two goals in each of he first four contests.
Marleau also had droughts of four, five and six games during last season and an additional point-scoring streak of five games.
Marleau's streaks continued in the playoffs. He scored a goal in each of the first-round playoff games against Vancouver and then closed out the playoffs without scoring a point in the last four games.
Although he has always been a very productive player, Marleau tends to run hot and cold.