Tiger Woods didn't quite match his career-best 61 from Friday, but the world's top-ranked golfer played well enough in Round 3 to keep himself in commanding position at the 2013 Bridgestone Invitational.
Woods carded a two-under score of 68, coming back to earth a bit on a day where course conditions did not allow for many highlights. Nevertheless, he still holds a seven-stroke lead on second-place Henrik Stenson and stands eight strokes ahead of Jason Dufner, who rounds out the top three.
Here is a look at Woods' scorecard for the day:
Tiger Woods Scorecard - Day 3

| | | | | | | | | | | | |
| --- | --- | --- | --- | --- | --- | --- | --- | --- | --- | --- | --- |
| Hole | 1 | 2 | 3 | 4 | 5 | 6 | 7 | 8 | 9 | OUT | |
| Par | 4 | 5 | 4 | 4 | 3 | 4 | 3 | 4 | 4 | 35 | |
| Score | 3 | 4 | 4 | 4 | 3 | 4 | 3 | 4 | 5 | 34 | |
| | | | | | | | | | | | |
| Hole | 10 | 11 | 12 | 13 | 14 | 15 | 16 | 17 | 18 | In | TOT |
| Par | 4 | 4 | 3 | 4 | 4 | 3 | 5 | 4 | 4 | 35 | 70 |
| Score | 3 | 4 | 3 | 3 | 5 | 3 | 6 | 3 | 4 | 34 | 68 |
PGATour.com
The 37-year-old American will be looking for his 18th World Golf Championship victory Sunday, which would be six times greater than anyone else on the all-time list, per ESPN's Justin Ray:
A win tomorrow would be Tiger Woods' 18th career WGC victory. Nobody else has more than 3.

— Justin Ray (@JRayESPNGolf) August 3, 2013
Starting the third round in the afternoon's final group with Keegan Bradley and Chris Wood, Tiger came out just as brilliant as he left the course Friday. He smacked a 2-iron right into the center of the fairway off the first tee, leading to a solid approach and his third birdie on No. 1 in as many days after knocking down a solid putt.
The second hole wasn't as favorable to Woods, as it was a day prior where he eagled, but he still didn't have any trouble converting his second straight birdie on the day. He buried a nice two-putt to finish off the hole. Two holes down, two under par.
After that two-hole display, ESPN's Ray wondered whether Woods would match or even beat his career-best 54-hole score:
Tiger Woods starts birdie-birdie to get to -15. The most shots under par Woods has been after 54 holes on @PGATOUR is -20 (2000 Disney).

— Justin Ray (@JRayESPNGolf) August 3, 2013
Jason Sobel of Golf Channel, meanwhile, started grading Tiger's week at the Bridgestone Invitational on football's scoring scale:
Sneaky. Tiger fakes the PAT. Now has 15 on the board.

— Jason Sobel (@JasonSobelGC) August 3, 2013
Unfortunately for fans looking for history, it became quite clear he wasn't quite at the level he was Friday. A frustrating approach on No. 3 left Tiger in a position hoping for par, and, again, his short stick came up clutch. He knocked down a putt from eight feet out, preserving his two-under score for the day while also foreshadowing what was to come.
Gregory Shamus/Getty Images
He then smacked a drive into the thicket of the woods on No. 4, needing some beautiful work with his irons and putter to save par. The next six holes would go by rather mildly, with Woods carding only even-par scores. Interspersed in those holes were errant drives, putts that missed just by inches and some solid scrambles to keep scores level.
While not as spectacular as his run Friday, Woods' ability to avoid a blemish was almost as impressive. Golf Channel's Tiger Woods tracker noted that he said that par saves were sometimes more important than birdies a day prior:
Just what TW said yesterday. RT @RJtheBear These par saves are more important than birdies sometimes

— GC Tiger Tracker (@GCTigerTracker) August 3, 2013
What's more, ESPN's Trey Wingo gave us all a math lesson on how to be good at golf (Hint: It involves a lot of low scores.):
How do you get to 15 under at Firestone? a ton of birdies and no bogeys. Tiger's last bogey was his 7th hole on Thursday #cruising

— trey wingo (@wingoz) August 3, 2013
Included in Woods' run of pars, though, was one of the most astonishing shots of the entire weekend. An errant drive on the eighth hole left him buried in the rough, with trees barricading his vision to the hole.
Surveying the wreckage, Tiger took what can only be described as a "Mickelsonian chance." He loaded up his back legs, torquing his body violently and sending a 60-yard cut right to put him in position for a par save.
Eventually, though, the golf gods lashed back against Tiger's errant tee shots. After knocking his first into the fairway bunker on No. 9, he was unable to recover for another sand save. Tiger carded his first bogey since Thursday, a score that brought him back all the way to 14-under for the tournament.
Could Woods be having his latest bout with weekend-round blues? Of course not.
Tiger promptly got back into the fairway, getting right back on the birdie train on No. 10 to go back to 15-under. It was his third consecutive day with an under-par score at No. 10. Two relatively uneventful pars followed, though Tiger will likely feel like he left one on the course after missing a putt on No. 12.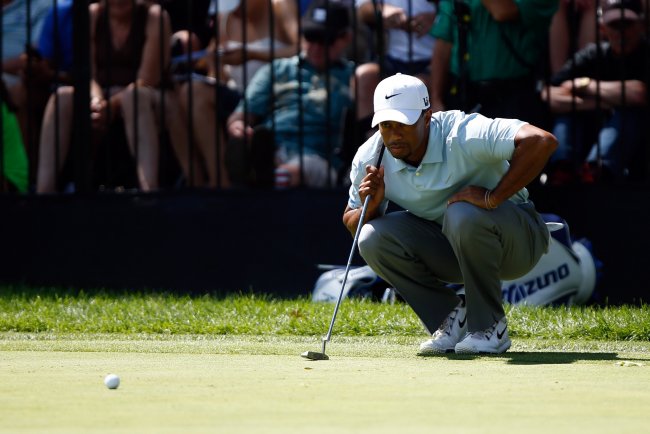 Debby Wong-USA TODAY Sports
Mistakes left Woods with a difficult up-and-down the following hole as well. His approach went flying into the rough on the par-four 13th, leaving a tricky pitch over the ridge where speed was the absolute key. And, much like he has throughout the week, Woods hit it perfectly. The ball landed with a soft touch and right into the clown's mouth to bring him to 16-under for the event.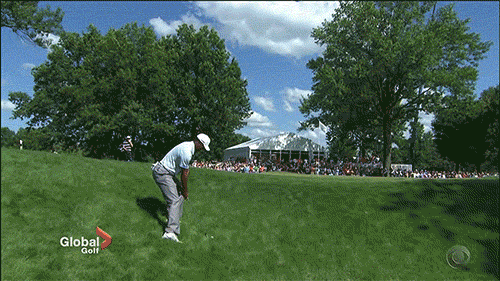 The birdie put Woods eight strokes ahead of Dufner at that juncture. The shot even had the PGA Tour's official Twitter feed commenting on how well things are going for Tiger this week:
Faced with a difficult, downhill pitch at 13, Tiger jars it for birdie. -16. Why not? #PGATOUR

— PGA TOUR (@PGATOUR) August 3, 2013
While Tiger found himself basking in that little moment, the next hole had him gritting his teeth in frustration again. He sprayed both his tee shot and first two approaches before getting lucky with another pitch on the 14th to save bogey. That hole was, perhaps, the sloppiest Woods has played all week, setting up for a slightly disconcerting finish to the round.
Woods' shot on the par-three 15th left him a lengthy birdie putt, one that he missed to tap in for par. The par-five 16th, a hole he bogeyed Thursday, again proved frustrating as his wayward tee shot went sailing into the fairway bunker and a follow-up approach sent him way right into the rough. He laid up from that spot, setting up his first string of two bogeys in three holes of the entire tournament.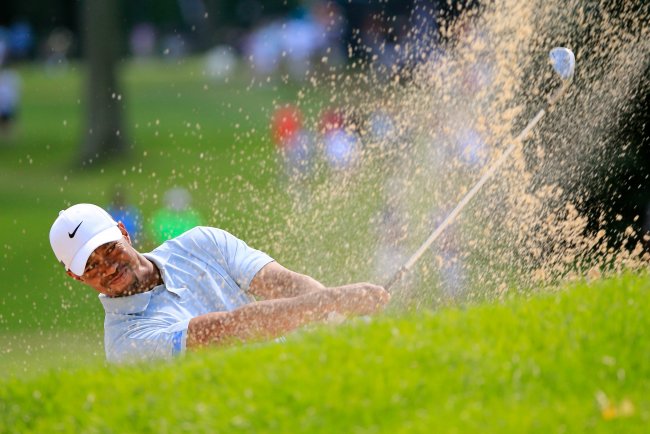 Sam Greenwood/Getty Images
But Woods recovered—much like has the entire tournament— at No. 17, getting back to his magic number of 15-under. He then finished his round with a par on the day's final hole, which included a nice punch shot to the front green.
Despite the relatively unspectacular outing—Herculean shots notwithstanding—Tiger should coast to victory Sunday. Yahoo! Sports' Shane Bacon suggested Woods' lead is so large he should play left-handed for the entire round—and that he'd still come out on top:
Ratings idea for Bridgestone Sunday - Tiger has to play the odd holes left-handed. #stillwinsby4

— Shane Bacon (@shanebacon) August 3, 2013
With next week's PGA Championship looming in the offing, this unrelenting dominance has to be good for Tiger's psyche. His five-year majors drought has to be looming in the back of his mind every time he steps to the tee box at one of golf's premier tournaments, especially after he saw Phil Mickelson roar from behind last month at Muirfield.
But that's next week's problem. For now, Tiger Woods is back on top of the golf world. Let's just see if he'll be able to stay there Sunday.
Follow Tyler Conway on Twitter: