UFC 163 Results: The Real Winners and Losers from Aldo vs. the Korean Zombie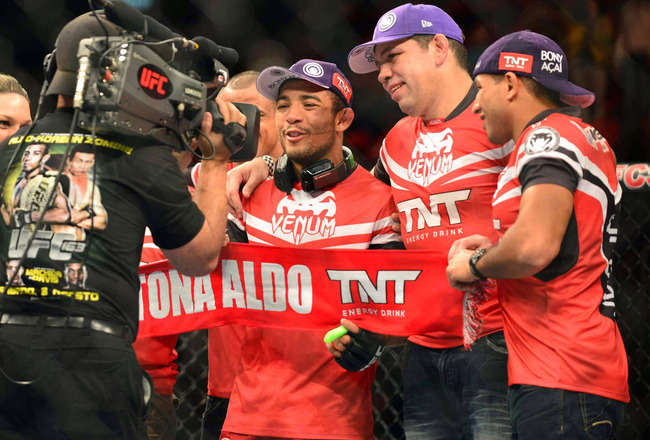 Featherweight champion Jose Aldo defended his belt at UFC 163.
Jason da Silva-USA TODAY Sports
Injuries are the crooked tax collectors of MMA. They sure do take their share, don't they?
UFC 163 slouched into Rio de Janeiro, Brazil, Saturday night with a pocket full of holes, courtesy of that remorseless absolutist. Strewn somewhere back along the roadside was the shiny promise of a featherweight superfight between Anthony Pettis and Jose Aldo, a tantalizing welterweight bout pitting Josh Koscheck against Demian Maia and several other interesting fights and fighters, all cut down by some injury or another.
As such, interest remained at a low simmer in the run up to UFC 163. And yet, because MMA might enjoy the highest rate of anything-can-happenness on the modern sports landscape, for many, the card remained appointment television.
That's especially true whenever someone like Aldo, the UFC featherweight champ and pan-divisional top-fiver, is involved. The 26-year-old with the 15-fight winning streak was in his home country to defend his belt for the fifth time and would do so against the electrifying Chan Sung Jung, familiar to many fans (and billed on the official event) as "The Korean Zombie."
That was the undisputed main attraction, but lightning (or a highlight-reel head kick) can strike anywhere. Did it strike at UFC 163? Was the injury beast still hungry? The final stat lines only tell part of the story. Here to help you round things out is a list of the real winners and losers from Rio de Janeiro. (And yes, we'll list the official results at the end.)
Winner: Ian McCall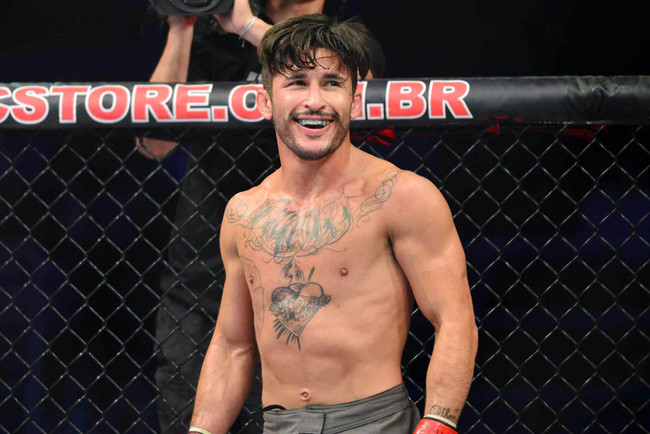 Flyweight Ian McCall got his first UFC win at UFC 163.
Jason da Silva-USA TODAY Sports
Back at the beginning of 2012, Ian McCall barreled into the UFC with a four-win streak against a who's who of MMA flyweights—not to mention a memorable nickname and that well-waxed handlebar.
But the fiery brand that was "Uncle Creepy" splashed down in a pretty chilly water trough with a draw and then a loss to eventual champ Demetrious Johnson, followed by a defeat to Joseph Benavidez.
With his career in question and his personal life in turmoil, McCall needed to beat Iliarde Santos Saturday night. Bad. McCall certainly knew that, and he answered the bell for himself, using great footwork, punch combinations and 15 full minutes of focus and cardio to net his first UFC win.
McCall isn't perfect. But he's a charismatic character and, when he's fully dialed in, a good fighter. Here's to new beginnings.
Winner: Sergio Moraes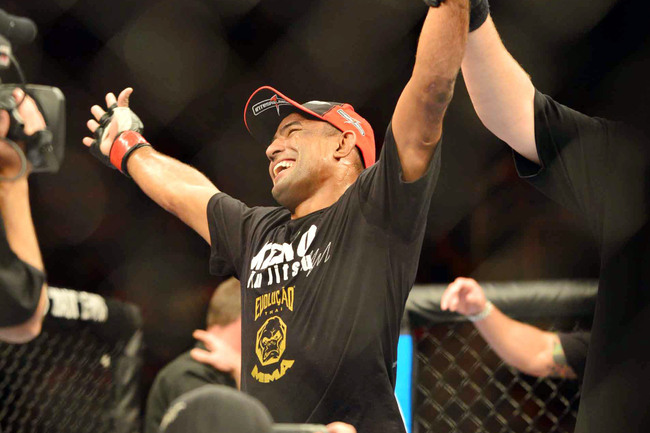 Sergio Moraes celebrates his submission win at UFC 163.
Jason da Silva-USA TODAY Sports
Sergio Moraes was like a video game character in the cage Saturday night. He showed serious horizontal hang time when he almost literally bounced out of side control and into full mount. Then he locked on a triangle from the mount and squeezed for the finish. That's a solid sequence.
The former The Ultimate Fighter: Brazil contestant and world jiu-jitsu champion may have established himself as one of the best grappling artists at 170 pounds.
Loser: Sheila Gaff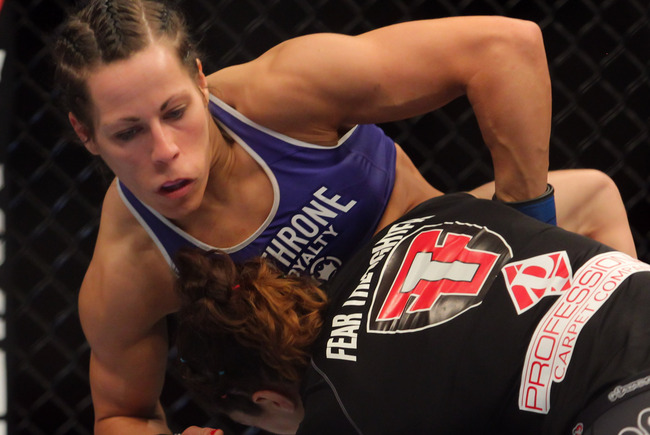 Sheila Gaff lost her second UFC fight via brutal first-round TKO.
Brad Penner-USA TODAY Sports
Sheila Gaff is known for her crazy dervish style. She is also known for not knowing how to wrestle.
After Amanda Nunes took Gaff down and visited a rain of ball-peen elbows on her orbital bone, Gaff will also be known as the first woman to fall to 0-2 in the UFC.
I know, I know...when are we going to stop it with the "first woman to do this or that in the UFC" thing. Well, probably when every fight stops creating new firsts. Gaff is a talented enough bantamweight, I suppose, but as of now she's the least successful, at least in the UFC.
Loser: Vinny Magalhaes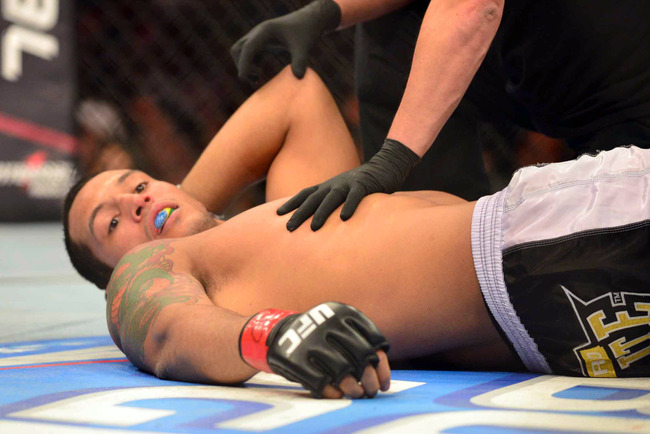 Vinny Magalhaes' night ended in a loss for the second straight fight.
Jason da Silva-USA TODAY Sports
The insouciant old-guy jokes were coming fast and furious on Twitter. Fourteen seconds later, the mood had shifted a little.
In the fight's opening seconds, Vinny Magalhaes charged in for a striking exchange, and, in so doing, plowed directly into Anthony Perosh's well-positioned right hand. Perosh was able to form a fist in time to capitalize, and about 11 unabated ground strikes to the jaw later, the 41-year-old "Hippo" had the biggest win of his MMA career.
Great for the Australian; a major derailment for the Brazilian. Not six months ago, Magalhaes had won his way back to the UFC with a run to the M-1 light heavyweight title, then took a beautiful submission win in his Octagon return bout. He was in the midst of a long-running, high-profile media feud with Phil Davis. Now, he is a loser of two straight and probably faces a must-win situation in his next UFC bout.
Winner: Brian Stann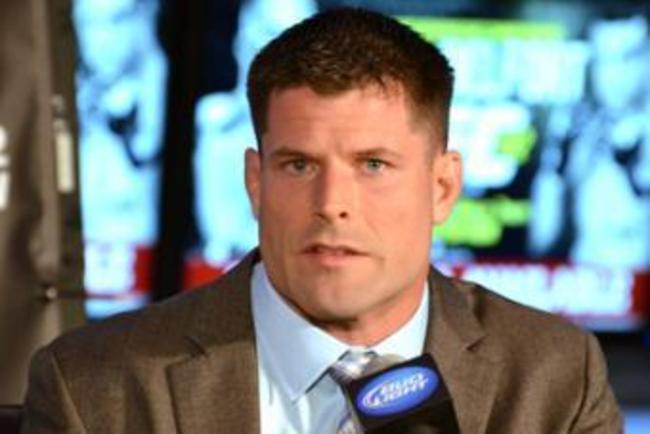 Brian Stann handled commentary at UFC 163. (Photo credit: MMAJunkie.com)

There hasn't been a great deal of variety in the UFC broadcast booth. But in taking over the color commentary duties for an absent Joe Rogan, Brian Stann showed that variety is nothing to be afraid of. Far from it.
Stann, who recently retired from the UFC in part to pursue a career behind the mic, was smooth, poised, clear and prepared. He even demonstrated solid knowledge during grappling exchanges. Nothing in his fight career suggested he could do that!
But in all seriousness, here's hoping Rogan' great as he is at what he does, feels more comfortable taking a few more events off now and then.
Losers: John Lineker and Jose Maria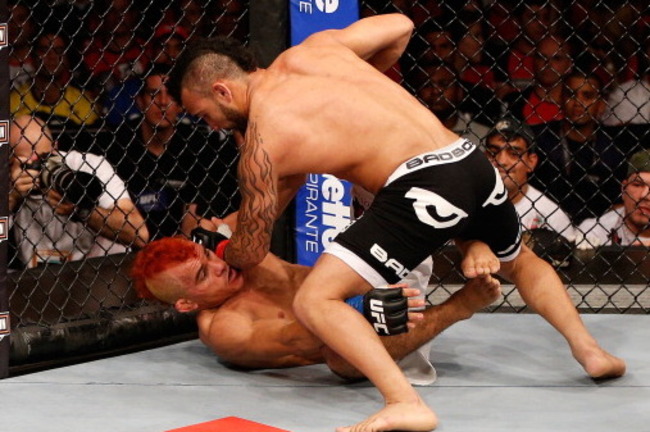 John Lineker (top) finishes Jose Maria at UFC 163.
Jason da Silva-USA TODAY Sports
John Lineker notched the second-round TKO win, but it came in the immediate wake of what appeared to be a freak leg or foot injury to Jose Maria. It's a shame, as Maria, taking the fight on short notice, probably won a first round that was just beginning to boil as the horn sounded.
The second was picking up where the first left off, and the contest seemed on its way to having Fight of the Night potential when the injury struck. It was an unfortunate ending for two exciting fighters who were just hitting their stride and were clearly there to scrap.
Here's hoping they both (especially Maria) get another shot as soon as they're willing and able.
Winner: Thales Leites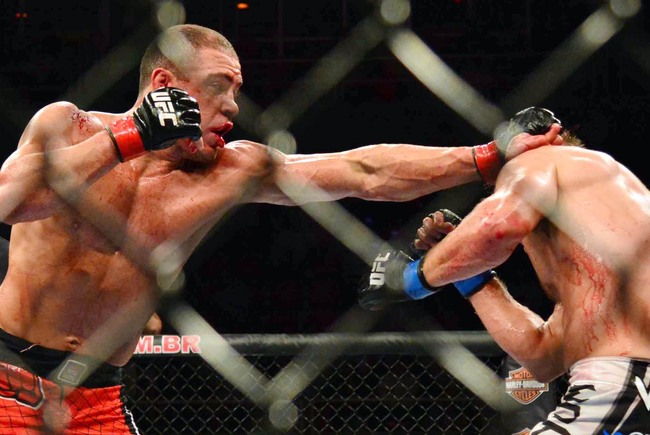 Thales Leites (left) won his UFC return match over Tom Watson.
Jason da Silva-USA TODAY Sports
No one has had a less-even MMA career than Thales Leites.
This man once fought Anderson Silva for the world title (though he lost by a decision that was embarrassing for all parties involved). He defeated Nate Marquardt (thanks to point deductions). He lost to Matt Horwich and Alessio Sakara. He has had injuries and controversies and visa issues.
Since 2009, Leites has wandered the promotional hinterlands, finally putting together enough wins for the UFC to invite him back to compete in his hometown against Tom "Kong" Watson.
Leites, a jiu-jitsu expert, showed much-improved striking against Watson, who was so wary of the takedown that he didn't seem fully engaged in the stand-up phase. Still, credit to Leites for taking advantage. Leites tired rather badly toward the end, and it wasn't the prettiest fight, but his effort was a heck of a lot prettier than Watson's busted-up face when the final horn sounded.
Loser: Tom "Kong" Watson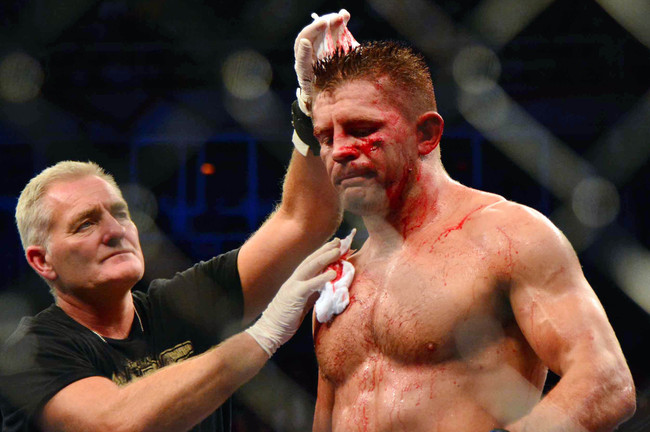 Tom Watson didn't have a very good night at UFC 163.
Jason da Silva-USA TODAY Sports
Not only did Watson get the right side of his face torn off by a submissions guy, but he walked out to the cage in a gorilla mask with a Backstreet Boys song in the background. Memorable seventh birthday party? Sure. What youngster wouldn't love that? Well, minus the blood. That's not something you'd want.
As for me as an MMA fan, I couldn't quite get behind it. Especially since it got "Backstreet Boys" briefly trending on Twitter. I can't escape the image of A.J. McLean doing a double take at his laptop screen, then stroking his manscaped goatee in satisfied surprise. Then he puts on a gorilla mask. I don't want those images. Take them away, Tom.
Winner: Lyoto Machida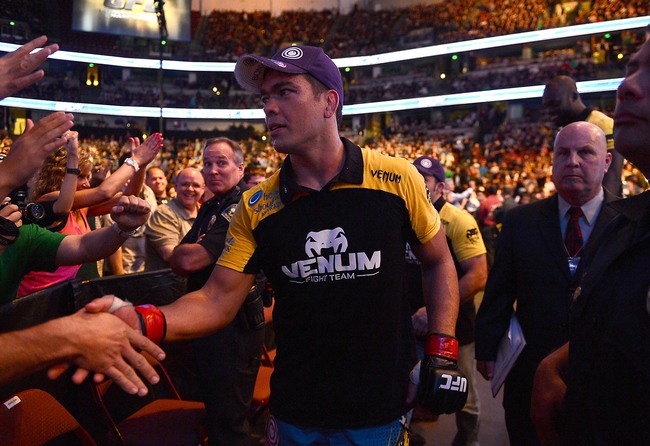 Lyoto Machida lost by controversial unanimous decision at UFC 163.
Jayne Kamin-Oncea-USA TODAY Sports
No disrespect to Phil Davis, who fought well and looked as good as he's ever looked. But Lyoto Machida won that fight.
Davis' key weapon was the late-round takedown, executed most effectively in the first frame. His striking was also looser and more fluid than it's probably ever been. It's arguable that Davis won that round, despite a mid-round flurry of offense from "The Dragon."
The second two rounds are, to me, far less nebulous. Machida was his typical evasive self, but still found time to counter Davis with punches and knees, send the occasional straight left through the metaphorical needle's eye and stifle more than one Davis takedown shot. (And data from FightMetric, the official UFC statistics provider, appear to bear that out.)
It was frankly a shock to see Davis' hand raised by unanimous decision—especially in Machida's native Brazil. It will be interesting to see what the UFC says about and does with these fighters moving forward.
Loser: Chan Sung Jung's Shoulder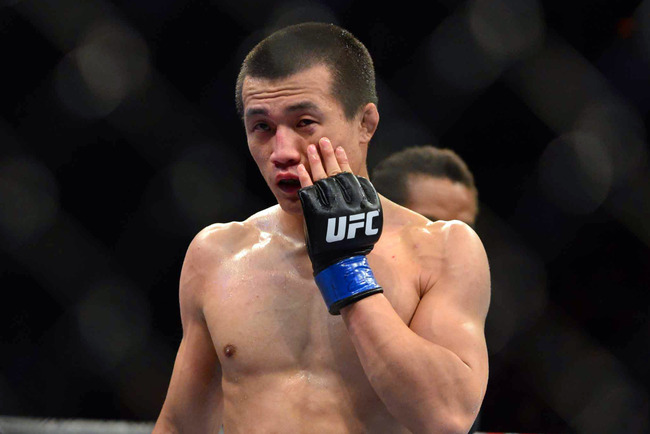 "Korean Zombie" Chan Sung Jung struggles through injury at UFC 163.
Jason da Silva-USA TODAY Sports
Jose Aldo was in clear control throughout, even if it wasn't the champ's most highlight-worthy effort. Early on, Aldo preferred to show bursts of activity at the end of the round, cinching a scoring advantage with takedowns and big strikes in the waning seconds.
The end arrived as others did throughout the night—with a side of bad fortune. At the halfway point of the fourth frame, when Chan Sung Jung appeared to separate his shoulder after landing an overhand right.
As someone who has separated his shoulder before, I can tell you that it hurts. It is a terrible feeling. I can't believe Zombie calmly tried to pop it back in even as Jose Aldo, now smelling blood and in full wolverine mode, started kicking at the injured shoulder. It was soon evident that Jung was helpless. An Aldo takedown and some ground-and-pound finished things off, and the champ left the challenger to writhe and howl in pain on the ground.
Again: Take nothing away from Aldo. He was on his way to a clear decision win and was right to go for a finish when he saw his opponent was injured. Still, it was hard to watch a fighter as talented and valiant as "The Korean Zombie" go out in that particular fashion.
Official Results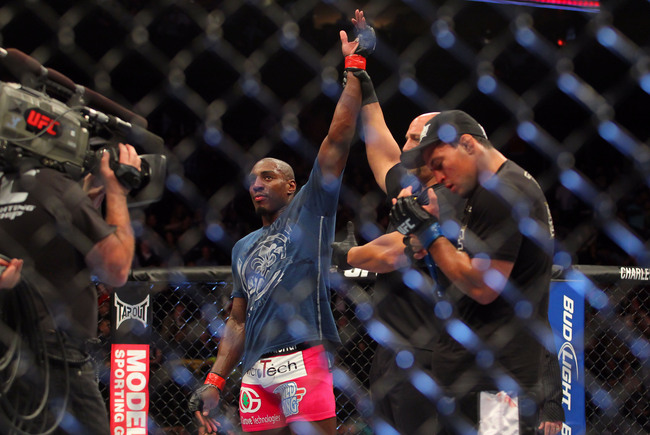 UFC light heavyweight Phil Davis.
Brad Penner-USA TODAY Sports
Jose Aldo def. Chan Sung Jung by TKO, 2:00 of Round 4
Phil Davis def. Lyoto Machida by unanimous decision
Cezar Ferreira def. Thiago Santos by submission (Guillotine choke), 0:47 of Round 1
Thales Leites def. Tom Watson by unanimous decision
John Lineker def. Jose Maria by TKO (punches), 1:03 of Round 2
FX prelims
Anthony Perosh def. Vinny Magalhaes by KO (Punches), 0:14 of Round 1
Amanda Nunes def. Sheila Gaff by TKO (Elbows), 2:08 of Round 1
Sergio Moraes def. Neil Magny by Submission (Triangle choke), 3:13 of Round 1
Ian McCall def. Iliarde Santos by unanimous decision
Facebook prelims
Rani Yahya def. Josh Clopton by unanimous decision
Francimar Barroso def. Ednaldo Oliveira by unanimous decision
Viscardi Andrade def. Bristol Marunde by TKO (punches), 1:36 of Round 1
Keep Reading