UFC 163 Live Results, Play-by-Play and Fight Card Highlights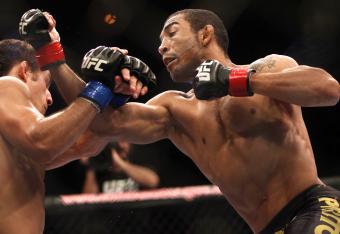 With Anthony Pettis out of commission, Chan-Sung Jung, aka the Korean Zombie, will get a crack at Jose Aldo for the UFC featherweight belt. In addition to the title fight, Lyoto Machida will try to hold on to his top contender spot against surging wrestler Phil Davis in a critical light heavyweight matchup.
Past that, though, it's a straightforward card tailored for the audience, made up of middling Brazilian talent squaring off with...middling talent not from Brazil. There are still some interesting fights, however, including including Ian McCall vs. Iliarde Santos, Amanda Nunes vs. Sheila Gaff and Thales Leites vs. Tom Watson.
Make no mistake, though, it's all about that title fight on Saturday—one that is a very strong Fight of the Year candidate. Keep an eye out here for live results and reactions to the entire event, as well as the immediate aftermath!
Main Card
Jose Aldo vs. Chan-Sung Jung
Lyoto Machida vs. Phil Davis
Cezar Ferreira vs. Thiago Santos
Thales Leites vs. Tom Watson
John Lineker vs. Jose Maria
Make sure to check out our post-fight coverage!
Check out my fresh P4P Top-25 following UFC 163!
There shouldn't honestly be many surprises on it, but I'm sure plenty of you will find things to complain about!
Well that shoulder ruined the fight #power #revival

— mark richard hunt (@markhunt1974) August 4, 2013
Rough night overall for UFC 163 - Aldo injured his foot, Zombie popped out his shoulder, Davis/Machida ends in controversy. #UFC163

— Damon Martin (@DamonMartin) August 4, 2013
Not the strongest ppv card tonight. thank god ufc 166 is stacked. @ufc

— Diego Sanchez UFC (@DiegoSanchezUFC) August 4, 2013
Chan-Sung Jung vs. Jose Aldo Official Decision
Jose Aldo defeats Chan-Sung Jung at 2:00 of Round 4 by TKO via punches
Jung apparently dislocated his shoulder during the triple kicks from Aldo, making it a relatively disappointing finish to the fight. While Aldo was the clear favorite, and won all three rounds, there is no real good way to win a fight, let's be honest here, by a submission due to injury.
It was in no way an impressive performance by Jose Aldo. A disappointing finish to what could very easily have been Fight of the Year.
Chan-Sung Jung vs. Jose Aldo Round 4
Do or die time for Jung, who seems to be keeping Aldo on his back foot at this point. Even so, while Aldo's mouth is open, he isn't pressing the action especially heavily.
Still, Jung is actually landing hands while Aldo is looking a bit slower. As I was typing that, he came out with three consecutive kicks and a takedown. He rocks Jung with punches, it look like and Jung simply isn't defending himself. Herb Dean peels Aldo off Jung, who is writing on the ground, holding his right shoulder.
Jung underwent shoulder surgery in 2012.
Chan-Sung Jung vs. Jose Aldo Round 3
Once again, Jung shows a bit more activity early, and lands a couple good hooks. He goes for a flying knee, but Aldo avoids it and flips Jung backward, and ends up on top in half-guard against the cage. Things get back standing, but Aldo presses on Jung.
Jung, in spite of a bit of a size advantage, is being genuinely out-muscled by Aldo right now, as Aldo keeps him pinned to the cage and controls his hands. Aldo, though, actually looks a bit tired after the exchange. Jung seems to recognize this and comes out swinging, but Aldo once again presses him to the cage.
Jung starts landing elbows to Aldo, but they are neither damaging nor effective in breaking things up. Herb Dean separates them with 20 seconds left and Jung comes out swinging and again whiffs a flying knee. Aldo is breathing heavily in his corner, but now has three rounds to his credit.
10-9 Jose Aldo
Chan-Sung Jung vs. Jose Aldo Round 2
Jung opens the round much more actively, throwing hands but finding home for few of them. Aldo then lands a solid right in return, which cools Jung right down.
Aldo is obviously content in landing counter punches, though he lands a devastating combo to the body. Jung appears downright nervous at this point, and is reluctant to initiate, while Aldo consistently lands straight hands.
The Zombie is basically frozen in place, and with a minute left, Aldo lands a crafty takedown and advances to side control easily. Jung gets things back to guard, and hints at a triangle choke, but Aldo has none of it. The round ends with Aldo laying on top of Jung, with no real offense to his credit yet.
10-9 Jose Aldo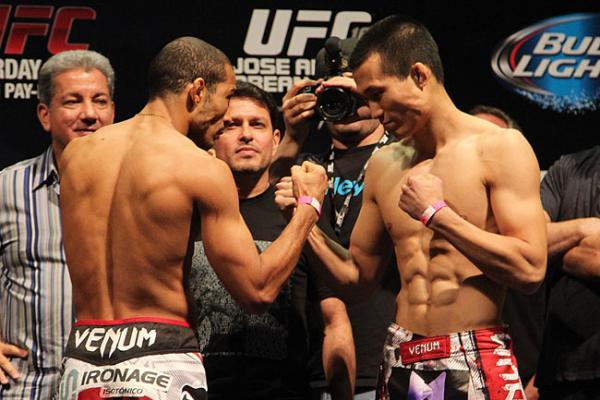 Chan-Sung Jung vs. Jose Aldo Round 1
"The Korean Zombie" initially wowed fans with his exciting pace, but has since evolved into one of the craftiest fighters in the featherweight division. Jose Aldo, meanwhile, is just genuinely amazing at fighting, and has crazy stopping power and grappling prowess. The two should combine for some downright amazing fireworks.
Jung opens with punches and kicks, but is by no means rushing into things. Aldo looks more methodical than Jung, but finds a big overhand right a minute into things.
Aldo is alternating stances, but actively looking for jabs on either side. Jung is looking for openings, but is going to have trouble finding them against somebody as refined as Aldo. Jung isn't pressing the action, which is honestly not a great idea, as his best hope is to wear down Aldo.
Aldo lands one of his heavy leg kicks deep into the first round, but Jung returns the favor. Jung fakes a takedown attempt and grazes the champ with a right hook. Aldo lands a takedown but Jung squirts out quickly. In the waning seconds, Aldo throws a spinning kick followed by a flying knee. Neither lands, but Aldo clearly owns round one.
10-9 Jose Aldo
Main event time! This is such an exciting fight on paper, it's tough to imagine it living up to the hype. Aldo is one of the scariest finishers in the lower weight classes, but Jung's pace and precision is difficult for anybody to overcome.
Get hype, ladies and gentlemen.
There is no kata to prepare you for whack judging.

— jim genia (@jim_genia) August 4, 2013
Wow. First 2 rounds were real close. But of course I disagree. No damage done with tds

— TJ Grant (@TJ_Grant) August 4, 2013
I thought Machida won, but you can't complain. Those rounds were so close, you could pick either guy and not be off in any of the rounds.

— Kevin Iole (@KevinI) August 4, 2013
Phil Davis vs. Lyoto Machida Official Decision
Phil Davis defeats Lyoto Machida via Unanimous Decision (29-28, 29-28, 29-28)
Honestly shocking decision from the judges. Typically, if a decision is even close in Brazil (or Japan), the edge will be given to the native fighter. Machida, on my score cards (and likely most of yours), had this.
In all likelihood, the deal breaker for the judges was the late takedowns in rounds 1 and 2. While this is not a robbery, I would say that it should have gone to Machida. The biggest winner in all this, though, is Daniel Cormier, who is planning to drop to 205 lbs and basically has nobody standing between him and a title shot.
Phil Davis vs. Lyoto Machida Round 3
Davis, once again, opens the round throwing kicks in bunches which, once again, is honestly odd to see. Once again, they are awkward and lack power, but they are making contact while Machida's strikes are not.
Davis goes for a takedown and Machida lands a perfect intercepting knee that staggers Davis. Machida takes his back for a brief bit, but lets Davis go with a body kick on the separation.
Machida lands a nice left and Davis returns the favor with a right. Machida is upping his output and shakes off yet another big takedown attempt by Davis. Machida is clearly starting to time Davis' shots, and starts landing big punches to stuff them outright, or knees if Davis actually gets close.
Davis is beginning to look flustered and a bit more tired (but is still demonstrating strong cardio). The horn sounds, and the fight will go to decision. I definitely think this round should go to Machida, and if the fight continued it likely would have been all Machida.
10-9 Lyoto Machida
Phil Davis vs. Lyoto Machida Round 2
Davis once again comes out squirmy in his striking and oddly kick-focused. It seems to be putting Machida off his game, but he stays composed enough to land a slick headkick.
Davis' kicks are awkward, but are making contact and likely scoring points. Machida is actually being out-landed right now, and whiffed a big right that prompted a Davis takedown attempt. He successfully shakes it off and goes back to being flustered by Davis' out-of-nowhere striking game.
Machida moves in for a barrage, but Davis goes for a takedown and quickly moves up for a straight right. He goes again, but Machida shakes it off with ease this time.
Machida lands a nice punch and a body kick with a minute left. Davis and Machida both look to steal the round and ultimately, Davis scores a big takedown and lands some nice knees to the body. To say he stole the round, though, wasn't quite accurate.
Davis out-landed Machida that round, in my mind. The takedown was icing on the cake.
10-9 Phil Davis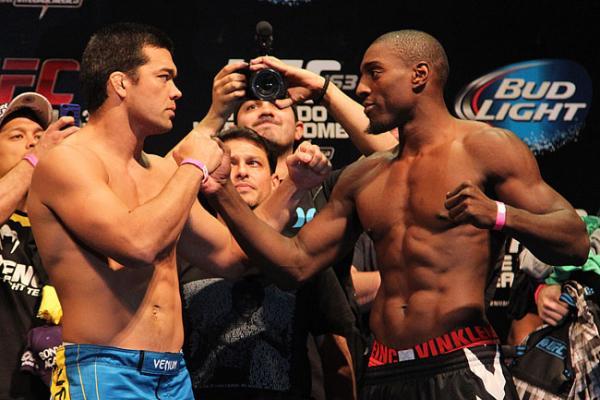 Phil Davis vs. Lyoto Machida Round 1
Massively important light heavyweight tilt here. Lyoto Machida is fighting in Brazil for the first time since his days in Jungle Fight, and is sniffing around a title shot yet again. Phil Davis, meanwhile, is trying to make a huge jump up the light heavyweight rankings by taking on a former champion that is a stylistic nightmare for him.
Phil Davis, out of nowhere, opens up with a solid body kick...followed by another body kick. What is this?
Machida seems to have had enough of this, though, and starts throwing leg kicks and punches in his standard measured fashion. Davis is looking uncharacteristically animated, and is circling in, dare I say, Keith Jardine-like fashion?
Machida lands a nice head kick and smells blood. He presses forward, finding range for his signature straight left and stuffing Davis' advance with Jon Jones-style kicks to the oblique. Davis again throws a high kick but lands awkwardly. Machida charges in off that with a half-dozen hands followed by a big knee.
Davis escapes and, remarkably, lands a massive takedown and instantly starts threatening with a kimura, but finishes the round with some impressive ground and pound. A difficult round to score, but I'll give it to Machida on the fact that he out-landed Davis.
10-9 Lyoto Machida
CAN WE GET TO THE FIGHTS ALREADY .

— Maggie Hendricks (@maggiehendricks) August 4, 2013
This is making me miss the old Strikeforce policy of not showing prelim replays.

— Jeremy Botter (@jeremybotter) August 4, 2013
They're pissing off their customers. Not good. RT @SmalltownAndrew: @FrontRowBrian Never seen them stall like this on a PPV

— FrontRowBrian (@FrontRowBrian) August 4, 2013
Time for the fights that matter!
My pick for Machida vs. Davis is Machida 100%. The takedown defense of Machida is just downright absurd, and Davis doesn't have anything outside strong wrestling. He doesn't have the striking to sucker Machida, which means he will almost certainly be able to out-point Davis the way he out-pointed Dan Henderson.
As for Aldo vs. Jung, it's honestly a tougher call than many are claiming. Jung has vastly superior cardio to Aldo, and is a far more skillful striker than most give him credit for. That said, Jose Aldo is basically the new Pride-era Wanderlei Silva. He's a scary dude.
I won't make a pick (in genuinely cowardly fashion) for the main event, but don't be completely shocked if Jung walks out with the belt.
Thiago Santos vs. Cezar Ferreira Official Decision
Cezar Ferreira defeats Thiago Santos at 0:47 of Round 1 by submission via Guillotine Choke
Great win for Ferreira. TUF: Brazil 1 was a season that was stacked with talent. Ferreira still has a long way to climb up the middleweight division, but demonstrated his amazing skillset.
Thiago Santos vs. Cezar Ferreira Round 1
In yet another fight that inexplicably found its way to the main card, kinda-sorta-TUF: Brazil 1 middleweight winner Cezar Ferreira faces TUF: Brazil 2 washout Thiago Santos on short notice. Seriously, how did this fight end up ahead of...basically any one of the FX fights? Truly no way to defend that.
The fighters feel each other out for a short time before Ferreira lands a massive left hand that visibly wobbles Santos. Santos stumbles and locks in a deep guillotine choke. Santos taps in short order.
Tom Watson vs. Thales Leites Official Decision
Thales Leites defeats Tom Watson via Unanimous Decision (30-27, 30-27, 30-27)
This should be a lesson for Dana White. Watson is an exciting fighter who is unrefined, but was obviously out of his league against a "boring" grappler in Thales Leites. It was a fight that honestly shouldn't have happened (never even mind ending up on the main card). Hopefully the UFC's matchmakers learn from this...but we all know they won't.
Tom Watson vs. Thales Leites Round 3
Leites opens up with punches and lands a straight left and goes back to the clinch. Watson was opened up by the punch, and is bleeding from his right eyebrow (it seems). The swap positions against the cage, but separate after a little while.
Kong lands some nice hands, but Leites charges into a power double and winds up in mount position. Watson once again gives up his back and stands, but is quickly dragged back down. Leites continues with punches and goes back to mount.
Leites begins threatening with an arm triangle, but stays in mount position which makes it difficult to finish. He hops off, though, and moves to side control and tightens. Watson survives the round, however, but will be leaving with a loss regardless.
10-9 Thales Leites
Tom Watson vs. Thales Leites Round 2
Leites is unsurprisingly looking to grapple in short order. He gets his wish less than a minute into the round, and takes things to the ground, and once again begins landing strikes.
Watson again surrenders his back, and Leites locks in a body triangle. Awful position for Watson but he ends up on top after Leites threatens with a head-and-arm choke. Leites then goes for an armbar, but Watson slips away and invites Leites back to his feet.
Leites looks markedly tired, as does Watson, but the latter's hands look much quicker. "Kong" starts opening up, and lands punches and a couple nice knees. After some clinching, Leites lands a couple nice shots, but Watson returns the favor. The fight is quickly devolving to a brawl, but the horn sounds midway through a takedown attempt.
Watson started doing better towards the end of the round, but not enough to make up for Leites' grappling dominance.
10-9 Thales Leites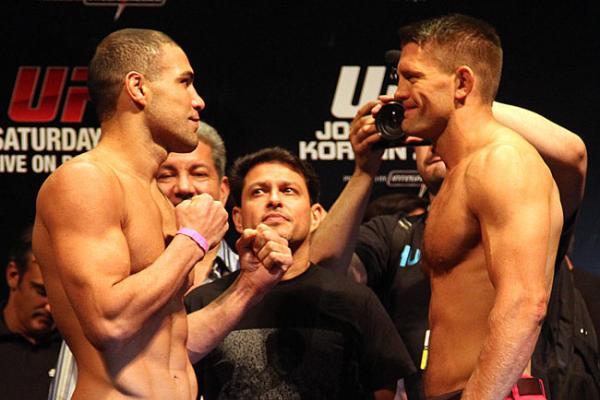 Tom Watson vs. Thales Leites Round 1
Thales Leites returns after being ejected from the UFC for pissing off Dana White with back-to-back boring fights (including one against Anderson Silva). Watson, meanwhile, has found some life after a back-and-forth brawl against Stanislav Nedkov back in February.
Leites quickly gets Watson to the ground and takes his back with little effort. That is very, very, very bad for Watson, who eats punches and punches.
Leites is a truly fearsome grappler, and Watson just plain is not, and Leites is landing deceptively hard shots with little wind-up. Watson escapes with under a minute left, but he looks tired and battered early on in the fight.
The horn sounds with the two fighters trading, but this was a round clearly defined by Leites' ground work.
10-9 Thales Leites
John Lineker vs. Jose Maria Tome Official Decision
John Lineker defeats Jose Maria Tome at 1:03 of round 1 by TKO via punches
A win that moves Lineker into the realistic top contender spot. He doesn't have the pure skill of Joseph Benavidez, but hasn't yet lost to Demetrious Johnson, and owns a three-fight winning streak that includes two knockouts.
Big win for him.
John Lineker vs. Jose Maria Tome Round 2
The two fighters clinch and Lineker lands a nice knee and evades a takedown after. Maria ends up eating a huge right hand after landing a kick. Lineker pounces, and lands a bunches of hammerfists and punches. Lineker wins by TKO.
This article is
What is the duplicate article?
Why is this article offensive?
Where is this article plagiarized from?
Why is this article poorly edited?