UFC 163 Results: Questions Heading into Shogun vs. Sonnen UFC Fight Night 26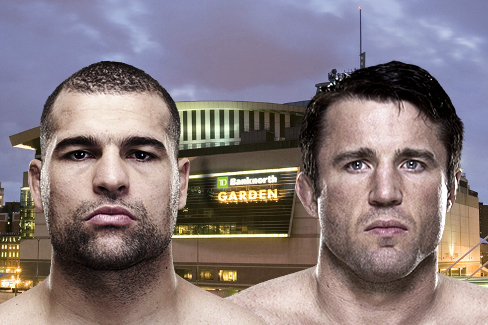 UFC 163 has wrapped up from Rio de Janeiro, Brazil. The full results for the card are below:
Jose Aldo defeats Chan Sung Jung via TKO at 2:00 of Round 4
Phil Davis defeats Lyoto Machida via unanimous decision (29-28 x 3)
Cezar Ferreira defeats Thiago Santos via submission at 0:47 of Round 1
Thales Leites defeats Tom Watson via unanimous decision (30-27 x 3)
John Lineker defeats Jose Maria via TKO at 1:03 of Round 2
Anthony Perosh defeats Vinny Magalhaes via knockout at 0:14 of Round 1
Amanda Nunes defeats Sheila Gaff via TKO at 2:08 of Round 1
Sergio Moraes defeats Neil Magny via submission at 3:13 of Round 1
Ian McCall defeats Iliarde Santos via unanimous decision (30-27, 30-27, 29-28)
Rani Yahya defeats Josh Clopton via unanimous decision (29-28 x 3)
Francimar Barroso defeats Ednaldo Oliveira via unanimous decision (30-27, 30-27, 29-28)
Viscardi Andrade defeats Bristol Marunde via TKO at 1:36 of Round 1
Now that the Brazil card is over, the UFC will take a breather to prepare for its first event on Fox Sports 1. That card will take place on August 17 from Boston's TD Garden. The event will be headlined by a light heavyweight scrap between former UFC champion Mauricio "Shogun" Rua and Chael Sonnen.
What follows are questions we have leading into the upcoming fight card.
Begin Slideshow

»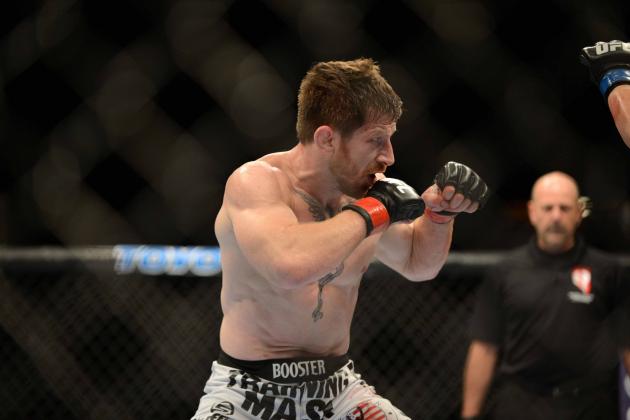 Ron Chenoy-USA TODAY Sports

It's been a long time since former WEC featherweight champion Mike Brown stepped inside the Octagon. His last fight took place in May of last year, and even though Brown walked away with a victory—defeating Daniel Pineda via unanimous decision—he pondered leaving the sport following that fight.
Brown, speaking to Ariel Helwani of MMA Fighting after that bout, said:
It's something I've been thinking about for the last six months or so. I'm getting near the end, and I didn't want to make any announcements until I made my mind up definitively. I'm going to give it a couple weeks and decide. I'm getting up there, I'm 36, and I don't know how much longer I'm going to go.
Brown took a bit longer than two weeks, but he eventually decided to stick with the fight game, signing a five-fight deal with the UFC.
The first fight on that new contract will be his August 17 bout against Stephen Siler.
Brown (26-8) is now 37 years old, and he'll be under a great deal of scrutiny when he steps into the Octagon in Boston. Once the thought of being too old or nearing the end enters a fighter's mind, a subconscious switch sometimes flips inside his head. Fighting is not a sport in which one can have doubts. A fighter is either all in or all out, oftentimes literally all out if he is not all in.
It should become quite clear early on where Brown's head is at in Boston.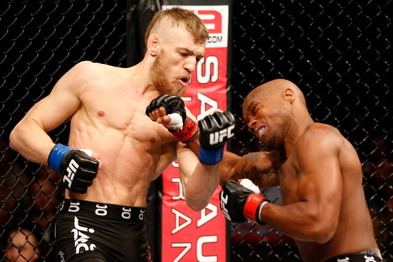 Josh Hedges/Zuffa LLC/Zuffa LLC via Getty Images
The UFC and its fanbase occasionally fall in love with a fighter before he or she has truly proved to be, to borrow a marketing catchphrase, "the real thing." Don't believe that? Well, remember when UFC president Dana White said that Phillipe Nover, member of the Season 8 cast of The Ultimate Fighter reminded him of Georges St-Pierre and Anderson Silva?
Nover never even came close to living up to that billing, losing TUF and then dropping two more UFC fights before being released from the promotion.
Right now, the next big thing label seems to be firmly attached to the mohawked head of featherweight Conor McGregor.
McGregor was 12-2 and the possessor of two titles—Cage Warriors lightweight and featherweight—when he joined the UFC in early 2013. In his first bout with the promotion, McGregor earned "Knockout of the Night" honors by dropping Marcus Brimage at the 1:07 mark of Round 1. The TKO was the 13th stoppage victory of his career. Of those stoppages, none have made it into the third round.
McGregor is a talented fighter. He's engaging and easy-going in interviews. He's a star in the making, and most importantly to the UFC, he's a fighter of a nationality without a marketable prospect.
Don't think that McGregor being Irish isn't one of the main reasons he is being pushed so hard by the UFC. Subtlety has never been the UFC's forte when it comes to marketing its fighters.
He can take the next step up the ladder if he can beat Max Holloway in Boston, but even then it will be too soon to anoint him as the next big thing.
I understand the UFC's want/need to push this kid, but let him develop naturally; the extra pressure is not needed.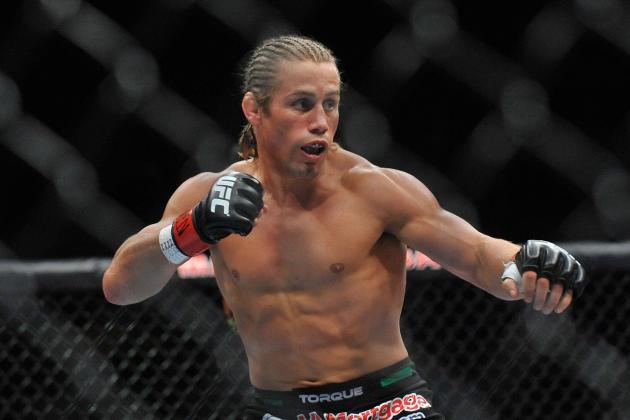 Gary A. Vasquez-USA TODAY Sports

The bantamweight division will go through some changes after UFC on Fox Sports 1.
Three of the Top 10 fighters in the division will be competing on the August 17 fight card. No. 3 Michael McDonald will face No. 5 Brad Pickett, and No. 2 Urijah Faber meets the unranked Yuri Alcantara.
Pickett (23-7) has racked up three "Fight Night" bonus awards in his past four fights while going 3-1 in those contests. His only loss during that run was a split-decision defeat at the hands of Eddie Wineland.
McDonald (15-2) saw his eight-fight winning streak come to an end when he tapped to an arm-triangle choke in his last bout. Applying the hold was interim UFC bantamweight champion Renan Barao.
Faber (28-6) has won his past two fights in the UFC, and over the course of his career, his only losses have come in title fights. His most recent defeat was a unanimous decision to Barao, when they faced off for the interim bantamweight title. Alcantara (28-4-1) comes into the fight having lost only once since November 2009.
Seeing how McDonald and Faber are coming off recent title fight defeats, it's doubtful that a win for either of them will get them another shot at the belt so soon, but Pickett is another story. As for Alcantara, with a victory, he's poised to remove the veteran Faber from the title shot discussion completely.
The bantamweight division could have a new look by the time the UFC packs up and leaves Boston.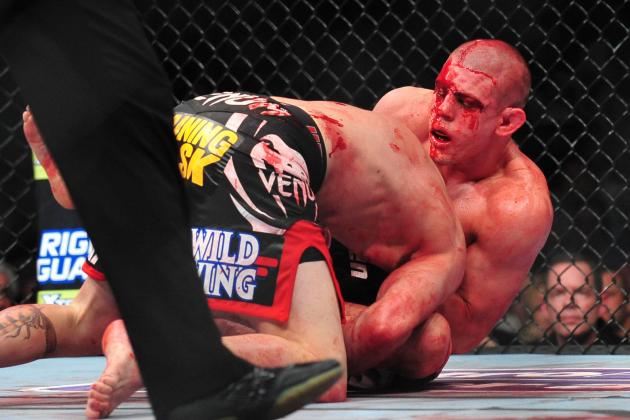 Gary A. Vasquez-USA TODAY Sports

The last time the UFC was in Boston was UFC 118 in August 2010, when the headlining bout saw Frankie Edgar retain his UFC lightweight title with a unanimous-decision win over BJ Penn.
On the preliminary portion of that card, local fighter Joe Lauzon earned a first-round armbar submission victory over Gabe Ruediger. The win also earned Lauzon "Submission of the Night" honors. It was the fifth Fight Night bonus in the career of the then 19-5 Lauzon.
The bonus that he received for his effort against Ruediger was his third straight "Fight Night" award. When he steps into the Octagon on August 17, it will be his first fight in Boston since UFC 118, and it will be the opening fight on the main card.
Since his win over Ruediger, Lauzon has gone 3-3, collecting six additional bonus awards during that span. His most recent award was a "Fight of the Night" bonus following a unanimous-decision loss to Jim Miller at UFC 155. The fight also took home "Fight of the Year" honors at the 2012 World MMA Awards.
In addition to the extra cash he earned in that fight, Lauzon, who was badly cut during the fight, received the bloody canvas from the UFC.
If he can take home another bonus on August 17, he will move one "Fight Night" bonus ahead of Anderson Silva and take the all-time lead in that category with 13.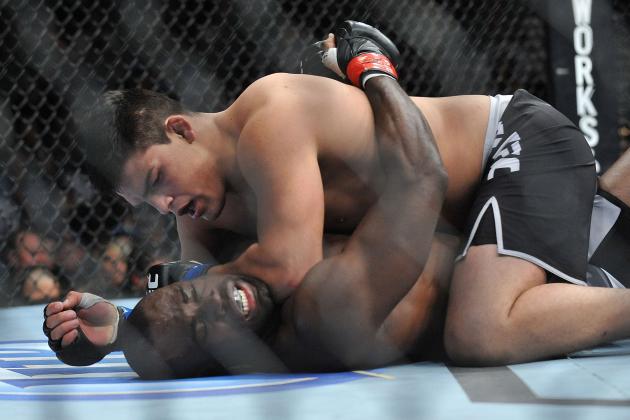 Gary A. Vasquez-USA TODAY Sports

Throughout Season 17 of The Ultimate Fighter, we watched Uriah Hall destroy opponent after opponent on his way to the final. He ran up three knockouts on his way to facing Kelvin Gastelum, including the spinning back kick that planted Adam Cella and won Hall "Knockout of the Season."
Hall's loss left UFC president Dana White unimpressed.
Following the loss, White said, via Bleacher Report's Damon Martin:
I didn't think he showboated. I think he mentally broke. I think that you saw what he had this season. But when you find out what a guy really has is when he's under pressure. When you're under pressure, you find out who the Anderson Silva's and the Georges St-Pierre's are those type of guys. He's got a lot of skills and his wrestling looked good tonight. Everything looked good tonight, he's just got to work on his head. You've got to get that head straight man, you've got to get meaner. You're not mean enough.
Hall has had a few months to get his "head straight," and he'll have a lot of eyes on him when he steps into the Octagon to face John Howard in Boston. He's a young fighter with a lot of potential, but as has been said before about the fight business, you're only as good as your last fight.
If Hall disappoints again, those dominant performances inside the TUF house will be just a distant memory.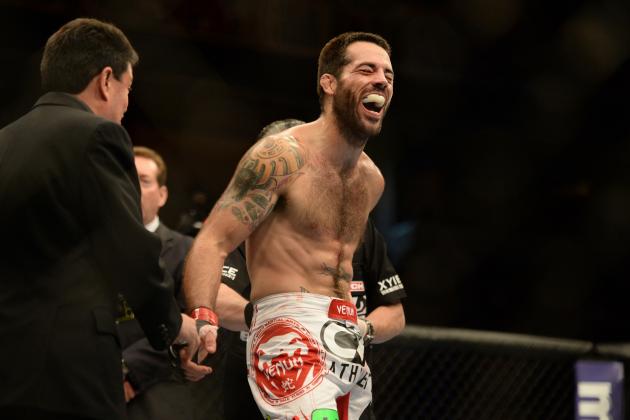 Kyle Terada-USA TODAY Sports

The welterweight bout between Matt Brown and Mike Pyle is more important than many people are giving it credit for.
Brown made his debut with the promotion on Season 7 of The Ultimate Fighter. He didn't make it to the final of that season, but he did land a spot on the finale card for the event. He made the most of that opportunity, earning a TKO win over Matt Arroyo. He has remained continuously employed with the promotion since that 2008 victory, racking up a UFC career record of 10-5. He is currently riding a five-fight winning streak.
Pyle fought twice for the WEC in 2005-06, winning both fights. He then moved on to fight for various promotions before joining the UFC in 2009. His record in the UFC is 8-3, and he is currently in the midst of a four-fight winning streak.
With their winning streaks and the questionable current depth in the welterweight division, the winner of this bout is poised to break into the Top 10 of the division.
If you're looking for a sleeper pick for "Fight of the Night," this one should be on your radar.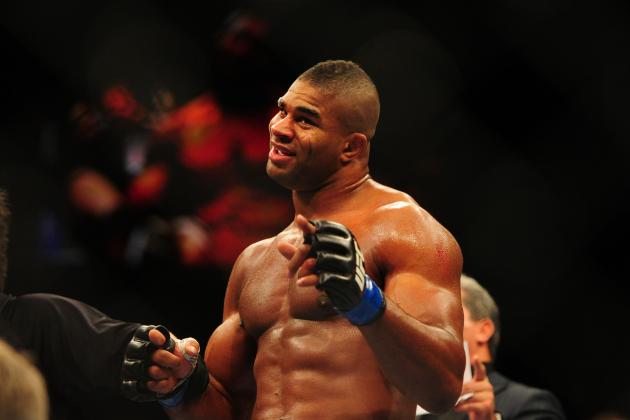 Mark J. Rebilas-USA TODAY Sports

The first time we saw Alistair Overeem in the Octagon at UFC 141, he brutalized Brock Lesnar, using his striking advantage to shut down the wrestling of the former UFC champion. The end of the fight came in the first round when a kick to the body folded Lesnar, allowing Overeem to move in for the kill against the fence.
The loss sent Lesnar into retirement. The victory sent Overeem's confidence soaring.
The next time we saw Overeem, that confidence was practically oozing out of him as he made his approach to the Octagon to face Antonio "Bigfoot" Silva at UFC 156. In the pre-fight interview, a nonchalant Overeem stated, via UFC.com, "I'm better in every aspect, and I'm going to show that. The fight will probably end in one or two rounds. I'm going to raise my hands after, and he's just going to be a number on my list, a statistic."
He couldn't have been more wrong.
He fought the first two rounds with his hands down and chin up. It appeared that his confidence left him thinking that Silva presented no threat at all to him and his vaunted striking resume.
What he didn't consider was that his lack of killer instinct allowed Silva's confidence to surge. The final 10 seconds of the second round showed that Silva was in the fight.
The opening of the final round confirmed that fact. Silva opened up on Overeem against the cage and unleashed strikes that left the Dutchman crumpled on the mat. An amped-up Silva, screaming at his downed opponent, would have inflicted more damage had referee Herb Dean not pulled him away from his decimated opponent.
The loss should have taught Overeem a lesson—don't be too confident and don't be disrespectful of your opponent's skills.
Overeem has a chance to show that he learned that lesson when he steps into the Octagon against Travis Browne in Boston. If a lesson has not been learned, Browne is just as capable as Silva in turning out the lights for Overeem and sending him freefalling down the heavyweight rankings.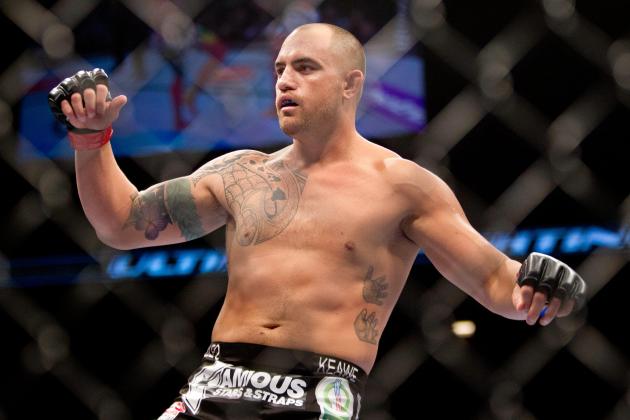 Bruce Kluckhohn-USA TODAY Sports

Between 2010 and early 2012, Travis Browne put together a five-fight unbeaten streak in the UFC's heavyweight division. That streak ended in October 2012 when an injured hamstring and Antonio Silva's strikes took down Browne in the first round of their UFC on FX headlining bout.
Browne got back on track with a "Knockout of the Night" performance against Gabriel Gonzaga in April of this year.
He will face Alistair Overeem in Boston in a fight that could be a turning point in the career of the 31-year-old Hawaiian. Win, and he's in the mix as a true title contender. Lose, and he's looking at a long climb back up the ladder.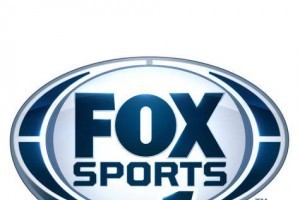 Fox currently does not have deals in place for Fox Sports 1 for the following carriers: DirecTV, Dish and Time Warner. Those three carriers represent more than 46 million subscribers. That's a huge chunk of homes that Fox Sports 1 may not be available in on the scheduled launch date of August 17.
If deals are not struck for all three carriers, it would be a disastrous start for the UFC on the new network.
The UFC will recover if the deals are not in place, but fans will let the promotion know how unhappy they are that they missed the first event on the new network.
This is a huge issue that needs to get resolved sooner rather than later.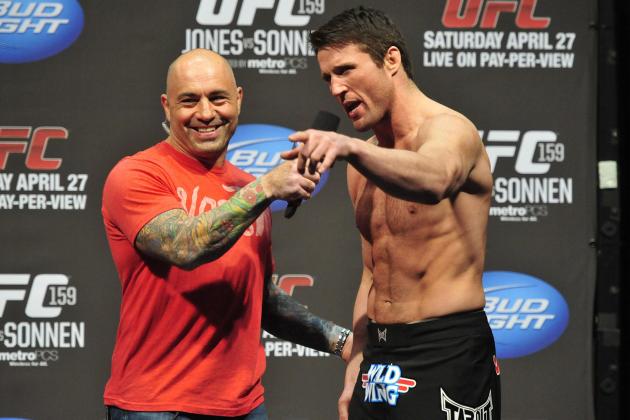 Joe Camporeale-USA TODAY Sports

Chael Sonnen has developed into one of the finest promoters in the sport of MMA. He does a great job in promoting MMA, the UFC and himself—not always in that order. However, he's been quiet as of late.
We haven't heard much from Sonnen leading up to his August 17 bout with Rua, and that can't make the UFC happy.
He didn't get the main event of the first show on a new network because of his recent record of 0-2; he landed that prime spot because of his ability to get people interested in seeing him fight. As of right now, things are lukewarm around this fight card.
That may be due to the fact that the deals are not in place for Fox Sports 1, or that may be because he is spreading himself a bit thin these days between training and his appearances on UFC Tonight.
If Sonnen doesn't ramp things up and ends up being defeated by Rua, it will be hard for the UFC to justify using him in another main event for a while. After all, how many fighters coming off three straight losses are headlining fight cards?