Friday's match between Barcelona and Santos will go down as nothing more than a preseason friendly, but there's a good chance it will serve as a gauge for just how strong the current La Liga champions can be this season.
The Catalan club scored four goals in each half to record an 8-0 victory and recapture the Joan Gamper Trophy in front of an inspired crowd at Camp Nou.
Cesc Fabregas had a brace, Lionel Messi scored a first-half goal and four other Barcelona players found the back of the net as Santos couldn't mount any resistance toward getting dominated by the end of the match.
Barca's official Twitter account had this post as the score became final:
Final! FC Barcelona fire for eight unanswered goals against Santos in the Joan Gamper Trophy! #FCBLive

— FC Barcelona (@FCBarcelona) August 2, 2013
Brazil Stats also tweeted about the 8-0 outcome, focusing on the Brazilian players who suited up for the Spanish side:
FT - Barça 8-0 Santos. Adriano scored a stunner, and Neymar provided 2 assists and hit the post in 45 minutes. Dani Alves was looked solid.

— Seleção Brasileira (@BrazilStats) August 2, 2013
While they had no vested interest in the match, MUFC Fans on Twitter might have said it best with this post:
Way too easy for Barcelona...

— MUFC Fans (@mufcfans) August 2, 2013
From start to finish, Barcelona dominated Santos in all aspects of the game.
Before the match began, the stadium held a moment of silence for one of the club's former stars. As noted by Barca on Twitter, the home side had some added motivation to pick up the pace:
Minute of silence for the legendary FC Barcelona goalkeeper Antoni Ramallets who passed away on Tuesday. #FCBLive

— FC Barcelona (@FCBarcelona) August 2, 2013
As noted by FootballFacts101, they were also honoring a young girl who helped design the lettering on their Friday kit:
Barca players name & numbers today are printed using the typography of Anna Vives, a girl with Down syndrome. @wigasb pic.twitter.com/83JckncLtL

— FootballFacts101 (@FootballFact101) August 2, 2013
When you add in all the factors at play in this match, Santos really never stood a chance.
Messi recorded a goal before 10 minutes had elapsed in the match, setting the stage for what would turn out to be an offensive onslaught from the home side on Friday.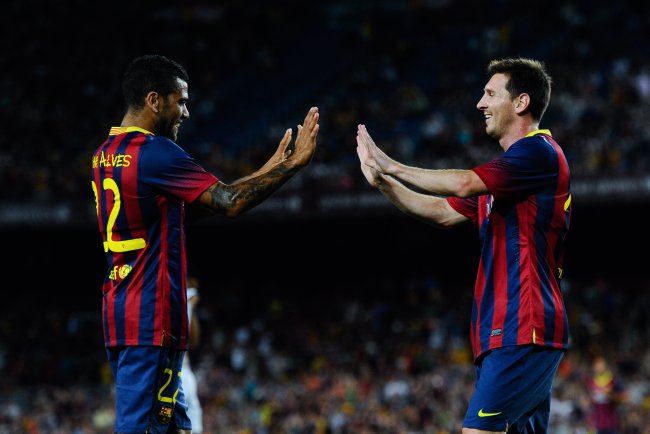 David Ramos/Getty Images
Sifting through defenders and finding an angle he liked, the Argentinian star got his side on the board with a score in the seventh minute. As it turned out, Messi's goal was the game-winner.
101 Great Goals had a look at Messi's tap-in score on Twitter:
Lionel Messi! (Barcelona) 1-0 v Santos http://t.co/XXupzi1ByK

— 101 Great Goals (@101greatgoals) August 2, 2013
Leo made things worse for the visitors just a few minutes later. Barcelona doesn't need any help scoring goals with their current outfit, but Leo provided an own goal that gave the Catalan club at 2-0 lead before many at Camp Nou could even find their seats.
Alexis Sanchez and Pedro each had a goal to give Barcelona a 4-0 lead at the half.
David Ramos/Getty Images
Although the action on the pitch favored the home side from the opening whistle onward, it was clear that the fans wanted to see the club's new acquisition more than extra goals from the starting lineup.
As noted by beIN Sport on Twitter after Pedro's goal, the big question of the evening was simple: When would it be Neymar's turn?:
GOAL #4!! #Pedro this time and it is good to see everyone getting a chance to score but when will @njr92's turn come?

— beIN SPORT (@beINSPORTUSA) August 2, 2013
The former Santos man entered the pitch before the second half began. He did not record a goal, but did set Fabregas up for one of his two strikes and was very active in both pursuing the ball and making his presence felt on the pitch.
Neymar's assist to Fabregas was the Spanish star's second goal of the game. He almost found the net a third time but caught iron on a free kick with his sights set on the hat trick.
David Ramos/Getty Images
Fabregas has been the subject of intense transfer speculation this summer, but so far Barcelona has refused to sell the 26-year-old midfielder. If he keeps performing like he did on Friday, that decision will wind up being a wise move.
101 Great Goals had this pitch as Fabregas recorded his brace rather easily:
Shades of George Best from walking Neymar... Cesc Fabregas (Barcelona) 6-0 v Santos (Neymar Assist) http://t.co/RT6dZenndG

— 101 Great Goals (@101greatgoals) August 2, 2013
Adriano scored the team's seventh goal on a bending shot around second-half keeper Vladimir, while youngster Jean Marie Dongou capped the scoring with a late goal.
Who was the man of the match?
All in all, it was an impressive display from Barcelona with nothing other than fitness and bragging rights on the line at Camp Nou. With the Gamper Trophy back in their clutches, Barca will now focus their full attention on the upcoming La Liga season.
It's hard to describe friendlies as "statement" matches, but Barcelona made a statement against Santos on Friday. The Catalan club is going to be tough to beat, and they don't care who knows it.
Grades
Barcelona vs. Santos Grades

| | | | | |
| --- | --- | --- | --- | --- |
| Player | Grade | | Player | Grade |
| Victor Valdes | A | | Aranha | D |
| Dani Alves | B+ | | Rafinha Galhardo | D+ |
| Gerard Pique | B | | Edu Dracena | C |
| Javier Mascherano | A | | Durval | D- |
| Jordi Alba | A | | Leo | F |
| Xavi | B+ | | Arouca | C- |
| Sergio Busquets | A- | | Cicero | D+ |
| Andres Iniesta | B+ | | Leandrinho | C- |
| Alexis Sanchez | A+ | | Montillo | D |
| Lionel Messi | A- | | Neilton | C |
| Pedro | B+ | | Giva | D |
| Subs | | | Subs | |
| Jose Pinto | A+ | | Vladimir | C+ |
| Martin Montoya | B | | Eugenio Mena | C |
| Marc Bartra | C+ | | Gustavo Henrique | D |
| Adriano | A | | Cicinho | D+ |
| Alex Song | B | | Leo Cittadini | C- |
| Sergi Roberto | B+ | | Thiago Ribeiro | D |
| Cesc Fabregas | A++ | | Willian Jose | D+ |
| Neymar | A | | | |
| Jean Marie Dongou | A | | | |
| Frank Bagnack | B- | | | |
| Dani Nieto | B | | | |
Lionel Messi, Barcelona: A-
Messi made his presence felt early and often against Santos.
He recorded a goal and an assist in just over 60 minutes of action, coming off the pitch in the second half in favor of Dongou. He missed a couple of chances to score early in the second half, but per the usual, Messi wowed fans with his smooth skill around the net and overall talent on the pitch.
Aranha, Santos: D
The first half was a disaster for Santos.
Although his defenders were clearly overmatched, Aranha's placement on Messi's initial goal was poor and more could have been done to avoid falling into a 4-0 hole. Lifted in favor of Vladimir to start the second half, Aranha has some serious work to do after his Friday performance.
Neymar, Barcelona: A-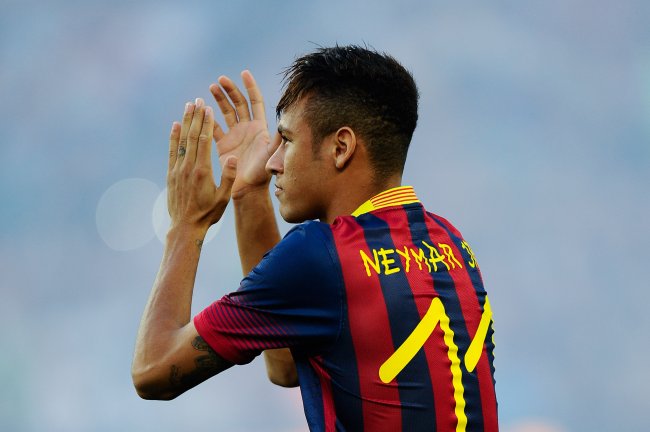 David Ramos/Getty Images
Neymar made his much-anticipated debut to the Barca lineup earlier this summer, but we saw the first glimpse at a Neymar-Messi lineup at the start of the first half.
The duo didn't produce any fireworks with Fabregas stealing the show, but Neymar played well against his former club and created several chances in the attacking half. Starter or sub, he will have ample time to make an impact on Barca's lineup all season.
What's Next?
Barca has just two matches to play before La Liga action begins. The Catalan club will face Thailand FC next Wednesday and conclude their preseason stint with a match against Malaysia XI on Aug. 10.
After that, Barcelona will next hit the pitch on Aug. 18 in a league match against Levante.
Santos was next scheduled to face Nautico on Sunday, but that match has been postponed. They will host Corinthians next Wednesday before traveling to Mineirao to face Cruzeiro on Aug. 11.
Follow B/R's Ethan Grant (@DowntownEG) on Twitter.