Tiger Woods just missed out on making history in the second round of the WGC-Bridgestone Invitational in Akron, Ohio on Friday, as the No. 1 player in the world shot a nine-under 61. If he would've shot two strokes better, he would've had the sixth 59 in PGA Tour history.
According to ESPN Stats & Info, Tiger's round tied the Firestone Country Club record as well as his personal best:
Tiger finishes round 2 with 5 straight pars. Finishes -9, tying a career-low 61 and matching the course record.

— ESPN Stats & Info (@ESPNStatsInfo) August 2, 2013
Woods had this to say following the round, via CBS Sports' Kyle Porter:
I had it going today, four under through three is always a nice thing to have.

I could have done it. The good news is I've done it before. I felt pretty relaxed, if I hadn't ever shot 59 before it would have been a different story. It wasn't out of the realm of being uncomfortable.
Here's a look at Tiger's scorecard for the day:
Tiger Woods' Second-Round Scorecard

| | | | | | | | | | | |
| --- | --- | --- | --- | --- | --- | --- | --- | --- | --- | --- |
| Hole | 1 | 2 | 3 | 4 | 5 | 6 | 7 | 8 | 9 | OUT |
| Par | 4 | 5 | 4 | 4 | 3 | 4 | 3 | 4 | 4 | 35 |
| Score | 3 | 3 | 3 | 4 | 3 | 4 | 2 | 4 | 4 | 30 |
| Hole | 10 | 11 | 12 | 13 | 14 | 15 | 16 | 17 | 18 | IN |
| Par | 4 | 4 | 3 | 4 | 4 | 3 | 5 | 4 | 4 | 35 |
| Score | 3 | 3 | 2 | 3 | 4 | 3 | 5 | 4 | 4 | 31 |
Scorecard courtesy of PGATour.com.
Woods birdied the opening hole of the course, but he was just getting warmed up. He was on the green in two shots on the par-five second and sunk a 20-foot putt for an eagle.
He couldn't have asked for a better start to the day, and Golf Channel's Jason Sobel seemed to agree with that statement:
Tiger Woods opens with birdie-eagle. That's usually a decent way to start a round.

— Jason Sobel (@JasonSobelGC) August 2, 2013
Tiger would birdie the third hole to go to four under through three holes. A couple of poor shots on the fourth, fifth and sixth didn't help his progress, as he parred all three holes. A birdie on the seventh put him at five under on the day.
Tiger's putting really helped him move up the leaderboard, as he only needed seven putts through the opening seven holes. PGA Tour Media's official Twitter account had an appropriate hashtag for Tiger's putting performance:
@TigerWoods has seven putts through seven holes. #thrifty

— PGA TOUR Media (@PGATOURmedia) August 2, 2013
ESPN Stats & Info was already starting to think about how Tiger would finish the second round, noting how he could tie or break his career low:
Tiger is -5 thru 7 holes in round 2 at WGC-Bridgestone. He's shot a career low 61 3 times in his TOUR career, incl. at this course in 2000.

— ESPN Stats & Info (@ESPNStatsInfo) August 2, 2013
Tiger would par the final two holes on the front nine to head to the final nine holes of the course at five under on the day and nine under for the championship. His success would continue on the back nine, as he birdied the 10th, 11th and 12th holes.
At that point, it was clear that Woods was on fire.
Oh, my. This is getting ridiculous. Three straight birdies to start the back for Tiger. Needs to play the final six in 3-under for 59.

— Jason Sobel (@JasonSobelGC) August 2, 2013
With six holes remaining, Justin Ray of ESPN noted that Tiger would need to shoot three under going forward for the sixth 59 in PGA Tour history:
Tiger Woods now -8 today, needs to play last 6 holes in -3 to shoot 6th 59 in @PGATOUR history

— Justin Ray (@JRayESPNGolf) August 2, 2013
Woods didn't have the best tee shot on the 13th hole, but got extremely lucky as the ball hit a tree and landed in the middle of the fairway. He hit his next shot within around 14 feet of the pin. He sunk the shot for another birdie—his fourth in as many holes.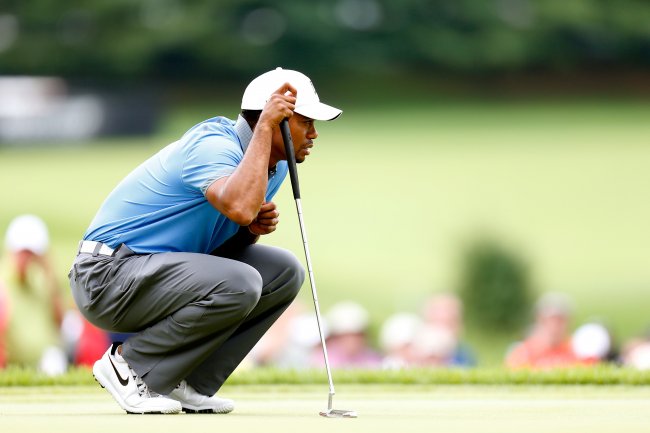 Gregory Shamus/Getty Images
ESPN Stats & Info gave us an update on the watch for 59:
Woods has 11 one-puts through 13 holes today. He's birdied 4 straight holes on the back 9. Needs to shoot -2 on the final 5 holes #59watch

— ESPN Stats & Info (@ESPNStatsInfo) August 2, 2013
Sobel commented:
Not sure if this is real Tiger or video game Tiger on demo mode. Looks way too easy right now.

— Jason Sobel (@JasonSobelGC) August 2, 2013
Woods hit a poor tee shot way to the right on the 14th hole, but he rebounded nicely to put his second shot just off the green. He chipped to within nine feet of the hole and drilled the putt to save par.
The world No. 1 hit a perfect tee shot on the par-three 15th to put him in a prime position to make another birdie. From nine feet away, Woods just missed sinking the putt and made par to stay at nine under for the round.
Stepping into the tee box on the par-five No. 16, Woods needed to make birdie for his hopes of shooting a 59 to stay intact. He smashed a shot down the left side of the fairway, needing just 270 yards to make it on to the green in two shots.
The official Twitter account for the PGA Tour helped set the scene:
Tiger hits it 378 off the tee at the downhill 16th and has 270 left (wind helping, over the menacing pond). #PGATOUR

— PGA TOUR (@PGATOUR) August 2, 2013
Woods decided against going for the green, though, as he put the ball 90 yards from the flag. He hit the ball high over the pond and well past the hole, but it didn't come back as much as he might have thought. Tiger's first putt didn't break enough to the left and he was forced to settle for par.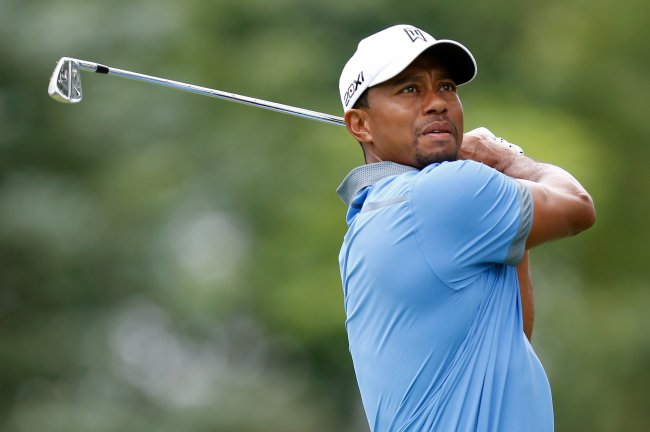 Gregory Shamus/Getty Images
Needing to make back-to-back birdies on the final two holes for a 59, Woods hit his tee shot on the 17th to the left and into the rough. He gave himself a great chance at a birdie with his second shot, which landed just a few feet from the pin.
He couldn't nail the putt, though, and now needed a miracle to shoot 59 for the day.
Woods hit his tee shot on 18 to the right of the fairway. To tie the record, he would've needed to sink his second shot, which was impossible considering where he was. He didn't hit a good shot, as he aimed to hit the ball through a small opening in the tree, which didn't work out well.
Tiger managed to save par on the final hole to shoot a nine-under 61 in the second round—an outstanding performance to say the least.
Woods entered the clubhouse with a seven-shot lead, which puts him in a fantastic position heading into the weekend at Firestone. While there are still two rounds left to be played, Tiger will have a great chance to win his eighth title at the Bridgestone Invitational.
All statistics in this article were obtained via WorldGolfChampionships.com unless otherwise noted.