Rooney, Cantona and 10 Players Who Earned Red Cards During Friendlies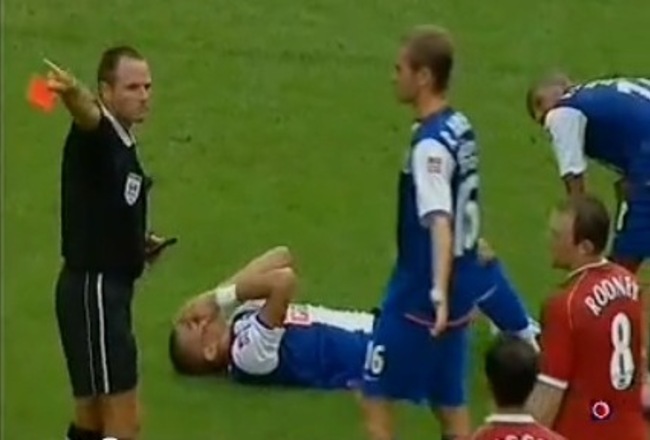 Friendly matches are meant to be light-hearted affairs—the clue is in the name.
Sometimes, however, passions run high and the competitive spirit leads to some regrettable action on the field.
This week, Inter's Hugo Campagnaro saw a red card for a shocking challenge on Chelsea's John Terry during a preseason match in Indianapolis. The Italian leads B/R's list of players who've earned their marching orders in a non-competitive game.
Hugo Campagnaro vs. Chelsea
Clearly keen to make an impression on his new club, Internazionale defender Hugo Campagnaro saw red on Thursday night in the International Champions Cup.

The 33-year-old stomped on John Terry's leg hard enough to make him audibly squeal, but fortunately the Englishman escaped injury.
Patrick Vieira vs Internazionale
In a preseason game with Inter Milan in Baltimore in 2010, Manchester City's Patrick Vieira received a straight red for elbowing Marco Materazzi in the face.
Revenge for Zidane, perhaps?
Fabricio Coloccini vs. Pacos Ferreira
In June, Newcastle faced Portuguese outfit Pacos Ferreira in a heated friendly.

Both teams finished with 10 men, with want-away defender Fabricio Coloccini getting sent off for apparently attempting to choke Pacos' Rui Caetano.
Wayne Rooney and Paul Scholes vs. Porto
History has shown that it's best not to get on the wrong side of Pepe. Wayne Rooney risked the Portuguese star's ire in a 2006 preseason match with Porto by showing him the sharper edge of his elbow.
In the same match, Paul Scholes also earned his marching orders for picking up two bookings.
Eric Cantona vs. Glasgow Rangers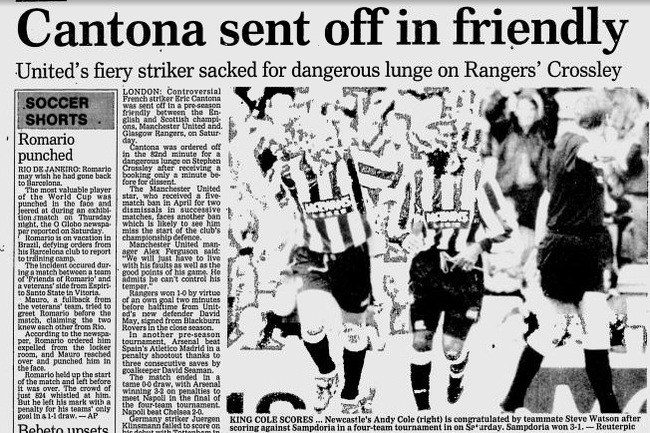 (The Straits Times)

Suffice to say, legendary Frenchman Eric Cantona was renowned for having a bit of a temper.

The Manchester United star's Gallic passion overboiled in a friendly with Rangers in August 1994, when he The Independent say he "lunged wildly" at Stephen Pressley after a verbal spat was not resolved.
Club América vs. Guadalajara
When two of Mexico's fiercest rivals met in the 100-plus degree heat of Las Vegas in July, some frayed tempers were inevitable.
Before the "friendly" edition of El Super Clasico kicked off, fans rioted in the stands. On the pitch, behavior wasn't much better, with four red cards—two for each team—issued following a mass brawl.
Fernando Muslera vs. Napoli
Napoli faced Galatasaray earlier this week, with the Italians running out 3-1 winners. Gala keeper Fernando Muslera soured the defeat by earning a red for shoving the referee when he gave a 92nd-minute penalty.
Liam Lawrence and Danny Pugh vs. Bahrain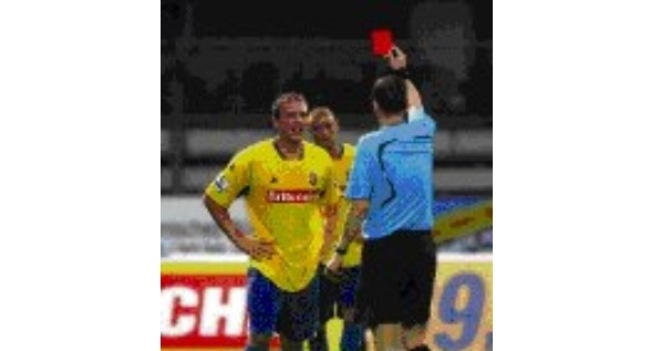 (thisisstaffordshire.co.uk)

In July 2008, Stoke played a friendly in Austria against the Bahrain national team, who were preparing for the Asian qualifying round of the 2010 World Cup.
The match featured a 22-man brawl and dismissals for both Liam Lawrence and Danny Pugh, the former receiving two yellows in quick succession for "speaking out of turn," according to The Sentinel (via Vital Football).
Wellington Phoenix vs. Newcastle Jets
A 2012 A-League preseason bout between Wellington Phoenix and Newcastle Jets was anything but laid back, as a tough tackle sparked a brawl that saw the Phoenix trio of Manny Muscat, Ben Sigmund and captain Andrew Durante sent off. The Jets' Brazilian Calvano also took an early shower.
Ronaldinho vs. Internazionale
This isn't strictly a red card, but a funny moment in friendly history all the same.
When Milan met their roommates Inter for a preseason showdown in August 2010, Ronaldinho felt cheated that he wasn't awarded a corner from a free-kick. The referee meant to show him a yellow card for his protest, but accidentally flashed red.
Thankfully, both parties saw the funny side.
Keep Reading