Riley Cooper Excused from Team Activities to Seek Counseling for Recent Incident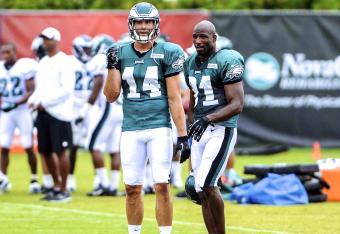 The controversial saga of Riley Cooper's unfortunate use of a racial slur at a Kenny Chesney concert took an interesting turn on Friday. According to a statement released on the Philadelphia Eagles official website, the wide receiver has been excused from team activities to seek counseling for the incident:
As we have said, Riley Cooper will be seeking counseling and we have excused him from all team activities. This is all new territory and we are going to evaluate this timetable every step of the way. He will meet with professionals provided by the Eagles during this period of time to better help him understand how his words have hurt so many, including his teammates.
Cooper returned to the Eagles on Tuesday, Aug. 6.
UPDATE: Tuesday, August 6, by Ian Hanford
From Pro Football Talk:
Riley Cooper to his teammates: "I don't want you to forgive me, because that puts the burden on you."

— ProFootballTalk (@ProFootballTalk) August 6, 2013
UPDATE: Tuesday, August 6, by Ian Hanford
From The Philadelphia Inquirer's Jeff McLane:
Patrick Chung on Riley Cooper coming back: We're over it. We're moving on.

— Jeff McLane (@Jeff_McLane) August 6, 2013
UPDATE: Tuesday, August 6, by Ian Hanford
NFL Network's Albert Breer has the latest:
Riley Cooper just went over Alfonzo Dennard for a touchdown in the corner of the end zone.

— Albert Breer (@AlbertBreer) August 6, 2013
Riley Cooper toasts Alfonzo Dennard for another TD.

— Albert Breer (@AlbertBreer) August 6, 2013
UPDATE: Tuesday, Aug. 6, by Brandon Galvin
From NFL.com's Albert Breer:
Riley Cooper has returned to the Eagles, will practice today, per the club.

— Albert Breer (@AlbertBreer) August 6, 2013
UPDATE: Friday, Aug. 2, by Sam Westmoreland
CSN Philadelphia's Geoff Mosher provided us with DeSean Jackson's take on Cooper's comments:
DJax said he never had any issues before with Cooper. Asked if he could still play with him: "That's my job."

— Geoff Mosher (@GeoffMosherCSN) August 2, 2013
UPDATE: Friday, August 2, by Ian Hanford
CSN's Geoff Mosher provides an update from Chip Kelly:
Chip: "his status with us is not in question."

— Geoff Mosher (@GeoffMosherCSN) August 2, 2013
Original Text
In his public apology, Cooper appeared remorseful over what he had said. The Eagles, though, are showing a willingness to help the wideout get his career and mind back on track after this scarring incident.
Cooper later made comments of his own in a prepared statement, which was also contained in the aforementioned press release:
The last few days have been incredibly difficult for me. My actions were inexcusable. The more I think about what I did, the more disgusted I get. I keep trying to figure out how I could have said something so repulsive, and what I can do to make things better.

Right now, I think it's important for me to take some time to reflect on this situation. The organization and my teammates have been extremely supportive, but I also realize that there are people who will have a tough time forgiving me for what I've done. The best thing for me, and for the team, is to step away for a period of time.
Cooper also mentions in his statement that he will be seeking professional help.
It remains to be seen how teammates will react following the professional treatment Cooper will receive for his poor behavior. The Eagles' front office disciplined him in the form of a fine, but the NFL has stated that it will not suspend Cooper.
Reaction has been mixed among Cooper's teammates despite the fact that he apologized. Some teammates aren't yet willing to forgive him, according to Jeff McLane of The Philadelphia Inquirer.
Eagles running back LeSean McCoy had some particularly strong words for Cooper, per NFL Network's Albert Breer:
LeSean McCoy told me what hurts about Cooper's remarks is "losing a friend." I asked him what that meant, "I can't respect a guy like that."

— Albert Breer (@AlbertBreer) August 1, 2013
The 25-year-old Cooper was a fifth-round pick in the 2010 NFL draft by Philadelphia. He's appeared in 40 games and made 10 starts for the franchise, catching 46 passes for 679 yards and five touchdowns in his three seasons as a pro.
With Jeremy Maclin recently tearing his ACL, Cooper was in line for more playing time in new head coach Chip Kelly's offense. After being excused from team activities, though, a promotion this upcoming season is looking more dubious than ever.
This article is
What is the duplicate article?
Why is this article offensive?
Where is this article plagiarized from?
Why is this article poorly edited?