B/R Interview: Kurt Rambis Lays out Plan to Fix Los Angeles Lakers Defense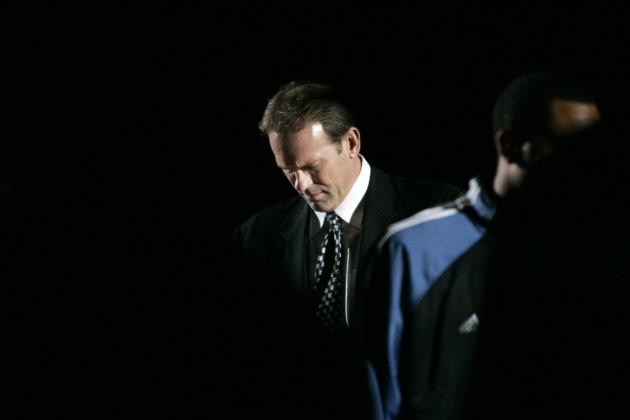 Genevieve Ross/Getty Images

The word "if" popped up, time and again, during my conversation with Kurt Rambis, and not without reason.
Rambis recently returned to the Los Angeles Lakers as a member of Mike D'Antoni's staff. Rambis has previously served in a variety of roles for the Purple and Gold—from a begoggled role player with the Showtime Lakers to front office executive to coach (assistant and head) to broadcaster.
He'll be charged with helping to guide a team that, depending on how a number of proverbial chips fall, could be either a fun, exciting playoff participant or a miserable entrant into the NBA draft lottery.
To hear Rambis tell it, the range of possibilities is wide and very much dependent on health. Kobe Bryant's status is still up in the air as he continues his recovery from a torn Achilles tendon, while Pau Gasol and Steve Nash are on the mend from the most injury-plagued campaigns of their respective careers.
Healthy or not, defense will be key to keeping the Lakers afloat.
Among Rambis' many responsibilities will be improving a unit that ranked 19th in defensive efficiency (per NBA.com) and placed among the bottom eight in the league in defending isolations, pick-and-rolls and fast breaks (per Synergy Sports) in 2012-13.
How does Rambis plan to change that, now that Dwight Howard and Metta World Peace are gone? And what else does he see in store for the franchise to which nearly his entire career in basketball has been tied?
Read on to find out!
Begin Slideshow

»
Jeff Gross/Getty Images

BR: Welcome back to the Lakers! How does it feel to be back with the Lakers in this capacity that you're in?
KR: It's great! I'm very excited about it. I love coaching. It's a great opportunity for me.
BR: What brought you back to the Lakers this time?
KR: Mike D'Antoni asked me if I'd like to come back, and I said yes (laughs). It was really that simple. I love coaching. I love working with players. A great challenge. I love this organization. I want to do what I can to help out, so, to me, it was a no-brainer.
BR: You've said elsewhere that you were "shocked" to get that call from Mike D'Antoni saying that he wanted you on his staff. Why did that offer "shock" you?
KR: I probably used the wrong word. "Surprise" would've been a better word. It seemed so seamless to me, I guess would be another way to look at it. It wasn't about sitting down and really hashing out basketball philosophies or ideas. It was more like, "Hey Kurt, I'd love to have you on my staff. Would you like to come and work with me?" And I said, "Yeah, I'd like to do that." It was really that simple.
BR: So you were more surprised with the simplicity of the offer than you were with the fact that he reached out to you as someone with strong ties to the Lakers and a coaching resume like yours.
KR: I don't know if I would go completely that way. I'm sure the experiences of being a player, an assistant coach and a head coach had something to do with his decision. You'd have to ask Mike those questions as to why he made that decision.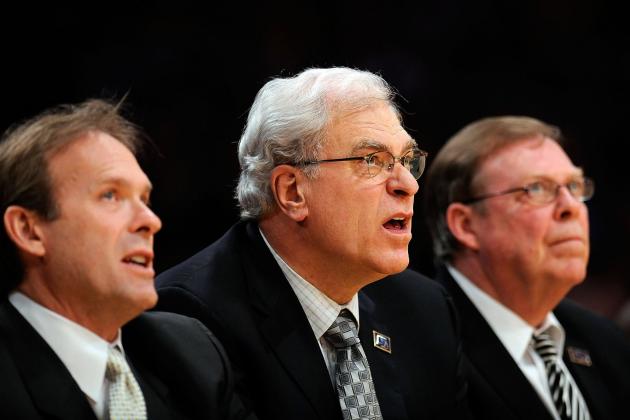 Kevork Djansezian/Getty Images

BR: Did Phil Jackson play any role in your return?
KR: No. I mean, I called him up and asked him what he thought about it, just to get his opinion. He thought it was a great idea, as did I. He wasn't the only one. I called up other people, too.
BR: How has Phil influenced you as a coach?
KR: Wow. In so many ways. Being able to look at the game a different way. I spent so much time with him as an assistant coach and even prior to that, in my front office responsibilities, just talking basketball and his philosophy and watching him deal with players.
Probably one of his greatest characteristics is being able to get players to make sacrifices of their game. Guys being willing to play within a system that benefits everybody. Being able to deal with very talented but high-strung athletes that have varying opinions and getting them thinking along the same lines. Dealing with strong personalities, getting them to make sacrifices.
His managerial skills were tremendous, and then his basketball philosophy about how the game should be played, what players should be doing out there on the floor.
BR: Do you think there's a place for the Triangle in today's NBA?
KR: There should be. When you look at most teams in the league, they run some aspects of the Triangle.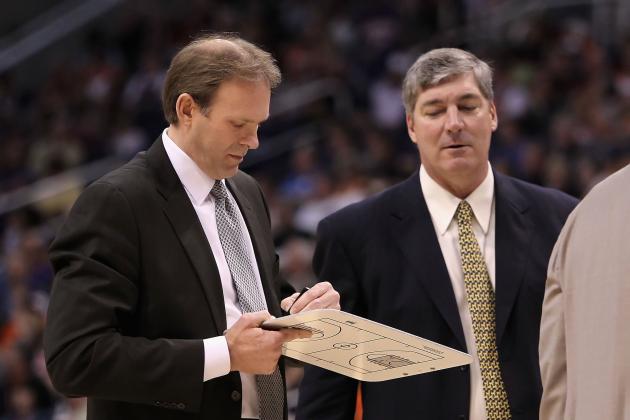 Christian Petersen/Getty Images

BR: What do you, as an assistant, hope to bring to Mike D'Antoni's staff?
KR: Different ideas, different opinions. I've always looked at the game from a defensive standpoint, not only when you look at what do you have to do to get individual stops, what do you have to do to get team stops. It has such a huge impact on whether you win or lose a ballgame, how well you defend people.
But then when you go to the offensive end, you're looking at your matchups and what the other team does defensively against you and what you can do offensively to counter that.
BR: As someone coming from a defensive perspective, what'd you see from the Lakers defense this past season?
KR: It wasn't connected. I think I was very consistent with that all year. You would see lapses on the weak side or even strong-side action if they were defending the pick-and-roll, and it just wasn't consistent. They would do different things seemingly almost every time down the floor sometimes. It was just something different. They weren't consistent with what they had to do in order to get stops. It just seemed like they weren't all on the same page.
Guys are so talented in this league. You have to have all five guys doing the right things at the right time in order to get stops. One guy falling asleep, one guy not getting in the right position is all the gap an offensive team needs in order to figure out how to score.
BR: How do you go about fixing those problems on the defensive end?
KR: Well, you have your defensive philosophy. You lay your foundation. A lot of it starts with your offense, the types of shots that you get. Then you turn it into your transition defense, and then you build your defense from there. Then you've got to determine how you're going to defend the myriad of offensive sets that you have to face in the NBA. That includes pick-and-rolls, isolations, post-ups. What do you do, and then make sure that everybody understands what their roles, duties and responsibilities are, depending on what position on the floor they're in.
BR: Have you and Mike started discussing strategies for the Lakers defense this coming season?
KR: We've talked briefly about it. We start our coaches' meetings at the end of August, but we'll have more conversations in August. But usually at the beginning of September, getting ready for training camp, that's when we get together. It was the same way with Phil. About a month before the season starts, we'll start hashing everything out.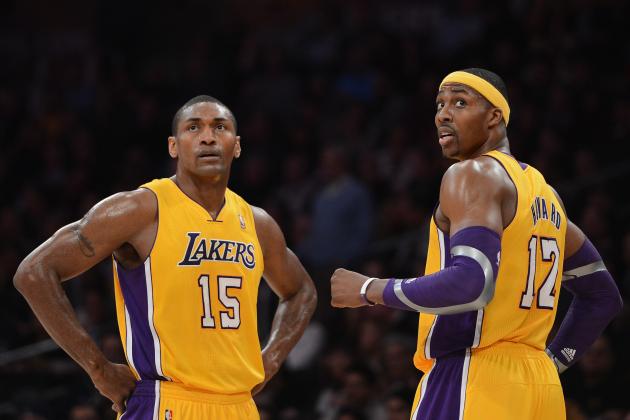 Harry How/Getty Images

BR: How do you account for the Lakers' poor transition defense with a roster that leans so heavily on older players?
KR: The easiest example I can give you is, usually your 1, 2, and 3 men work in concert with each other. So if your 1-man, say, drives in, then your 2 and 3 get back on defense. Then everybody fills in from there. You build your transition defense out of that, so you've got to make sure, whomever is taking the ball, that guys adhere to their responsibilities and are held accountable to do their jobs if a player's not getting back to slow the ball down, to stop and hold everything up until everybody gets back in transition.
It's a mindset, too. When you see you're not going to get the rebound and the other team is going in that direction, you've got to get back. There's drills and you start hammering these points home to players in training camp. There's no reason that, regardless of the age the Lakers were at last year, that if they were organized, they couldn't have gotten those things done.
That doesn't account for turning the ball over, you know what I mean? There's a whole lot of stuff to do with that, so you can't turn the ball over, which is kind of what I meant when I said that defense starts with your offense. If you're doing things correctly offensively, then it helps your transition defense.
BR: How do you compensate for the loss of two defensive specialists like Dwight Howard and Metta World Peace?
KR: Even with them on the team last year, they may have been able to do things to cover up for mistakes on some level, but, like I said, it takes all five guys. You can't have Metta World Peace out denying the guy on the wing whenever he's supposed to be part of a rotation. That doesn't help you out because the other team ends up with a layup. All five guys have to be part of the defense. That's what we have to do as a team. We have to get guys functioning at a very high team level and not just worry about individuals.
If you just tell everybody, "Match up with your guy and don't worry about help, you're just responsible for yourself," that's not going to work. You want to challenge them to be good individual defenders, but it takes five guys to figure that out.
BR: How might better team chemistry affect the Lakers' ability to defend as a unit?
KR: Chemistry is always going to help you out. It's difficult to attain, especially when you continue to add new faces and your team is changing all the time, bringing in different people from different backgrounds with different perspectives, different styles and personalities. To get everybody on the same page, that's always a challenge when you add new pieces, and it's a challenge that the Lakers had to deal with last year.
But always, if there's good camaraderie and good chemistry, if there's good understanding, then players, historically, do a much better job of sharing the ball offensively, and they, historically, do a much better job of covering each other's backs and trying to help each other at the defensive end. You want guys to have that sort of responsibility toward each other, not to let the other guy down defensively, and try to figure out how to make your teammate better offensively.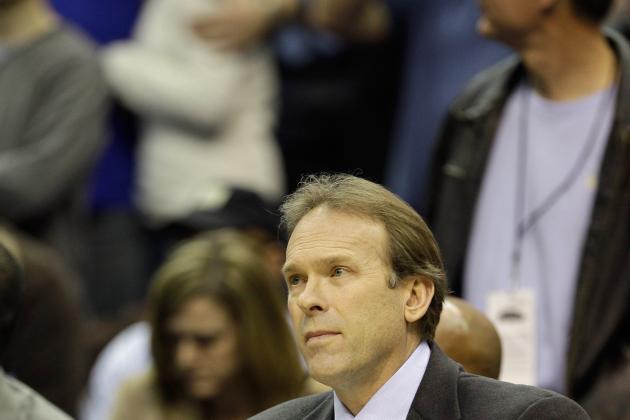 Rob Carr/Getty Images

BR: What are your expectations for this team this season?
KR: Well, it's pretty much the same way it was last year. When you look at the roster on paper, you go, "Wow, this is a team that can function at a very high level." The team finally figured it out about the third week of January, and after that, they played .700 ball, which is very respectable.
But, just like last year, there's an awful lot of "ifs." Is Chris Kaman going to get back to playing the way he was with the Clippers a few years ago when he was an All-Star and playing at a very high level? Is Steve Nash going to be healthy this year? Is he going to be able to play the entire year and not miss multiple games?
Is Nick Young going to be able to come in and make a contribution? Is Kobe going to healthy? Is Pau going to be healthy? Is Pau going to feel more comfortable where he's now playing? Is he going to be the center? Power forward? Play both?
There's still an awful lot of "ifs" that surround this team. If everything goes bad, it could not be a very fun year in terms of wins and losses. But if everything goes good, you look at this team and go, "Wow, this could be a real fun team to watch, and it could be a real fun team to coach."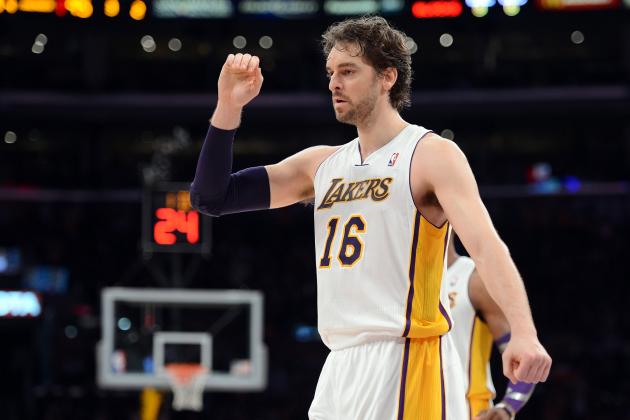 Harry How/Getty Images

BR: How important will Pau Gasol be to the Lakers this season?
KR: He's going to be very critical to the Lakers. When he's playing well, when he's aggressive, when he's assertive, when he's confident at both ends of the floor, he's a huge asset because of his versatility, his length, his high basketball IQ. When he's comfortable, confident and aggressive, he's one of the best big men in the league.
BR: How do you get him back to being comfortable and confident and aggressive like he was a few years ago?
KR: Well, a lot of it has to do with your health. Any time you're not healthy or you've got an injury and then you've got another injury, it sucks the confidence right out of you. It sucks the focus right out of you, too, especially if you're playing with pain on a continual basis, you just don't ever feel like you're at 100 percent engaged in the game because you're always worried about trying to protect yourself, not get hurt or trying to figure out how to limp on a leg. It just takes you, mentally and emotionally, out of the game. So, the key component with him is getting him healthy.
BR: Do you anticipate him spending much time on the floor with Chris Kaman in a sort of "twin towers" arrangement?
KR: I can see that. I can see that. Not that it's going to happen, but I can see that in different scenarios, absolutely, because they both can play with their back to the basket. They both can play facing the basket. They can run pick-and-rolls. They can handle the ball a little bit, so I can see that happening. When you look at Pau, he can end up getting out and defending certain power forwards out away from the basket, if that was the case. If it was a player that played way outside the key, I could see him doing that, with Chris Kaman protecting the basket.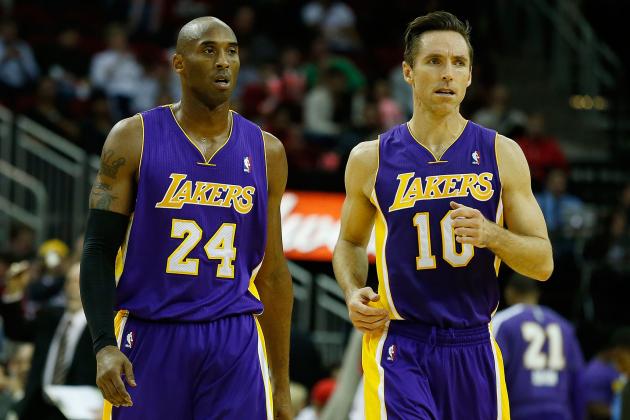 Scott Halleran/Getty Images

BR: As far as the backcourt is concerned, what do you know of Kobe's rehab and what do you expect from him when he gets back on the court?
KR: Again, like I said earlier, he's one of the big "ifs." The Lakers won't know more until the end of August. They'll have a better idea where to project where he's at and where he could be at a certain point in time, but it's way too early, from my understanding, to even determine when he can come back, if he can come back.
All the indications are that he's going to be able to come back and that he's going to be able to play at an extremely high level, if not get back to where he was last year. But you just don't know that now. You just flat-out don't know that. They'll have a clearer idea at the end of August.
BR: What sort of dynamic would you like to see between Kobe and Steve Nash? Do you expect to see Kobe playing the point with Nash off the ball like they did at times last year? Do you think there will be a greater apportioning of responsibility to Steve Nash now that Kobe's coming off a torn Achilles?
KR: Again, that's another "if." Does Kobe go through training camp or is Kobe coming back in the middle of the year? Those are things that we just don't know at this point in time.
But, I see scenarios where it would be great if Steve Nash is handling the ball and Kobe's either setting a pick or off-ball. Likewise when Kobe's handling the basketball just because of the offensive capabilities that both of them have and the decision-making that they have.
A lot of it depends on matchups. A lot of it depends on situations in a game. But I like that versatility to be able to have different people handling the ball. That challenges the defense to have to react to that, too.
BR: How do you handle that pairing of Kobe and Nash defensively? How do you make that work with two guys who are well into their 30s and have had injury problems and are smart, but aren't really physically capable of stopping guys?
KR: That's why your team defense has to be great. There has to be great communication. They have to understand the concepts of what we want to do as a coaching staff to get stops. Guys have to be willing to get to the right spots on the floor.
Then, with their high basketball IQs and with their NBA experience, what you lack in athleticism or quickness, you should be able to make up for with your ability to anticipate, read and react at a much quicker pace because you understand where the ball is going, what the team wants you to do.
Since you've been in the league for such a long time, you can start to anticipate what's happening out there on the floor, what a team is trying to do, what they're trying to accomplish. But it's going to take all five guys helping each other out.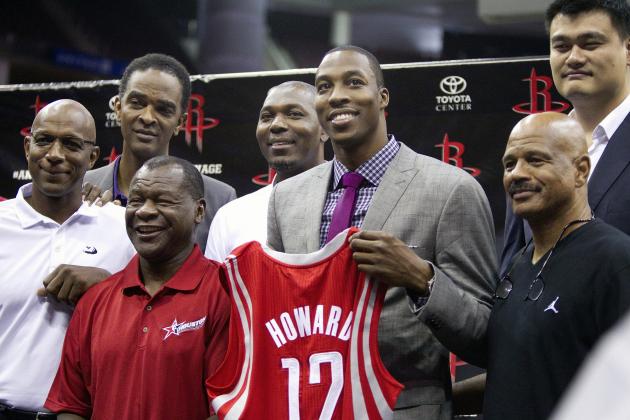 Bob Levey/Getty Images

BR: How do you see this team playing with Dwight Howard gone and Kobe possibly on the shelf for another few months?
KR: You keep getting into a lot of "ifs." Right now, you just don't know. If Pau is healthy and Kaman comes back like a monster and Nick Young is knocking down shots and Nash is healthy, you can see this team playing really well. They can get out there and find ways to score and be able to defend the basket and help each other out defensively. I can see a scenario where they just play exceptional ball. But, if you want to look at the flip side of that too, it could be very frustrating for the players for a while.
BR: What was your reaction when you found out about Dwight's decision?
KR: This was prior to Mike and I having conversations. As an ESPN analyst, I thought Houston would be one of the teams that he should look at, so I kind of understand it from that perspective. But, from my perspective personally, just knowing the Lakers like I do and the organization and the history of this organization winning championships, it's one of those situations where I just shake my head and go, "Boy, how could you leave this organization? How could you leave this city?"
But that's just me personally, and I've had great experiences with this organization, so I'm coming from a different perspective. Like I said, Houston would be one of the teams that he'd have to look at during free agency. I said that as a broadcaster, but I also said that if I was him, I would've stayed in L.A.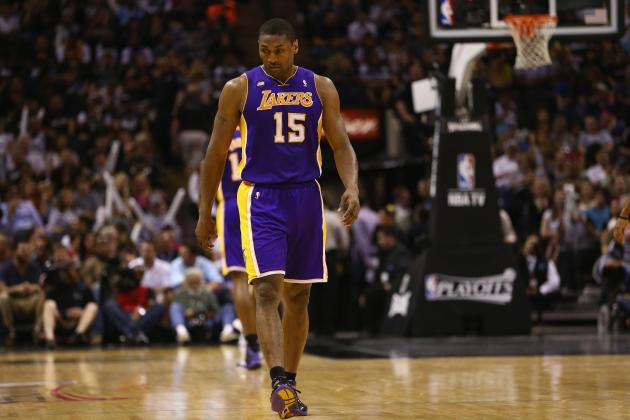 Ronald Martinez/Getty Images

BR: What will you miss most about Metta World Peace?
KR: His toughness. His nastiness. I've always enjoyed players like that. He's a competitor. He wants to win. You love to have guys on your team like that. He's fearless out there on the court. You like that personality.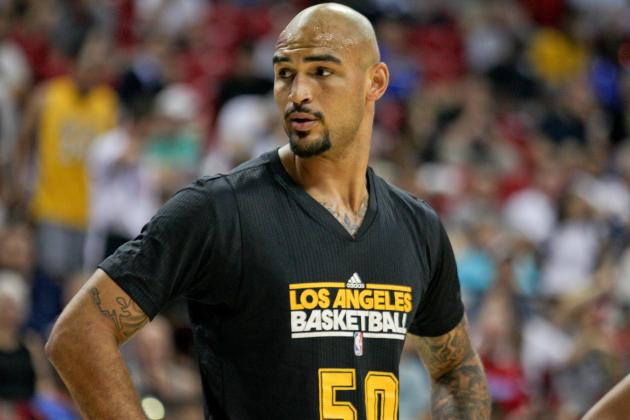 Stephen R. Sylvanie-USA TODAY Sp

BR: How important will player development be for this team, with guys like Wes Johnson, Robert Sacre, Ryan Kelly, and Elias Harris?
KR: That's part of our job as assistant coaches, is to develop the players that you have. It's not just them, it's everybody. If you look at Magic Johnson, Larry Bird, Michael Jordan, Kobe, how well they adapted their games as they got older and they added pieces to their game every single year, and that's the responsibility of the players. If you're not getting better, you're basically falling behind, so they've got to figure out how to add pieces to their game and continue to grow. It's our job as a coaching staff to challenge all of those guys. Finding areas that the players can improve upon, finding their strengths and allowing them to play to their strengths and then challenging them to make sacrifices in order to help the team win.
BR: How do you balance the desire to win now and the expectation within the Lakers organization to win now with the need to develop talent over the long haul?
KR: With this organization, first and foremost, and with the personalities of guys on the team, it's going to be, again, looking at it like everything is going to work out well and everybody's coming to training camp healthy, including Kobe. Everything as it stands right now, going into camp and the early part of the year, is that you're trying to win everything.
Just to be realistic, if everything falls apart and you end up way out of the playoffs, then you start to readjust and say, "Well hey, maybe we can start giving some other guys time" or whatever. But that's if everything completely falls apart.
But in the beginning, you're looking at trying to win, trying to win at as high a level as possible. That's the goal.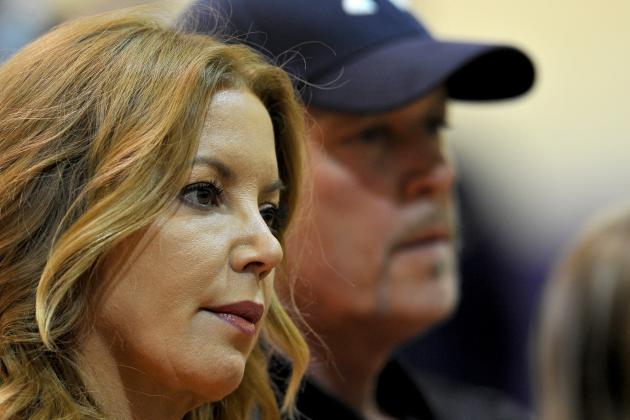 Jayne Kamin-Oncea-USA TODAY Sports

BR: You know this Lakers organization about as well as anyone. How has it changed since your last official stint with the team ended in 2009?
KR: Obviously, the biggest change has been the death of Dr. Buss, the passing of Dr. Buss. He was the ultimate decision-maker with the team. Everything went through him.
Now, this organization—even though they're in good hands with Jeanie and Jim Buss—they're different hands. But when you look at the organization and what they did garnering talent for last year's team in trying to put a championship-level team out there on the floor, and look at what they've done this year in trying get as far down in the luxury tax situation as they can get and still put a competitive team out there on the floor and still maintain flexibility moving forward, you can see this team is not only trying to win this year, but also have the capability of adding pieces for the following year and getting this team playing at a high level for a long period of time.
The organization is doing a good job of trying to continue what this franchise is all about. It's about winning, and winning championships.
BR: What do you think the Lakers have to do get the organization back on solid footing not just now, but into the future?
KR: Get talent [Laughs]. That's really it. What else are they going to do? That's one of the great things about Los Angeles is that players want to play for this organization. They want to play in Los Angeles for all the opportunities and the weather and everything. They also understand that this organization wants to win, that that's the goal of this organization.
They've proven it time and time again, that they're willing to make the sacrifices to win. You can't get around the fact that you need talent to win in this league, so they'll figure it out. They'll figure out how to get that talent.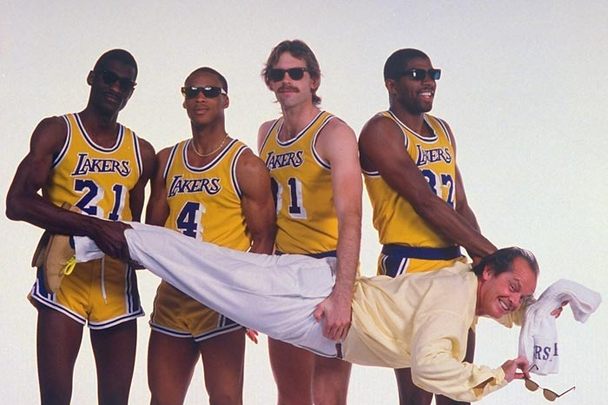 Hardwood Hype
BR: How do you think Mike D'Antoni's spread pick-and-roll compares to the Showtime Lakers as far as the impact on the sport that each had?
KR: We played a brand of basketball that suited the players that were on our team. I mean, Magic was a driving force in that. He wanted to run. He wanted to push the basketball. You look at Byron Scott and James Worthy and the lane-runners that we had; Kareem, whenever we would play half-court basketball.
We had post-up players, outside shooters, lane-runners, ball-pushers. We had all the assets to play big, small, fast, slow, half-court, fast break. It all worked well with all the talent we had on the team. That was what suited that team. That was the character of the players. That's the way everybody really wanted to play, Jamaal Wilkes, how everybody fit in.
When Steve Nash was running pick-and-rolls in Phoenix, the makeup of the team was different than the makeup of this team. It's got to all kind of fit together. You've got to play to the strengths of your players. You've got to be able to get those guys playing at a high, comfortable, confident level, but you have to involve the talent that you have on your team.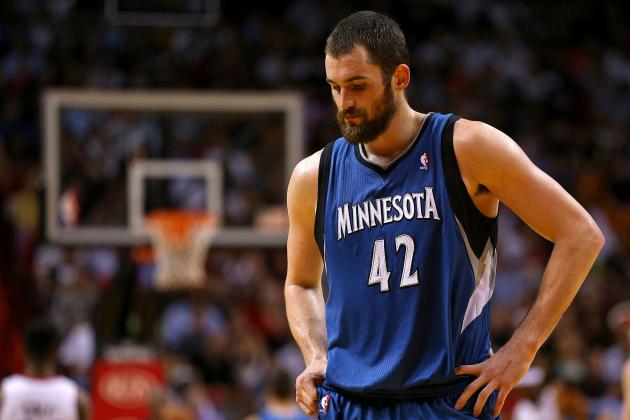 Mike Ehrmann/Getty Images

BR: What'd you learn from your time as the head coach of the Minnesota Timberwolves?
KR: I learned a lot. Obviously, it's different being a head coach than an assistant coach. I thought we were on the right track. We had an offense where we could get high-quality shots. With young players, it lends itself to inconsistency and making mistakes. That's what we had. We had two rosters the two years I was there, the roster was dramatically changed both years. It doesn't lend itself to the consistency that you need.
We had young players, and you need veteran players to really excel in this league. We were not a very good defensive team. We turned the ball over a lot. That hurt us tremendously when it came to getting wins. When you look at how well players learned and the style of ball that we were playing, the shots that we could get, it was going in the right direction. We just kind of had to add more pieces, better pieces, get veteran ballplayers—kind of like what they're doing now. You see how the roster has changed. Again, look at the kind of pieces they're getting there.
BR: What's your relationship like with Kevin Love?
KR: I have a good relationship with Kevin Love, not that it's ongoing now, working in broadcasting and now working with the Lakers. But we had a good relationship there. A lot of people misconstrue when you challenge a player to get better that you don't get along, and that's not the case. You're always challenging players to get as good as they can possibly get. That's your job as a coach, is to poke and prod players to make sure that they continue to improve and they continue to try and get to their utmost potential.
BR: What do you think we'll see from him in the next few years?
KR: As their team gets better, he's going to continue to improve because the focus now has to be distributed all over the court. Obviously, the health of that team is going to be critically important to their success. They had so many injuries last year. I haven't heard if they've signed [Nikola] Pekovic back or not, but that's going to be a key component if he gets back on their team.
And then their health. That's kind of what hurt them last year. They've added new pieces, and you've got to get guys some time out there on the floor. But they have floor-spacers. They have the ability to play half court. They can run. [Ricky] Rubio's got great court vision. He's a willing passer. He can set his teammates up. They're going to be a team to watch, but they've got to get healthy.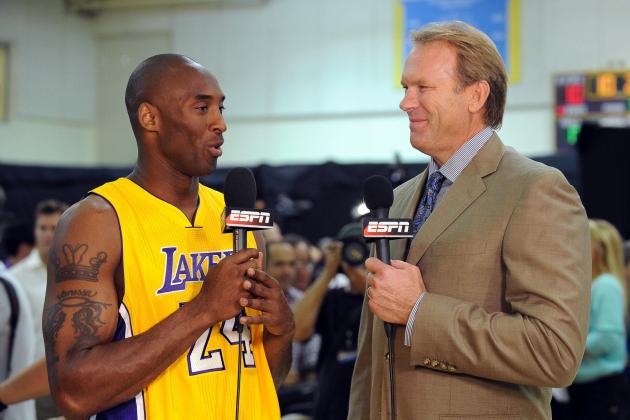 Jayne Kamin-Oncea-USA TODAY Sports

BR: What was your experience like being a broadcaster?
KR: I enjoyed it. I had fun. It gives you a different perspective on the game. You're looking at what both teams could be doing better, what teams are doing poorly or what adjustments need to be made. It's kind of interesting, too, to put the headphones down and just walk away from a game, without the angst that you get when you're a coach or a head coach or a player. You're not emotionally involved in the game, which is not fun. You want to be emotionally involved in the game. It's just different being a broadcaster. It's a great experience.
BR: Do you think working as a broadcaster affected the way you see the game as a coach?
KR: It helps. It helps. I just think that if you're not looking at different things, if you're not growing as a coach, then you're kind of falling behind. You've got to be able to adapt to how the game is changing, be willing to make adjustments. As a broadcaster, you're watching so many different teams and talking to so many different people, so it really helps out an understanding of the game and continue to grow that way. All of those experiences are valuable.
Going to coaching clinics and camps helps out. You pick up stuff, even if it's just one drill, you go, "Hey, that's an interesting drill, I hadn't thought about that before." Just one little drill. Anything like that would certainly help out. Broadcasting helps out in terms of just looking at a game, analyzing a game, seeing what a team is doing well, what it's doing poorly, the adjustments they have to make. Being able to articulate that to an audience was very beneficial.
BR: Do you think you'd go back into the booth?
KR: Sure, I can see that happening. I enjoyed it. I really did. I had a lot of fun. People were great.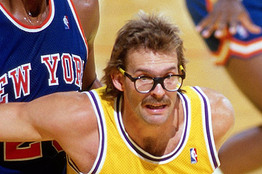 Andrew D. Bernstein/NBAE via Getty Image
BR: What were your fondest memories as a Laker, in any capacity?
KR: My two fondest memories were winning a championship as a rookie, being a part of a championship team as a rookie, and then, in '85, beating the Celtics on their home floor to win another championship. Those are the two that really stand out above everything else. The rookie year was a dream come true. That's all I wanted to do as a kid, so to get that my rookie year, that was pretty amazing. And then, obviously, the history with the Celtics and the Lakers, the frustration that the Lakers organization had had up to that point where they'd never beaten the Celtics in the NBA Finals, so that was very rewarding.
BR: Do you ever hope that the goggles make a comeback?
KR: [Laughs] I think technology and science have made so many advancements, between contacts and lasik surgery and having your lenses replaced in your eye, there are so many things that have gone on now. I can't imagine it happening unless somebody's using them for protection once they get poked in the eye or scratched in the eye. I think glasses, there are just so many other avenues available out there than what I had then.