NBA Offseason Premature Predictions: 2014 NBA All-Star Rosters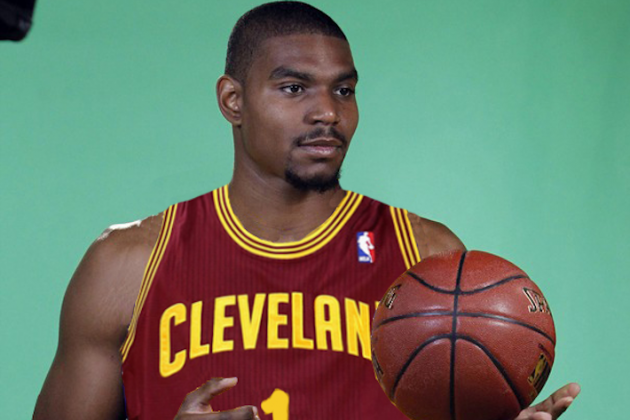 Is Andrew Bynum healthy and mature enough to make the All-Star team in 2014?
The 2014 NBA All-Star Game is a long way off, but it's never too early for an offseason look into the crystal ball to see who might be participating in the festivities.
Now that all the big stars of free agency, such Dwight Howard, Andrew Bynum and Josh Smith, have been signed by new teams, let's look at who will make an appearance in New Orleans next February.
Since the starters are picked by the fans, popularity will largely determine the two teams' starting fives. But for the reserves, on-court performance will take precedence, because coaches vote on the reserves.
Starters for each team will be listed first, followed by the reserves for each team, including wild cards and players who just missed the cut.
Note: All stats are taken from Basketball Reference, unless otherwise specified.
Begin Slideshow

»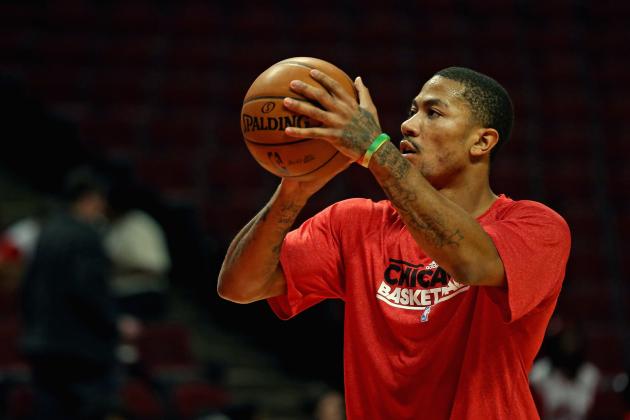 Jonathan Daniel/Getty Images
Derrick Rose certainly has had plenty of time this summer to prepare himself mentally.
Will Derrick Rose return to form in 2013-14?
This is the million-dollar question that NBA fans are anxious to see answered at the beginning of next season. Your guess is as good as mine, but I have a feeling he will.
Rose is still only 24 years old (25 by the start of the season), and all recent reports show that he is 100 percent and ready to go, including Nick Friedell's recent article on ESPN. But even if he isn't quite back to where he was, he'll get more than enough fan support to make the Eastern Conference starting lineup.
I mean, he did get more votes than LeBron James in 2012, according to NBA.com.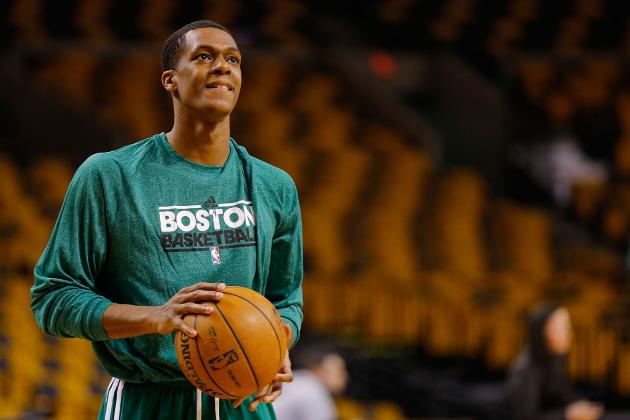 Jared Wickerham/Getty Images
Rajon Rondo will show enough for fans to vote him as a starting guard in the East.
Yes, I know Rajon Rondo makes two point guards in the starting lineup, but fans won't care.
In last year's voting, Dwyane Wade edged out Rondo by just over 100,000 votes, according to NBA.com (that sounds like a lot, but it actually isn't).
However, that was when Dwyane Wade was playing like a superstar, not a glorified role player. Wade averaged just 15.9 points per game on 14.3 shots in the playoffs, with a good-not-great PER of 18.7.
The Miami "faithful" will continue to shower Wade with votes, but I could see many voters switching over to Rondo, whether or not he is back at the very beginning of the season.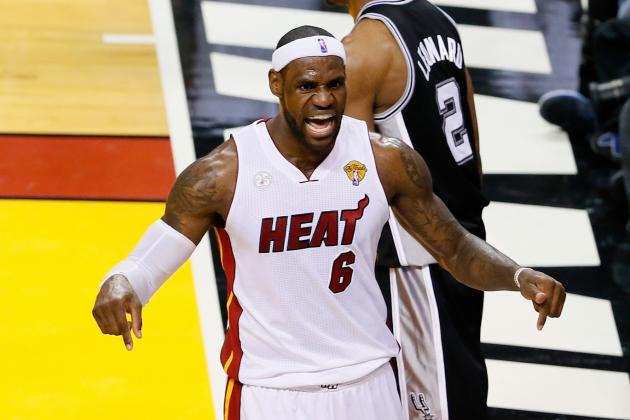 Kevin C. Cox/Getty Images
I will be surprised if LeBron James doesn't lead the NBA in All-Star votes.
There isn't much to say here about four-time MVP LeBron James other than there is no question he will be starting the All-Star game in February, barring a serious injury.
He led Eastern Conference forwards in voting in 2012, and also led Eastern Conference frontcourt players in voting in 2013, according to NBA.com.
I could see him gaining a few more votes in 2014 after another doubter-silencing NBA Finals win.
Elsa/Getty Images
Can Carmelo Anthony lead the Knicks further in the playoffs next year?
The other obvious choice in the Eastern Conference frontcourt is Carmelo Anthony.
Anthony was No. 4 in overall voting last year, according to NBA.com. The Knicks have acquired Andrea Bargnani, but not much else has changed in New York.
The leading scorer in the NBA last year (28.7 points per game) should have no trouble garnering enough votes playing in the United States' largest city.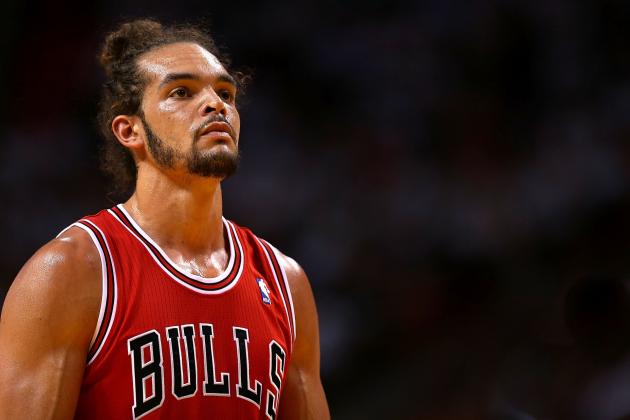 Mike Ehrmann/Getty Images
Noah's team success could propel him to his first start in the All-Star game.
This is where things get tricky.
There is no clear third frontcourt option in the East after James and Anthony. Kevin Garnett took the spot last season as a Celtic, but he is in a different situation this year. Many Brooklyn Net fans will probably pick Garnett, but not as many as the amount of Celtics fans who did so last year. And Garnett will likely play a smaller role next year for the Nets, if fans want to actually take on-court play into consideration for once.
My pick is Joakim Noah. The Bulls will be better in 2013-14, and some people might want to jump (or "re-jump") on their bandwagon. Noah was a strong candidate for Defensive Player of the Year last year, and his quirky personality makes him a fan favorite. With Rose back at the helm, he could improve even more this year.
Noah will receive a surge of votes from Bulls fans and others who recognize his good play, passing Kevin Garnett, Chris Bosh, Tyson Chandler and Paul Pierce in the voting.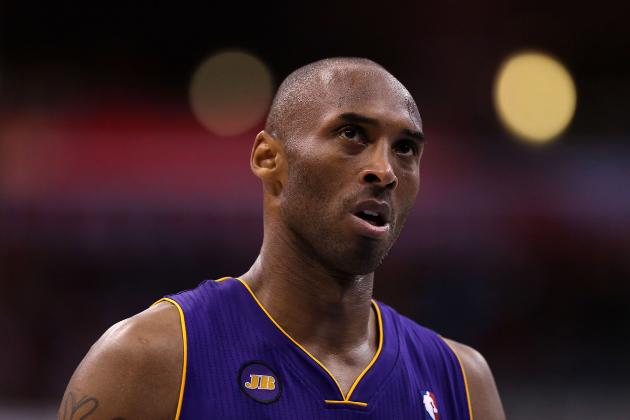 Christian Petersen/Getty Images
Kobe would be a starting guard in the West even if he averaged only 10 points per game.
Kobe Bryant will take the first starting backcourt spot in the West, whether or not he comes back from his Achilles injury at full strength. Bryant led the NBA in All-Star votes last year (per NBA.com), despite the Lakers possessing a losing record for most of the beginning of the season.
Being a superstar on the most popular team in the NBA will do that for you.
According an article from the SB Nation blog a few weeks, Bryant could return to full activity as early as this month. An orthopedic surgeon in Los Angeles also thinks Bryant should be ready to play on opening night.
When he comes back, don't expect Kobe to hold back at all. He's as tough as they come, and won't stand for the Lakers missing the playoffs.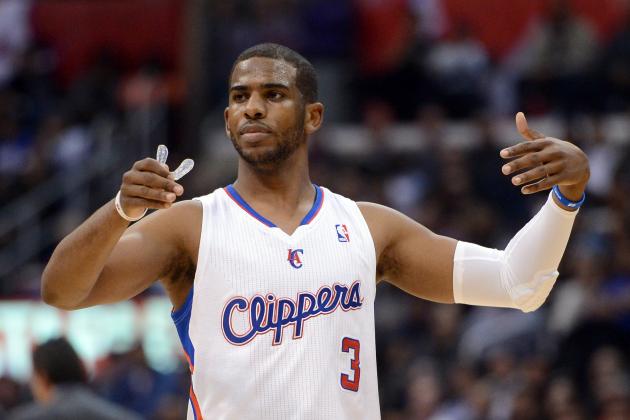 Harry How/Getty Images
Chris Paul and the new-look Clippers shouldn't be a first-round exit again last year.
You can argue whether or not Chris Paul is the best point guard in the game. Derrick Rose, Tony Parker, Russell Westbrook, Rajon Rondo and a few other players can all challenge Paul on that.
However, you can't argue that Chris Paul is currently the most popular point guard in the Western Conference, partly thanks to him playing in Los Angeles.
Jeremy Lin caused a bit of a scare last year in the voting, finishing just fewer than 50,000 votes behind Paul for the second starting slot in the West, according to NBA.com. As "Linsanity" continues to wear off, though, Paul shouldn't be sweating over this year's voting as much.
With backup point guard Eric Bledsoe gone, Paul could get slightly more than the 33.4 minutes per game he got last season and improve on his already impressive stats.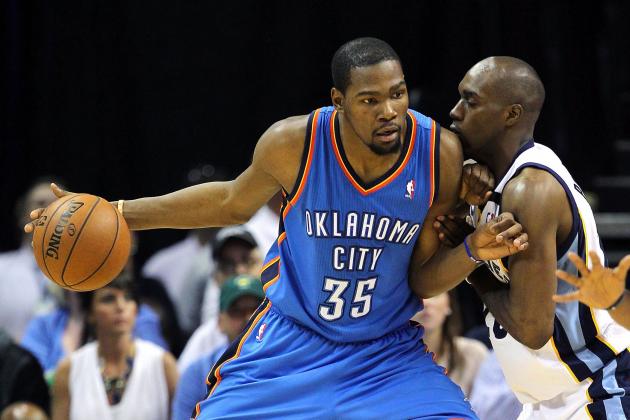 Jamie Squire/Getty Images
Kevin Durant had his best season last year, but a lack of help in the playoffs hurt him.
Kevin Durant is my pick for MVP in 2014. I don't think he'll be better than LeBron James, but he will be close enough that voters will finally break down and give the award to someone else besides James.
With Russell Westbrook back in the lineup from his knee injury to divert extra defensive attention away from him, Durant will be free to score efficiently. He'll need all the points he can get to threaten LeBron's stranglehold on the MVP award.
Last season, Durant was first in voting among Western Conference frontcourt players by almost 600,000 votes, so I don't see him having any trouble making it again this year.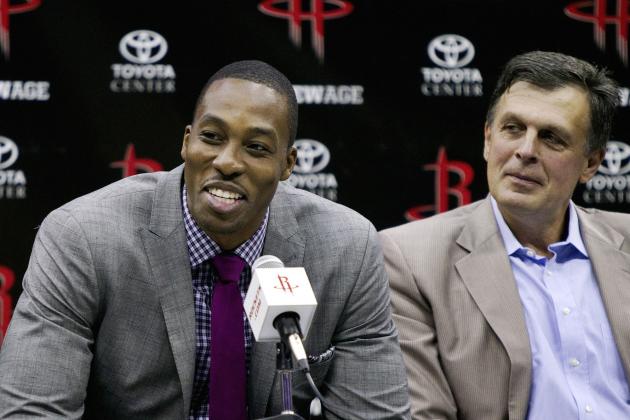 Bob Levey/Getty Images
If Dwight Howard can somehow learn some advanced post moves from his coach, Kevin McHale, he will be unstoppable.
Dwight Howard is not exactly the most well-liked player in the NBA right now.
But his reputation as a malcontent with the Lakers didn't stop him from starting the game last year, when he garnered the second-most votes among Western Conference frontcourt players (according to NBA.com). It won't stop him this year, either, in a similarly large Houston market. Many casual NBA followers will likely choose him over another great player like Marc Gasol because they recognize his name or realize Howard is the more entertaining player in an All-Star Game setting.
Once again, Howard will come away with the No. 2 spot in voting among Western Conference frontcourt players.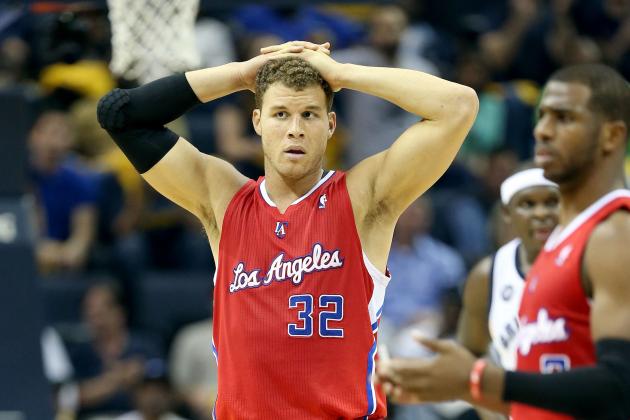 Andy Lyons/Getty Images
Blake Griffin has some kinks to work out in his game.
Love him or hate him, you have to admit that Blake Griffin is pretty darn entertaining in an All-Star Game setting.
You can argue whether or not he deserves to start the All-Star game, but the fact of the matter is that he will be. Los Angeles is a big city, and fans all over the world want to see Griffin dunk. Last season, he ranked No. 3 among Western Conference frontcourt players, according to NBA.com. The No. 4 vote-getter at that position was Tim Duncan, who had just over half of Griffin's votes.
Yeah, I'd say Griffin's spot is pretty safe, for now.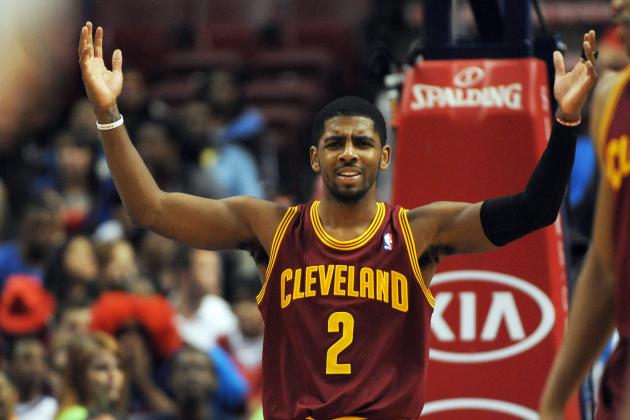 Eric Hartline-USA TODAY Sports
All-Star Game viewers will enjoy Irving's slick handle again in 2014.
Kyrie Irving, Cleveland Cavaliers
Irving made some good improvement between his rookie and sophomore seasons, becoming (in my opinion) the best scoring point guard in the league. His combination of dribbling, shooting and finishing ability may be the best in the league, and now he should have a better supporting cast. That, in addition to younger players making improvements, could propel the Cavs to the playoffs.
Paul George, Indiana Pacers
As the best player on one of the East's elite teams, George is a budding superstar in the league. He was a backcourt player on last year's ballot for no apparent reason, but this year he actually should play the two spot with Danny Granger coming back from injury. Look for increased efficiency from the athletic swingman in 2013-14, after shooting only 41.9 percent from the field last season.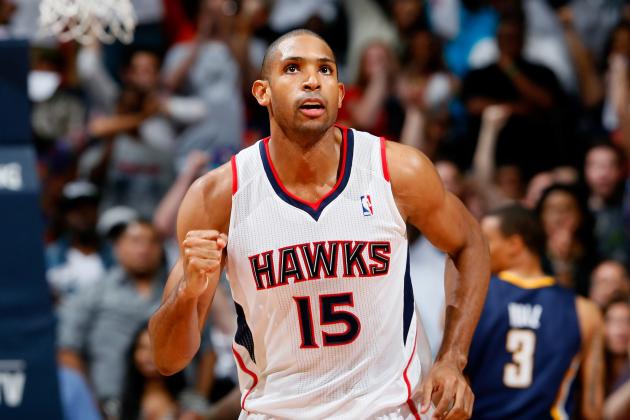 Kevin C. Cox/Getty Images
Al Horford will rejoin the All-Star squad in 2014 after a two-year hiatus.
Al Horford, Atlanta Hawks
With Paul Millsap essentially subbed in for Josh Smith, Horford should get some better mid-range looks in the Hawks offense due to Millsap's scoring ability down low. Horford has always been very underrated, and posting numbers similar to last years' 17 points, 10 rebounds and three assists should give him a spot on the team.
Rudy Gay, Toronto Raptors
Gay's spot here is more an indication of the East's lack of depth in the frontcourt than his abilities as a player. Not to say that Gay isn't a great player (he averaged 20.2 points per 36 minutes with the Raptors last season), because he is, but he probably wouldn't be an All-Star this year in the Western Conference.. The Raptors could challenge for a playoff spot, and the athletic Gay will be leading the way with his scoring and defensive abilities.
Andrew Bynum, Cleveland Cavaliers
If totally healthy, Andrew Bynum could surprise everybody and perform well enough to start for the East. We know what he can play like when healthy (18.7 points and 11.8 rebounds per game in 2011-12), but after a year off, expecting that level of play is a bit unrealistic. He should still play at a high level, though.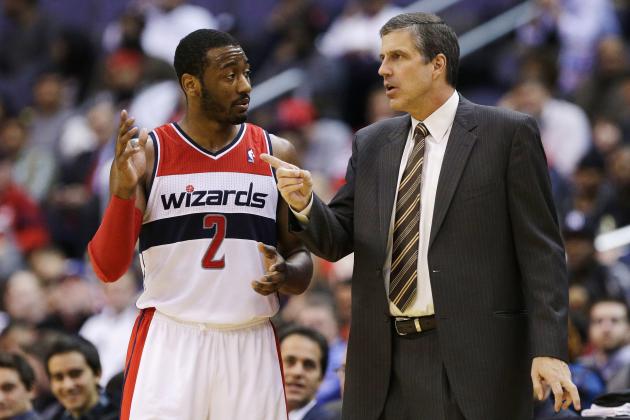 Rob Carr/Getty Images
A new max contract and finally being healthy should push John Wall to an All-Star level.
Wild Cards
John Wall, Washington Wizards
Wall will look to take a team that finished the last regular season on a 25-25 run to the playoffs after a five-year absence. If healthy, this Wizards team looks like a tough one, with bright young talents Bradley Beal and Otto Porter Jr. holding down the wings and veteran posts players Nene and Emeka Okafor taking all comers in the interior. Wall might be able to duplicate or even improve on the 20.7 points and 7.8 assists per game he averaged after the All-Star break last season.
Dwyane Wade, Miami Heat
Wade had a few games in the Finals this year that showed how good he can be, even at age 31. Playing with the best player in the world certainly helps his efficiency, but not his raw stats. Wade may not be able to procedure 25 points night after night like he did a few years ago, but 18-20 points a game with great efficiency and strong defense is not bad at all.
Snubs
Deron Williams, Brook Lopez, Roy Hibbert, Tyson Chandler, Luol Deng, Chris Bosh, Greg Monroe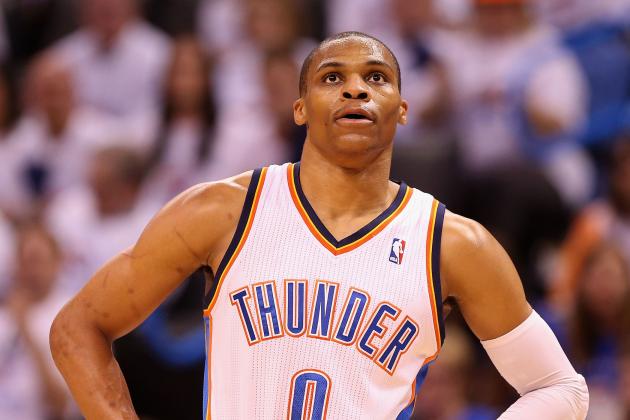 Christian Petersen/Getty Images
Russell Westbrook proved his worth in the Thunder's playoff performance without him.
Russell Westbrook, Oklahoma City Thunder
Westbrook is the NBA's most erratic superstar. His basketball IQ might be worse than the average player in the league, but his talent level certainly isn't. Now that NBA coaches have seen how much the Thunder offense struggles without Westbrook, they will be sure to vote him back to the All-Star game for a fourth straight year.
Tony Parker, San Antonio Spurs
Parker just keeps on getting better and better. Once the weakest link of the Spurs' Big Three, Parker might be the best now. The only thing that would keep the five-time All-Star from not getting voted in by the coaches is an injury or an extremely sudden, age-induced decline in production. Neither of those seem very likely, but you never know.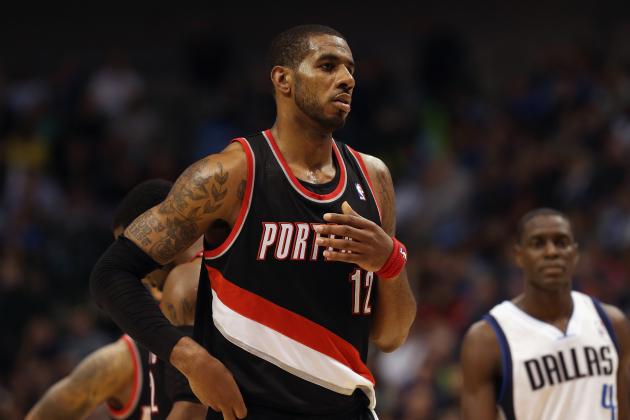 Ronald Martinez/Getty Images
Lamarcus Aldridge's Trail Blazers are a mediocre team, but Aldridge sure isn't a mediocre player.
Marc Gasol, Memphis Grizzlies
The reigning Defensive Player of the Year has established himself as a candidate for the top center in the game due to his ability to play at an elite level on both ends of the court. He isn't very athletic, but he still made the All-NBA Second Team. Memphis (or Gasol) shouldn't be much different this year.
Tim Duncan, San Antonio Spurs
Duncan is the best 37-year-old in the NBA right now by a pretty wide margin. The 2012-13 All-NBA First Team member will probably take a slight step back from last year's renaissance performance because of his age and a long playoff run this year, but it won't be a big enough drop to lose out on an All-Star spot.
LaMarcus Aldridge, Portland Trail Blazers
Aldridge will continue toiling on in the Pacific Northwest without much national acclaim or praise from fans. His game is very ground-based and won't be a huge hit in the All-Star Game, but coaches will vote him in to his deserved spot. Averaging at least 21 points per game as a big man in today's NBA for three consecutive seasons is not easy, after all.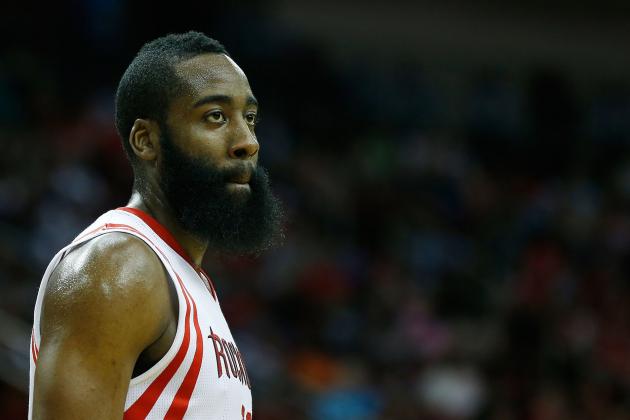 Scott Halleran/Getty Images
James Harden will be considered the best shooting guard in the NBA by most fans at the end of next season.
Wild Cards
James Harden, Houston Rockets
Harden answered his doubters in emphatic fashion by showing that he could be "the man" on a successful NBA team, scoring 25.9 points per game for the Rockets, a surprise playoff team just a year after they blew up the roster. His next task? Taking the "best shooting guard" title from Kobe Bryant, who may or may not come back 100 percent from his injury. Either way, I think Harden will seize the crown, but Kobe's popularity will keep him as the starter.
Stephen Curry, Golden State Warriors
If you watched Curry at all in the 2013 NBA Playoffs, you know that this guy is the real deal. Once a shot leaves his hand, no matter how contested it is, there's always a decent chance that it goes in. Last season, he set the NBA record with 272 three-pointers in a season. In 2013-14, he will increase his efficiency with an improved supporting cast on the wings to ease the pressure off him. Curry's ranking as the last wild card here shows how deep the crop of Western Conference guards is.
Snubs
Kevin Love, DeMarcus Cousins, Danilo Gallinari, Pau Gasol, Mike Conley, Jrue Holiday